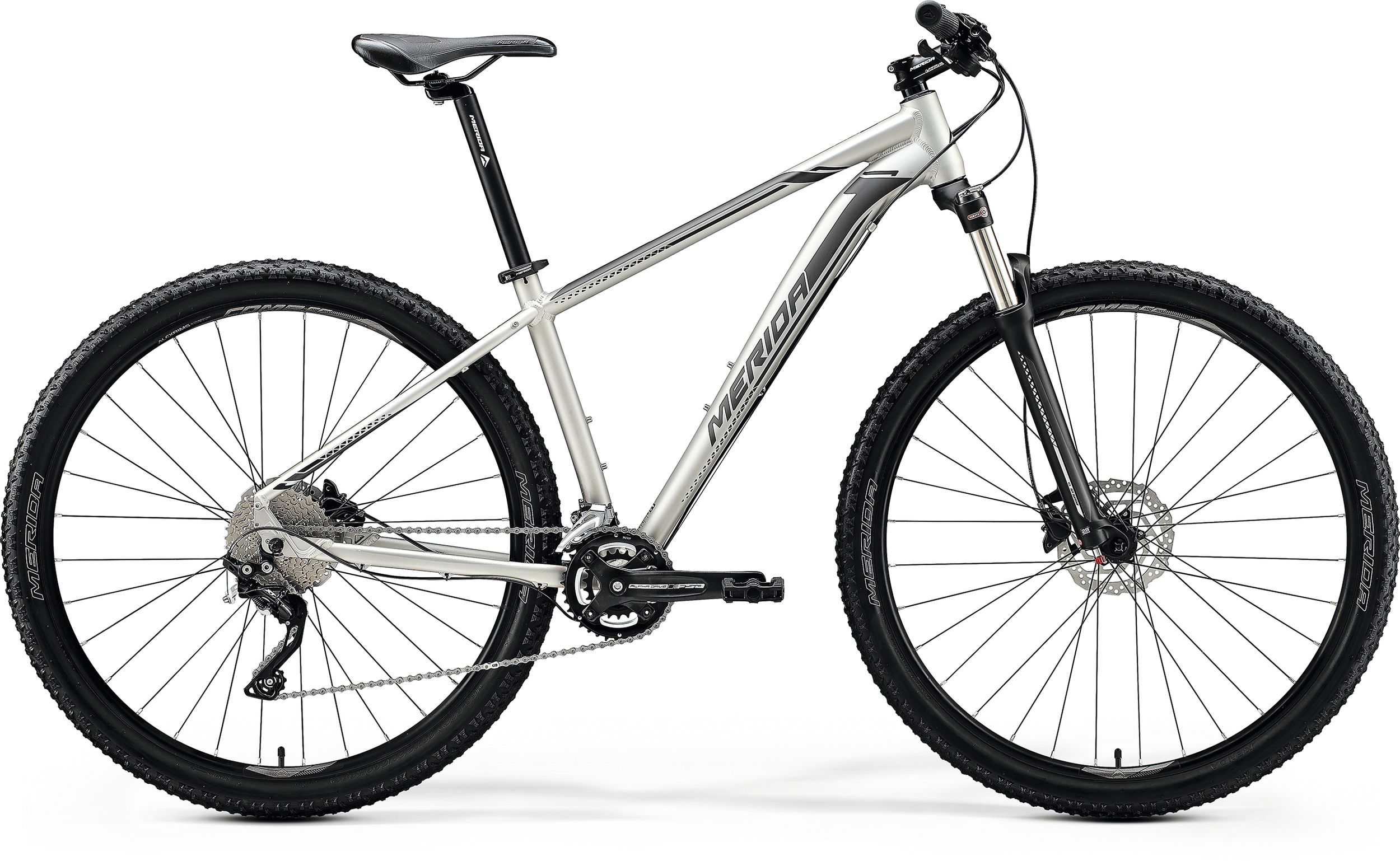 material: aluminium
29" wheelsize
135x9mm axle standard
BSA bottom bracket standard
Rahmengrössen
S, M, L, XL
Farbe
MATT TITAN (BLACK/SILVER)
Coil
100mm suspension travel
remote lockout
Kurbel
170 mm-S, 175 mm-M/XXL
Bremse vorne
Shimano MT-200
Bremse hinten
Shimano MT-200
Bremshebel
Shimano MT-200
material: aluminium
690mm width
15mm rise
AL cap with STS bolt+ ST stop nut
material: aluminium
31.8mm diameter
6° stem angle
70 mm-S, 80 mm-M, 90 mm-L, 100 mm-XL, 110 mm-XXL
Schalthebel Vorne
Shimano Deore
Schalthebel Hinten
Shimano Deore
36-22 teeth
170 mm-S, 175 mm-M/XXL
Umwerfer vorne
Shimano Deore
Umwerfer Hinten
Shimano XT shadow
material: aluminium
30.9mm diameter
15mm setback
Sattelklemme
MERIDA COMP QR
weighed at frame size M and 29" wheels without pedals
| | | | | |
| --- | --- | --- | --- | --- |
| Ramengröße | S | M | L | XL |
| Laufradgrösse | 29" | 29" | 29" | 29" |
| Rahmengröße CM | 37 | 43 | 47 | 51 |
| St Seat Tubes Mm | 370 | 430 | 470 | 510 |
| Tt Top Tubes Mm | 570 | 590 | 610 | 630 |
| Cs Chain Stays Mm | 445 | 445 | 445 | 445 |
| Hta Head Tube Angles Deg | 70 | 70 | 70 | 70 |
| Sta Seat Tube Angle Deg | 73 | 73 | 73 | 73 |
| Bd Bottom Bracket Drops Mm | 60 | 60 | 60 | 60 |
| Ht Head Tube Lengths Mm | 100 | 115 | 130 | 145 |
| Fl Fork Lengths Mm | 506 | 506 | 506 | 506 |
| R Reachs Mm | 382 | 398 | 414 | 429 |
| S Stacks Mm | 614 | 628 | 642 | 656 |
| Wb Wheel Base Mm | 1074 | 1095 | 1115 | 1136 |
| Sh Stand Over Height Mm | 687 | 739 | 775 | 809 |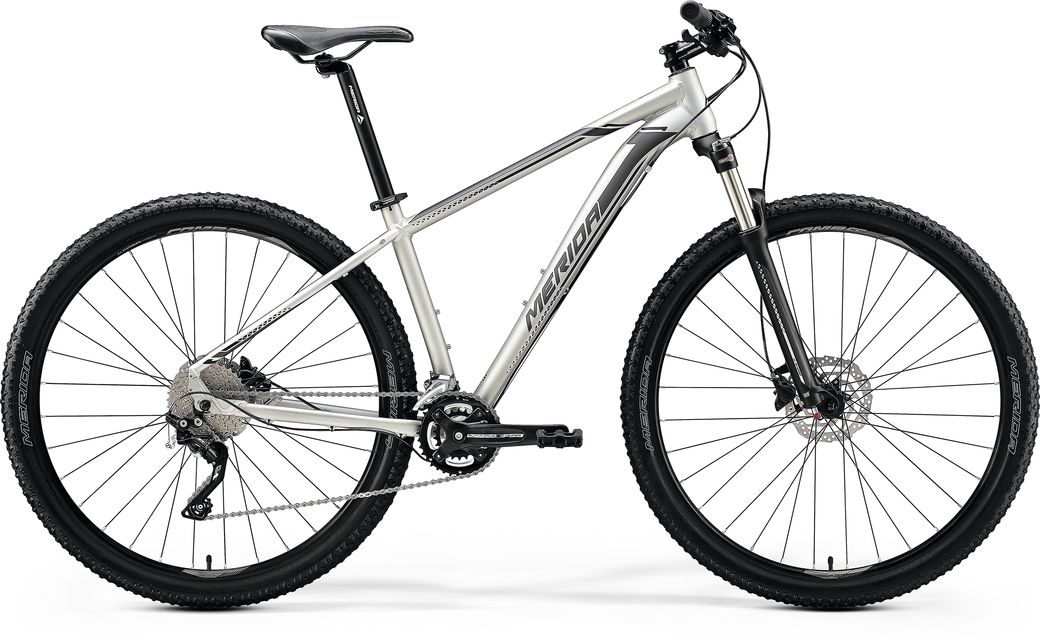 Unsere klassischen Hardtails sind das Rückrat unserer Produktpalette und zeigen die außerordentliche Erfahrung und das Wissen, das wir uns seit über 47 Jahren in der Entwicklung und Produktion von Bikes aneignen konnten. Das BIG.NINE und das BIG.SEVEN stehen beispielhaft für die Symbiose aus moderner Rahmentechnologie, Liebe fürs Detail und Handwerk "Made in Taiwan".
Following in the footsteps of BIG.NINE/SEVEN TFS frame which was introduced in 2018, the SPEED frame also received a makeover for the 2019 season. The introduction of slim tube shapes creates a new look and a more relaxed geometry, through a shorter top tube and a higher head tube, resulting in a more upright riding position and enhanced trail visibility. The new frame also comes with IS brake mounts that are positioned within the rear triangle as well as with kickstand and fender mounts.
Rahmen aus zweifach endverstärktem Technoforming-Aluminium 6061. 2019 mit neuen, moderneren Rohrformen. Bremssockel im Rahmendreieck sowie F-, C- und K-Mount.
Abhängig von der Rahmengröße, bieten wir eine 27,5 oder eine 29er Version unserer TFS oder SPEED Rahmen an. Die Bedürfnisse kleinerer Fahrer (geringe Überstandshöhe, niedriges Cockpit) lassen sich am besten mit 27,5"-Laufrädern bei Rahmengröße S und M realisieren. Rahmen in L und XL werden nur mit 29er Laufrädern angeboten, Rahmengröße M mit beiden Laufradoptionen.
Alle Modelle ab dem BIG.NINE 40 sind mit einer 30,9 mm Sattelstütze ausgestattet. Der verstärkte Verbindungsbereich zwischen Ober- und Sitzrohr erhöht die Steifigkeit und erlaubt die Montage einer Vario-Sattelstütze, die zusätzliche Sicherheit bei steilen Abfahrten verleiht.
Das Systemgewicht eines Bikes setzt sich aus dem Gewicht des Rades, des Fahrers und des Gepäcks zusammen. Das maximal zugelassene Systemgewicht beim eBIG.TOUR beträgt 140 kg. Da ein E-Bike bereits schwerer als ein nicht unterstütztes Bike ist und es damit einfacher wird mehr Gepäck zu transportieren, ist es zwingend notwendig, dass auch das maximale Systemgewicht steigt. Alle MERIDA E-Bikes durchlaufen ein strenges, E-Bike spezifisches Testprozedere, das die stärkeren Kräfte und die höhere Belastung simuliert und somit ein Höchstmaß an Sicherheit garantiert.
Unsere Modelle aus Carbon und leichtem Aluminium kommen mit 422 mm Reach, einem steilen 73,5°-Sitzwinkel, flachem Lenkwinkel von 70° sowie 80 mm langem Vorbau (BIG.NINE – M) – die XC-Geometrie der nächsten Generation. Aggressive Agilität trifft auf guten Geradeauslauf – genau richtig für die anspruchsvollen Kurse unserer Zeit.