material: aluminium
29x2.5" max. wheelsize
148x12mm axle standard
BSA bottom bracket standard
Farbe
TEAL-BLUE (LIME/SILVER-BLUE)
140mm suspension travel
Tapered
42mm fork offset
29x2.8" max. wheelsize
Schalthebel hinter
Shimano Deore M5100
Schalthebel vorne
Shimano SL -MT500-L
32 teeth
170 mm-S, 175 mm-M up
Kettenblattgarnitur
170 mm-S, 175 mm-M up
material: aluminium
780mm width
20mm rise
Fahrradgriffe
MERIDA COMP EC
material: aluminium
35mm diameter
0° stem angle
50 mm all sizes
30.9mm diameter
0mm setback
S: 125mm travel seatpost - M/L/XL: 150mm travel seatpost
29mm inner width
material: aluminium
Tubeless ready (tubeless tape and valves not included)
110x15mm width front hub
32 spoke holes
Centerlock
148x12mm width rear hub
32 spoke holes
Centerlock
weighed with 29" wheels and at frame size M, without pedals
| | | | | | |
| --- | --- | --- | --- | --- | --- |
| Frame Size | S | M | L | XL | XXL |
| Tire Sizes | 29" | 29" | 29" | 29" | 29" |
| St Seat Tubes Mm | 380 | 410 | 430 | 450 | 470 |
| Tt Top Tubes Mm | 579 | 600 | 622 | 645 | 670 |
| Cs Chain Stays Mm | 435 | 435 | 435 | 435 | 435 |
| Hta Head Tube Angles Deg | 65.5 | 65.5 | 65.5 | 65.5 | 65.5 |
| Sta Seat Tube Angle Deg | 75.5 | 75.5 | 75.5 | 75.5 | 75.5 |
| Bd Bottom Bracket Drops Mm | 66.5 | 66.5 | 66.5 | 66.5 | 66.5 |
| Ht Head Tube Lengths Mm | 95 | 100 | 110 | 120 | 120 |
| Fl Fork Lengths Mm | 550 | 550 | 550 | 550 | 550 |
| R Reachs Mm | 415 | 435 | 455 | 475 | 500 |
| S Stacks Mm | 636 | 641 | 650 | 659 | 659 |
| Wb Wheel Base Mm | 1150 | 1172 | 1196 | 1220 | 1245 |
| Sh Stand Over Height Mm | 716 | 723 | 725 | 728 | 782 |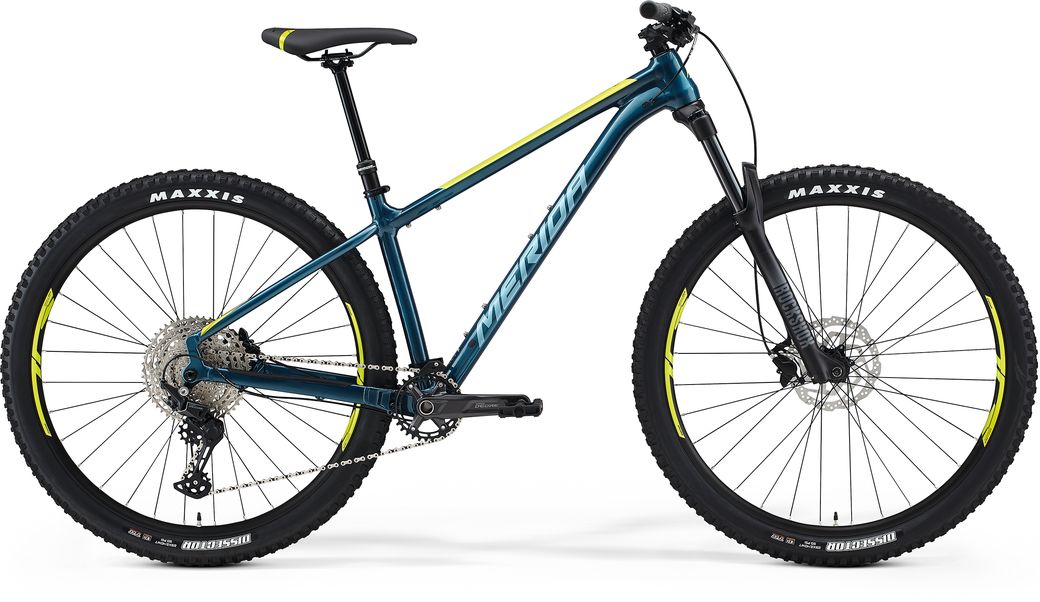 While clearly a trail loving long-travel hardtail, our new BIG.TRAIL also offers built-in versatility through hidden rack, fender and kick stand mounts in case you like to turn the BIG.TRAIL into a 'SUV' commuter.
Ability to fit two water bottles into the frame without making the bottles difficult to reach. Perfect for long marathon races and extended trail sessions.
Our BIG.TRAIL rolls on 29er wheels and has tyre clearance for up go 2.5" trail tyres. The combination of 29er wheels and 2.5" tyres offer plenty or corner and climbing grip, while the big tyre volume and the 29er 'rolling over ability' give our trail hardtail extra comfort and stability.
The new 'Trail Mount' is positioned underneath the top tube/seat tube junction and these ingenious fixing points makes fitting an additional tool or a pump a breeze. The 'Trail Mount' offers a real advantage if you prefer to keep the weight off your back or if you are heading out for an extra-long outing where you might need to carry additional gear.
Kabel und Züge werden im Rahmen geführt, was für eine saubere Optik sorgt. Ausserdem werden sie so vor Schmutz und Wasser geschützt.
Das Bike verfügt über einen Hinterbau mit Boost-Standard. Die breitere Achse mit 148 mm ermöglicht einen flacheren Spei chenwinkel; von der daraus resultierenden höheren Laufradsteifigkeit profitieren vor allem 29er.
A long reach, paired with a slack 65.5° head angle and a steep seat angle make our BIG.TRAIL a solid descender even when the trail is littered with roots and rocks, while maintaining impressive climbing abilities, due to the central seating position over the bottom bracket. The extra short seat tube and low stand over hight help to create lots of space to manoeuvre the bike when the trail gets demanding but also allow for long travel dropper posts.