HERE'S TO AN ESPRESSO IN ITALY
ACROSS THE ALPS
These were the words I used to say farewell to my former client at the Eurobike show in 2013, after four years of collaboration. While probably no one remembered them by the time 2014 came around and we never did make good on that promise, it did come back to my mind some years later. In the end, it wasn't until 2021 that an idea became an actual plan: to cross the Alps by road bike—with my SCULTURA. From Stuttgart to Bassano. A few companions were easy to find. In addition to my co-rider Sebastian, a production team wanted to accompany us to capture some stunning photos and video footage in the fascinating Alpine landscape.
Stage 1: Stuttgart to Kempten
The TBE vaccination two days before the start of the tour might not have been such a good idea after all. The Alb valley climb near Bad Urach in radiant sunshine and 32 degrees brings my "engine" to a stutter after just 68 kilometers. I hadn't expected to face such challenges so early on. After reducing my "cruising speed" considerably, I manage to haul myself, one way or another, to Ehningen for our first break. Several bouts of dizziness and a roadworks detour extend the journey time quite substantially. By the end of the day, we still clock up "just" 185 kilometers of the 210 kilometers we had planned. At least we escape an angry downpour on the final few meters to our first stage destination in Kempten. How my body will process the exertions of the day overnight is anybody's guess.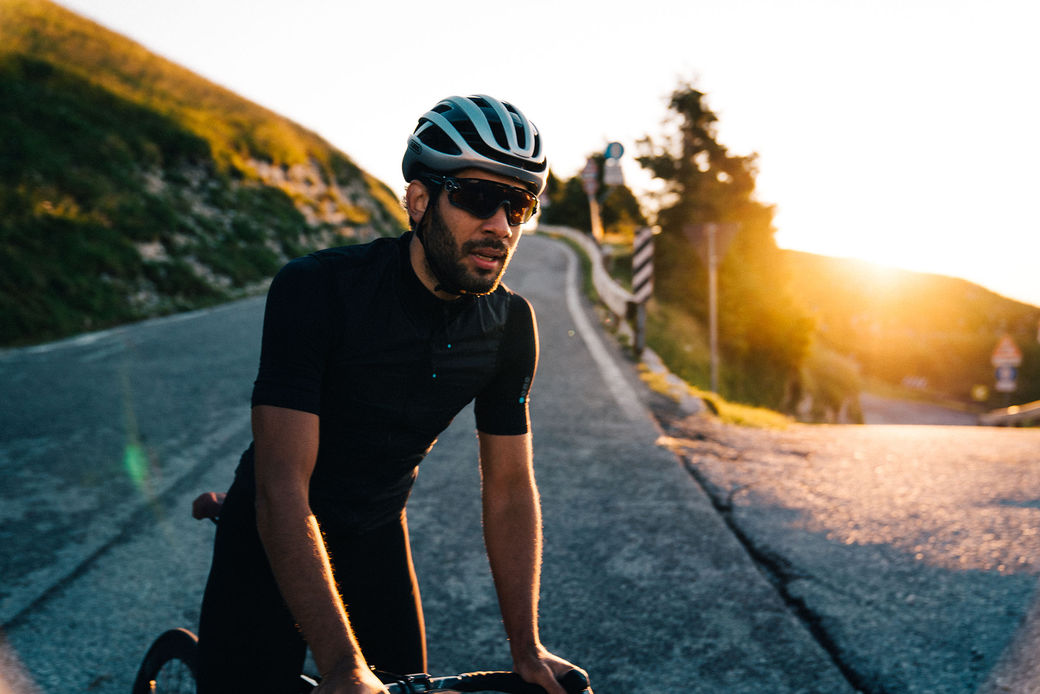 Stage 2: Kempten to Garmisch-Partenkirchen


As the rain only lets up shortly before the start of our second stage, the first few hours of day two are a rather damp affair. Contrary to my fears, my body feels strong and seems to have recovered well. We even take a short detour via Füssen to replenish our energy reserves with a hearty lunch. We enjoy the Allgäu midday sun sitting by the Forggensee reservoir before tackling the final kilometers of the day. We don't strictly follow the satnav but take a rough route through the planned towns. However, from time to time we do follow the suggested route, which leads us from initially easy gravel stretches to increasingly challenging terrain. This has nothing in common with my tranquil memories of Strade Bianche. After a quick route check on a smartphone, we realize that turning around would also make no sense (anymore). We resign ourselves to our fate along rugged gravel paths and carrying our bikes across several mountain streams, before the path finally spits us out just outside of Garmisch. We take refuge from the advancing thunderstorm in an ice cream parlor, where we are joined by cross-country skiing pro Max Olex, who I've known since my sports studies.
Our accommodation in Garmisch is located behind the ski-jump slope overlooking the Höllentalklamm gorge. The only way there is an extremely steep ramp with what feels like a 30% incline. Despite having just completed an interval, Max persuades me to tackle the "stitch" together by bike. We struggle up the last few meters to our lodging for the night. To round off the day, our host gives us an overview of the regional tourist highlights and then leaves us to our fate. Recovery is our top priority.
Stage 3: Garmisch-Partenkirchen to Patsch


Following a substantial breakfast, we set off toward Innsbruck. Today is supposed to be a "transfer stage," which, from a purely topographical point of view, does not present any real challenges. A small mountain pass and then just "roll the rest of the way." Of course, we made this assumption without calculating for the mixed summer weather. Rain is our constant companion, making the descents especially cold and unpleasant. We are forced to take an unplanned break in Innsbruck due to a storm. We ride the final few kilometers to Patsch just above Innsbruck and reach our accommodation for the night, after some almost obligatory extra kilometers. At the end of a pretty rainy day, we are all looking forward to a warm shower and restful hours in bed.
Stage 4: Patsch to Collepietra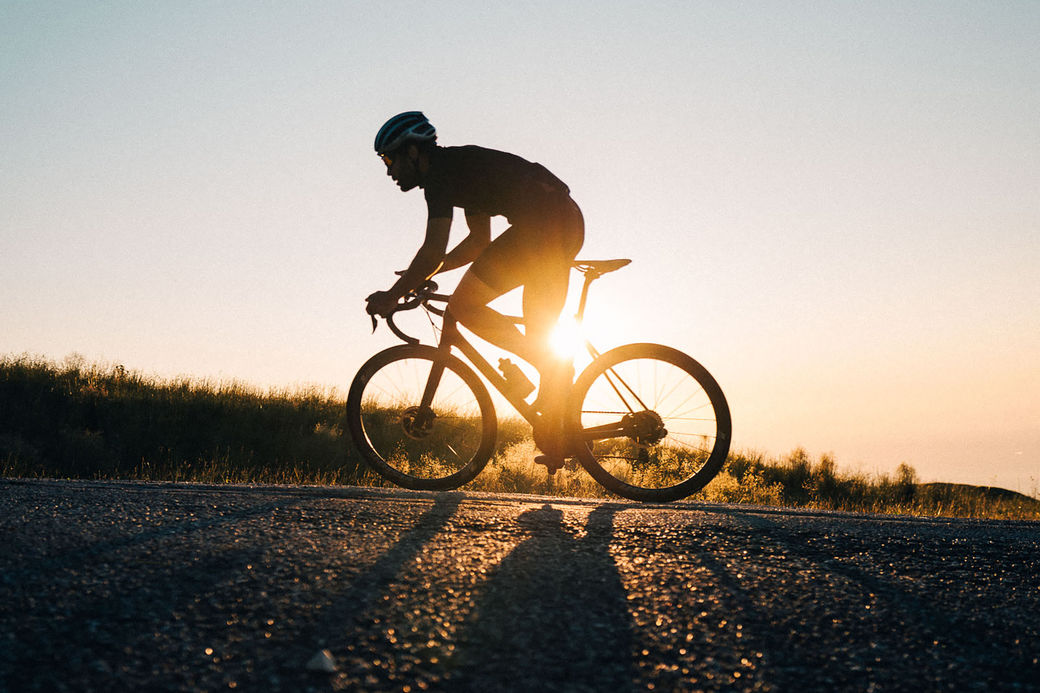 The fourth stage finally leads us into the Alps — and eventually to Italy. The climb to the Brenner Pass gets our muscle fibers up to operating temperature. Once at the top, we glide relaxed down into the valley toward Bolzano. With an obligatory rain shower, of course. We take the refreshment in our stride and combine it with an occasional little coffee break. Always the perfect combination. When we arrive in Bolzano, we endure a few extra kilometers and pedal back down into the valley to begin our final climb to Collepietra. After thirteen hairpin bends, a few meters of altitude, and with a little more lactic acid in our legs, we reach Collepietra. There we meet with our accompanying crew who have already acquainted themselves thoroughly with the spa program at Hotel Steineggerhof. Over an outstanding vegan dinner, we end the evening in the company of our hosts, the Resch family. We've really earned this after today's efforts.
Stage 5: Collepietra to Arco


We start the fifth stage relaxed: the first few kilometers of the day lead us gently along the valley. In Trento we decide against the moderate, flat option heading toward Lake Garda, and take a detour over Monte Bondone. After the second descent of the day, we are met by an old acquaintance—the rain. Despite falling back on our tried and trusted coffee break tactic, we are completely drenched in the last hour of our fifth stage. The rain remains our constant companion until just outside of Arco. After the rainclouds have completely emptied upon our arrival at Lake Garda, we are rewarded with a mild evening with good Italian food and gelato for our exertions.
Stage 6: Arco to Bassano


The final stage surprises us with beaming sunshine. We leave the tourist hotspots of Lake Garda behind us and pedal via Torbole back to Mori. On the opposite side of the mountain, we throw ourselves into the final climbs that lie between us and Bassano. Although I need to acclimatize to the combination of heat and altitude, my "engine" is now running smoothly, and we enjoy the magnificent and tranquil landscape. For our final descent into Bassano, we take our time and enjoy the landscape once again in all its glory. In the historic city center, we are greeted by the world-famous Ponte Vecchio wooden bridge, and embark on our final few kilometers to our hotel at the foot of Monte Grappa. Our crossing of the Alps ends at kilometer number 840, with over 9,000 meters of altitude in our legs.