material: carbon
700x30C max. wheelsize
100x12/ 142x12mm axle standard
BB86,5 bottom bracket standard
frame size
XXS, XS, S, M, L, XL
color
GLOSSY BLACK/MATT BLACK
material: carbon
700x30C max. wheelsize
brake lever
Shimano Ultegra
material: aluminium
380mm (XXS)
400mm (XS-S)
420mm (M), 440 (L-XL)
material: aluminium

-6° stem angle

90 mm-XXS/XS, 100 mm-S, 110 mm-M, 120 mm-L/XL
derailleur (f)
Shimano Ultegra
shifter front
Shimano Ultegra disc
shifter rear
Shimano Ultegra disc
Aero shape
15mm setback
Carbon
seat clamp
MERIDA REACTO Aero
52-36 teeth
165 mm-XSS/XS, 170 mm-S, 172.5 mm-M, 175 mm-L/XL
crank
165 mm-XSS/XS, 170 mm-S, 172.5 mm-M, 175 mm-L/XL
bottom bracket
SM-BB71-41B, Pressfit 86.5
19mm inner width
30mm height
material: aluminium
Tubeless ready (tubeless tape and valves not included)
100x12mm width front hub
28 spoke holes, Centerlock
12-142mm width rear hub
28 spoke holes
Centerlock
axle front
MERIDA EXPERT SL
including removable lever
6/4mm allen key
spokes
Double Butted Black stainless
light rear
REACTO light seat post + Battery
weighed with 700C wheels and at frame size M, without pedals
| | | | | | | |
| --- | --- | --- | --- | --- | --- | --- |
| Frame Size | XXS | XS | S | M | L | XL |
| Tyre Sizes | 28" | 28" | 28" | 28" | 28" | 28" |
| ST seat tube [mm] | 470 | 500 | 520 | 540 | 560 | 590 |
| TT top tube [mm] | 520 | 536 | 545 | 560 | 575 | 590 |
| CS chain stay length [mm] | 408 | 408 | 408 | 408 | 408 | 408 |
| HTA head tube angle [°] | 70.5 | 72 | 72.5 | 73.5 | 73.5 | 74 |
| STA seat tube angle [°] | 74.5 | 74 | 74 | 73.5 | 73 | 73 |
| BD bottom bracked drop [mm] | 70 | 70 | 66 | 66 | 66 | 66 |
| HT head tube [mm] | 105 | 112 | 128 | 140 | 155 | 176 |
| FL fork length [mm] | 385 | 385 | 385 | 385 | 385 | 385 |
| R reach [mm] | 377 | 384 | 390 | 395 | 400 | 409 |
| S stack [mm] | 517 | 529 | 542 | 557 | 571 | 593 |
| WB wheel base [mm] | 985 | 983 | 990 | 990 | 999 | 1010 |
| SH stand over height [mm] | 746 | 771 | 792 | 810 | 826 | 853 |
| | | | | | |
| --- | --- | --- | --- | --- | --- |
| No. | Item-No. | Name | Info | Pieces | Torque NM |
| 1 | A2029000035 | TUBE | foam; ID6mm L350mm | 1 | |
| 2 | A2029000028 | TUBE | foam; ID5mm L400mm | 1 | |
| 3 | A2054000107 | EXPANDER | for fork steerer ID 23.6mm | 1 | |
| 4 | A2191000187 | HEADSET | FSA NO.55R 1.5"/ACR/STD (TH-MR127, TH-MR168) | 1 | |
| 5 | A2029000055 | TUBE | woven; L40mm for size XXS/XS | 1 | |
| 5 | A2029000056 | TUBE | woven; L60mm for size S | 1 | |
| 5 | A2029000057 | TUBE | woven; L70mm for size M | 1 | |
| 5 | A2029000058 | TUBE | woven; L90mm for size L | 1 | |
| 5 | A2029000059 | TUBE | woven; L105mm for size XL | 1 | |
| 6 | A2164000060 | DISC COOLER | front; for FM160/FM180 | 1 | |
| 7 | A2298000265 | SCREW | M5x0.8 L16mm | 2 | 6~8 |
| 8 | A2002000103 | THRU AXLE | EXPERT SL; L=120mm M12x1.5 TL=12mm | 1 | |
| 9 | A2248000035 | CLAMP | for saddle rail; left inner part | 1 | |
| 10 | A2248000031 | CLAMP | for saddle rail; left outer part | 1 | |
| 11 | A2248000034 | CLAMP | for saddle rail; right inner part | 1 | |
| 12 | A2248000030 | CLAMP | for saddle rail; right outer part | 1 | |
| 13 | A2300000259 | SCREW | M6x1 L45mm | 2 | 10~12 |
| 14a | A2128000052 | COVER | for S-FLEX seatpost; with LED light | 1 | |
| 14b | A2129000081 | COVER | for S-FLEX seatpost, w/o light | 1 | |
| 15 | A2347000024 | COVER | for seatpost clamp | 1 | |
| 16 | A2247000084 | CLAMP | for seatpost | 1 | 5~6 |
| 17 | A2298000059 | SCREW | M5x0.8 L15mm | 4 | 3~4 |
| 18 | A2136000053 | MOUNT | for FD | 1 | |
| 19 | A2143000130 | BLIND PLUG | | 1 | |
| 20 | A2143000095 | CABLE PLUG | for Di2 | 1 | |
| 21 | A2322000034 | PROTECTOR | for chain stay | 1 | |
| 22 | A2311000104 | RD HANGER | DH-068 for ROAD-RD | 1 | |
| 23 | A2311000103 | RD HANGER | DH-067 for SHIMANO direct mount | 1 | |
| 24 | A2300000129 | SCREW | M3x0.5 L10mm | 1 | 2~4 |
| 25 | A2143000131 | BLIND PLUG | | 1 | |
| 26 | A2143000082 | CABLE PLUG | for mechanical | 1 | |
| 27 | A2143000121 | CABLE PLUG | for Di2 | 1 | |
| 28 | A2164000061 | DISC COOLER | rear; for FM140/FM160 | 1 | |
| 29 | A2002000104 | THRU AXLE | EXPERT SL; L=162.5mm M12x1.5 TL=12mm | 1 | |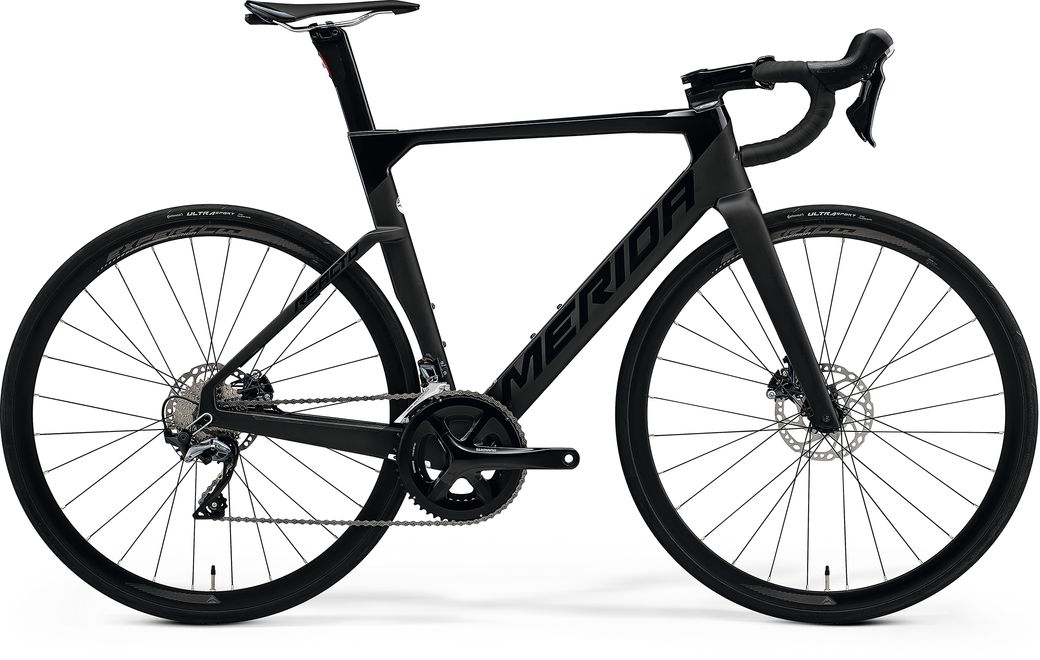 To offer maximum control and braking performance, the new REACTO comes equipped with disc brakes throughout the range. We use flat mount disc brake standards in combination with our 'Disc Cooling' technology at the front and rear for the best braking performance. A flat mount rear caliper is mounted on the chainstay which is better for dissipating braking forces but also keeps it protected inside the rear triangle.
Our high-performance carbon models with the CF5 frame feature a completely cable integrated Vision Metron 5D ACR carbon cockpit, improving aerodynamics and offering a super clean silhouette and cockpit area. The CF3 models with electronic shifting feature a two-piece aluminium cable integrated cockpit consisting of a Vision ACR SMR stem combined with a MERIDA EXPERT CW handlebar. All three cockpit options provide a very clean, organic and modern appearance.
With aerodynamic optimisation at the fork, seat stays and a cable integrated cockpit the new REACTO offers even better values than its already class-topping predecessor.
The 12 mm bolt through axles for greater wheel stiffness and precise disc alignment when replacing wheels. The custom axle lever is removable and has a 4 mm Allen key included, so, for example, stem and seat post clamps can be tightened and loosened.
All models feature a full carbon fork with a tapered steerer to give precise, confidence-inspiring steering. All SCULTURA Alloy and CF2 carbon models feature a 'regular' 1 1/8" to 1 1/2" taper. The high-end SCULTURA CF4 frame has a slimmed down front profile and uses a 1 1/8" to 1 1/4" taper, the new REACTO frames a 1 1/2" to 1 1/4"taper.
A forged aluminium part under the front and/or rear disc brake caliper draws heat away through CNC-milled cooling fins giving 35 % less heat build-up and faster temperature reduction for a stable braking performance.
Comfort has always been a key feature of the REACTO. Many aero bikes suffer from a harsh ride due to the larger tube sections and seat posts. Not so on the REACTO, where our profiled seat post behaves like a conventional seat post providing a significant level of comfort amongst other aero bikes.