The silhouette of the bike would not give away the fact the eScultura benefits from a permanent tailwind.

Cheating? Not when you're having this much fun. The eScultura 400 brings all the benefits of a pedal-assist motor to a serious road bike, delivering a way to keep up with the pack on the hills without a heavy, draggy feel when you're pedalling above the assistance limit. Shimano's benchmark 105 groupset and hydraulic disc brakes to deliver a ride that's as sporty as a regular bike.

MAHLE's ebikemotion system uses a 40Nm rear hub motor powered by a fully integrated 250Wh battery hidden in the downtube.

The low system weight combined with a carbon fork and sophisticated aluminium frame means the bike also feels lively even without power assistance. There is almost no drag at all from the motor when it is not engaged.

The system has an iWoc button for controlling support levels and a sophisticated app provides an opportunity to adjust the riding feel as well as offering post-ride analysis features.

The frame has mounts for mudguards and rack and a neat hidden kickstand mount. Cable routing is through the frame with cables entering through a specific headset cap to keep the cockpit nice and neat.
Lightweight triple butted aluminium frame
MAHLE ebikemotion 40Nm hub motor
Integrated 250Wh battery
Carbon fork
Shimano 105 2 x 11 drivetrain
Shimano 105 hydraulic disc brakes
material: aluminium
700x45C / 700x42C (with fender) / 27,5x47C max. wheelsize
100x9/135x9mm axle standard
BSA bottom bracket standard
MUK 40 Hanger
frame size
XS, S, M, L, XL
MDF09
material: carbon
700x40C w/ fender max wheelsize
speed sensor
Mahle PAS Sensor
17mm inner width
22mm height aluminium
Tubeless ready (tubeless tape and valves not included)
100x12mm width front hub
28 spoke holes
Centerlock
50-34 teeth
170 mm-XS/S/SM/ML, 175 mm-L/XL
bottom bracket
Shimano BSA
front derailleur
Shimano 105
material: aluminium
31.8mm diameter
5° stem angle
80 mm- XXS/XS, 90 mm-S, 100 mm-SM/ML, 110 mm-L/XL
stem size
80 mm-XXS/XS, 90 mm-S, 100 mm-SM/ML, 110 mm-L/XL
material: aluminium
400mm (XS/S), 420mm (M/L), 440 (XL)
material: carbon
30.9mm diameter
0mm setback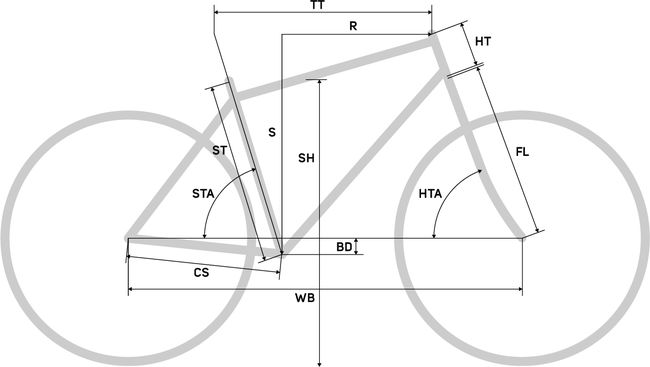 | | | | | | |
| --- | --- | --- | --- | --- | --- |
| Frame Size | XS | S | M | L | XL |
| Tyre Sizes | 28" | 28" | 28" | 28" | 28" |
| St Seat Tubes mm | 470 | 490 | 510 | 530 | 560 |
| Tt Top Tubes mm | 525 | 540 | 555 | 570 | 585 |
| Cs Chain Stays mm | 431 | 431 | 431 | 431 | 431 |
| HTA head tube angle [°] | 69.5 | 70 | 70.5 | 71 | 71.5 |
| STA seat tube angle [°] | 75 | 75 | 75 | 75 | 75 |
| Bd Bottom Bracket Drops mm | 70 | 70 | 70 | 70 | 70 |
| Ht Head Tube Lengths mm | 145 | 160 | 175 | 190 | 205 |
| Fl Fork Lengths mm | 400 | 400 | 400 | 400 | 400 |
| R Reach mm | 374 | 384 | 395 | 406 | 416 |
| S Stacks mm | 565 | 581 | 597 | 613 | 629 |
| Wb Wheel Base mm | 1032 | 1044 | 1055 | 1066 | 1076 |
| Sh Stand Over Height mm | 748 | 767 | 785 | 804 | 830 |
| | | | | | |
| --- | --- | --- | --- | --- | --- |
| No. | Item-No. | Name | Info | Pieces | Torque NM |
| 1 | A2136000017 | MOUNT | for bottle cage | 1 | |
| 2 | A2298000185 | SCREW | M5x0.8 L10mm | 2 | 3~5 |
| 3 | A2298000145 | SCREW | M5x0.8 L25mm | 1 | 3~5 |
| 4 | A2311000120 | RD-HANGER | DH-074 for MTB-RD | 1 | |
| 4 | A2311000119 | RD-HANGER | DH-072 for ROAD-RD | 1 | |
| 5 | A2300000004 | SCREW | M3x0.5 L6mm | 2 | 2~4 |
| 6 | A2029000079 | TUBE | woven; L620mm for size XL | 2 | |
| 6 | A2029000078 | TUBE | woven; L600mm for size M/L | 2 | |
| 6 | A2029000077 | TUBE | woven; L580mm for size XS/S | 2 | |
| 7 | A2161000122 | COVER | | 1 | |
| 8 | A2298000069 | SCREW | M5x0.8 L12mm with washer | 10 | 3~5 |
| 9 | A2258000162 | CABLE GUIDE | for M5 fixation | 1 | |
| 10 | A2298000119 | SCREW | M5x0.8 L10mm | 6 | 3~5 |
| 11 | A2258000163 | CABLE GUIDE | for M6 fixation | 1 | |
| 12 | A2298000230 | SCREW | M6x1 L14mm with washer | 1 | 3~5 |
| 13 | A21610000211 | CABLE GUIDE | for headtube | 1 | |
| 14 | A2221000047 | BEARING | MH-P16 | 2 | |
| 15 | A2350000962 | FORK | for eSILEX LITE | 1 | |
| 15 | A2350001347 | FORK | for eSPEEDER LITE/eScultura LITE | 1 | |
| 16 | A2002000114 | THRU AXLE |  COMP TR; L=121mm M12x1.5 TL=12mm | 1 | |
| 17 | A2300000362 | SCREW | M4x0.7 L4mm | 3 | 2~4 |
| 18 | A2300000499 | SCREW | M5x0.8 L10mm | 3 | 4~6 |
| 19 | A2054000107 | EXPANDER | for fork steerer ID 23.6mm | 1 | 6~8 |
| 20 | A2029000062 | TUBE | woven; L170mm for size XL | 1 | |
| 20 | A2029000061 | TUBE | woven; L150mm for size L | 1 | |
| 20 | A2029000060 | TUBE | woven; L125mm for size S/M | 1 | |
| 20 | A2029000059 | TUBE | woven; L105mm for size XS | 1 | |
Classification