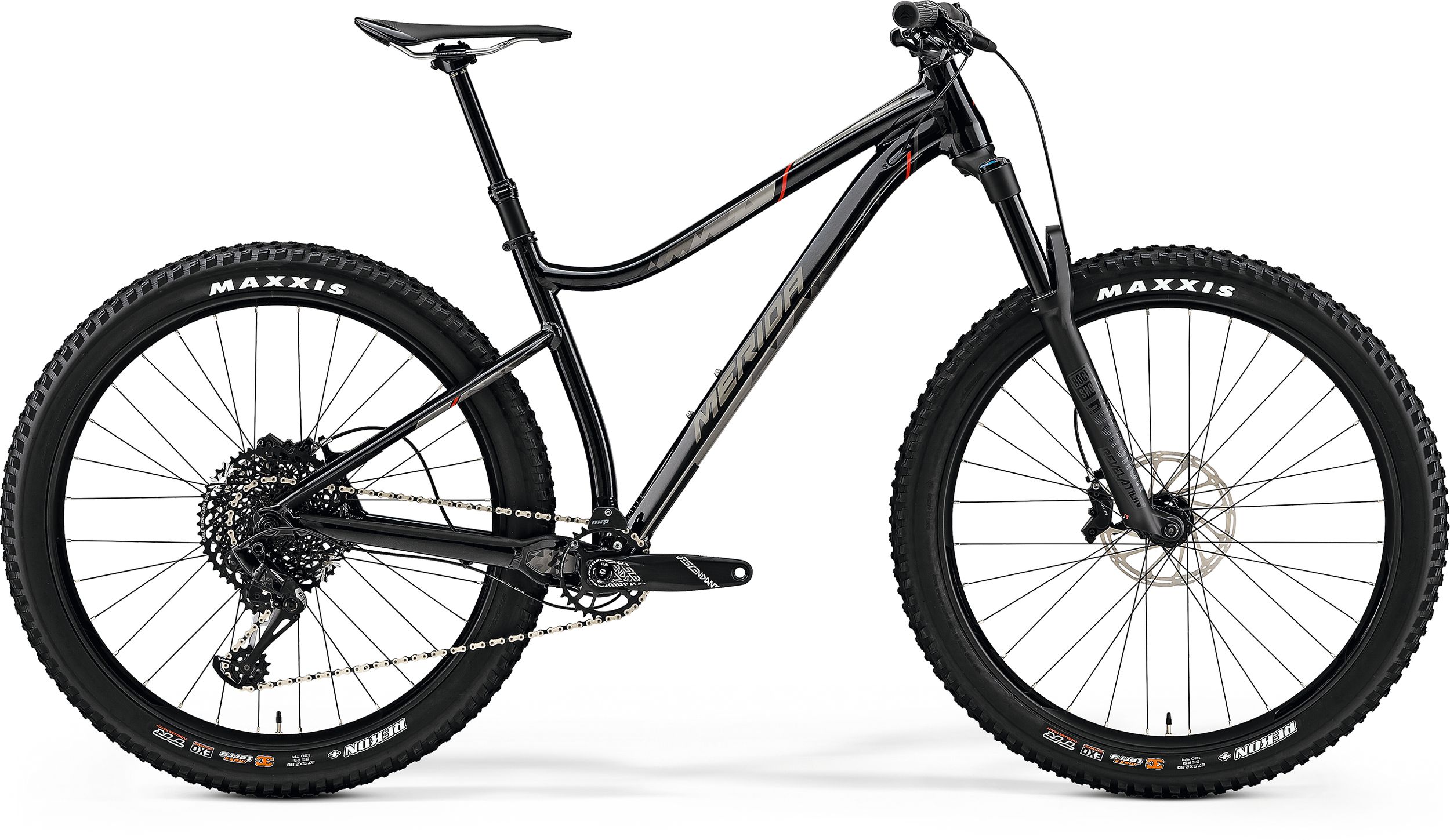 Not sure which size you need? Simply enter your body measurements into the Smartfit bike fitting system to find your ideal size. Find your size
Air
130mm suspension travel
Tapered
Hubs
JD-QR48R Boost axle 12x148mm
shifters
no / Sram GX Eagle
rear derailleur
Sram GX Eagle
bottom bracket
Sram BB DUB PF MTB 92
headset
MERIDA M2333 Neck
35mm diameter
0° stem angle
30.9mm diameter
0mm setback
S: 125mm travel seatpost - M/L/XL: 150mm travel seatpost
mudguard
MERIDA MTB lite-front
weighed at frame size M (w/o pedals)
| | | | |
| --- | --- | --- | --- |
| Frame Size | M | L | XL |
| Tyre Sizes | 27.5" | 27.5" | 27.5" |
| Frame Size cm | 44 | 49 | 54 |
| St Seat Tubes mm | 440 | 490 | 540 |
| Tt Top Tubes mm | 616 | 639 | 662 |
| Cs Chain Stays mm | 427.5 | 427.5 | 427.5 |
| HTA head tube angle [°] | 67.5 | 67.5 | 67.5 |
| STA seat tube angle [°] | 73.5 | 73.5 | 73.5 |
| Bd Bottom Bracket Drops mm | 60 | 60 | 60 |
| Ht Head Tube Lengths mm | 115 | 125 | 135 |
| Fl Fork Lengths mm | 541 | 541 | 541 |
| R Reach mm | 425 | 445 | 465 |
| S Stacks mm | 647 | 656 | 665 |
| Wb Wheel Base mm | 1146 | 1170 | 1194 |
| Sh Stand Over Height mm | 699 | 732 | 763 |
| Height in cm | 167 - 183 | 177 - 190 | > 187 |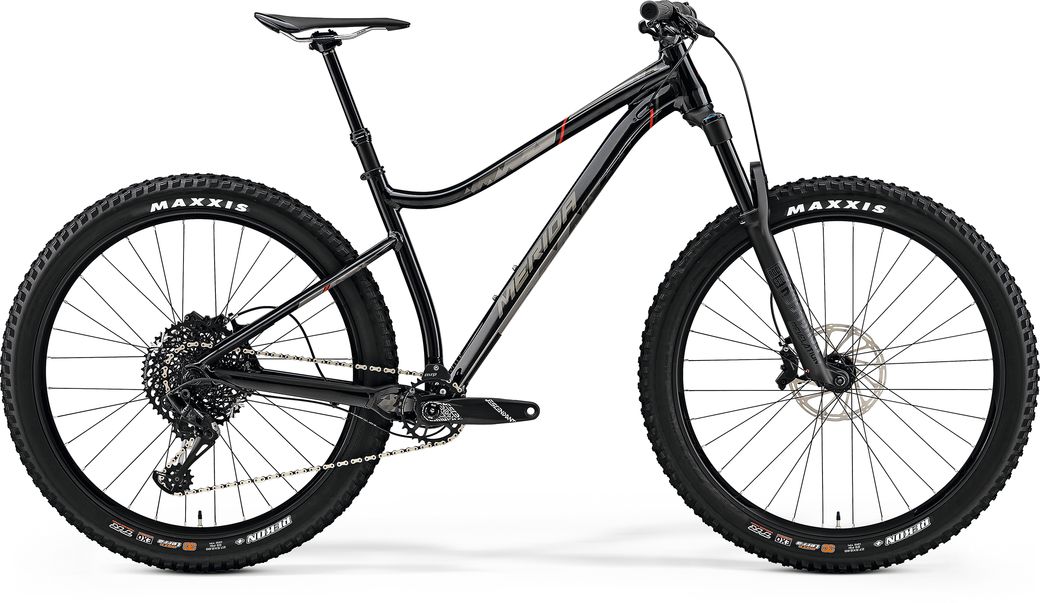 Lightweight triple butted and hydro­formed 6066 series aluminium with 'Smart Entry' cable routing for rattle free running. Fun focussed geometry with long top tube and short stem, precise handling provided by the tapered head tube, Boost axle standard and super short chainstays.
A triple butted and hydroformed 6066 series aluminium frame built to withstand even the harshest trail abuse. Through our special chainstay yoke we achieve huge tyre clearance whilst allowing space for a variety of chain ring sizes.
A dropper post is allowing the rider to get the saddle out of the way when the gradient gets steeper, giving him/her more space to manoeuver and control over their bike. The fitted dropper posts featuring internal cable routing and remote levers, creating a cleaner look and allowing easier 'on the go' saddle height adjustment.
Our BIG.TRAIL is closely related to our full suspension trail bike range sharing the same long, flat, low geometry. An enduro influenced 67.5° head angle and 130 mm fork combined with extra short 427.5 mm chainstays deliver agile handling. All frame sizes have a 35 mm stem complementing the long top tube and 760 mm wide bars.
650B+ wheels featuring 35-40 mm wide inner width rims and 2.8" tyres which are hugely capable when the going gets rough but also offer loads and loads of up-hill traction, cornering grip, puncture resistance and cushioning, without being draggy or sluggish. Most models offer tubeless ready rims and tyre configurations making a conversion to tubeless incredibly straightforward.
Cables, housings and brake hoses are clamped under tension to prevent rattling when the trails and roads get rough. All inlets are completely interchangeable to deal with Di2, hydraulic hoses, brake cable and gear cable housings etc.
'Boost' standard front & rear. The extra 6 mm rear hub and 10 mm front hub spacing in comparison with conventional hubs brings the width up to 148 mm / 110 mm and allows for a shallower spoke angle for an even stiffer and stronger wheel. On top of that, the chain line moves outwards – an important requirement for short chainstays.