The eSpresso City has one of the lowest, widest step throughs available. It's the perfect partner for urban riding, offering comfort and practicality.

Standard-fit mudguards, lights, lock, rack and kickstand mean you're ready to go from the moment you leave the shop.

Fast rolling 700c wheels are perfect for use in town, on gravel tracks or cycle paths. Wide 50 mm tyres add extra grip and comfort and their reflective sidewalls strips enhance rider safety in low light.

Choose between frames such as this with internally mounted batteries or a more affordable, semi-integrated design. All use a powerful Shimano STEPS drive unit with batteries mounted low to aid balance and emulate a natural riding feel.

A tapered head tube delivers confidence inspiring handling.

A 150 kg maximum rider and equipment weight allows plenty of carrying capacity.


Strong but controllable hydraulic disc brakes help you stop with ease.
One of the lowest widest step throughs in the market
Shimano Steps 6100 60Nm motor with 630Wh battery
Shimano Deore 10 speed and hydraulic disc brakes
Mudguards, kickstand, rack, lock and lights
Suspension seatpost and adjustable stem
Reflective strip on tyres
material: aluminium
700x50C (with fender) max. wheelsize
135x9mm axle standard
MUK 5 Hanger
Coil
63mm suspension travel
700x52C max wheelsize
motor unit
PC-052, Alloy painting
speed sensor
Shimano SM-DUE11
20mm inner width
material: aluminium
100x9mm width front hub
32 spoke holes
Centerlock
135x9mm width rear hub
36 spoke holes
Centerlock
622-50
wire
reflecting line
622-50
wire
reflecting line
shifters
Shimano Deore M4100
material: aluminium
31.8mm diameter
adjustable
65 mm-XS/S/M, 90 mm-L/XL
stem size
65 mm-XS/S/M, 90 mm-L/XL
material: aluminium
640mm width
35mm rise
30.9mm diameter
15mm setback
40mm seatpost suspension travel
STVZO
STVZO
integrated in MERIDA MIK HD carrier
Spring clip
Spanninga rear light
kickstand
Atranvelo 1219-PC-7
mudguard
Sunnywheel SW-FA311-60E1 (MSB)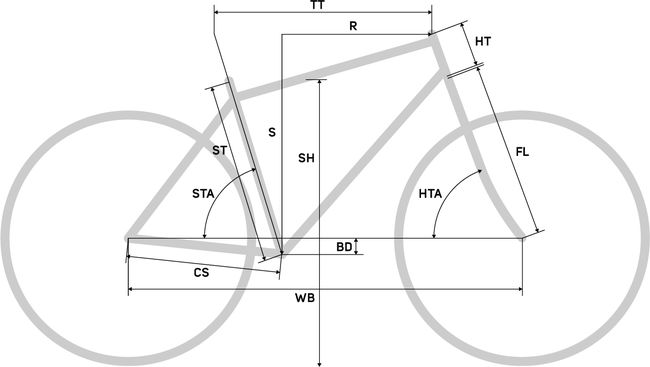 | | | |
| --- | --- | --- |
| Frame Size | XS | S |
| Tyre Sizes | 28" | 28" |
| St Seat Tubes mm | 380 | 430 |
| Tt Top Tubes mm | 580 | 595 |
| Cs Chain Stays mm | 470 | 470 |
| HTA head tube angle [°] | 70 | 70 |
| STA seat tube angle [°] | 73.5 | 73.5 |
| Bd Bottom Bracket Drops mm | 65 | 65 |
| Ht Head Tube Lengths mm | 170 | 175 |
| Fl Fork Lengths mm | 475 | 475 |
| R Reach mm | 386 | 399 |
| S Stacks mm | 656 | 661 |
| Wb Wheel Base mm | 1113 | 1128 |
| Sh Stand Over Height mm | 413 | 413 |
| | | | | | |
| --- | --- | --- | --- | --- | --- |
| No. | Item-No. | Name | Info | Pieces | Torque NM |
| 1 | A2300000004 | SCREW | M3x0.5 L6mm | 2 | 2~4 |
| 2 | A2311000072 | RD-HANGER | DH-013F | 1 | |
| 3 | A2258000079 | CABLE PLUG | for rear brake | 1 | |
| 4 | A2300000468 | SCREW | M8x1.25 L18.5mm | 3 | 11~12 |
| 5 | A2300000469 | SCREW | M8x1.25 L23mm | 3 | 11~12 |
| 6.1 | A2143000126 | BUTTON | ON-OFF; for SHIMANO batteries | 1 | |
| 6.2 | A2143000097 | BLIND PLUG | for SIMPLO batteries | 1 | |
| 7 | A2164000088 | MOUNT | for lower battery mount | 1 | |
| 8 | A2298000143 | SCREW | M6x1.0 L10mm | 4 | 6~8 |
| 9 | A2030000016 | MOUNT | upper; for battery cover | 1 | |
| 10 | A2030000017 | MOUNT | lower; for battery cover | 1 | |
| 11 | A2160000012 | O-RING | OD6mm ID4mm | 2 | |
| 12 | A2221000048 | BUSHING | for battery cover | 2 | |
| 13 | A2300000530 | BOLT | M5x0.8 L39.5mm | 1 | 4~6 |
| 14 | A2300000231 | SCREW | M3x0.5 L8mm | 3 | 2~4 |
| 15 | A2143000153 | BLIND PLUG | for drive unit screw holes | 4 | |
| 16 | A2161000138 | COVER | for battery; frame size XS | 1 | |
| 16 | A2161000139 | COVER | for battery; frame size S | 1 | |
| 16 | A2161000140 | COVER | for battery; frame size M | 1 | |
| 16 | A2161000141 | COVER | for battery; frame size L | 1 | |
| 16 | A2161000142 | COVER | for battery; frame size XL | 1 | |
| 17 | A2136000071 | MOUNT | for battery cover | 1 | |
| 18 | A2029000001 | BUMPER | for battery cover | 2 | |
| 19 | A2134000061 | BUTTON | for cover lock | 1 | 3.75~4.25 |
| 20 | A2136000017 | MOUNT | for bottle cage | 1 | |
| 21 | A2292000028 | WASHER | OD9mm ID5.2mm H3mm | 2 | |
| 22 | A2298000154 | SCREW | M5x0.8 L12mm | 2 | 3~5 |
| 23 | A2298000158 | SCREW | M5x0.8 L25mm | 1 | 3~5 |
| 24 | A2164000065 | MOUNT | for SIMPLO ON-OFF | 1 | |
| 25 | A2300000568 | SCREW | M3x0.5 L6mm | 2 | 2~4 |
| 26 | A2300000204 | NUT | for fender; M6 | 1 | |
| 27 | A2300000288 | SCREW | M6x1.0 L18mm | 1 | 10~12 |
| 28 | A2363000255 | PROTECTOR | for step through area | 1 | |
| 29 | A2191000138 | HEAD SET | MERDIA/ACROS-ICR TREKKING | 1 | |
| 30 | A2161000143 | COVER | for drive unit; left side | 1 | |
| 31 | A2161000144 | COVER | for drive unit; right side | 1 | |
| 32 | A2143000122 | CABLE PLUG | for front light | 1 | |
| | | SMALL PARTS E6100 | see pdf file | | |
Classification