material: aluminium
160mm suspension travel
27.5" wheelsize
148x12mm axle standard
external
max. 504 Wh
Air
160mm suspension travel
Tapered
51mm fork offset
speed sensor
Shimano SM-DUE11
38mm inner width
material: aluminium
Tubeless ready (tubeless tape and valved not included)
110x15mm width front hub
32 spoke holes
Centerlock
148x12mm width rear hub
36 spoke holes
Centerlock
27.5x2.6 "
fold
3C EXO TR
27.5x2.6 "
fold
3C EXO TR
including removeable lever, 6/4mm allen key
34 teeth
Shimano FC-E8000
rear derailleur
Shimano Deore Shadow+
headset
FSA NO.57/55E neck
material: aluminium
35mm diameter
0° stem angle
40 mm all sizes
stem size
40 mm all sizes
material: aluminium
780mm width
20mm rise
30.9mm diameter
0mm setback
S 100mm travel seatpost - M/L/XL 125mm travel seatpost
seat clamp
MERIDA Expert clamp
lights
CG-119PG-BLACK(1) / CG-404RG-BLK
mudguard
C093-02F + C093-02R
weighed at frame size M without pedals
| | | | | |
| --- | --- | --- | --- | --- |
| Frame Size | S | M | L | XL |
| Tyre Sizes | 27.5" | 27.5" | 27.5" | 27.5" |
| St Seat Tubes mm | 410 | 430 | 470 | 510 |
| Tt Top Tubes mm | 583 | 608 | 634 | 658 |
| Cs Chain Stays mm | 439.5 | 439.5 | 439.5 | 439.5 |
| HTA head tube angle [°] | 66.5 | 66.5 | 66.5 | 66.5 |
| STA seat tube angle [°] | 75 | 75 | 75 | 75 |
| Bd Bottom Bracket Drops mm | 12.5 | 12.5 | 12.5 | 12.5 |
| Ht Head Tube Lengths mm | 100 | 120 | 140 | 160 |
| Fl Fork Lengths mm | 571 | 571 | 571 | 571 |
| R Reach mm | 420 | 440 | 460 | 480 |
| S Stacks mm | 608 | 626 | 644 | 663 |
| Wb Wheel Base mm | 1174 | 1202 | 1230 | 1258 |
| Sh Stand Over Height mm | 724 | 727 | 757 | 789 |
| Height in cm | < 173 | 167 - 183 | 177 - 190 | > 187 |
| | | | | | |
| --- | --- | --- | --- | --- | --- |
| No. | Item-No. | Name | Info | Pieces | Torque NM |
| 1 | 2294001180 | WASHER | | 2 | |
| 2 | 2221002191 | BEARING | 3802V-2RD 24D*15D*7W | 2 | |
| 3 | 2300012662 | BOLT | | 1 | |
| 4 | 2300012673 | SCREW | | 1 | 18 |
| 5 | 2300011876 | BOLT | | 1 | 14 |
| 6 | 2302002127 | NUT | | 1 | |
| 7 | | ROCKER | | 1 | |
| 8 | 222100254 | BEARING | 6800V2RS 19D*10D*5W | 2 | |
| 9 | 2300011865 | SCREW | | 2 | 16 |
| 10 | 2294004633 | WASHER | | 2 | |
| 11 | 2221002265 | BEARING | 6801V-2RS 21D*12D*5W | 2 | |
| 12 | 2300012695 | SCREW | | 1 | 14 |
| 13 | 2300012684 | BOLT | | 1 | |
| 14 | 2294002255 | WASHER | | 2 | |
| 15 | 2294004826 | WASHER | | 4 | |
| 16 | 2221002328 | BEARING | 12214V-2RS 21D*12D*4W | 8 | |
| 17 | 2300012703 | BOLT | | 4 | |
| 18 | 2300012714 | SCREW | | 4 | 14 |
| 19 | 2300010950 | SCREW | | 2 | 4 |
| 20 | 2311005101 | Dropout DH-057 | | 1 | |
| 21 | | SMART ENTRY | | | |
| 22 | | SMART ENTRY | | | |
| 23 | 2300011412 | SCREW | | 2 | 4 |
| 24 | 2161000681 | BATTERY COVER | For size S, L | 1 | |
| 24 | 2161000670 | BATTERY COVER | For size M, XL | 1 | |
| 25 | 2143002869 | PLUG | | 1 | |
| 26 | 2300012101 | SCREW | | 3 | 12 |
| 27 | 2300012112 | SCREW | | 3 | 12 |
| 28 | 2298002501 | SCREW | | 1 | 7 |
| 29 | 2258000217 | CABLE GUIDE | | 1 | |
| 30 | 2258003801 | CABLE GUIDE | | 1 | |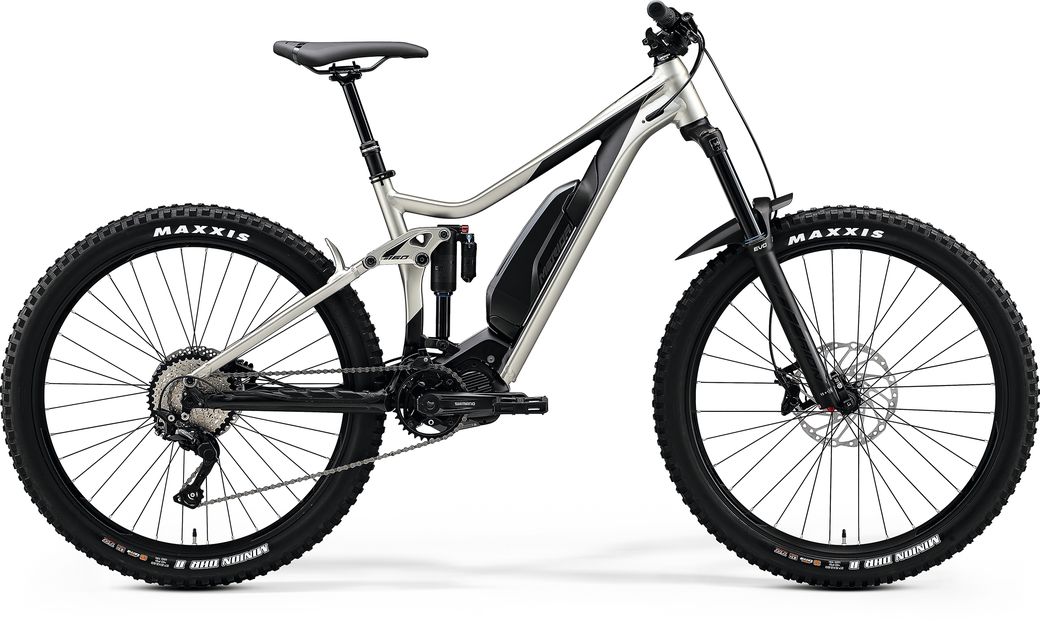 A two-component battery cover, which offers the perfect protection for the internal battery of these models. The softer (outer) layer reduces noises, seals the downtube perfectly and absorbs hits from trail debris easily, while the harder (inner) layer ensures that the battery does not get damaged and gives it the structural shape.
First introduced in 2015, the e-bike version of the 'Internal Block' is incorporated directly into the frame and prevents the fork crown from hitting the frame in case of a crash or an extreme steering angle. As an extra protection, there are additional rubber bumpers on the frame to avoid any frame damage from the fork crown.
The eONE-SIXTY features a well-protected satellite charging port, positioned in the main frame triangle, just above the motor.
To give the e-full suspension bikes precise steering, fantastic 'rolling over obstacles' behaviour yet maximum traction, we have combined a 29er front wheel with a 2.5" tyre and a 650B rear wheel, equipped with a slightly wider 2.6" tyre. The perfect combination of precision, playfulness and traction.
Specifically located openings on the carbon models near the head tube which work like a chimney and allow the warm air to dissipate to guarantee the optimum operating temperature of the internal battery. The 'Thermo Gate' enables the battery to perform at its best, in any condition.
Due to the integrated battery, we were able to offer water bottle cage fixing points, allowing bottles or accessories like a lock or pump to the frame to be fitted into the main frame triangle. Great if you want to keep your back free of hydration packs and backpacks.
HFS-hydroforming Prolite 66 triple butted aluminium frame with aggressive enduro geometry and 160 mm rear wheel travel – Shimano STePS E8000 motor allows for short chain stays delivering agility. 'Smart Entry' cable routing for rattle free running. Casting motor bracket creates an integrated appearance of the motor into the frame as well as provides an extremely strong connection between frame and motor.
'Boost' standard front & rear. The extra 6 mm rear hub and 10 mm front hub spacing in comparison with conventional hubs brings the width up to 148 mm / 110 mm and gives the eONE-SIXTY wheels noticeably more stiffness and strength.