Farbe
MATT-DARK SILVER (BLUE/BLACK)
Coil
100mm suspension travel
Lockout
Schaltwerk
Shimano RD-M370
Schalthebel hinter
Shimano ST-EF505
Umwerfer
Shimano FD-M2000
Schalthebel vorne
Shimano ST-EF505
Bremse vorne
Shimano ST-EF505
Bremse hinter
Shimano ST-EF505
Bremshebel
Shimano ST-EF505
31.8mm diameter
6° stem angle
Sattel
MERIDA Sport Comfort
30.9mm diameter
15mm setback
100x9mm width front hub
32 spoke holes
Centerlock
135x9mm width rear hub
32 spoke holes
Centerlock
weighed at frame size M (w/o pedals)
| | | | |
| --- | --- | --- | --- |
| Frame Size | L | XL | XXL |
| Tire Sizes | 29" | 29" | 29" |
| Frame Size CM | 47 | 51 | 56 |
| St Seat Tubes Mm | 470 | 510 | 560 |
| Tt Top Tubes Mm | 610 | 630 | 650 |
| Cs Chain Stays Mm | 445 | 445 | 445 |
| Hta Head Tube Angles Deg | 70 | 70 | 70 |
| Sta Seat Tube Angle Deg | 73 | 73 | 73 |
| Bd Bottom Bracket Drops Mm | 60 | 60 | 60 |
| Ht Head Tube Lengths Mm | 130 | 145 | 160 |
| Fl Fork Lengths Mm | 506 | 506 | 506 |
| R Reachs Mm | 414 | 429 | 445 |
| S Stacks Mm | 642 | 656 | 670 |
| Wb Wheel Base Mm | 1115 | 1136 | 1157 |
| Sh Stand Over Height Mm | 775 | 809 | 851 |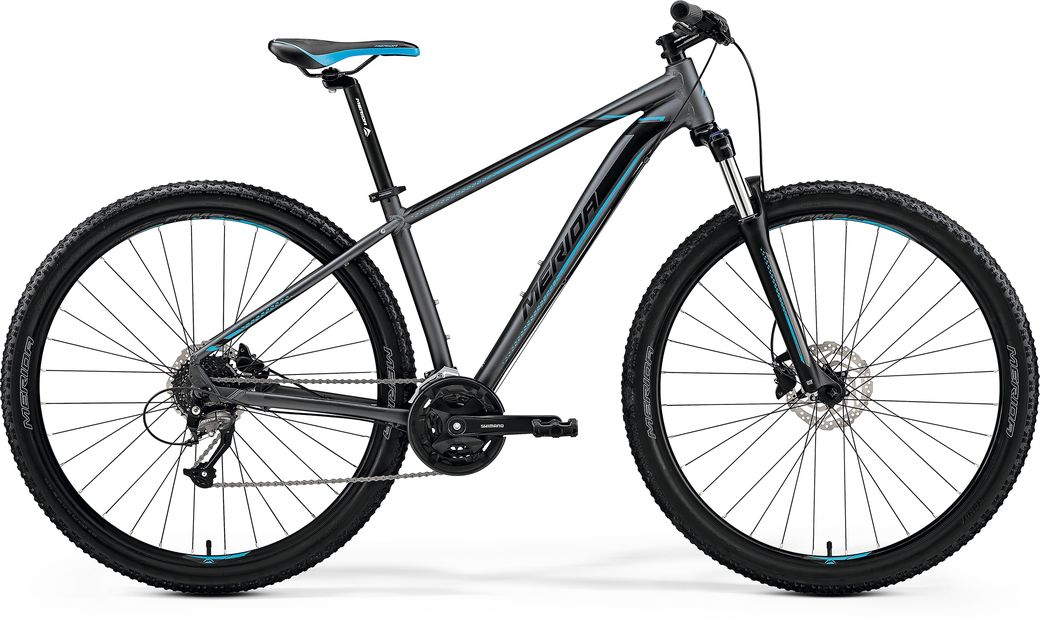 Alle Modelle ab dem BIG.NINE 40 sind mit einer 30,9 mm Sattelstütze ausgestattet. Der verstärkte Verbindungsbereich zwischen Ober- und Sitzrohr erhöht die Steifigkeit und erlaubt die Montage einer Vario-Sattelstütze. Ab dem BIG.NINE LIMITED ist sogar eine interne Kabelverlegung für eine Vario-Sattelstütze möglich.
Abhängig von der Rahmengrösse, bieten wir eine 27,5 oder eine 29er Version unserer TFS oder SPEED Rahmen an. Die Bedürfnisse kleinerer Fahrer (geringe Überstandshöhe, niedriges Cockpit) lassen sich am besten mit 27,5"-Laufrädern bei Rahmengrösse S und M realisieren. Rahmen in L und XL werden nur mit 29er Laufrädern angeboten, Rahmengrösse M mit beiden Laufradoptionen angeboten.
Unsere Hardtails sind nicht nur beliebte Begleiter auf Trails, auch die internationale Fachpresse ist begeistert von unserer Entwicklungsarbeit und unserem Design. De Telegraaf (Niederlande) kürte das BIG. NINE XT-EDITION zum Testsieger. Das polnische Magazin Bike-Board zeichnete das BIG.NINE 500 gleich drei Mal aus: als leichtestes Bike, als Preis-Leistungs- Sieger und Gesamtsieger!
Unsere Modelle aus Carbon und leichtem Aluminium kommen mit 422 mm Reach, einem steilen 73,5 Grad Sitzwinkel, flachem Lenkwinkel von 70 Grad sowie 80 mm langem Vorbau (BIG.NINE – M) – die XC-Geometrie der nächsten Generation. Aggressive Agilität trifft auf guten Geradeauslauf – genau richtig für die anspruchsvollen Kurse unserer Zeit.
Auf den Spuren des BIG.NINE/BIG. SEVEN TFS Rahmens, der 2018 vorgestellt wurde, haben wir uns 2019 daran gemacht den SPEED Rahmen zu überarbeiten. Schlanke Rohrformen ergeben einen neuen Look und eine entspannte Geometrie. Ein kürzeres Oberrohr und ein höheres Steuerrohr erzeugen eine aufrechtere Sitzposition und eine bessere Übersicht im Trail. Die neuen Rahmen ist mit IS Bremsaufnahmen, die im hinteren Rahmendreieck positioniert sind, sowie Aufnahmen für Schutzblech und Seitenständer ausgestattet.
Nicht nur schön anzusehen: Mit "Smart Entry" bekommt das BIKE eine durchdachte interne Zugverlegung. Da klappern keine Züge im Rahmen, wenn es auf dem Trail ruppig wird.
6061 series double butted and technoformed aluminium. Redesigner in 2019 using a new tube set with a more modern design. Comes equipped with inboard disc mounts, as well as F, C and K-mounts.