SIE SIND SICH NICHT SICHER, WELCHE RAHMENGRÖSSE SIE BENÖTIGEN?
Um Ihnen eine zuverlässigere und genauere Vorstellung davon zu geben, welche Rahmengröße Sie benötigen, haben wir das SMARTFIT-Tool zur Größenbestimmung in unsere Website integriert.
Das SMARTFIT-Tool hat einen wissenschaftlichen Ansatz zur Bestimmung der benötigten Rahmengröße. Die Basis der Berechnungen bilden wissenschaftliche Algorithmen sowie Daten aus 80.000 Körpermaßen und mehr als 100.000 Fahrradmodell-Datensätzen.
Sie finden das Tool auf jeder Fahrradseite, indem Sie auf den Link FINDEN SIE IHRE PASSENDE RAHMENGRÖSSE klicken, wie auf der rechten Seite gezeigt.
Das Tool erklärt Ihnen Schritt für Schritt, wie Sie die verschiedenen Messungen richtig ausführen.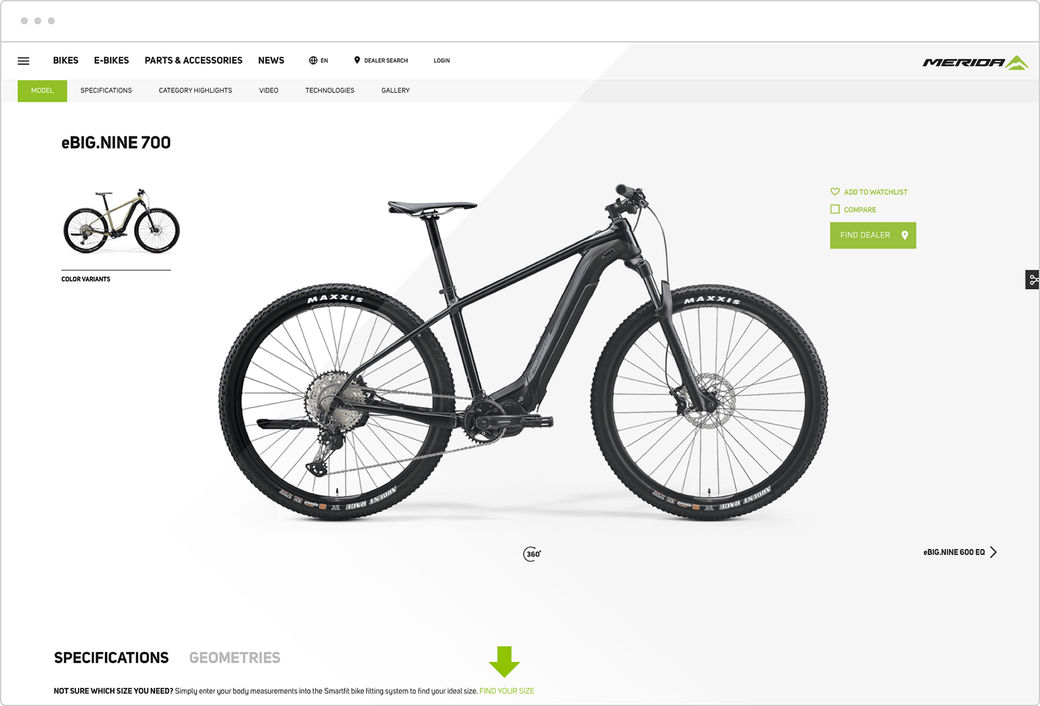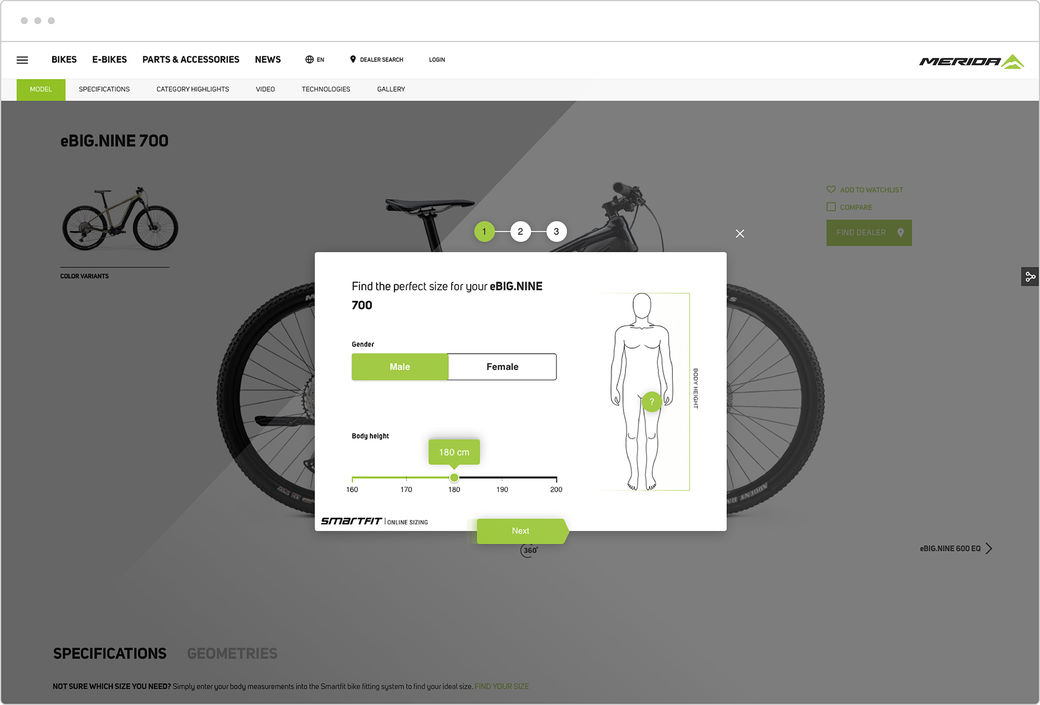 Geben Sie Geschlecht und Körpergröße an
Nachdem Sie auf den Link geklickt haben, werden Sie gebeten, weitere Einzelheiten anzugeben, darunter drei verschiedene Maße, beginnend mit Geschlecht und Körpergröße.

Um Ihre Körpergröße zu messen:
Stellen Sie sich ohne Schuhe aufrecht und mit dem Rücken an die Wand.
Messen Sie jetzt vom Boden bis zur Spitze Ihres Kopfes.
Das ist Ihre Körpergröße.
Gefolgt von der Armlänge…
Um Ihre Armlänge zu messen:
Entspannen Sie den linken Arm und gleiten Sie mit der rechten Hand über das Schulterblatt, bis Sie das Ende des Schulterknochens gefunden haben. Fixieren
Sie diesen Punkt mit der linken Hand.
Messen Sie nun den Abstand von diesem Punkt bis zu Ihrem Handgelenk mit einem Maßband oder ähnlichem.
Das ist Ihre Armlänge.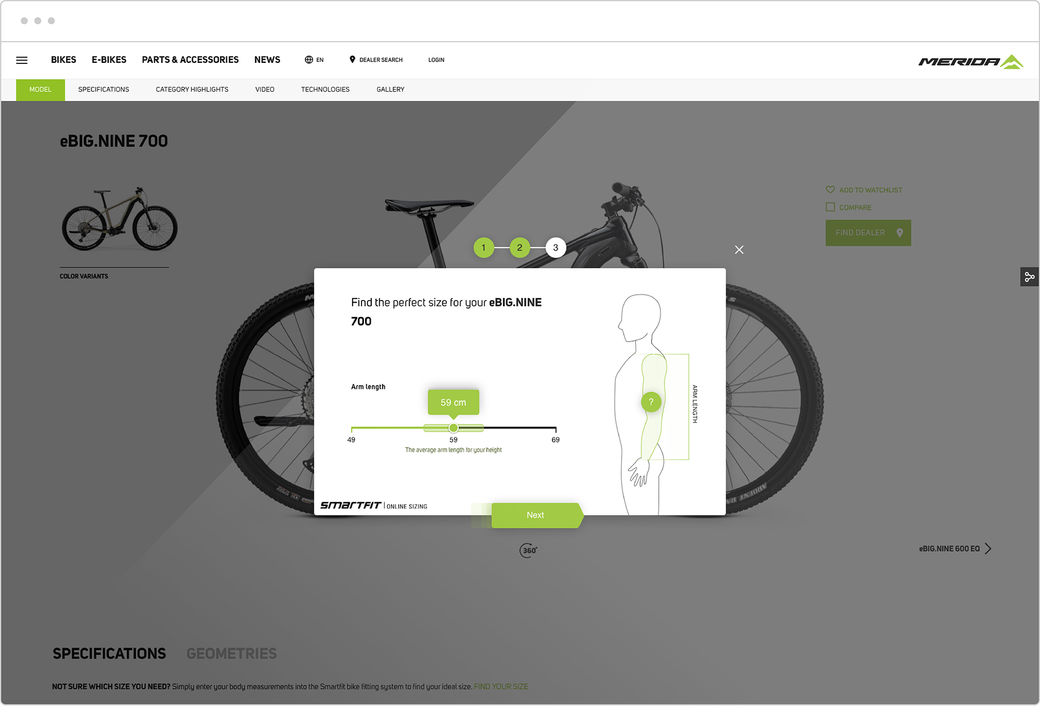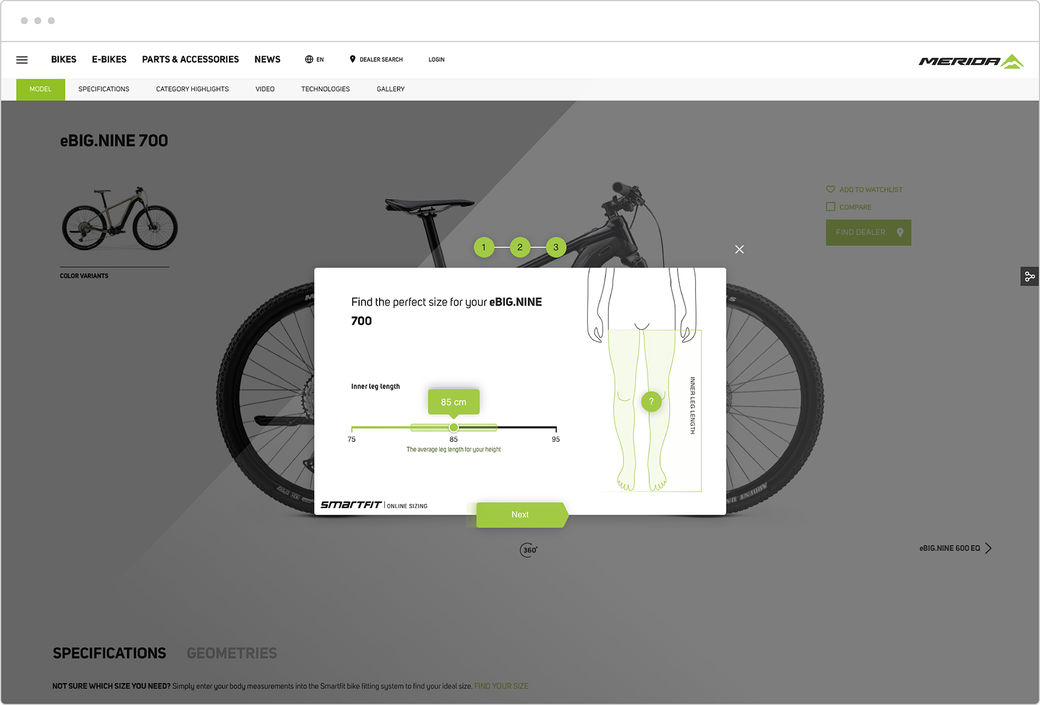 ...und endet mit der Angabe der inneren Beinlänge.
Zur Messung der inneren Beinlänge:
Stellen Sie sich mit dem Rücken zur Wand auf. Nehmen Sie eine Wasserwaage (oder ein Buch) zwischen die Beine.
Ziehen Sie mit beiden Händen (eine vor Ihnen, die andere hinter Ihnen) die Wasserwaage (oder das Buch) zwischen Ihren Beinen nach oben, um den Druck zu simulieren, der beim Sitzen auf einem Fahrradsattel entsteht.
Die Wasserwaage (oder das Buch) sollte während der Messung waagerecht bleiben. Messen Sie nun den Abstand zwischen der Wasserwaage und dem Boden.
Das ist Ihre innere Beinlänge.
Das SMARTFIT-Tool berechnet die ideale MERIDA-Rahmengröße für Sie
Basierend auf diesen Messungen und den in das System eingespeisten MERIDA-spezifischen Geometrien, berechnet das SMARTFIT-Tool die ideale MERIDA-Rahmengröße für Sie. Sie können nicht nur sehen, welche Größe das Tool empfiehlt, sondern auch, wo Sie sich innerhalb dieser Größe befinden. Dies kann besonders hilfreich sein, wenn Sie glauben, dass Sie sich zwischen den Rahmengrößen befinden.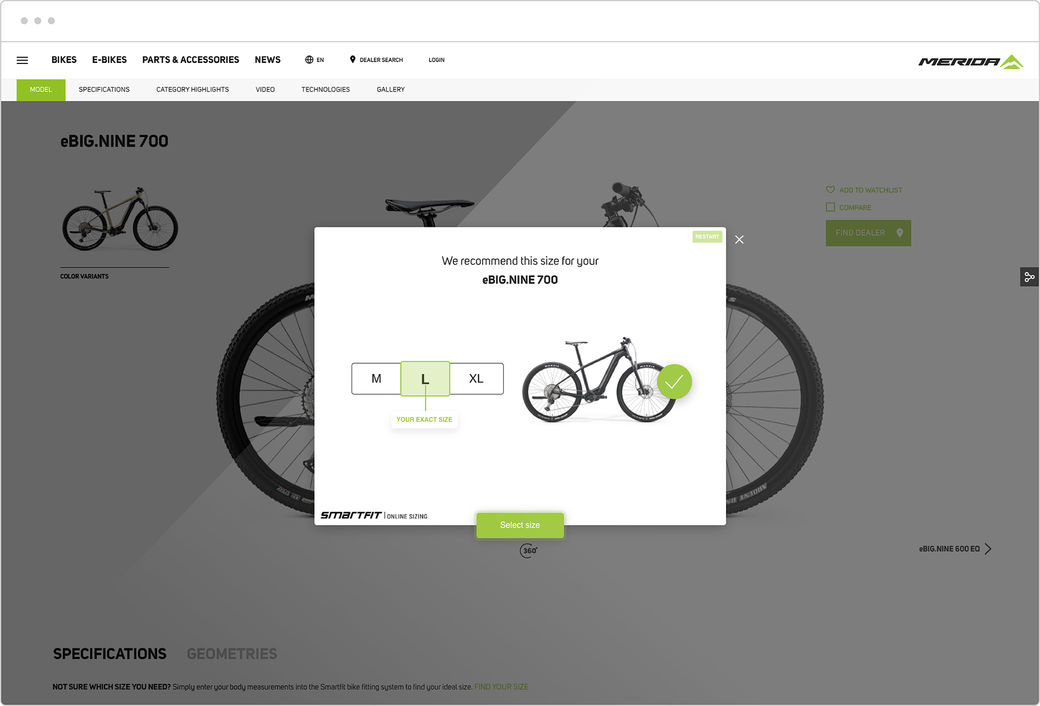 Bitte beachten Sie, dass die angegebenen Größen nur Vorschläge sind, und dass wir immer empfehlen, sich von Ihrem örtlichen MERIDA-Händler weiter beraten zu lassen.
Are you in the right place?
You have landed on the MERIDA
German (Switzerland)
website.
If you are looking for the international or another national website, then please select your region below.
Please note: Not all international models are available in your country. For further information, please contact your
local distributor
.