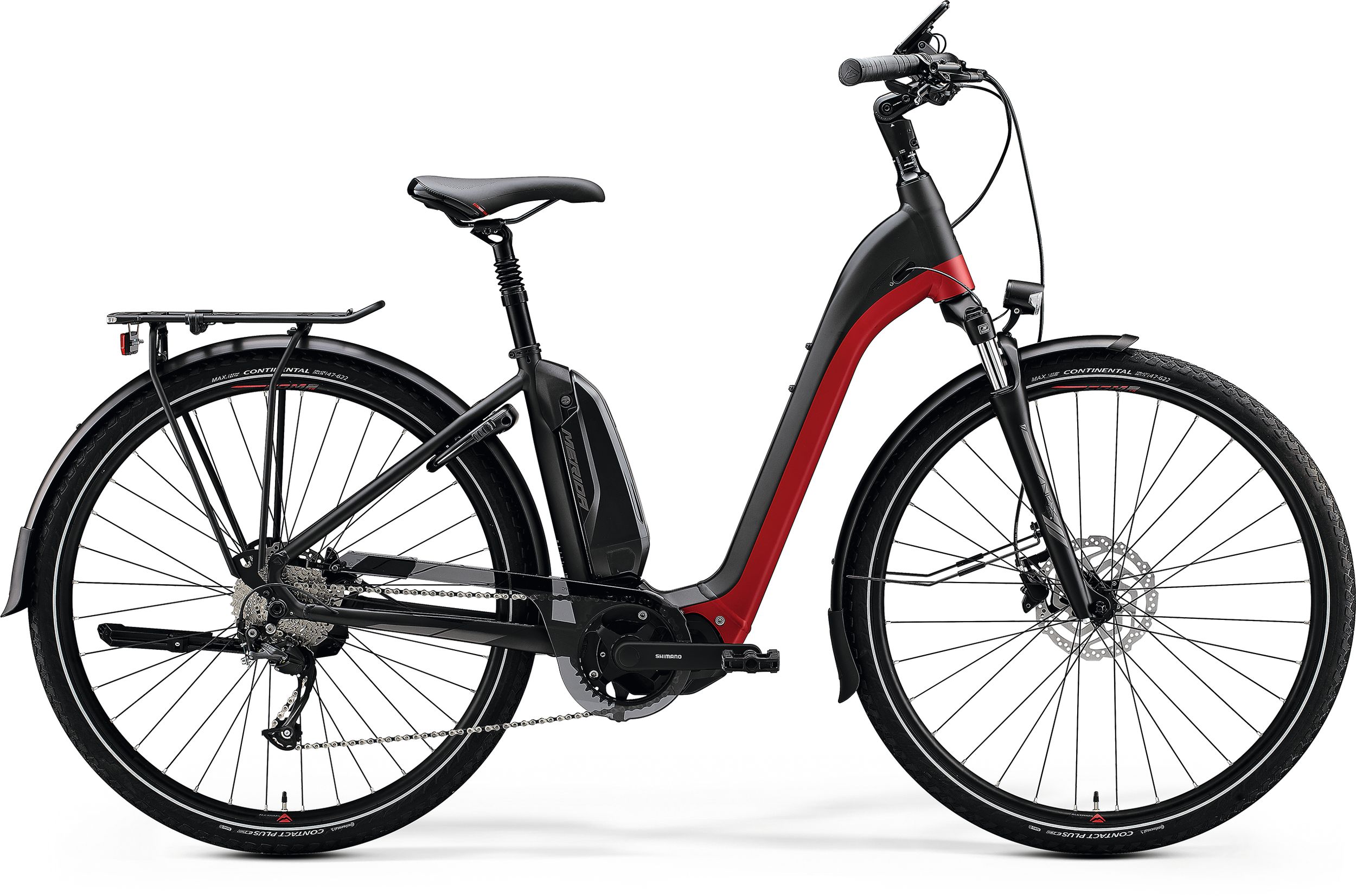 material: aluminium
700C wheelsize
142x12mm axle standard
external
max. 504 Wh
Farbe
MATT BLACK/X'MAS RED
Coil
63mm suspension travel
Schaltwerk
Shimano Altus RDM2000
Schalthebel hinter
Shimano Altus rapidfire
38 teeth
Shimano FC-E5010
165 mm-XS, 170 mm-S/M/L, 175 mm-XL
material: aluminium
640mm width
35mm rise
Fahrradgriffe
MERIDA EXPERT TK
material: aluminium
31.8mm diameter
adjustable
90 mm-XS/S/M, 110 mm-L/XL
Steuersatz
MERIDA 2346 Neck
30.9mm diameter
15mm setback
40mm seatpost suspension travel
20mm inner width
material: aluminium
622-47
wire
reflecting line
622-47
wire
reflecting line
100x9mm width front hub
32 spoke holes
Centerlock
142x12mm width rear hub
36 spoke holes
Centerlock
Kotflügel
Sunnywheel SW-FA311-60E1 (MSB)
Beleuchtung vorne
Herrmans H-BLACK MR4 E
Beleuchtung hinter
Herrmans H-Cargo integrated in MERIDA MIK carrier
Gepäckträger
MERIDA MIK Carrier with Spring clip & H-Cargo Light
weighed at frame size S without pedals
SCHWUNGRAD
Chain protector
WIDERSTAND
Plastic cover for battery
PERSONENGEWICHT
power cable SM-BCC1
| | | | | |
| --- | --- | --- | --- | --- |
| Frame Size | XS | S | M | L |
| Tire Sizes | 28" | 28" | 28" | 28" |
| Frame Size CM | 42 | 45 | 49 | 53 |
| St Seat Tubes Mm | 415 | 450 | 490 | 530 |
| Tt Top Tubes Mm | 575 | 590 | 605 | 620 |
| Cs Chain Stays Mm | 490 | 490 | 490 | 490 |
| Hta Head Tube Angles Deg | 69.5 | 70 | 70 | 70.5 |
| Sta Seat Tube Angle Deg | 74 | 73.5 | 73 | 73 |
| Bd Bottom Bracket Drops Mm | 70 | 70 | 70 | 70 |
| Ht Head Tube Lengths Mm | 160 | 170 | 185 | 200 |
| Fl Fork Lengths Mm | 477 | 477 | 477 | 477 |
| R Reachs Mm | 389 | 394 | 398 | 408 |
| S Stacks Mm | 651 | 662 | 676 | 693 |
| Wb Wheel Base Mm | 1140 | 1143 | 1153 | 1163 |
| Sh Stand Over Height Mm | 378 | 379 | 379 | 380 |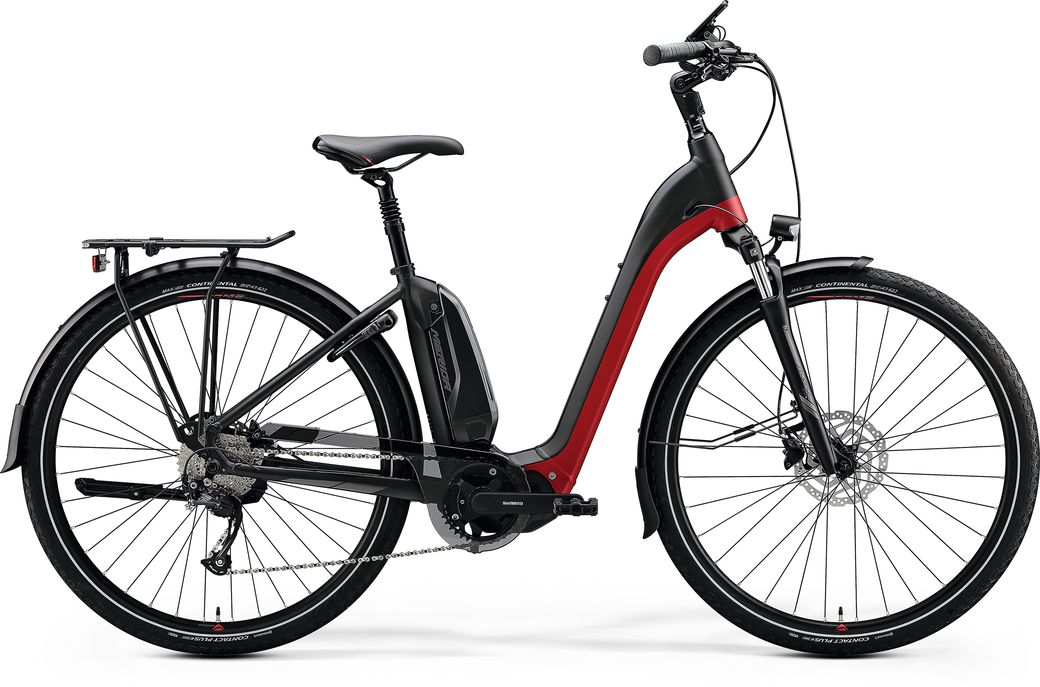 Alle eSPRESSO-Modelle sind mit innenliegenden Zügen und Leitungen ausge­stattet, die durch den Rahmen geführt werden und an glattflächigen Anschlägen ein- und austreten. Die intelligente Führung und Fixierung garantiert klapperfreie Verlegung und sorgt für schöne Optik.
Based on the central position of the battery in front of the seat tube and the low position of the Shimano motor, we were able to achieve an optimum centre of gravity. The low and well-positioned centre of gravity provides the bike with outstanding riding characteristics which are extremely important in particular in wave low step-through frames which have the tendency to chatter and jitter when power is applied.
Die Kombination aus Shimanos Mittelmotor und einer geschmiedeten Motoraufnahme sorgen dafür, dass das eSPRESSO CITY eine der niedrigsten Durchstiegshöhen auf dem Markt aufweist.
In the city/trekking sector, hub gear drivetrains have become more or less the standard. For the model year 2020, we have updated the hub gear frames with slider dropouts for smooth and easy chain tensioning. Furthermore, the dropouts on both frames, hub gear and derailleur drivetrain now have, besides the Racktime interface, standard carrier mounts.
Die herausragenden Steifigkeitswerte haben sehr positiven Einfluss auf die Fahreigenschaften unserer Tiefeinsteiger. Das konische Steuerrohr, die großen Rohrdurchmesser, die geschmiedete Motoraufnahme sowie die 12x142 mm Steckachse sorgen für ein sicheres und präzises Fahrerlebnis. nce.
Unsere eSPRESSO-Modelle verfügen über leicht rollende 700c-Räder – optimal für Straße, Radweg und gepflegte Naturwege. Wir montieren Reifen mit reflektierender Seitenwand und hohem Pannenschutz, mit denen man schnell und sicher ans Ziel kommt.
Aluminiumrahmen aus HFS-Hydroforming-Rohrsatz Prolite 66 mit leicht rollenden 700c-Laufrädern, optimal für Alltagsfahrten und entspannte Touren. Höheres Steuerrohr und kompakte Geometrie sorgen für eine eher aufrechte, extrem komfortable Sitzhaltung. Sehr tiefe Akku-Positionierung für besseres Handling. Alle Modelle sind standardmäßig mit Schutzblechen, Gepäckträger, Seitenständer, Schloss und Lichtanlage ausgestattet.