material: carbon
700x38C / 650Bx45C max. wheelsize
100x12/142x12mm axle standard
BB386 bottom bracket standard
Farbe
MATT ANTHRACITE (GLOSSY BLACK)
Tapered
material: carbon
700x38C / 650Bx45C max. wheelsize
Schaltwerk
Shimano GRX810
Schalthebel hinter
Shimano GRX810
Schalthebel vorne
Shimano GRX810
Bremshebel
Shimano GRX810
48-31 teeth
170 mm-XS/S, 172,5 mm-M, 175 mm-L/XL
Kettenblattgarnitur
170 mm-XS/S, 172,5 mm-M, 175 mm-L/XL
Innenlager
FSA 386-BB30 PF6000 [SMN FC]
material: aluminium
400mm (XS-S), 420mm (M), 440mm (L/XL)
Fahrradgriffe
MERIDA ROAD EXPERT
material: aluminium
31.8mm diameter
-8° stem angle
80 mm all sizes
V-mount
incl. MERIDA minitool
material: carbon
30.9mm diameter
0mm setback
100x12mm width front hub
142x12mm width rear hub
19mm inner width
22mm height
Centerlock
material: aluminium
weighed with 700C wheels and at frame size M, without pedals
| | | | | | |
| --- | --- | --- | --- | --- | --- |
| Frame Size | XS | S | M | L | XL |
| Tire Sizes | 28" | 28" | 28" | 28" | 28" |
| St Seat Tubes Mm | 440 | 470 | 500 | 530 | 560 |
| Tt Top Tubes Mm | 548 | 564 | 580 | 600 | 620 |
| Cs Chain Stays Mm | 430 | 430 | 430 | 430 | 430 |
| Hta Head Tube Angles Deg | 71 | 71 | 71 | 71 | 71 |
| Sta Seat Tube Angle Deg | 74 | 74 | 74 | 74 | 74 |
| Bd Bottom Bracket Drops Mm | 75 | 75 | 75 | 75 | 75 |
| Ht Head Tube Lengths Mm | 160 | 180 | 200 | 220 | 240 |
| Fl Fork Lengths Mm | 398 | 398 | 398 | 398 | 398 |
| R Reachs Mm | 379 | 390 | 400 | 415 | 430 |
| S Stacks Mm | 588 | 607 | 626 | 645 | 664 |
| Wb Wheel Base Mm | 1027 | 1044 | 1061 | 1082 | 1104 |
| Sh Stand Over Height Mm | 706 | 736 | 765 | 794 | 822 |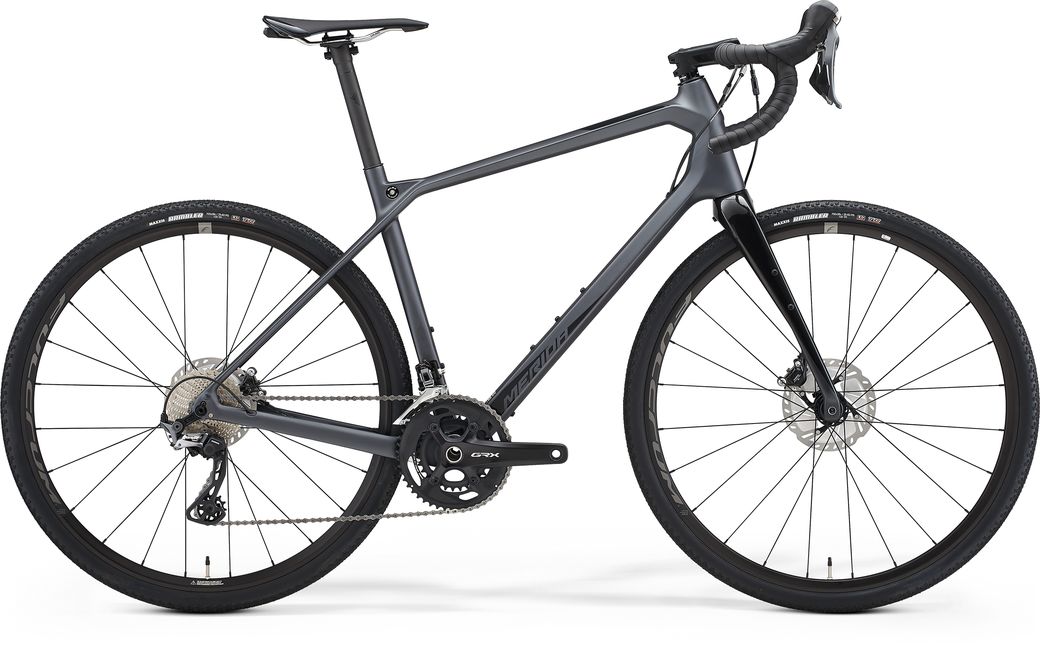 12-mm-Steckachsen verbessern die Rahmen- und Gabelsteifigkeit und sorgen für eine exakte Ausrichtung der Laufräder. Die Flatmount-Hinterradbremse wird von der stabilen Kettenstrebe abgestützt, wodurch die auftretenden Kräfte besser verteilt werden. Im Hinterbaudreieck ist sie gut vor Beschädigungen geschützt. Unsere "Disc Cooler"-Technologie leitet mit CNC gefrästen Kühlrippen Wärme ab, was besonders bei Touren mit Gepäck wichtig ist für eine optimale Funktion der Bremsen.
The SILEX is available in two options. The 'classic' SILEX standing on 700c wheels, being the perfect 'all-road' bike which loves lanes, forest tracks and gravel or the new more 'rugged' SILEX+ version, which can easily tackle more demanding terrain due to its more burly 650B wheels and 45 mm tyres. The choice is yours. Both options are based on the same frame, so wheels are exchangeable at a later date.
Die meisten SILEX-Modelle haben wir mit nur einem Kettenblatt vorne ausgerüstet. Das ist leichter und benötigt weniger bewegliche Teile. Diese Lösung bietet 98 % des Übersetzungs umfangs eines Rennrad-Antriebs mit Kompaktkurbel (50/34) und 11-32er Kassette.
As standard, the SILEX comes with 700x38c tyres and the SILEX+ with 650Bx45c. The maximum tyre size for 700c wheels is 42 mm (road profile) while with 650B wheels being fitted, tyres up to 50 mm wide road profile tyres on the carbon and up to 42 mm on the aluminium bikes can be run.
Vom superleichten CF5 Rahmen des Teammodells mit modernster, nicht zu toppender Carbontechnologie, über den preisgünstigeren CF4 Rahmen, bis zum CFA Rahmen mit Aluminium-Hinterbau oder dem hydrogeformten 6066 Aluminium Rahmen.
In line with the design ethos of versatility and go anywhere, the SILEX is available with a wide range of luggage and accessory options, including frame bags and big saddle packs. The frame features fender mounts on the rear triangle as well as on the fork, transferring the SILEX quickly and easily into a fast training bike for the winter or a versatile commuting and touring bike.