material: aluminium
700C wheelsize
100x12/ 142x12mm axle standard
BB86 bottom bracket standard
Farbe
LIGHT GREEN (BLACK)
Schalthebel hinter
Sram Apex 1 HRD
Bremshebel
Sram Apex 1 HRD
40 teeth
170 mm-XS/S, 172.5 mm-M, 175 mm-L/XL
Kettenblattgarnitur
170 mm-XS/S, 172.5 mm-M, 175 mm-L/XL
Innenlager
Sram Pressfit PF86
Fahrradgriffe
MERIDA ROAD EXPERT
material: aluminium
31.8mm diameter
-5° stem angle
80 mm-XS/S, 90 mm-M/L, 100 mm-XL
Steuersatz
MERIDA M2331 Neck
material: carbon
27.2mm diameter
15mm setback
19mm inner width
24mm height
100x12mm width front hub
28 spoke holes
6 bolt
142x12mm width rear hub
28 spoke holes
6 bolt
weighed at frame size M without pedals
| | | | | | |
| --- | --- | --- | --- | --- | --- |
| Frame Size | XS | S | M | L | XL |
| Tire Sizes | 28" | 28" | 28" | 28" | 28" |
| St Seat Tubes Mm | 470 | 500 | 530 | 560 | 590 |
| Tt Top Tubes Mm | 520 | 535 | 550 | 565 | 580 |
| Cs Chain Stays Mm | 427 | 427 | 427 | 427 | 427 |
| Hta Head Tube Angles Deg | 70.8 | 71 | 71.8 | 72 | 72.3 |
| Sta Seat Tube Angle Deg | 74 | 74 | 74 | 74 | 74 |
| Bd Bottom Bracket Drops Mm | 68 | 68 | 68 | 68 | 68 |
| Ht Head Tube Lengths Mm | 90 | 109 | 125 | 144 | 163 |
| Fl Fork Lengths Mm | 400 | 400 | 400 | 400 | 400 |
| R Reachs Mm | 373 | 382 | 392 | 401 | 411 |
| S Stacks Mm | 514 | 533 | 553 | 572 | 591 |
| Wb Wheel Base Mm | 1003 | 1017 | 1020 | 1033 | 1046 |
| Sh Stand Over Height Mm | 724 | 751 | 778 | 804 | 830 |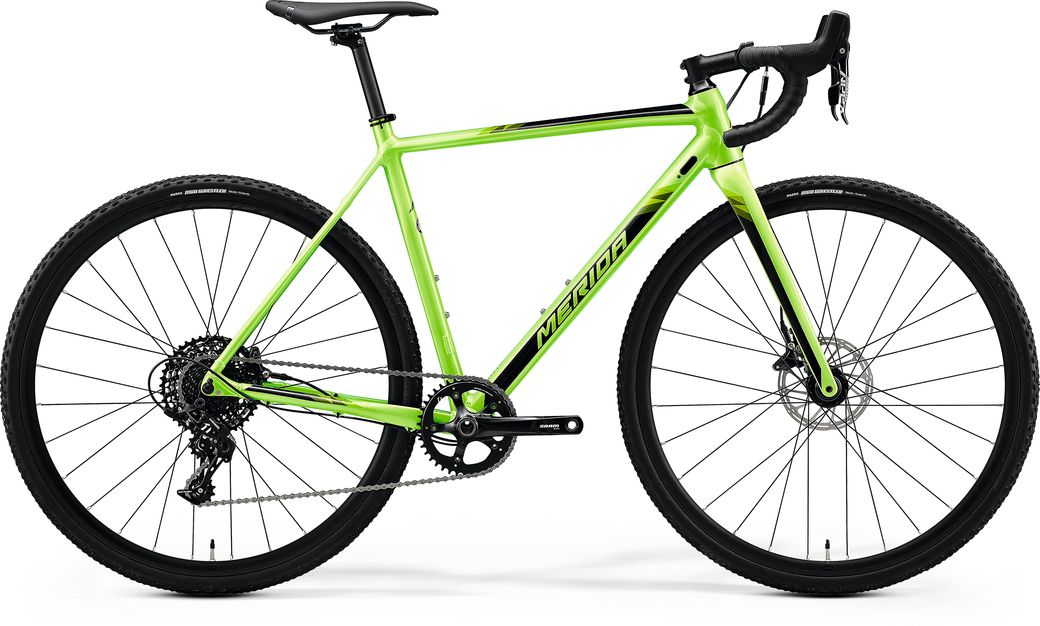 Alle MISSION CX Modelle sind mit einer konischen Vollcarbon-Gabel und 12 mm Steckachse ausgestattet. Der konische Carbonschaft sorgt für höhere Steifigkeit im vorderen Rahmendreieck, und damit für grosse Lenkpräzision und besseres Handling.
Die komplette Range unserer MISSION CX Modelle ist mit Flat Mount Scheibenbremsen ausgestattet, um auch bei widrigen Bedingungen bestmögliche Bremsleistung und eine schnelle, saubere Positionierung des Bremssattels zu gewährleisten.
Das Bike ist mit 12-mm-Steckachsen ausgestattet, die die Laufradsteifigkeit verbessern und den Rotor beim Laufradwechsel exakt ausrichten. Die CF4-Modelle verwenden das R.A.T-System, das superschnellen Ein- und Ausbau erm.glicht.
Alle unsere MISSION CX Modelle k.nnen mit Schutzblechen ausgestattet werden. Das macht sie noch vielseitiger für den Einsatz als Trainings- oder Pendelrad. Die Sitzstrebenbrücke (nur in den Carbon- Modelle verfügbar) gibt dem hinteren Schutzblech einen sicheren Halt, kann aber auch, für einen aufgeräumten Look und gegen ein Zusetzen mit Schlamm, abgenommen werden.
Our new MISSION CX has managed to get an incredible amount of press since its launch date. Besides being awarded the 2019 Design & Innovation Award, it was also rated highly by BIKERUMOR, GRAN FONDO, Road.cc and IMB.
Rahmen aus dreifach endverstärktem Hydroforming-Aluminium 6066 mit "Smooth Welded"-Nähten. Innenverlegte Kabel und integrierte Schutzblechösen. Hohe Lenkpräzision durch konisches Steuerrohr. Hinterer Flat Mount Bremssattel auf Kettenstrebe montiert, um auftretende Bremskräfte besser aufzunehmen und den Bremssattel im Rahmendreieck zu schützen.
Nicht nur schön anzusehen: Mit "Smart Entry" bekommt das BIKE eine durchdachte interne Zugverlegung. Da klappern keine Züge im Rahmen, wenn es auf dem Trail ruppig wird.