material: aluminium
700C wheelsize
100x9/135x9mm axle standard
BSA bottom bracket standard
Grössen
XXS, XS, S, S/M, M/L, L, XL
Farbe
SILK OCEAN BLUE (GOLD/BLACK)
Schalthebel hinter
Shimano SL-RS700
Schalthebel vorne
Shimano SL-RS700
Bremse vorne
Shimano MT-200
Bremse hinter
Shimano MT-200
Bremshebel
Shimano MT-200
50-34 teeth
170 mm-XS/S, 172,5 mm-SM/ML, 175 mm-L/XL
Kettenblattgarnitur
170 mm-XS/S, 172,5 mm-SM/ML, 175 mm-L/XL
Innenlager
Shimano BB-RS500 BSA
material: aluminium
600mm width
Flat
Fahrradgriffe
MERIDA EXPERT EC
material: aluminium
31.8mm diameter
5° stem angle
80 mm-XS, 90 mm-S, 100 mm-SM/ML, 110 mm-L/XL
Steuersatz
MERIDA M2331 Neck
material: aluminium
30.9mm diameter
12mm setback
17mm inner width
22mm height
material: aluminium
100x9mm width front hub
28 spoke holes
centerlock
135x9mm width rear hub
28 spoke holes
centerlock
weighed at frame size S-M without pedals
| | | | | | | | |
| --- | --- | --- | --- | --- | --- | --- | --- |
| Frame Size | XXS | XS | S | S/M | M/L | L | XL |
| Tire Sizes | 28" | 28" | 28" | 28" | 28" | 28" | 28" |
| St Seat Tubes Mm | 440 | 470 | 500 | 520 | 540 | 560 | 590 |
| Tt Top Tubes Mm | 545 | 555 | 561 | 571 | 583 | 597 | 610 |
| Cs Chain Stays Mm | 438 | 438 | 438 | 438 | 438 | 438 | 438 |
| Hta Head Tube Angles Deg | 70 | 70 | 70.5 | 71 | 71.5 | 72 | 72 |
| Sta Seat Tube Angle Deg | 73.5 | 73.5 | 73.5 | 73.5 | 73.5 | 73.5 | 73.5 |
| Bd Bottom Bracket Drops Mm | 65 | 65 | 65 | 65 | 65 | 65 | 65 |
| Ht Head Tube Lengths Mm | 140 | 150 | 160 | 170 | 190 | 215 | 240 |
| Fl Fork Lengths Mm | 395 | 395 | 395 | 395 | 395 | 395 | 395 |
| R Reachs Mm | 381 | 389 | 392 | 398 | 404 | 410 | 416 |
| S Stacks Mm | 552 | 562 | 573 | 585 | 606 | 631 | 655 |
| Wb Wheel Base Mm | 1040 | 1051 | 1053 | 1057 | 1065 | 1074 | 1088 |
| Sh Stand Over Height Mm | 719 | 744 | 769 | 787 | 806 | 828 | 855 |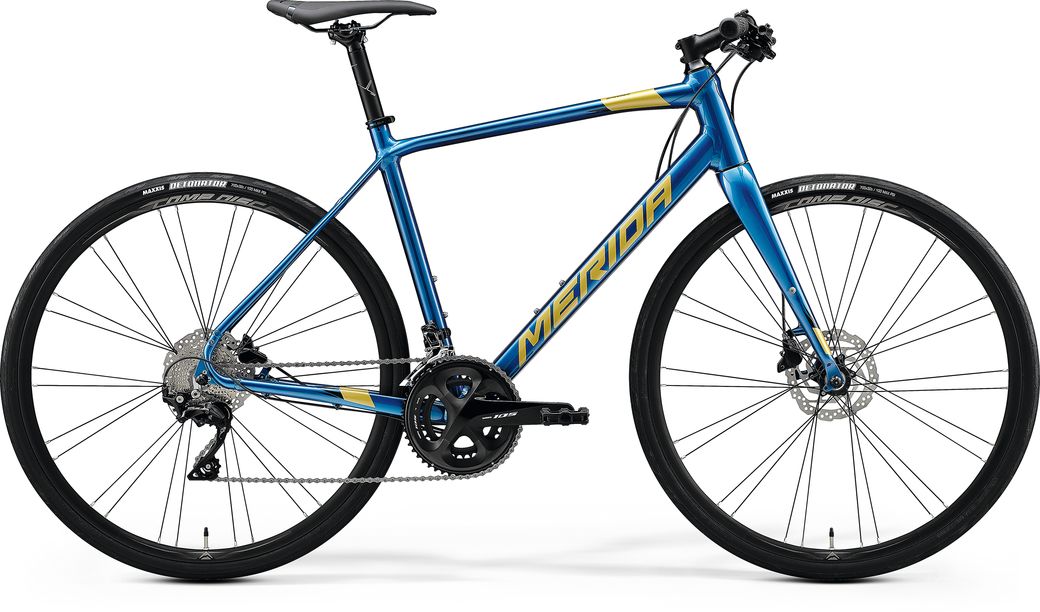 Wir verwenden Aluminium 6066, die höchste Güte, die gemeinhin in der Fahrradherstellung zum Einsatz kommt. Seine Zusammensetzung erlaubt eine weitgehende Umformung per Hydroforming – ein Prozess, bei dem die Rohre in Hohlformen eingelegt werden und ein heisses Öl-Wasser-Gemisch durch sie hindurch gepresst wird. Auf diese Weise können wir die Wandstärken variieren und den Rahmen dort besonders steif machen, wo es drauf ankommt, und dort besonders flexibel, wo es den Komfort verbessert.
Kabel und Züge werden im Rahmen geführt, was für eine saubere Optik sorgt. Ausserdem werden sie so vor Schmutz und Wasser geschützt.
Die komplette Range unserer MISSION CX Modelle ist mit Flat Mount Scheibenbremsen ausgestattet, um auch bei widrigen Bedingungen bestmögliche Bremsleistung und eine schnelle, saubere Positionierung des Bremssattels zu gewährleisten.
Since its redesign for the 2020 season, the SPEEDER has become more sporty. By increasing the length of the top tube, we have achieved a slightly longer reach, which offers the rider a more sportive riding position while still being on the comfortable side. Furthermore, this geometry change leads to a longer wheelbase, which has a positive effect on directional stability and in combination with the slightly slacker head tube angle, improves the riding stability at speed.
The new SPEEDER has the ability to take up to 37 mm wide tyres, increasing the ride comfort as well as the grip (and therefore safety). Wider tyres also offer improved puncture protection. Even with fenders being fitted, the SPEEDER can still take up to 32 mm wide tyres.
Alle Modelle sind mit einer Vollcarbongabel mit konischem Gabelschaft ausgestattet. Carbon bietet stark vibrationsdämpfende Eigenschaften; abgesehen vom geringen Gewicht verbessert es damit zusätzlich die Fahreigenschaften. Der konische Carbonschaft sorgt für höhere Steifigkeit im vorderen Rahmendreieck und damit für grosse Lenkpräzision und besseres Handling.
Leichter Rahmen aus Aluminium 6066 mit dreifach endverstärkten Hydro­forming-Rohren und "Smooth Welded"-Nähten. Integrierte Zugführung und Befestigungsösen für Schutzbleche und Gepäckträger.