ABSA CAPE EPIC ADVENTURE
José Antonio Hermida und Joaquim "Purito" Rodríguez – das MERIDA FACTORY RACING Team – gewinnen die Masters Wertung beim ABSA Cape Epic 2019.
Das ABSA Cape Epic wird von vielen als das wohl härteste MTB-Etappenrennen der Welt angesehen. Jahr für Jahr reisen tausende Fahrerinnen und Fahrer nach Südafrika, um das "Unzähmbare" zu zähmen. Darunter die Crème de la Crème im XC und Marathon Bereich.
Mit großen Erwartungen und dem Anspruch ein Zeichen zu setzen reisten auch José Antonio Hermida und Joaquim "Purito" Rodríguez als MERIDA FACTORY RACING Team mit einem neuen Bike im Gepäck an. Zusätzlich sollte "Purito" die Ehre zuteilwerden in den exklusiven ABSA Cape Epic Finisher Club, den "Amabubesi" ("Stolz der Löwen" in Zulu), aufgenommen zu werden.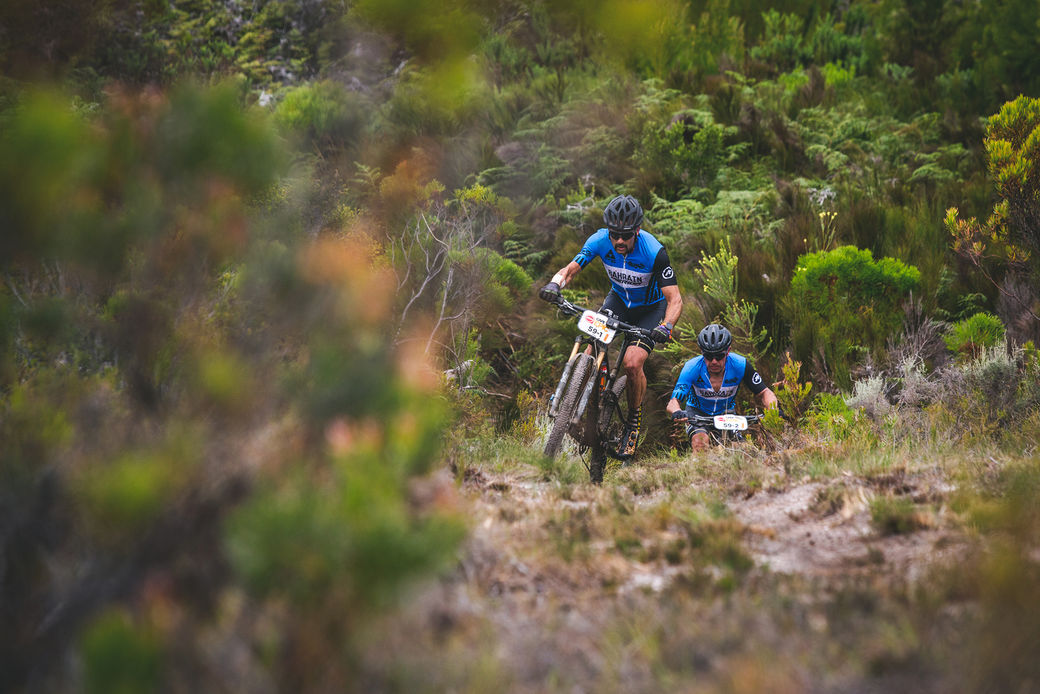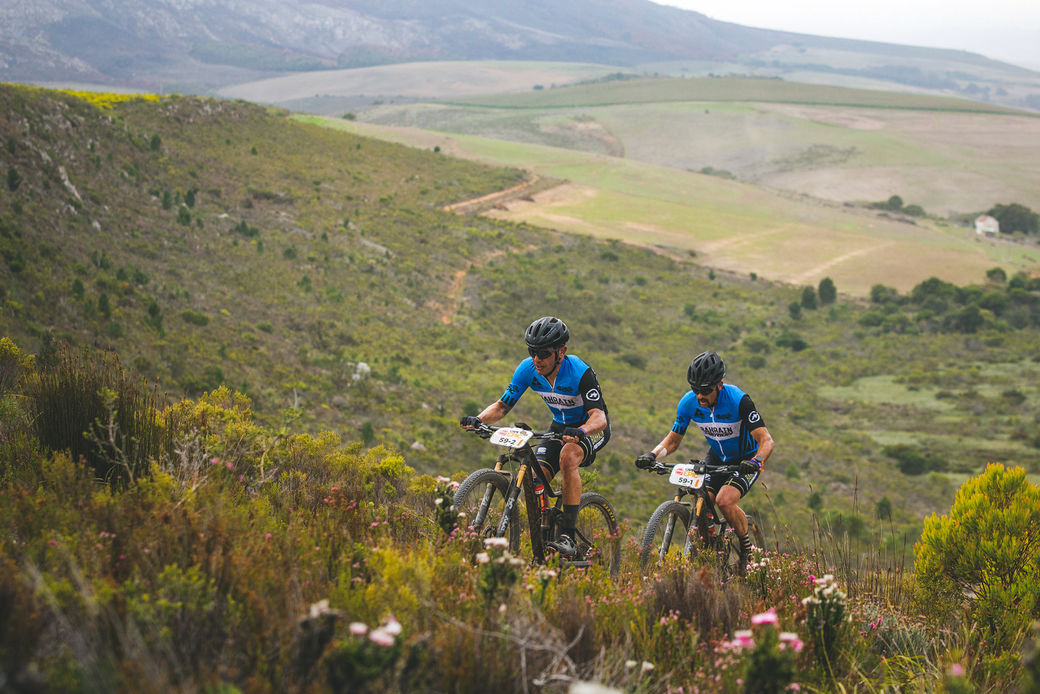 Nach acht Tagen härtester Rennaction konnte das MERIDA FACTORY RACING Team den Titelgewinn in der Masters Wertung feiern. Schlussendlich gewannen José und "Purito" fünf Etappen sowie den Prolog und bauten ihren Vorsprung auf die Zweitplatzieren auf über 70 Minuten aus. Das MERIDA FACTORY RACING Team bewies eine hervorragende Renneinteilung, konnte Stürze und technische Defekte vermeiden und profitierte immens vom guten Teamwork und der intensiven Freundschaft zwischen José und "Purito".
Als die Entscheidung anstand, mit welchem Bike das Cape Epic bestritten werden sollte, fiel dieses Jahr die Wahl auf den neuen Alleskönner, das ONE-TWENTY. "Wir waren voll und ganz davon überzeugt, dass das ONE-TWENTY das Bike der Zukunft ist. Eine extrem vielseitige Maschine auf dem gleichen Level wie das 100 mm Bike, mit vergleichbarem Gewicht, aber verbesserter Stabilität und blitzschneller Beschleunigung", untermauerte José die Entscheidung. "Das Bike fuhr sich großartig, speziell wenn es technisch anspruchsvoller wurde und der Untergrund lose war."
Die herausragende Leistung über 630 km und 16.500 hm hat gezeigt, dass ihre Entscheidung goldrichtig war. Neben etlichen beeindruckenden Testerfolgen, kann das ONE-TWENTY nun auch noch einen Sieg beim legendären Cape Epic verbuchen.
"Das Bike war die perfekte Wahl für das Cape Epic. Insbesondere für die diesjährige Streckenführung, die mit mehr Anstiegen und Abfahrten als in den letzten Jahren und mit extrem vielen Singletrails aufwartete. Durch die beeindruckende Traktion und den hervorragenden Grip des ONE-TWENTY profitierten wir speziell in Anstiegen mit losem Untergrund und vom perfekten Flow in den Abfahrten. Hinzu kommt, dass das Bike extrem leicht und äußerst konkurrenzfähig ist. Mit 120 mm Federweg bekommt man, speziell auf Strecken, die man vorher noch nicht gefahren ist, ein zusätzliches Maß an Sicherheit und hat immer noch einige Reserven. Das Mehr an Federweg und die Geometrie halfen uns entspannt zu bleiben, ohne sich ständig auf den wechselnden Untergrund einstellen zu müssen."
JOSÉ ANTONIO HERMIDA
MERIDA MARKENBOTSCHAFTER
José und "Purito" sind das ONE-TWENTY 9000 gefahren, die Version des ONE-TWENTY, die sich in Richtung Marathon/Etappenrennen orientiert. Das Bike war mit Fox Factory Gabel und Dämpfer, der Shimano XTR Gruppe, den FULCRUM RED PASSION 29" Aluminium-Laufrädern, Maxxis (José) und Continental ("Purito") Reifen, einem Prologo Sattel und MERIDA Carbon Anbauteilen ausgestattet. Insgesamt brachte das Bike schlanke 10,7 kg auf die Waage.
Reynaldo Ilagan, Head of Product Management bei MERIDA erklärt:
"Das ONE-TWENTY ist die Spitze unserer Full Suspension Technologie. Die neue Version unseres 120 mm Bikes ist nicht nur das strapazierfähigste, sondern auch das steifste Bike unseres Fully Line-Up. Beide Aspekte sind nicht nur auf dem Trail wichtig, sondern auch auf derart anspruchsvollen Etappen wie beim Cape Epic. Unser Float Link Design ist sehr sportlich ausgelegt und lässt sich hervorragend pedalieren. Unterstützt durch den steifen Rahmen, klettert das ONE-TWENTY unglaublich gut. Die neue Geometrie hilft dabei das Bike stets sicher und präzise im Griff zu haben, speziell gegen Ende einer Etappe. Das ONE-TWENTY 9000 wäre auch meine erste Wahl gewesen."
"Das ONE-TWENTY hat einen großen Teil zu unserem Erfolg beigetragen. Der fantastische Fahrkomfort war speziell in der späteren Etappen ein wichtiger Faktor. Die Geometrie ist sehr ausgewogen, was uns besonders dann half, wenn wir müde wurden und der Kurs uns vor Herausforderungen stellte und Hindernisse in den Weg legte. Abgesehen davon, macht das Bike einfach unglaublich viel Spaß. Das ONE-TWENTY hat auf den schier endlosen Singletrails für sich selbst gesprochen und dazu beigetragen, dass wir das Cape Epic, trotz Erschöpfung, grenzenlos genießen konnten. Sehr gut gemacht, ONE-TWENTY!"
JOAQUIM 'PURITO' RODRÍGUEZ
BAHRAIN MERIDA PRO CYCLING TEAM
Are you in the right place?
You have landed on the MERIDA
German (Switzerland)
website.
If you are looking for the international or another national website, then please select your region below.
Please note: Not all international models are available in your country. For further information, please contact your
local distributor
.