material: aluminium
700C wheelsize
135x9mm axle standard
BSA bottom bracket standard
Farbe
GLOSSY BLACK (MATT SILVER/BLACK)
Air
63mm suspension travel
Tapered
Remote Lockout
Schaltwerk
Shimano XT Shadow
Schalthebel hinter
Shimano XT
Schalthebel vorne
Shimano XT
Bremse vorne
Shimano MT-500
Bremse hinter
Shimano MT-500
Bremshebel
Shimano MT-500
48-36-26 teeth
170 mm-XXS/XS/S, 175 mm-M/XL
Kettenblattgarnitur
170 mm-XXS/XS/S, 175 mm-M/XL
material: aluminium
660mm width
25mm rise
Fahrradgriffe
MERIDA EXPERT EC
material: aluminium
31.8mm diameter
5° stem angle
80 mm-XXS/XS/S, 90 mm-M/L, 100 mm-XL
AL cap with STS bolt+ ST stop nut
material: aluminium
30.9mm diameter
12mm setback
20mm inner width
17mm height
material: aluminium
700x40C
fold
reflective stripe, Silkworm
700x40C
fold
reflective stripe, Silkworm
100x9mm width front hub
32 spoke holes
Centerlock
135x9mm width rear hub
32 spoke holes
Centerlock
weighed at frame size M without pedals
| | | | | | |
| --- | --- | --- | --- | --- | --- |
| Frame Size | XS | S | M | L | XL |
| Tire Sizes | 28" | 28" | 28" | 28" | 28" |
| St Seat Tubes Mm | 430 | 470 | 510 | 550 | 590 |
| Tt Top Tubes Mm | 565 | 580 | 590 | 610 | 630 |
| Cs Chain Stays Mm | 460 | 460 | 460 | 460 | 460 |
| Hta Head Tube Angles Deg | 70.5 | 71 | 71 | 71.5 | 71.5 |
| Sta Seat Tube Angle Deg | 74 | 73.5 | 73.5 | 73 | 73 |
| Bd Bottom Bracket Drops Mm | 70 | 70 | 70 | 70 | 70 |
| Ht Head Tube Lengths Mm | 130 | 140 | 155 | 175 | 205 |
| Fl Fork Lengths Mm | 460 | 460 | 460 | 460 | 460 |
| R Reachs Mm | 390 | 396 | 402 | 409 | 420 |
| S Stacks Mm | 611 | 622 | 637 | 658 | 686 |
| Wb Wheel Base Mm | 1085 | 1089 | 1100 | 1109 | 1130 |
| Sh Stand Over Height Mm | 712 | 745 | 779 | 814 | 849 |
| Body Height Cm | 145 - 160 | 155 - 170 | 161 - 180 | 171 - 190 | > 185 |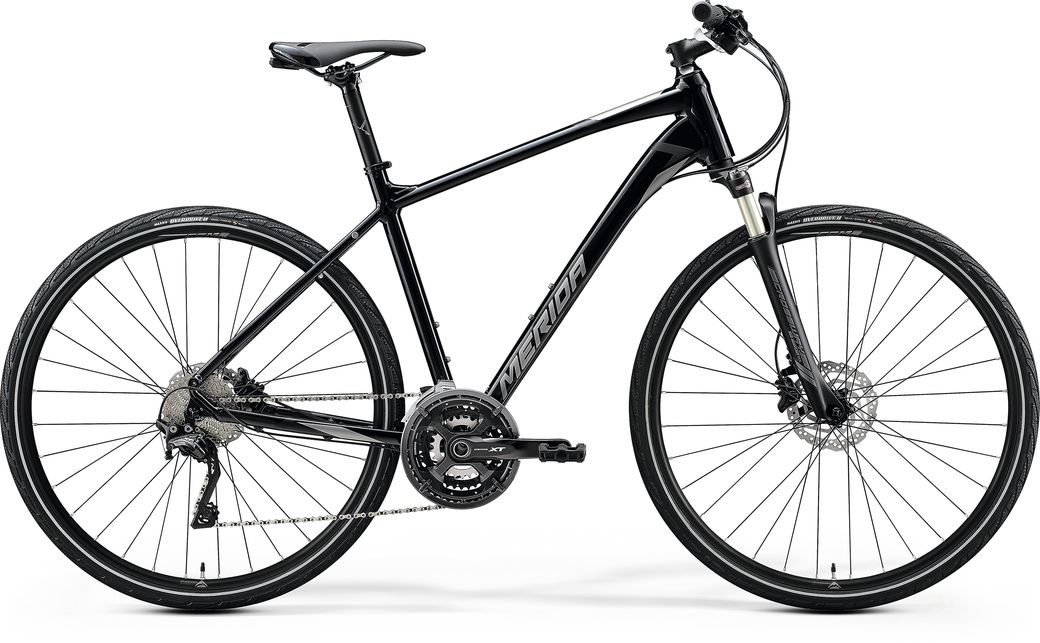 Most CROSSWAY models are also available in a low step through frame, providing an opportunity to find the perfect fit without compromising on equipment and functionality.
Alle Crossway/- Urban Modelle sind mit Reflexstreifen an der Bereifung ausgestattet, die für deutlich mehr Sicherheit durch Sichtbarkeit im Strassenverkehr sorgen.
Unsere CROSSWAY-Modelle sind mit Federgabeln und in den meisten Fällen auch mit gefederten Sattelstützen ausgestattet, die so ziemlich jede Unebenheit glattbügeln. Verstellbare Vorbauten (jetzt auch bei den SPEED Modellen) erleichtern es, die optimale Fahrposition zu finden. Die sportlicheren Modelle sind mit konventionellen Stützen und Vorbauten ausgestattet.
Rahmen aus Aluminium 6061, zweifach endverstärkte Technoforming-Rohre, verborgener Kabelkanal am Unterrohr. Vertrauenerweckendes Handling durch konisches Steuerrohr. Elegante Optik durch "Smooth Welded"-Nähte. Mit Befestigungsteilen für Schutz­bleche, Träger und Seitenständer.
Schutzbleche, Träger und Seitenständer lassen sich an allen CROSSWAY-Modellen nachrüsten. Damit sind sie auf vielfältige Weise einsetzbar.