material: aluminium
27,5x2,25" max. wheelsize
135x9mm axle standard
internal
max. 630 Wh
Coil
80mm suspension travel
27,5x2,4" max wheelsize
Schalthebel hinter
Shimano Deore M4100
38 teeth
Shimano FC-E8000
material: aluminium
660mm width
15mm rise
Fahrradgriffe
MERIDA EXPERT TK
material: aluminium
31.8mm diameter
adjustable
90 mm- XS/S/M/L/XL
Steuersatz
MERIDA CAP w/ wire gateway
V-mount
incl. MERIDA minitool
30.9mm diameter
15mm setback
40mm seatpost suspension travel
20mm inner width
material: aluminium
27.5x2.25"
wire
reflecting line
27.5x2.25"
wire
reflecting line
Schlauch
27,5x2,25 0,9 F.V
100x9mm width front hub
32 spoke holes
Centerlock
135x9mm width rear hub
36 spoke holes
Centerlock
Kotflügel
Sunnywheel SW-FA-311-65A(MSB)
Beleuchtung vorne
Herrmans H-Black MR4 E
Beleuchtung hinter
Spanninga Commuter Glow XE integrated in MERIDA MIK HD carrier
Fahrradständer
Atranvelo 1219-PC-7
Gepäckträger
MERIDA MIK HD Carrier with Spring clip & Spanninga rear light
SCHWUNGRAD
Chain protector
WIDERSTAND
Spanninga RR 02 Z Type Reflector rear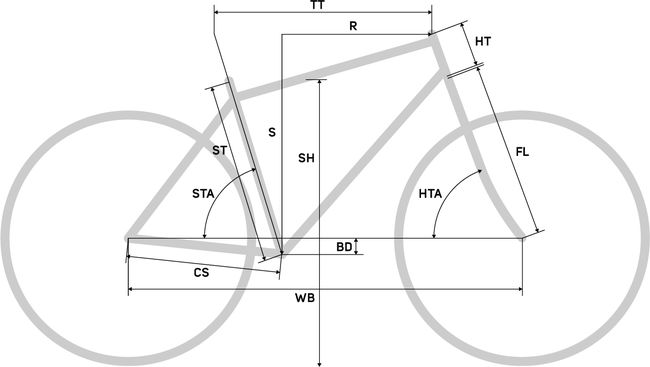 | | | | | | |
| --- | --- | --- | --- | --- | --- |
| Frame Size | XS | S | M | L | XL |
| Tire Sizes | 27.5" | 27.5" | 27.5" | 27.5" | 27.5" |
| St Seat Tubes Mm | 380 | 430 | 480 | 530 | 580 |
| Tt Top Tubes Mm | 580 | 595 | 615 | 635 | 655 |
| Cs Chain Stays Mm | 470 | 470 | 470 | 470 | 470 |
| Hta Head Tube Angles Deg | 70 | 70 | 70 | 70 | 70 |
| Sta Seat Tube Angle Deg | 73.5 | 73.5 | 73.5 | 73.5 | 73.5 |
| Bd Bottom Bracket Drops Mm | 65 | 65 | 65 | 65 | 65 |
| Ht Head Tube Lengths Mm | 170 | 175 | 180 | 190 | 200 |
| Fl Fork Lengths Mm | 476 | 476 | 476 | 476 | 476 |
| R Reachs Mm | 385 | 399 | 417 | 435 | 452 |
| S Stacks Mm | 656 | 661 | 666 | 675 | 685 |
| Wb Wheel Base Mm | 1113 | 1129 | 1149 | 1170 | 1190 |
| Sh Stand Over Height Mm | 403 | 403 | 402 | 402 | 401 |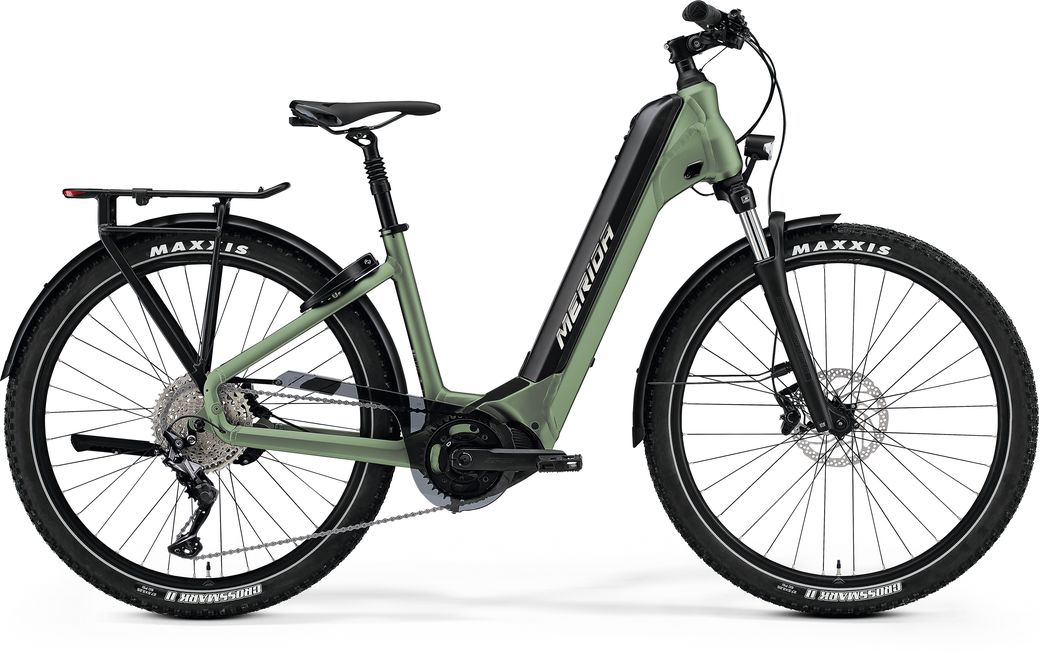 The eSPRESSO CC is available with the new 'Energy Cradle' frame, where the 745 or 630 Wh battery (depending on model) is housed on top of the downtube, and can be accessed via a removable aluminium battery cover, or as a semi-integrated frame, where the 504 Wh battery is integrated into the lower part of the downtube.
Das einzigartig geformte "Energy Cradle"-Unterrohr nimmt den Akku auf, ohne Kompromisse bei der Rahmensteifigkeit unseres Tiefeinsteigers einzugehen. Auf diese Weise können wir im Unterrohr auf Ausschnitte verzichten, die hervorragende Rahmensteifigkeit beibehalten und eine Verwindung des Rahmens bei voller Beladung vermeiden. Aufgrund der Aluminium-Akkuabdeckung entsteht der Eindruck eines komplett in den Rahmen integrierten Akkus, jedoch ohne Einbußen bei der Stabilität oder der Zugänglichkeit zum Akku. Das konische Steuerrohr, die großen Rohrdurchmesser sowie die geschmiedete Motoraufnahme sorgen für ein sicheres und präzises Fahrerlebnis.
Kabel und Züge werden im Rahmen geführt, was für eine saubere Optik sorgt. Ausserdem werden sie so vor Schmutz und Wasser geschützt.
The eSPRESSO CC come fully equipped with fenders, kickstand, carrier and lights. Ready for any outing you can think of.
Durch die mittige Position des Akkus direkt am Sitzrohr sowie die tiefe Position des Shimano-Motors (E8000/E7000/E61009) war es uns möglich einen optimalen Schwerpunkt zu erzielen. Dieser verleiht dem eSPRESSO TK und dem CC herausragende Fahreigenschaften, was insbesondere bei Tiefeinsteigern von größter Bedeutung ist, da diese in Verbindung mit E-Antrieben zur Instabilität neigen.d.
Die Kombination aus Shimanos Mittelmotor und einer geschmiedeten Motoraufnahme sorgen dafür, dass das eSPRESSO CITY eine der niedrigsten Durchstiegshöhen auf dem Markt aufweist.
The decision to use 650B wheels with 2.25" off-road tread pattern for our CC models is not just a design feature but has more practical reasons. To add big volume tyres to an e-bike provides increased comfort but also extra traction and therefore more safety reserves. Small and even bigger bumps can easily be rolled over, and a big volume tyre provides more puncture protection compared to a narrow one.