140mm suspension travel
material: aluminium
27.5 wheelsize
148x12mm axle standard
BB92 bottom bracket standard
Farbe
SILK BLACK/ANTHRACITE
Air
150mm suspension travel
Tapered
Lockout
51mm fork offset
Schalthebel hinter
Sram SX Eagle
32 teeth
170 mm-S, 175 mm-M up
Kettenblattgarnitur
170 mm-S, 175 mm-M up
Innenlager
Sram BB DUB PF MTB 92
material: aluminium
740mm width
10mm rise
Fahrradgriffe
MERIDA COMP EC
material: aluminium
31.8mm diameter
6° stem angle
50 mm all sizes
Steuersatz
MERIDA M2339 Neck
30.9mm diameter
0mm setback
S: 100mm travel seatpost - M/L/XL 125mm travel seatpost
20mm inner width
material: aluminium
27.5x2.35"
fold
TR EXO Dual
27.5x2.35"
fold
TR EXO Dual
110x15mm width front hub
32 spoke holes
Centerlock
148x12mm width rear hub
32 spoke holes
Centerlock
weighed at frame size M and 27.5" wheels without pedals
| | | | | |
| --- | --- | --- | --- | --- |
| Frame Size | S | M | L | XL |
| Tire Sizes | 27.5" | 27.5" | 27.5" | 27.5" |
| St Seat Tubes Mm | 410 | 435 | 475 | 515 |
| Tt Top Tubes Mm | 572 | 596 | 619.7 | 643.4 |
| Cs Chain Stays Mm | 435 | 435 | 435 | 435 |
| Hta Head Tube Angles Deg | 66.3 | 66.3 | 66.3 | 66.3 |
| Sta Seat Tube Angle Deg | 75 | 75 | 75 | 75 |
| Bd Bottom Bracket Drops Mm | 21 | 21 | 21 | 21 |
| Ht Head Tube Lengths Mm | 95 | 110 | 125 | 140 |
| Fl Fork Lengths Mm | 542 | 542 | 542 | 542 |
| R Reachs Mm | 415 | 435 | 455 | 475 |
| S Stacks Mm | 587 | 601.1 | 614.9 | 628.6 |
| Wb Wheel Base Mm | 1144 | 1170 | 1194 | 1222 |
| Sh Stand Over Height Mm | 708 | 723 | 750 | 778 |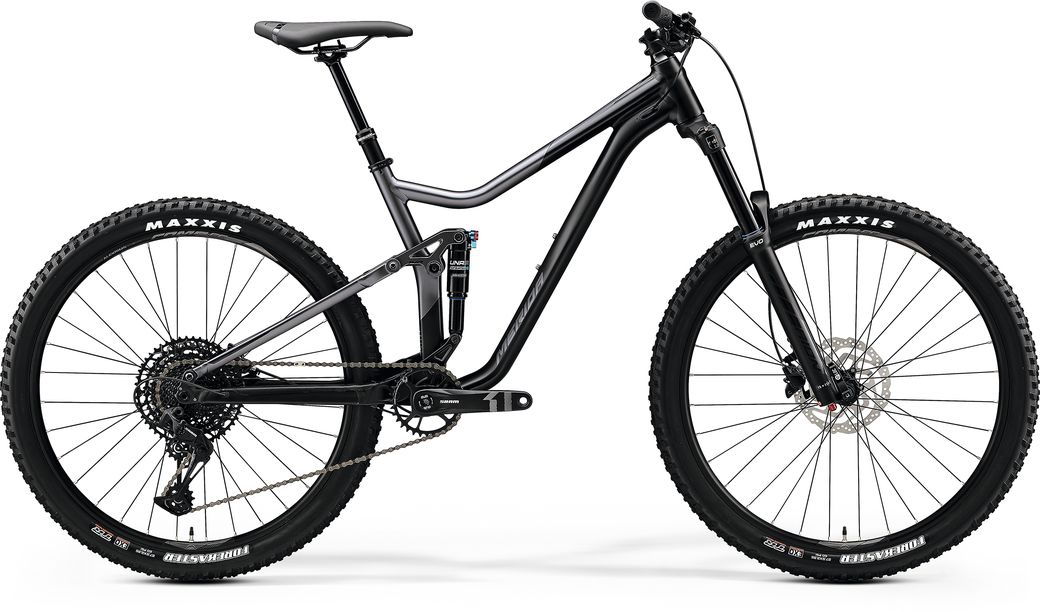 Lightweight 6016 series triple butted hydroformed aluminium tubes with smooth welding. Tapered head tube and Boost standard bolt through axles for precise handling. 'Smart Entry' cable routing for rattle free running.
Der untere Befestigungspunkt des Dämpfers bewegt sich mit dem System, was für ein sensibles Ansprechverhalten sorgt. Unsere Ingenieure können das Übersetzungsverhältnis sowie die Progression genau beeinflussen. Ein "Float Link"-Federungssystem erweckt den Eindruck, über mehr Federweg zu verfügen, welche die Modellbezeichnung angibt.
Die Geometrie des ONE-FORTY wurde stark vom grossen Bruder ONE-SIXTY inspiriert und übernimmt dessen extrem kurze Kettenstreben (435 mm), die für viel Agilität und ein verspieltes Fahrverhalten sorgen. Ein ausgewogener Reach und tiefer Schwerpunkt ergeben zusammen mit dem kurzen Vorbau und dem breiten Lenker ein angenehmes, verlässliches Handling.
Bei modernen Trailbikes geht es um Einfachheit, Robustheit und Effizienz. 1 x-Antriebe bieten einen enormen Übersetzungsumfang und sind dabei sehr leicht. Wir optimieren unsere Rahmen auf 1 x-Antriebe und können dadurch die Kettenstreben kurz halten, was ein agiles, spielerisches Lenkverhalten ergibt – perfekt für schwere Trails.
Die "Trunnion Mount" Dämpferbefestigung ermöglicht ein kürzeres Federbein bei mehr Hub. Dank der kugelgelagerten oberen Aufnahme ergeben sich auch ein feineres Ansprechverhalten, gesteigerte Langlebigkeit und perfekte Einstell­möglichkeit.
Das neue ONE-FORTY bietet genug Reifenfreiheit für 650B Pneus bis zu einer Breite von 2.6", womit stets die passende Bereifung gewählt werden kann. Besonders breite Reifen verbessern auf schwierigem Untergrund Grip wie Traktion und sorgen für ein deutlich verbessertes Fahrverhalten – und das kommt dem Fahrerlebnis zugute.
Nicht nur schön anzusehen: Mit "Smart Entry" bekommt das BIKE eine durchdachte interne Zugverlegung. Da klappern keine Züge im Rahmen, wenn es auf dem Trail ruppig wird.