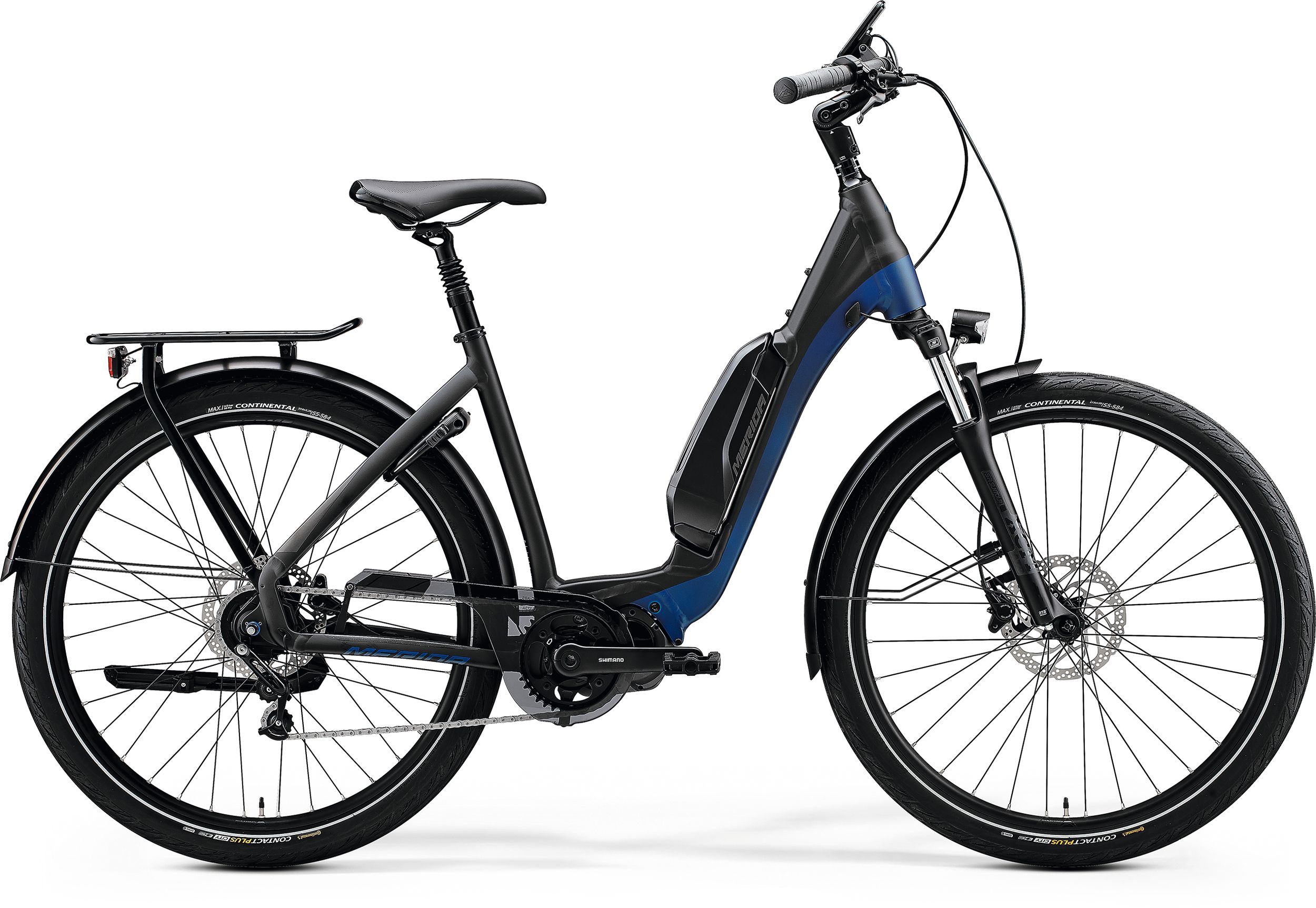 Not sure which size you need? Simply enter your body measurements into the Smartfit bike fitting system to find your ideal size. Find your size
material: aluminium
700C wheelsize
135x9mm axle standard
external
max. 504 Wh
color
MATT BLACK/BLUE (DARK SILVER)
Coil
80mm suspension travel
derailleur (r)
Shimano CT-S500
shifter rear
Shimano SW-E6010-R
38 teeth
Shimano FC-E6100
100x9mm width front hub
32 spoke holes
Centerlock
135x9mm width rear hub
36 spoke holes
Centerlock
20mm inner width
material: aluminium
27.5x2.2"
wire
reflecting line
27.5x2.2"
wire
reflecting line
material: aluminium
31.8mm diameter
adjustable
90 mm-S/M, 110 mm-L
material: aluminium
640mm width
35mm rise
30.9mm diameter
15mm setback
40mm seatpost suspension travel
fender
Sunnywheel SW-FA-311-65A(MSB)
carrier
RACKTIME RT MERIDA TK / CC
weighed at frame size M without pedals
| | | | | |
| --- | --- | --- | --- | --- |
| Frame Size | XS | S | M | L |
| Tyre Sizes | 27.5" | 27.5" | 27.5" | 27.5" |
| Frame Size CM | 43 | 48 | 53 | 53 |
| ST seat tube [mm] | 430 | 480 | 530 | 530 |
| TT top tube [mm] | 588 | 605 | 623 | 623 |
| CS chain stay length [mm] | 445 | 445 | 445 | 445 |
| HTA head tube angle [°] | 68.5 | 68.5 | 68.5 | 68.5 |
| STA seat tube angle [°] | 73 | 73 | 73 | 73 |
| BD bottom bracked drop [mm] | 50 | 50 | 50 | 50 |
| HT head tube [mm] | 170 | 190 | 210 | 210 |
| FL fork length [mm] | 484 | 484 | 484 | 484 |
| R reach [mm] | 392 | 403 | 415 | 415 |
| S stack [mm] | 642 | 661 | 680 | 679.5 |
| WB wheel base [mm] | 1114 | 1133 | 1152 | 1152.5 |
| SH stand over height [mm] | 472 | 465 | 461 | - |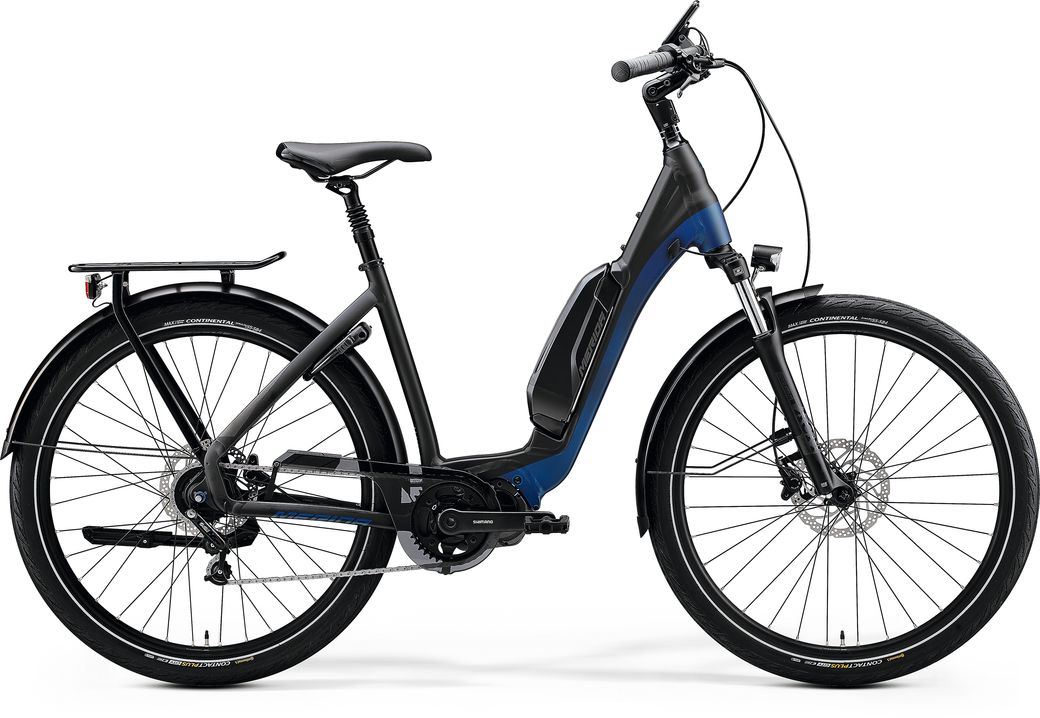 HFS-hydroforming Prolite 66 triple butted aluminium frame based around fast rolling yet durable 650B wheels and with commuting and leisure riding in mind. A higher front end and a compact geometry make for a more upright and extremely comfortable riding position. Battery positioned extra low for improved handling. Comes equipped with mudguards, rear rack, side stand, lock and lights.
The eSPRESSO TK & CC come fully equipped with fenders, kickstand, carrier and lights. Ready for any outing you can think of.
Based on the central position of the battery in front of the seat tube and the low position of the Shimano motor, we were able to achieve an optimum centre of gravity. The low and well-positioned centre of gravity provides the bike with outstanding riding characteristics which are extremely important in particular in wave low step-through frames which have the tendency to chatter and jitter when power is applied.
The decision to use 650B wheels with 2.2" city tread pattern tyres for the TK models and 2.25" off-road tread pattern for the CC models is not just a design feature but has more practical reasons. To add big volume tyres on an e-bike provides increased comfort but also extra traction and therefore more safety reserves. Small and even bigger bumps can easily be rolled over, and a big volume tyre provides more puncture protection compared to a narrow one.
Cables are routed through the frame to keep the look of the bike neat and uncluttered, whilst the cables are out of the airflow and protected from moisture and dirt.
The outstanding frame stiffness has a strong influence on the riding characteristics of wave low step through frames. The tapered head tube, the large tube diameters, the forged motor bracket as well as the 142x12 mm through rear axle all contribute to achieve a safe and precise riding experience.
The Shimano mid-mounted motor in combination with the forged motor bracket provides the eSPRESSO CITY with one of the lowest step through heights in the market.