*All specifications listed are subject to change without notice. *Recommended Retail Prices are subject to change without notice.
material: aluminium
700C wheelsize
142x12mm axle standard
intube
max. 504 Wh
eSPRESSO L XS(43L)-S(47L)-M(51L)-L(55L)
Coil
63mm suspension travel
shifter rear
Shimano SW-E6010-R
170 mm-XS/S/M 175 mm-L/XL
100x15mm width front hub
32 spoke holes
Centerlock
135x9mm width rear hub
36 spoke holes
Centerlock
20mm inner width
material: aluminium
622-50
wire
reflecting line
622-50
wire
reflecting line
material: aluminium
31.8mm diameter
adjustable
90 mm-XS/S/M, 110 mm-L/XL
material: aluminium
660mm width
15mm rise
material: aluminium
34.9mm diameter
0mm setback
fender
Sunnywheel SW-FA311-60E1 (MSB)
carrier
MERIDA MIK Carrier with Spring clip & H-Cargo Light
weighed at frame size S without pedals
light front
Herrmans H-BLACK MR4 E
light rear
Herrmans H-Cargo integrated in MERIDA MIK carrier
| | | | |
| --- | --- | --- | --- |
| Frame Size | XS | S | M |
| Tyre Sizes | 28" | 28" | 28" |
| ST seat tube [mm] | 430 | 470 | 510 |
| TT top tube [mm] | 565 | 580 | 590 |
| CS chain stay length [mm] | 478 | 478 | 478 |
| HTA head tube angle [°] | 70.5 | 71 | 71 |
| STA seat tube angle [°] | 75 | 74.5 | 74.5 |
| BD bottom bracked drop [mm] | 70 | 70 | 70 |
| HT head tube [mm] | 130 | 140 | 155 |
| FL fork length [mm] | 475 | 475 | 475 |
| R reach [mm] | 397.5 | 403.5 | 409.5 |
| S stack [mm] | 626.5 | 637 | 651.5 |
| WB wheel base [mm] | 1113.5 | 1118 | 1129 |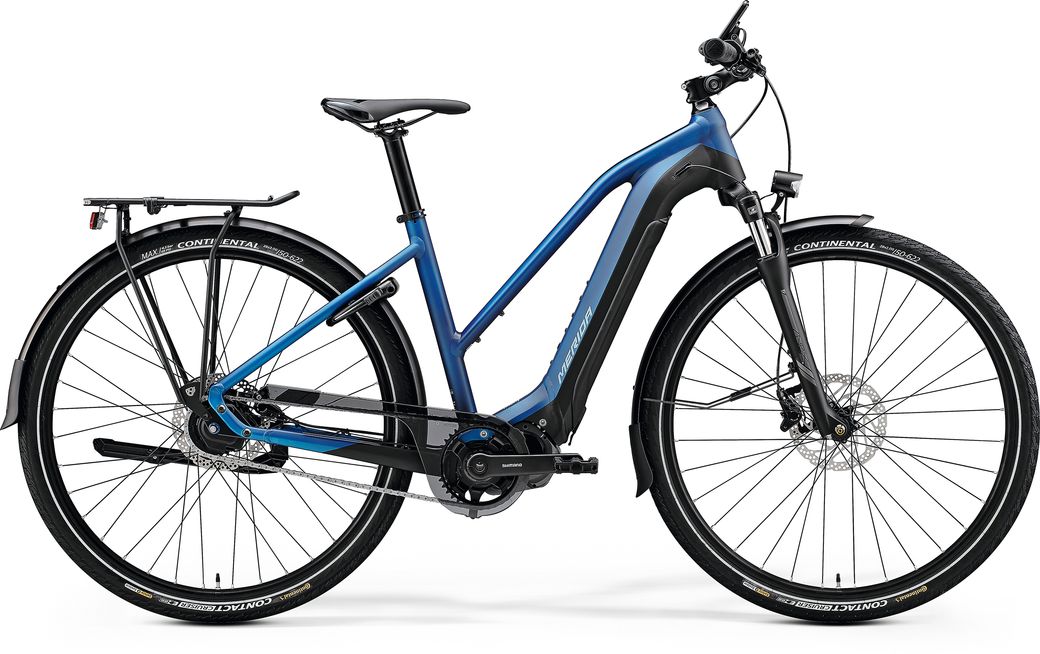 HFS-hydroforming Prolite 66 triple butted aluminium frame with internal battery technology, based around fast rolling 700c wheels and with commuting and leisure riding in mind. A higher front end and a compact geometry make for a more upright and extremely comfortable riding position. Comes equipped (or ready to be equipped) with mudguards, rear rack, side stand, lock and lights.
A two-component battery cover, which offers the perfect protection for the internal battery of these models. The softer (outer) layer reduces noises, seals the downtube perfectly and absorbs hits from trail debris easily, while the harder (inner) layer ensures that the battery does not get damaged and gives it the structural shape.
The new Shimano BT-E8035 internal battery has a very compact size design which is optimised for the integrated use in the down tube. The battery is equipped with modern, up-to-date battery cells, which are very durable and long lasting. Even after 1000 charging cycles it still has 60% of the capacity, which is currently the best in its class.
The eSPRESSO range comes either in regular or equipped version, which features mudguards, lights, rear rack and a kickstand. That means you are ready for anything from the moment you leave the store. And if your bike is non-equipped, then you have all fixing points in place, ready for when you want to add fenders and a carrier.
Our 'classic' eSPRESSO range sits on fast rolling 700c wheels, ideal for rides on roads, lanes and smooth tracks. We fit 50 mm wide tyres with reflective side walls and puncture protection that will get you to your destination quickly and safely. On the other hand, at our 650B eSPRESSO TK and CC, big volume 650B tyres are specified, which not only offer better comfort but also guarantee better puncture protection.
The system weight of a bike is the combined weight of bike, rider and additional luggage. The allowed system weight is 140 kg. As an e-bike is already heavier than a regular bike, and as it also makes it easier to transport larger amounts of luggage, it is imperative to certify a higher overall system weight. All MERIDA e-bikes, as well as all used componentry, go through a rigorous and e-bike specific testing schedule which mimics the higher forces and strains to guarantee the rider the highest level of safety.
We feature internal cable routing on all our eSPRESSO models. Cables are routed through the frame, entering and exiting through smooth sockets. Only a clever system for our internal guiding and fixing guarantees reliable and rattle free routing and gives the bike a cleaner look.
In our eSPRESSO range, you can choose between the classic diamond or the extra low step-through (yet super torsionally stiff) frame so that you can find the ideal bike for your preferences. We also offer a variety of different motor and battery combinations in our eSPRESSO range giving you even more choice to select the perfect eSPRESSO for your needs.