*All specifications listed are subject to change without notice. *Recommended Retail Prices are subject to change without notice.
Our range-topping city e-bike, the eSPRESSO L EP8-EDITION EQ takes its name from the latest pedal-assist drive unit from Shimano, the EP8. Offering a powerful but smoothly controlled 85 Nm of torque, it's the perfect partner for getting around town, whether you're off to the shops, on your way to work or just out exploring. The lightweight aluminium frame houses a 630 Wh battery, the wide-range Shimano 11-speed drivetrain makes short work of hills, and powerful hydraulic disc brakes offer consistent stopping power. It comes fully equipped with mudguards, lights, lock, kickstand and rack, so it's ready to keep you comfortable, safe and secure from the word go.
The eSPRESSO L range is the perfect partner for urban riding, offering comfort and practicality. Standard-fit mudguards, lights, lock, rack and kickstand mean you're ready to go from the moment you leave the shop. Choose between frames with internally mounted batteries of either 750 Wh, 630 Wh or 504 Wh capacity or a more economical, 504 Wh semi-integrated design. All use a range of powerful Shimano STEPS drive units, with the option of the sporty EP8 motor on some models. Low step-through frame options on all models help ease mounting and dismounting. Suspension forks offer improved control, while powerful hydraulic disc brakes give reliable and controllable stopping power in all weather conditions. The 700c wheels have wide 50 mm tyres for extra grip and comfort, plus reflective sidewalls strips improve rider safety in low light. Internally routed cables give a sleek look, while a 150 kg maximum system weight means plenty of carrying capacity.
Sporty and powerful Shimano EP8 drive unit
Lightweight frame with internally mounted 630 Wh battery
Wide-range 11-speed Shimano drivetrain
Fully equipped with guards, lights, lock, rack and kickstand
Fast-rolling 700c wheels and comfortable, grippy 50 mm tyres
Low step-through frame option available
material: aluminium
700x50C (with fender) max. wheelsize
142x12mm axle standard
intube
eSPRESSO L XS(43L)-S(47L)-M(51L)-L(55L)
Air
63mm suspension travel
Tapered
700x50C max. wheelsize
color
MATT DARK SILVER/BLACK
shifter rear
Shimano Deore M5100
38 teeth
MERIDA EXPERT TK
100x15mm width front hub
32 spoke holes
Centerlock
142x12mm width rear hub
36 spoke holes
Centerlock
20mm inner width
material: aluminium
622-50
wire
reflecting line
622-50
wire
reflecting line
material: aluminium
31.8mm diameter
adjustable
90 mm-XS/S/M, 110 mm-L/XL
material: aluminium
660mm width
15mm rise
material: aluminium
34.9mm diameter
0mm setback
fender
Sunnywheel SW-FA311-60E1 (MSB)
carrier
MERIDA MIK HD Carrier with Spring clip & Spanninga rear light
kickstand
Massload CL-KA98
light front
LEZYNE E-BIKE MINI STVZO E65
light rear
Spanninga Commuter Glow XE integrated in MERIDA MIK HD carrier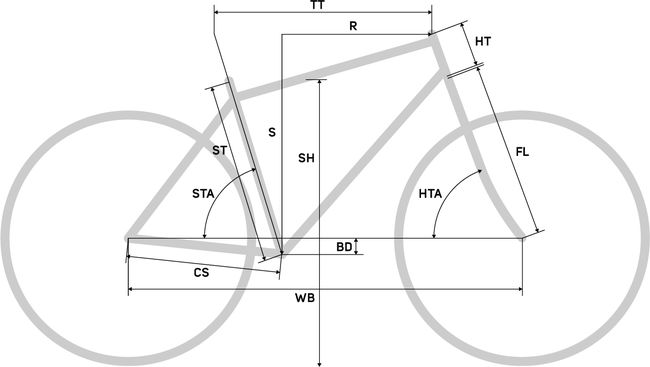 | | | | | |
| --- | --- | --- | --- | --- |
| Frame Size | XS | S | M | L |
| Tyre Sizes | 28" | 28" | 28" | 28" |
| ST seat tube [mm] | 430 | 470 | 510 | 550 |
| TT top tube [mm] | 580 | 590 | 600 | 620 |
| CS chain stay length [mm] | 478 | 478 | 478 | 478 |
| HTA head tube angle [°] | 69 | 69.5 | 69.5 | 70 |
| STA seat tube angle [°] | 75 | 74.5 | 74.5 | 74 |
| BD bottom bracked drop [mm] | 75 | 75 | 75 | 75 |
| HT head tube [mm] | 133 | 140 | 155 | 175 |
| FL fork length [mm] | 489 | 489 | 489 | 489 |
| R reach [mm] | 409 | 410 | 416 | 424 |
| S stack [mm] | 640 | 649 | 663 | 684 |
| WB wheel base [mm] | 1145 | 1144 | 1155 | 1164 |
| SH stand over height [mm] | 593 | 610 | 631 | 650 |
| | | | | | |
| --- | --- | --- | --- | --- | --- |
| No. | Item-No. | Name | Info | Pieces | Torque NM |
| 1 | A2300000048 | SCREW | M4x0.7 L8mm | 1 | 3~5 |
| 2 | A2311000067 | RD-HANGER | DH-057 | 1 | |
| 3 | A2300000129 | SCREW | M3x0.5 L10mm | 2 | 2~4 |
| 4 | A2258000012 | CABLE GUIDE | for M5 fixation | 1 | |
| 5 | A2298000120 | SCREW | M5x0.8 L12mm | 1 | 3~5 |
| 6 | A2300000468 | SCREW | M8x1.25 L18.5mm | 3 | 11~12 |
| 7 | A2300000469 | SCREW | M8x1.25 L23mm | 3 | 11~12 |
| 9 | A2298000144 | SCREW | M5x0.8 L10mm | 6 | 3~5 |
| 12 | A2161000127 | CABLE GUIDE | | 1 | |
| 13 | A2143000125 | BUTTON | ON-OFF; for SHIMANO batteries | 1 | |
| 14 | A2111000008 | CABLE GUIDE | | 2 | |
| 15 | A2161000118 | COVER | for battery | 1 | |
| 17 | A2143000129 | BLIND PLUG | for key opening | 1 | |
| 18 | A2258000079 | CABLE PLUG | for RD | 1 | |
| 19 | A2258000099 | CABLE PLUG | for rear brake and speed sensor | 1 | |
| 20 | A2300000228 | SCREW | M4x0.7 L14mm | 2 | 1.5~2 |
| 21 | A2258000127 | CABLE GUIDE | for right side | 1 | |
| 22 | A2258000128 | CABLE GUIDE | for left side | 1 | |
| 23 | A2143000076 | COVER | for carrier mount | 2 | |
| 24 | A2298000142 | SCREW | M6x1.0 L12mm | 2 | 6~8 |
| 25 | A2258000098 | CABLE GUIDE | for M4 fixation | 1 | |
| 26 | A2300000447 | SCREW | M4x0.7 L5mm | 1 | 1.5~2 |
| 27 | A2143000122 | CABLE PLUG | for front light | 1 | |
| 28 | A2002000108 | THRU AXLE | EXPERT TR; L=172mm M12x1.5 TL=14mm w. NUT | 1 | |
| 29 | A2298000071 | SCREW | M5x0.8 L15mm with washer | 2 | 3~5 |
| 30 | A2191000150 | HEAD SET | MERIDA/VP-8155 (MH-P16/MH-P16) | 1 | |
| 30 | A2191000151 | HEAD SET | MERIDA/VP-8156 (MH-P16/MH-P16) | 1 | |
Classification