ADVENTURE, EVERY DAY. GET LOST, FIND YOURSELF.
Function has a style all of its own. When we introduced the SILEX, people didn't know what to make of this quirky-looking bike designed for riding something called 'gravel'. Then they rode it - and the awards and positive reviews started piling up. The SILEX turns any ride into an adventure, opening up fresh possibilities for fun, whether you're doing the daily commute or a multi-day bikepacking trip.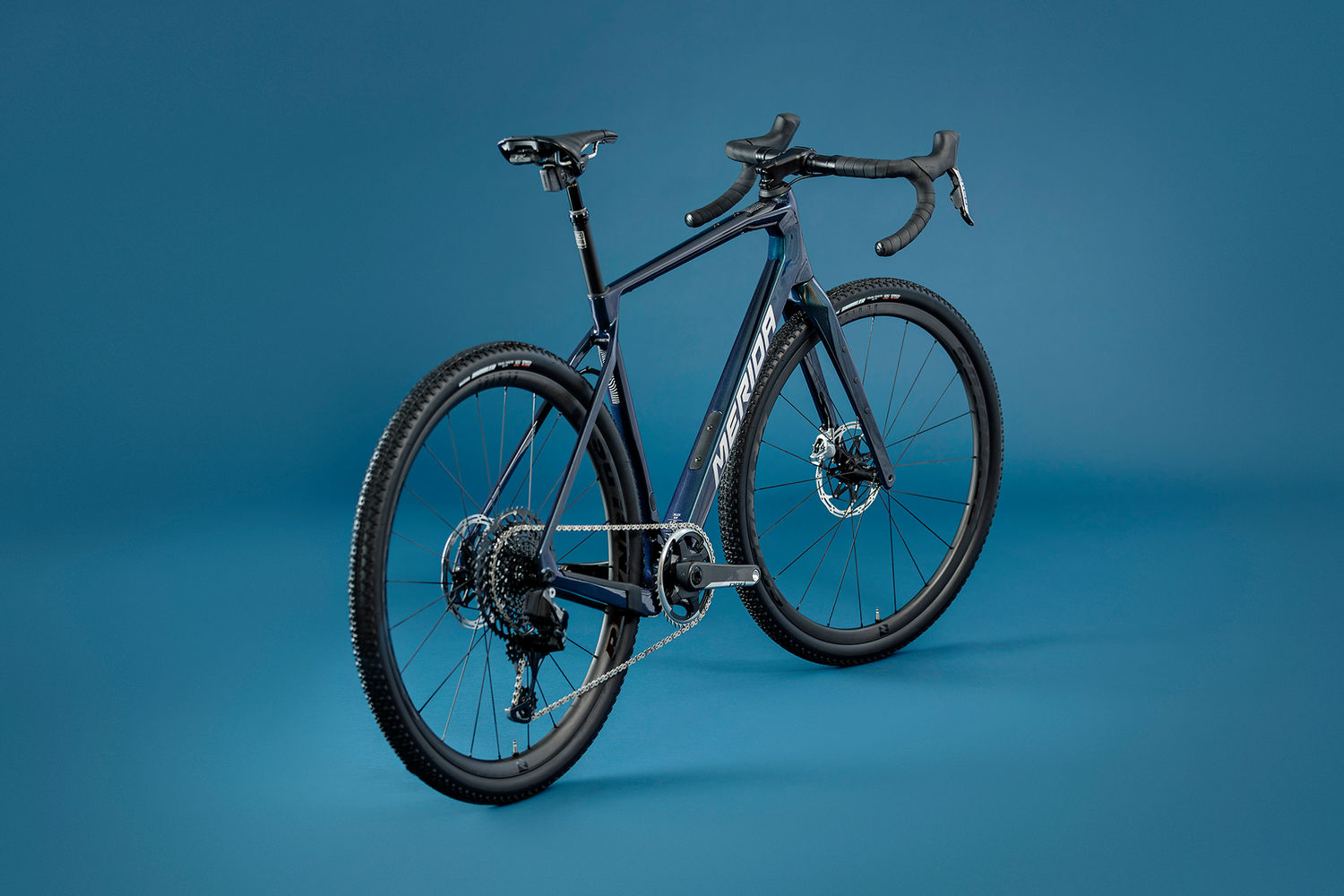 CALM AND COMPOSED
Now, it's even more off-road capable, and we've revised the looks to be more modern and elegant - even if we do say so ourselves. We've kept the versatility that made the first version of this bike a success though, but with greater tyre clearance and a slacker head angle, it's more comfortable and composed, while refined cable routing and styling means it's sleeker and slipperier than ever. That's all without compromising the ability to run a 1x or 2x drivetrain or run whatever combination of guards, racks and luggage works for you.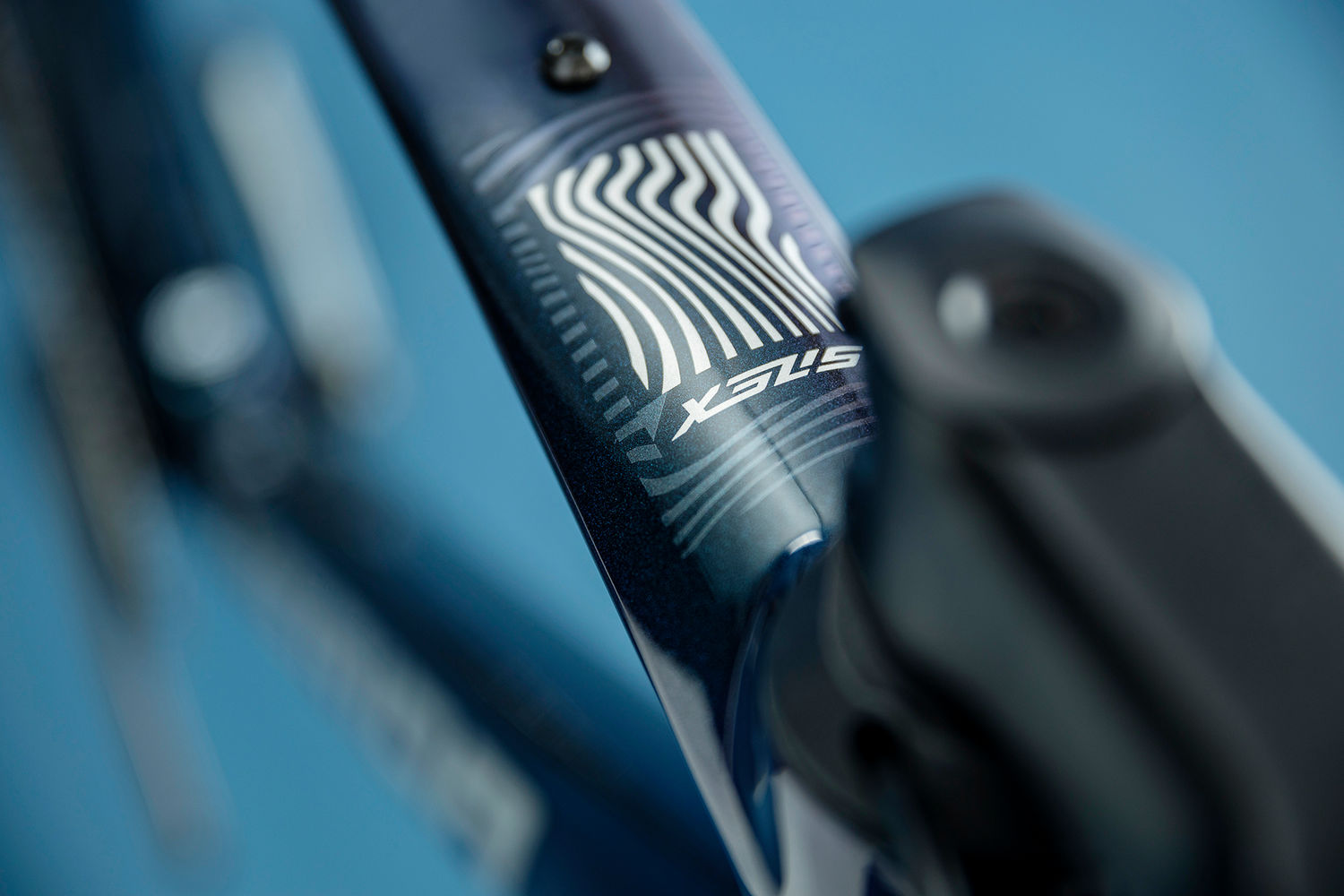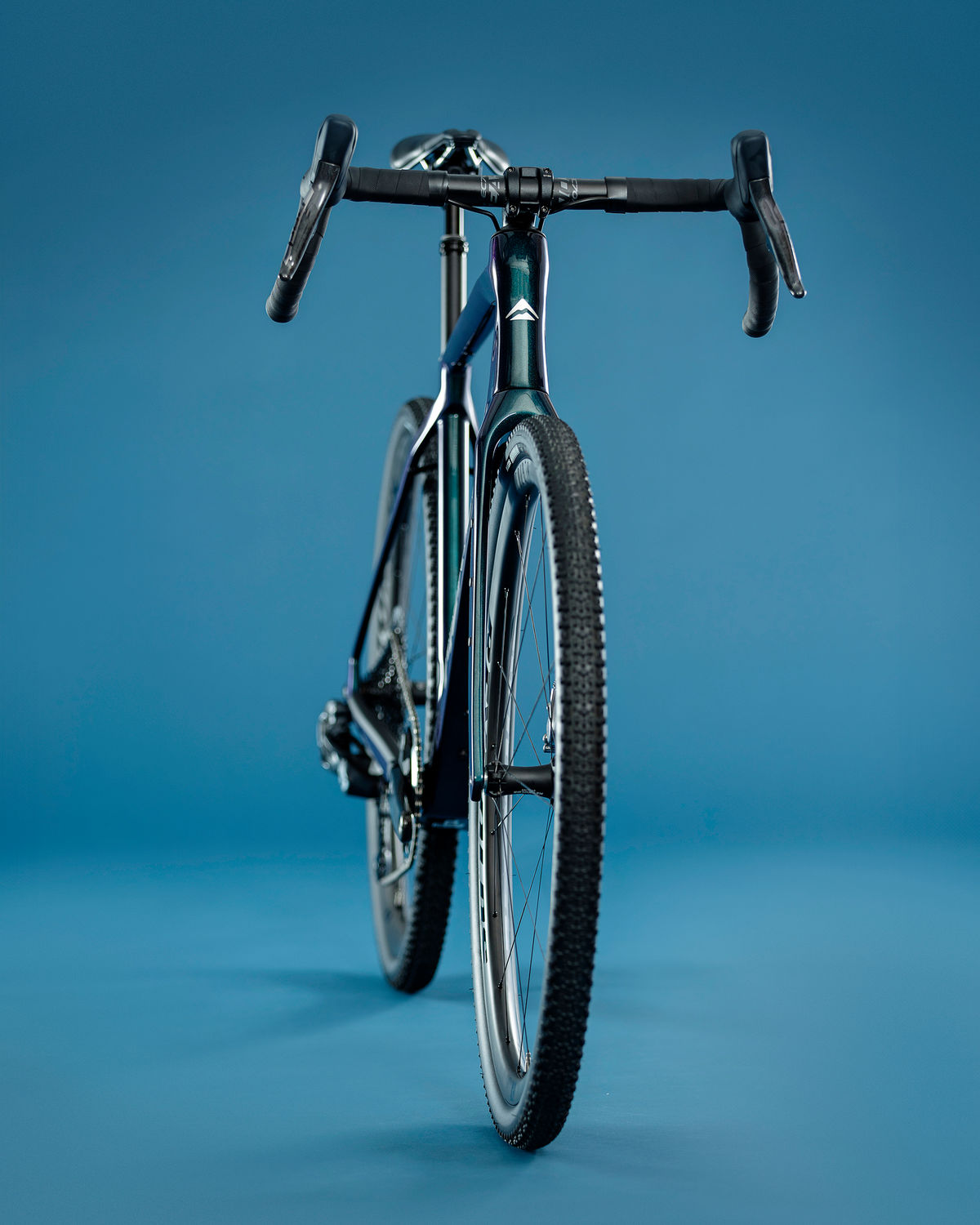 RUGGED MOUNTAIN BIKE ABILITY PAIRED WITH EVERYDAY VERSATILITY
The SILEX has always been an off-road machine, first and foremost, rather than a road or 'cross bike' with a few tweaks. With a mountain bike-inspired geometry, it breaks free from the confines of what a drop bar bike should do, tempting you to explore the road less travelled. Take that turn off, head down that singletrack, see what's over the next hill, load up your gear and turn it into an overnighter - the SILEX has got your back. It blends drop-bar speed on hardpack surfaces with mountain bike rugged ability and calm and composed handling.
The SILEX isn't just for those big adventures in the back of beyond; it's an incredibly practical everyday machine too. Whether it's fitted with pannier racks to get the shopping or mudguards to keep you clean on the commute, it'll get you there in comfort with a more relaxed, upright riding position and composed character, no matter what the surface throws at it.
IS MORE THAN JUST GRAVEL
IT'S A GO-ANYWHERE, DO-ANYTHING BIKE THAT BLENDS THE RUGGEDNESS OF A MOUNTAIN BIKE WITH THE EFFICIENCY OF A ROAD BIKE.
While there's no good reason you can't slap number plates on it and enter your favourite gravel race, the SILEX doesn't solely live to hammer out the miles as quickly as possible. Its focus is on long-distance races and multi-day events, where the stable handling and off-road ability of the bike will shine through.
Instead, the SILEX is for the rider who dreams big but still wants a bike that can handle the everyday stuff. Long, unsupported adventures with a fully laden bike. Overnight bivvy trips that'll take you back to the real world refreshed. Rides with friends where you're chasing the sunset down any path that presents itself, not Strava segments.
Its versatility means that it's the perfect partner for backcountry exploits, but it's also able to deal with the day-to-day tasks just as well, whether that means being laden down with shopping or ducking and diving down whatever path you want to spice up your commute to work. While we have maximised the off-road performance of the new SILEX, it's also still as versatile for everyday riding, whether you're commuting, taking on a road sportive or just after a stable and comfortable companion for long winter rides. Both carbon CF and aluminium LITE frames still have mounts for full-length mudguards, while the LITE frames can also be used with a pannier rack.
FEATURES & INNOVATIONS
IF IT AIN'T BROKE, DON'T FIX IT
Our aim with the new SILEX was to keep everything that made the original a success but to improve the handling, comfort, off-roading ability, aesthetics and integration. However, we were keenly aware of the maxim 'if it ain't broke, don't fix it' so the riding position is almost identical to the previous bike, retaining the mountain-bike-inspired geometry concept with a high front end, short stem and steep seat angle that enhances on-road comfort and off-road ability. The new SILEX has the same encouraging ride feel and position that allows you to ride comfortably and in control, but we've boosted the off-road ability thanks to a slacker head angle and higher volume tyres.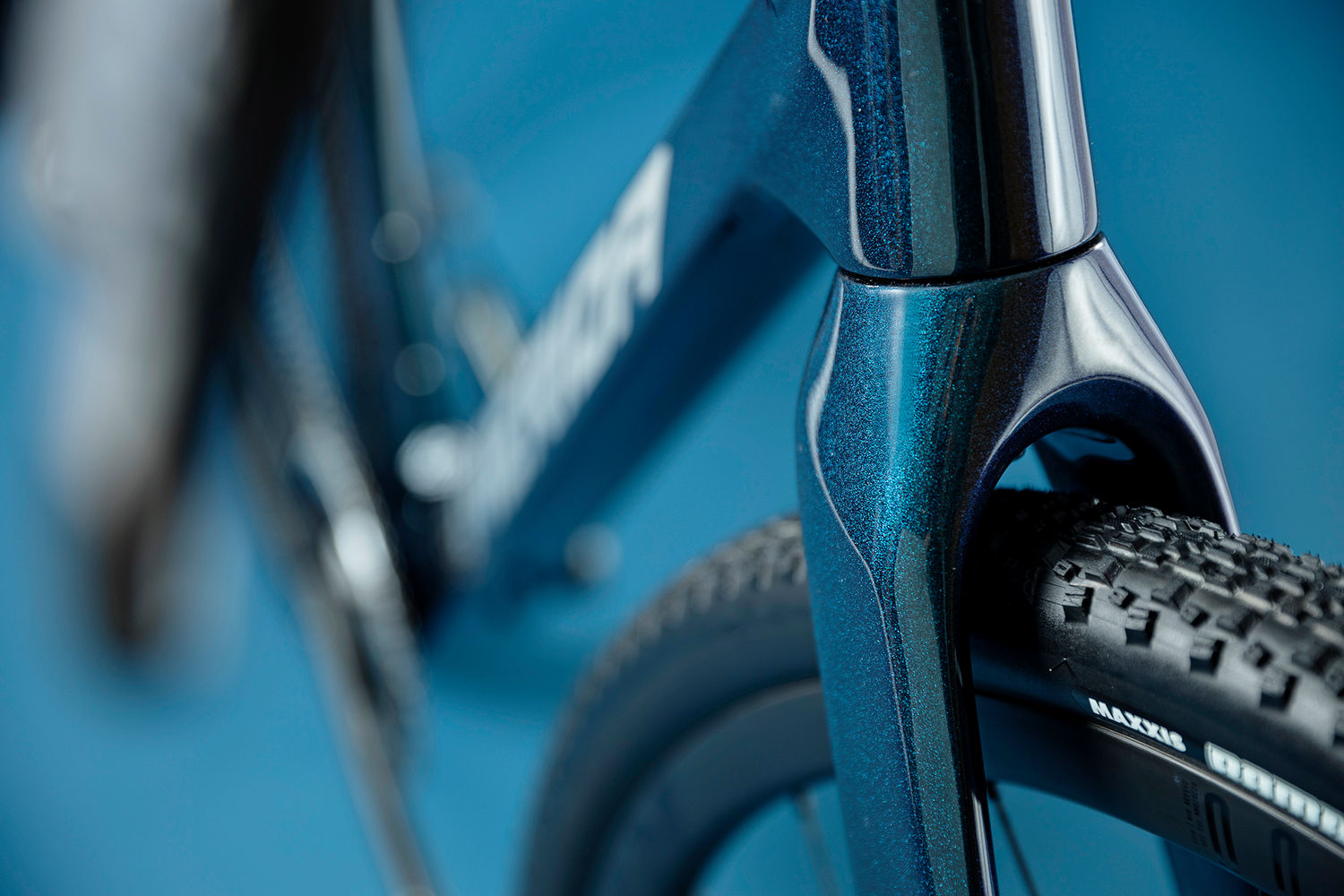 INCREASED TYRE CLEARANCE
This longer fork also allows a significant increase in tyre clearance. It is now possible to fit a 45 mm tyre on a 700c rim at both the front and rear of the bike, giving a massively increased tyre volume that benefits both comfort and grip. The significantly larger overall rolling diameter also gives a smoother, more stable ride without having to resort to heavy and complicated suspension systems.
We believe that this clearance makes the 650b wheel size obsolete; there is no advantage to this smaller wheel except for having a larger volume tyre. It is still possible to run up to a 700x42 mm tyre when running fenders too.
DRIVETRAIN OPTIONS THAT WORK FOR YOU
At the rear end of the bike, we've moved to a dropped chainstay design that gives the tyre clearance we needed but keeps the ability to run a 1x or 2x drivetrain that allows riders to choose the drivetrain setup that suits them best. Going 1x reduces weight and gives simplified controls, while a 2x setup delivers short gaps between gears for even cadence. What works best is up to you.
STOPPING POWER AND LATEST FEATURES
We've backed up this increased off-road capability with improved stopping ability; all bikes now run 180 mm rotors front and rear for much stronger and fade-resistant braking performance, especially when bikepacking. The weight penalty over the more commonly used 160 mm rotor is minor, but the increase in power is significant, especially when riding laden on long descents. The carbon fibre framed CF models will use our DISC COOLER brake mount heat sink technology to help cool brakes faster for improved performance and reliability.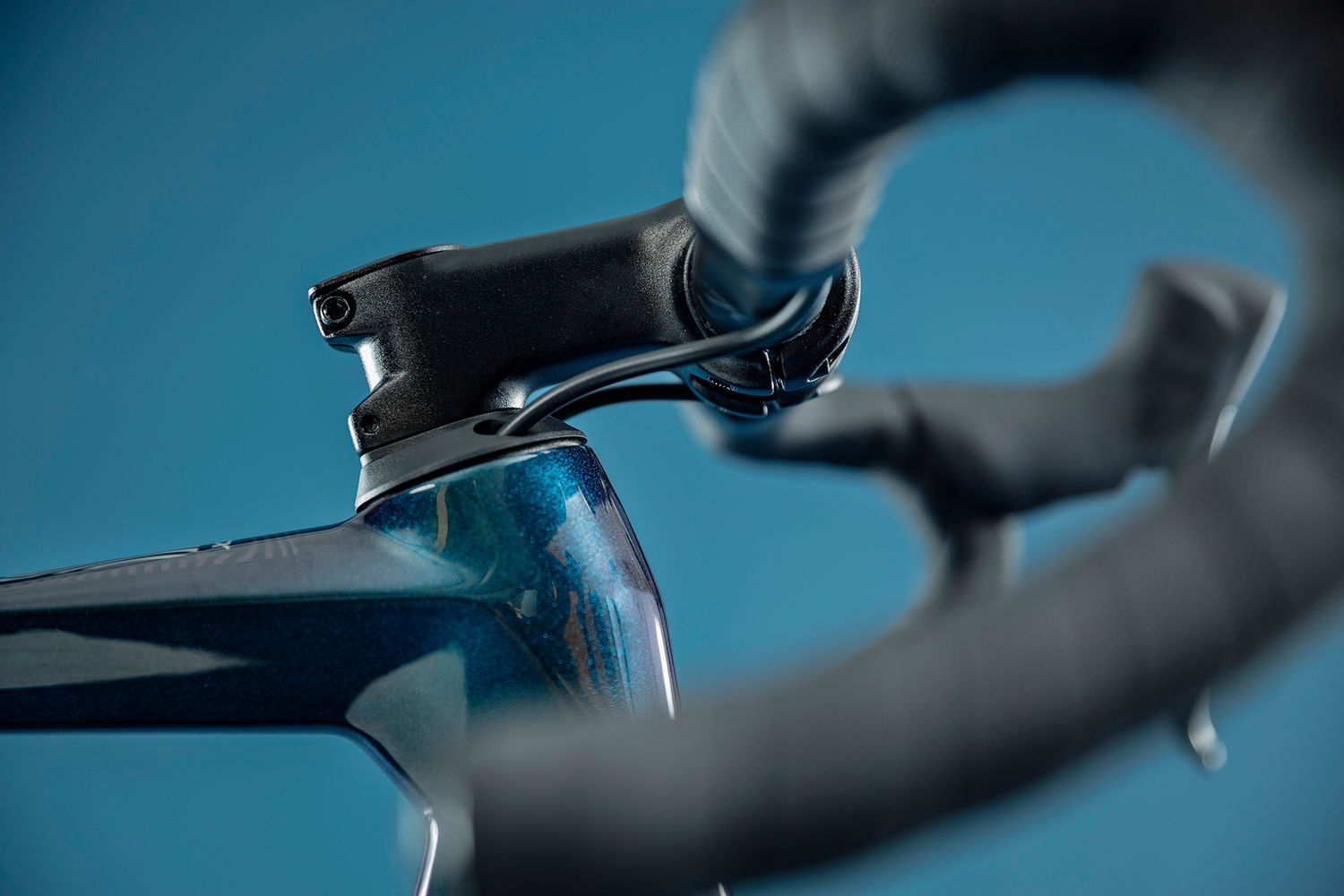 CLUTTER-FREE COCKPIT AND SLEEKER LOOK
As well as the shorter headtube improving the looks of the bike, we also made a number of other small but key changes. We have switched to our well-proven WIRE PORT cable management system, with control cables entering via the headset before being fully internally routed onwards for a less cluttered cockpit and sleeker look. This also has the benefit of much-improved integration when running a bar bag or bikepacking roll too.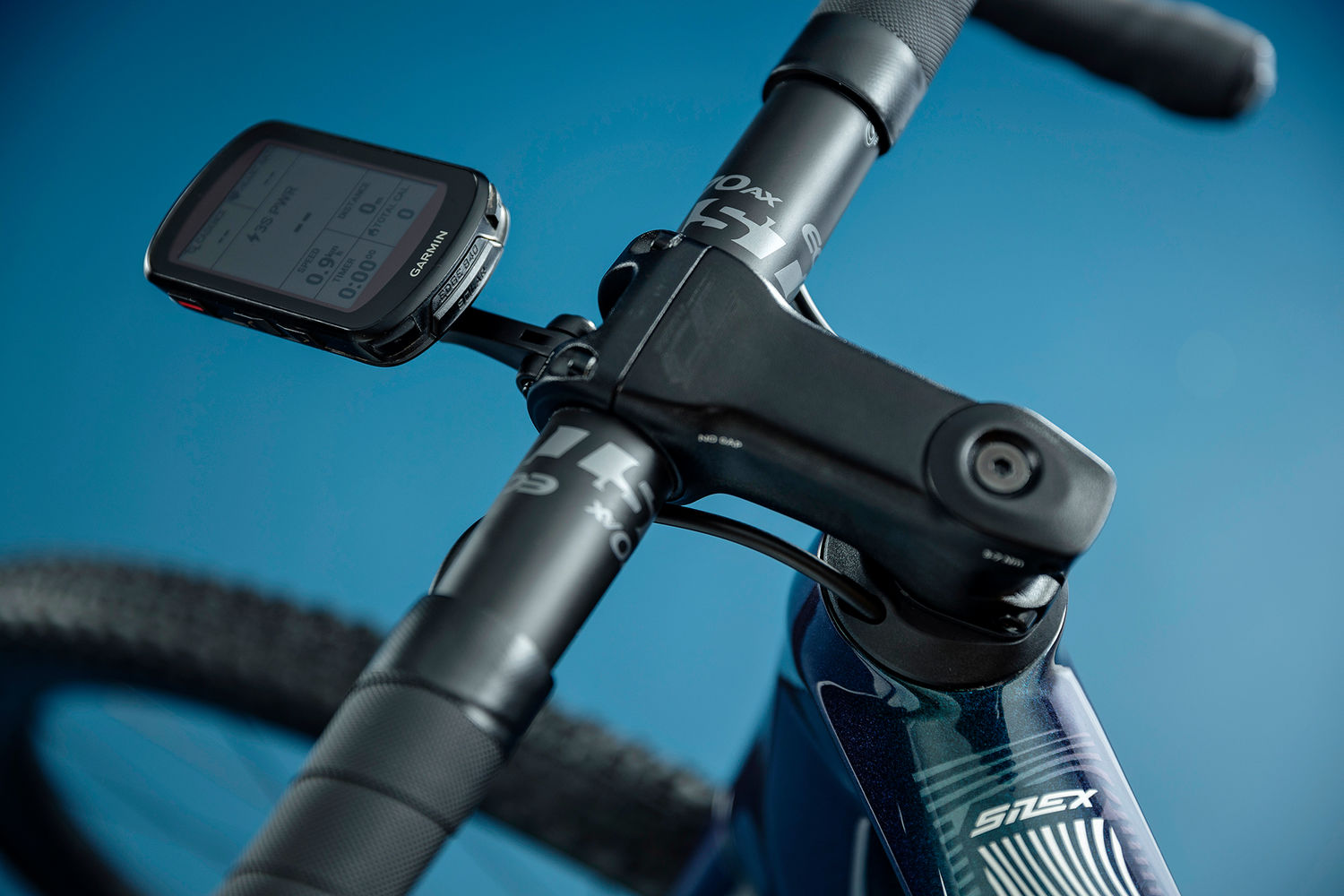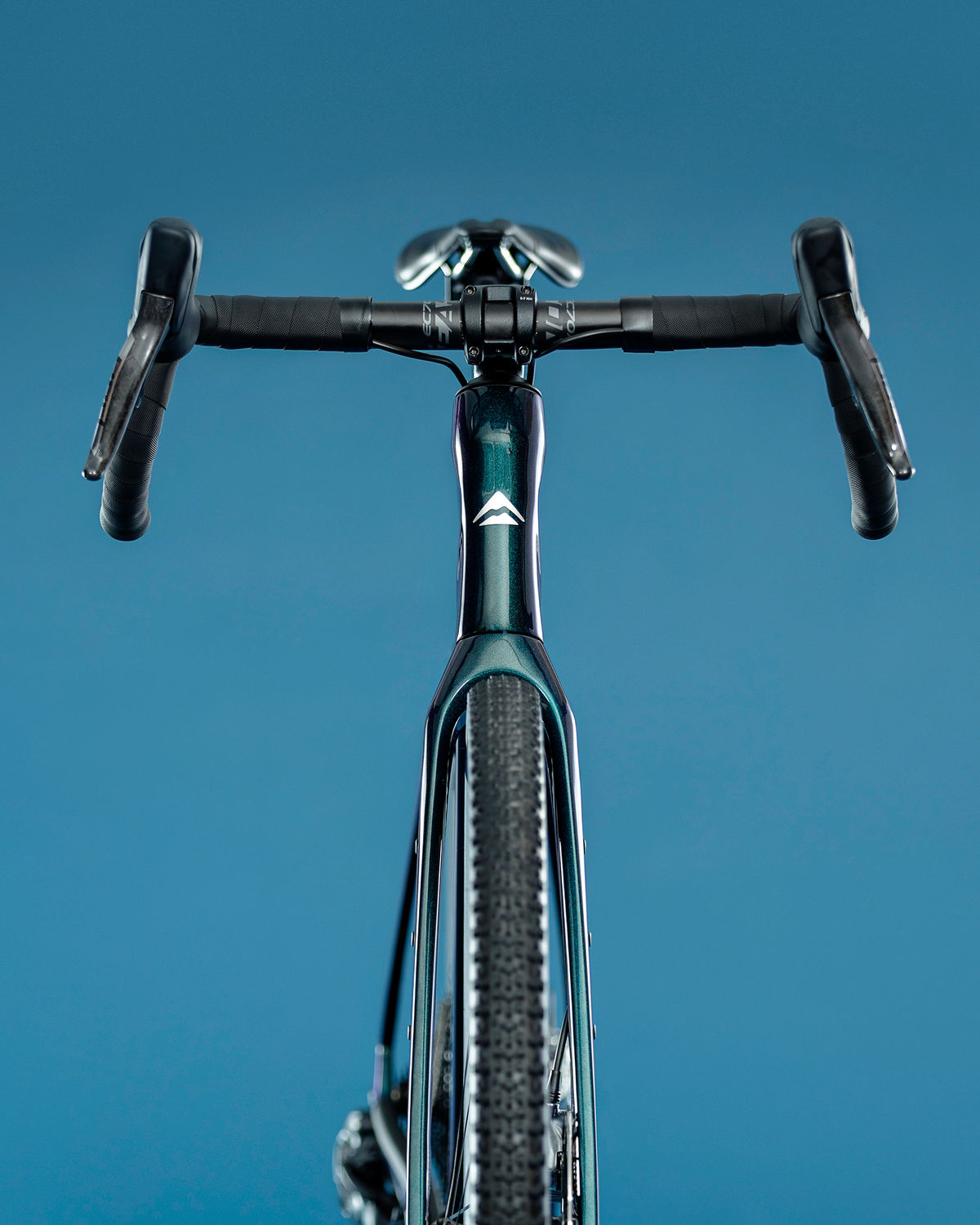 CLEANER AND MORE MODERN LOOK
The seatpost clamp is now integrated into the top tube, giving a cleaner and more modern look. There is also compatibility with internally routed dropper seatposts, and the fork has internal routing provision for a hub dynamo to power lights or small electronic devices on long trips.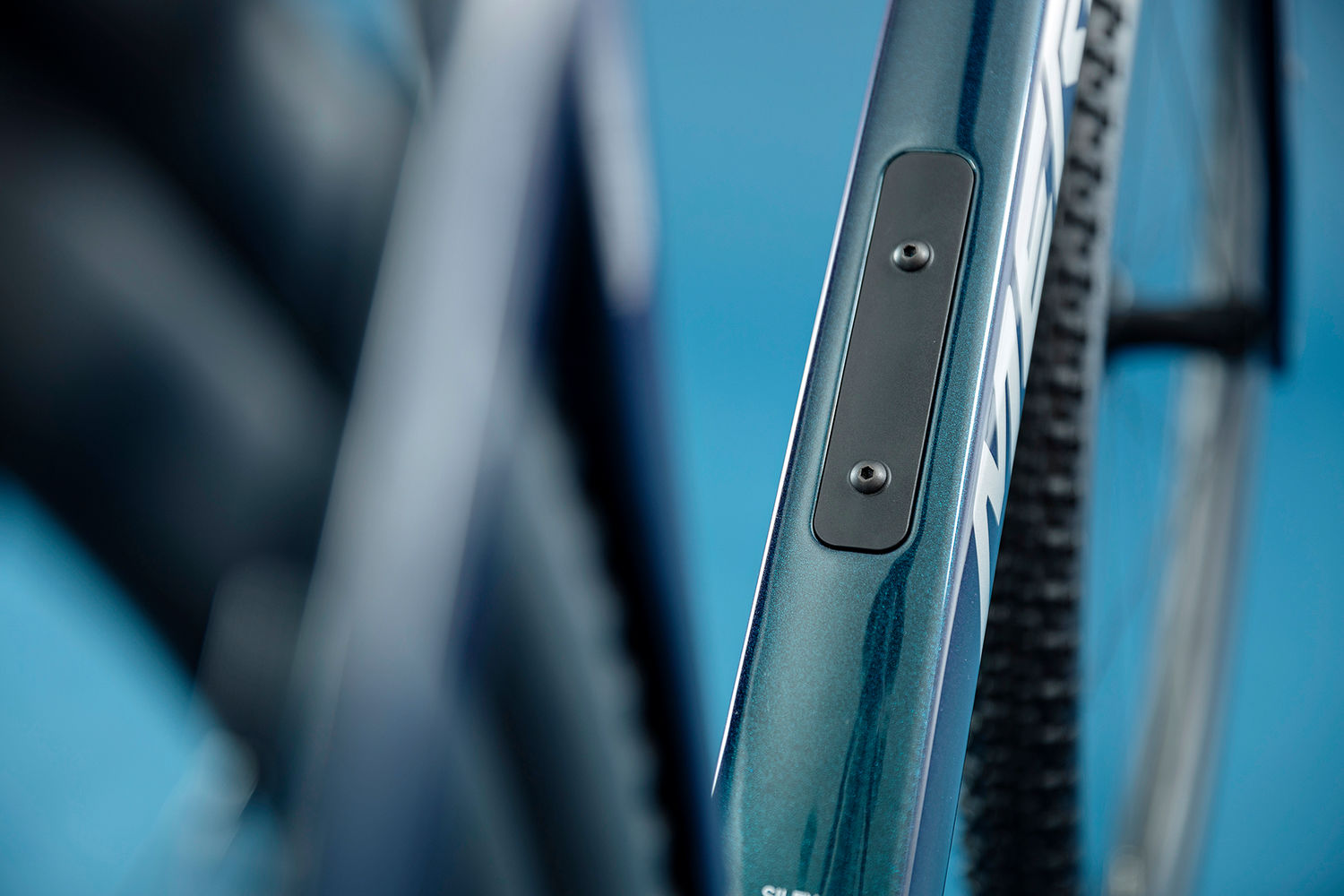 FIDLOCK BASE MOUNT
We have also added an integrated Fidlock base mount for the CF frames that can be run with any Fidlock-compatible accessory or an optional blanking plate.There is also compatibility with internally routed dropper seatposts, and the fork has internal routing provision for a hub dynamo to power lights or small electronic devices on long trips.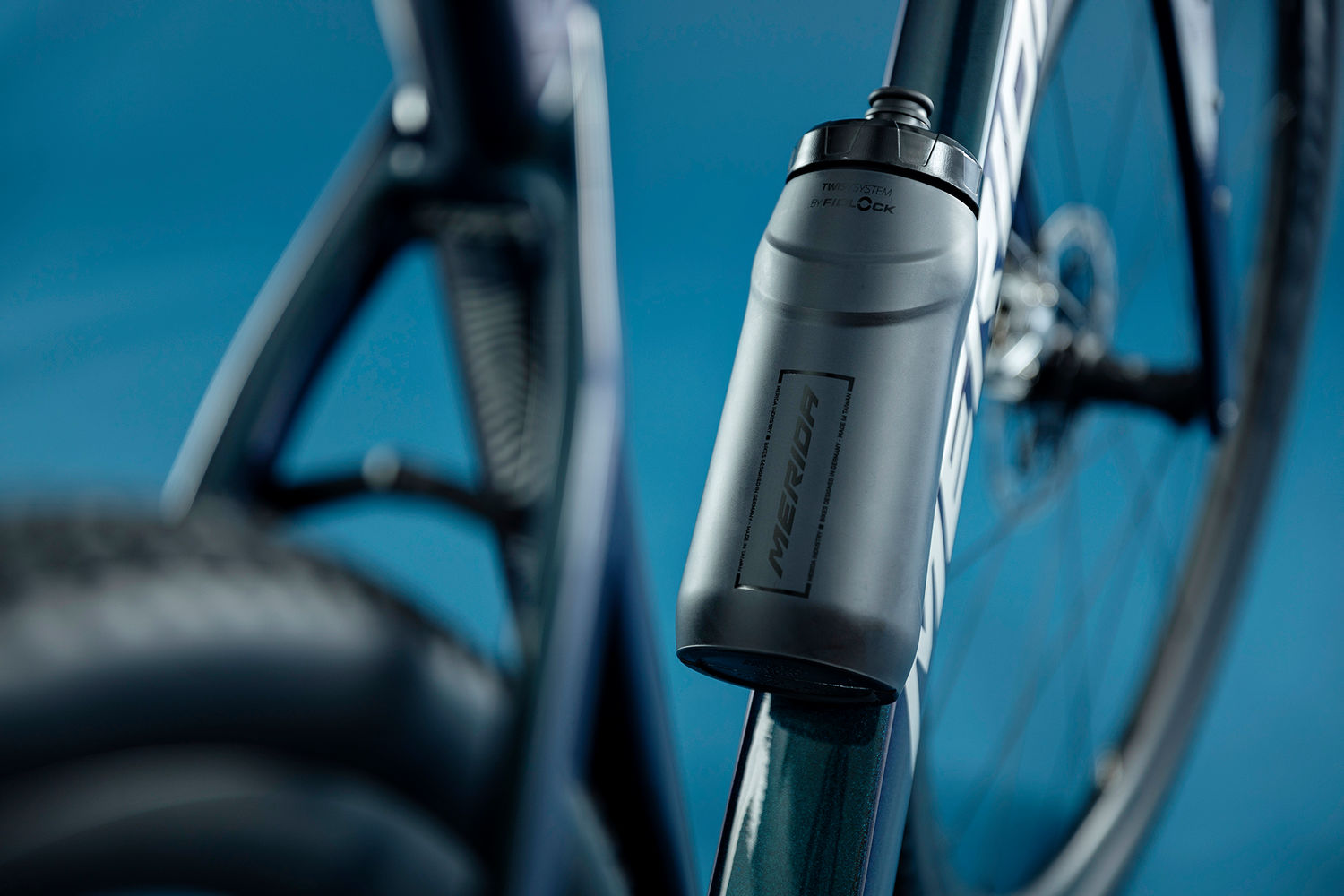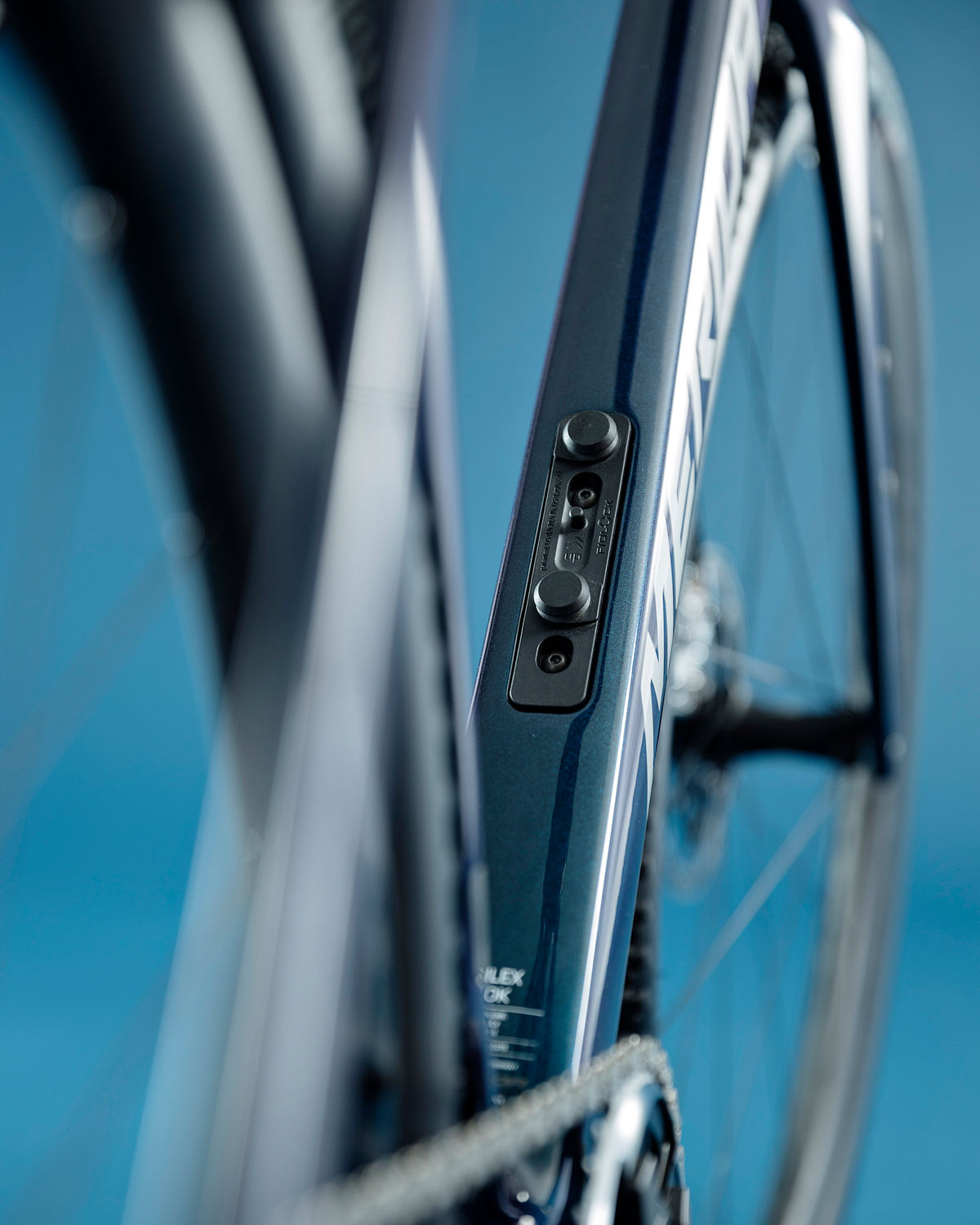 LIGHTWEIGHT CARBON AND HIGH-VALUE ALUMINIUM FRAMES
The new SILEX will be available in both lightweight CF carbon fibre framed models and high-value LITE aluminium frames, both sharing the same carbon fibre fork. Geometry is identical between the two frames, but the CF frame saves 680 g over the aluminium version. Weight aside, key differences between the two frames are that the CF bike has a DISC COOLER heat sink rear brake mount and a Fidlock mount integrated into the downtube, while the LITE aluminium frame has mounts for a rear carrier rack in addition to the mudguard mounts.
MULTIPLE MOUNTING POINTS FOR YOUR NEXT ADVENTURE
Bikepacking, commuting, after-work gravel sessions or training rides on potholed country lanes; wherever you're riding your SILEX, being able to carry everything you need is vital. Fixing points on frame and fork allow bottles, bags, tools, fenders or accessories (and lots more) to be fitted, while the 'anything cage' style mounts on the fork legs have increased carrying capacity, plus there is internal cable routing for a dynamo hub. On top of that, the LITE model also features carrier mounts, further underlining the day-to-day usability of the SILEX.
EVERY ROAD IS YOURS
WELCOME TO THE NEW SILEX
Few bikes can say that they feel at home pretty much anywhere you take them. Our new SILEX follows the path its predecessor successfully opened up by being a hugely capable gravel, bikepacking and adventure bike but also being a trusted day-to-day workhorse and a fun, fast and rugged commuter and training bike. Whichever direction you point the SILEX, it delivers impressive handling, outstanding comfort and composure - and last but not least - oodles of fun. It has, and always will, help you make 'every road yours'.