material: aluminium
150mm suspension travel
27.5x2.8" max. wheelsize
148x12mm axle standard
intube
max. 504 Wh
Bakdämpare
SUNTOUR RS EDGE R
30.9mm diameter
0mm setback
XS 100mm travel seatpost - S/M 125mm travel seatpost - L/XL 150mm travel seatpost
Sadelklämma
MERIDA EXPERT clamp
34 teeth
Shimano FC-E8000
Växelreglage
Shimano SL -MT500-IL / Shimano Deore M4100-RC1 clamp band 10
110x15mm width front hub
32 spoke holes
Centerlock
148x12mm width rear hub
36 spoke holes
Centerlock
Lys
CG-119PG-BLACK(1) / CG-404RG-BLK
Batteri
Shimano E8035 504Wh
Skärmar
C093-02F + C093-02R
Växelreglage, bak
Shimano Deore M4100-RC1 clamp band 10
Växelreglage, fram
Shimano SL -MT500-IL
29mm inner width
material: aluminium
Tubeless ready (tubeless tape and valves not included)
material: aluminium
35mm diameter
0° stem angle
GoPro & Supernova mount
40 mm all sizes
110x15mm width front hub
32 spoke holes
Centerlock
Framlampa
CG-119PG-BLACK(1)
Batterihållare
Shimano BM-E8031 in frame
29x2.4"
wire
27.5x2.6"
wire
148x12mm width rear hub
36 spoke holes
Centerlock
Air
150mm suspension travel
Tapered
51mm fork offset
29x2.4" max wheelsize
including removeable lever, 6/4mm allen key
Bakväxel
Shimano Deore RDM5120 10
Ramstorlek
XS, S, M, L, XL
| | | | | | |
| --- | --- | --- | --- | --- | --- |
| Ramstorlek | XS | S | M | L | XL |
| Däckstorlekar | 29/27.5" | 29/27.5" | 29/27.5" | 29/27.5" | 29/27.5" |
| ST - Seat Tube (mm) | 405 | 420 | 440 | 470 | 500 |
| TT - Top Tube (mm) | 563 | 584 | 605 | 629 | 652 |
| CS - Chain Stays (mm) | 439.5 | 439.5 | 439.5 | 439.5 | 439.5 |
| HTA - Head Tube Angle (°) | 65.5 | 65.5 | 65.5 | 65.5 | 65.5 |
| STA - Seat Tube Angle (°) | 75.5 | 75.5 | 75.5 | 75.5 | 75.5 |
| BD - Bottom Bracket Drops (mm) | 17.5 | 17.5 | 17.5 | 17.5 | 17.5 |
| HT - Head Tube Length (mm) | 110 | 115 | 120 | 135 | 150 |
| FL - Fork Length (mm) | 571 | 571 | 571 | 571 | 571 |
| R - Reach (mm) | 400 | 420 | 440 | 460 | 480 |
| S - Stack (mm) | 629 | 633 | 638 | 652 | 665 |
| WB - Wheel Base (mm) | 1168 | 1190 | 1212 | 1238.5 | 1264.5 |
| SH - Stand Over Height (mm) | 737 | 736 | 734 | 755 | 777 |
| | | | | | |
| --- | --- | --- | --- | --- | --- |
| Siffra | Item Number | Namn | Info | Pieces | Torque NM |
| 1 | 2294001180 | WASHER | | 2 | |
| 2 | 2221002395 | BEARING | 3802V-2RS 24D*15D*7W | 2 | |
| 3 | 2300012662 | BOLT | | 1 | |
| 4 | 2300012673 | SCREW | | 1 | 18 |
| 5 | 2300014426 | SCREW | | 1 | 12 |
| 6 | 2300014103 | BOLT | | 1 | |
| 7 | 2035001617 | S-LINK | | 1 | |
| 8 | 2221002254 | BEARING | 6800V2RS 19D*10D*5W | 2 | |
| 9 | 2300011865 | SCREW | | 2 | 16 |
| 10 | 2294004633 | WASHER | | 2 | |
| 11 | 2221002265 | BEARING | 6801V-2RS 21D*12D*5W | 2 | |
| 12 | 2300012695 | SCREW | | 1 | 14 |
| 13 | 2300012684 | BOLT | | 1 | |
| 14 | 2294002255 | WASHER | | 2 | |
| 15 | 2294004826 | WASHER | | 4 | |
| 16 | 2221002328 | BEARING | 12214V-2RS 21D*12D*4W | 8 | |
| 17 | 2300012703 | BOLT | | 4 | |
| 18 | 2300012714 | SCREW | | 4 | 14 |
| 19 | 2300005272 | SCREW | | 1 | 5 |
| 20 | 2311005101 | DROPOUT | DH-057 | 1 | |
| 21 | 2300010950 | SCREW | | 2 | 4 |
| 22 | 2161001314 | COVER MOUNT | | 1 | |
| 23 | 2300011412 | SCREW | | 4 | 4 |
| 24 | 2143003600 | PLUG | | 1 | |
| 25 | 2298011283 | SCREW | | 4 | 5 |
| 26 | 2161001303 | CABLE GUIDE | | 1 | |
| 27 | 2161001660 | ENERGY GUARD | | 1 | |
| 28 | 2300014857 | SCREW | | 1 | 5 |
| 29 | 2143002869 | PLUG | | 1 | |
| 30 | 2300012101 | SCREW | | 3 | 12 |
| 31 | 2300012112 | SCREW | | 3 | 12 |
| 32 | 2258001133 | CABLE GUIDE | | 1 | |
| 33 | 2298002501 | SCREW | | 1 | 5 |
| 34 | 2258003801 | CABLE GUIDE | | 1 | |
| 35 | 2161001671 | CAP | | 1 | |
| 36 | 2300011810 | SCREW | | 1 | 4 |
| 37 | 2258004084 | SMART ENTRY | | 1 | |
| 38 | 2258004341 | SMART ENTRY | | 1 | |
| 39 | 2258004716 | SMART ENTRY | | 1 | |
| 40 | 2143003804 | PLUG | | 1 | |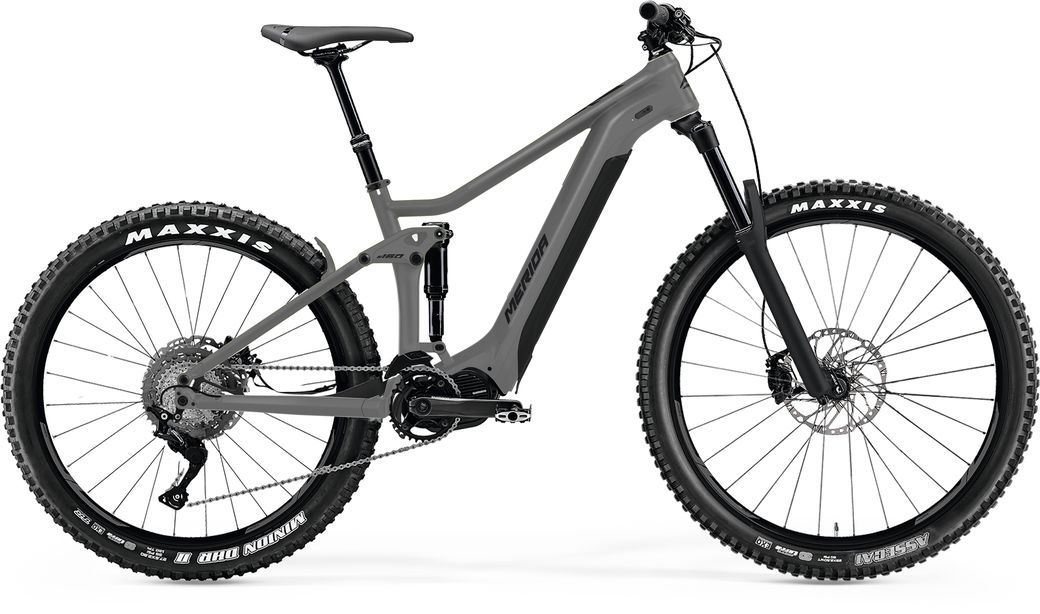 First introduced in 2015, the e-bike version of the 'Internal Block' is incorporated directly into the frame and prevents the fork crown from hitting the frame in case of a crash or an extreme steering angle. As an extra protection, there are additional rubber bumpers on the frame to avoid any frame damage from the fork crown.
The eONE-SIXTY features a perfectly positioned satellite on/off switch, at the head tube end of the top tube, and a well-protected satellite charging port, positioned in the main frame triangle, just above the motor.
To give the e-full suspension bikes precise steering, fantastic 'rolling over obstacles' behaviour yet maximum traction, we have combined a 29er front wheel with a 2.5" tyre and a 650B rear wheel, equipped with a slightly wider 2.6" tyre. The perfect combination of precision, playfulness and traction.
Due to the integrated battery, we were able to offer water bottle cage fixing points, allowing bottles or accessories like a lock or pump to the frame to be fitted into the main frame triangle. Great if you want to keep your back free of hydration packs and backpacks.
Finns som framdel av kolfiber och bakdel av aluminium (6016) eller som en version helt i aluminium. Med endast lite extra vikt jämfört med ramversion med kolfiber/aluminium är detta ett utmärkt alternativ för cyklister som föredrar en ram helt i aluminium eller för dem som behöver hålla nere kostnaden. Alla 2019-modeller har pendelarm av kolfiber som ger bättre styvhet och lägre vikt.