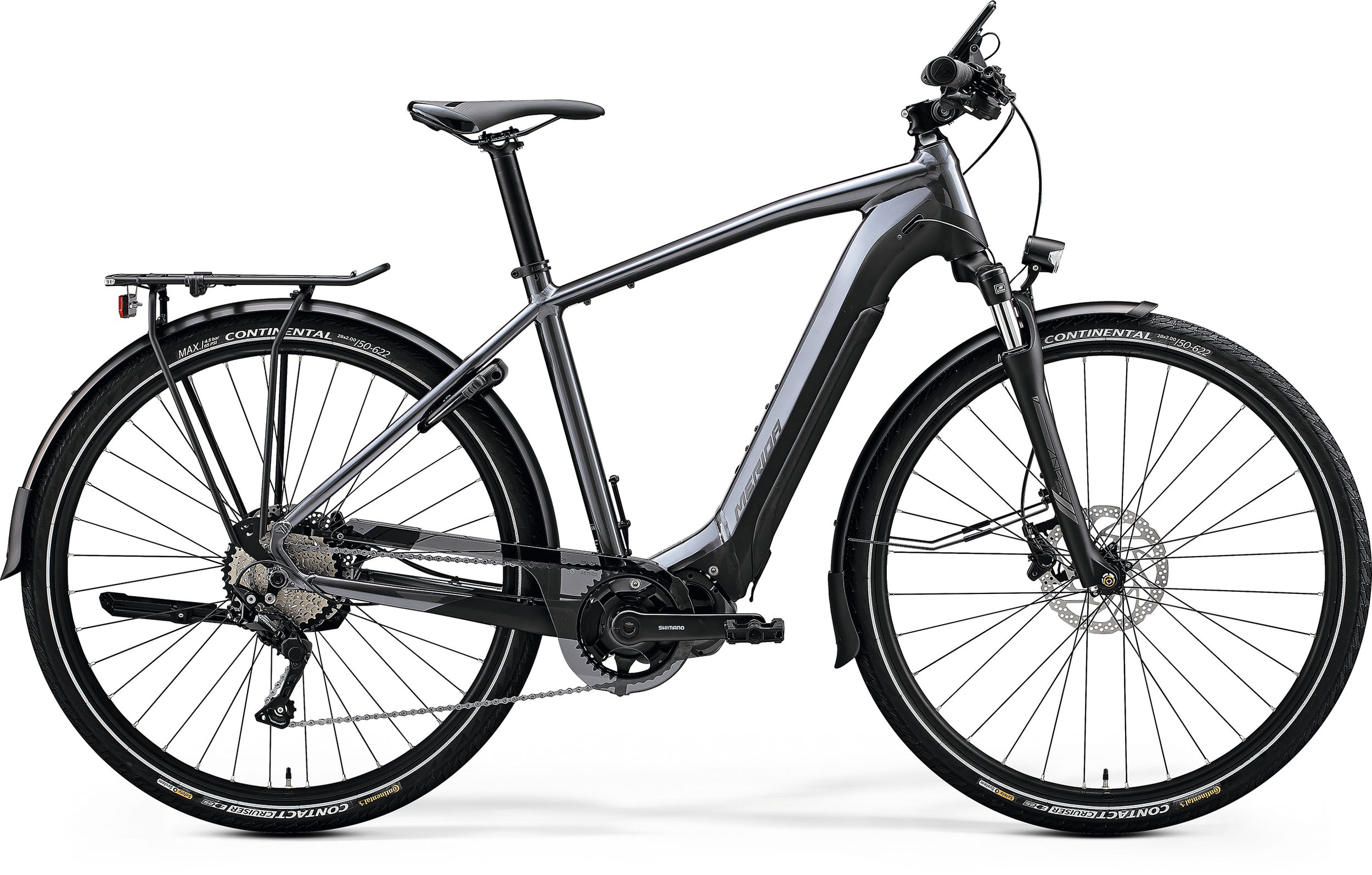 Osäker på vilken storlek som passar dig? Fyll i din höjd, arm- och benlängd, så beräknar SMARTFIT ut vilken storlek som passar dig bäst per modell. Se din storlek
material: aluminium
700C wheelsize
142x12mm axle standard
intube
max. 504 Wh
material: aluminium
660mm width
15mm rise
material: aluminium
34.9mm diameter
0mm setback
Sadelklämma
MERIDA EXPERT
38 teeth
Shimano FC-E6100
Växelreglage
Shimano Deore
Bromsar
Shimano MT-401-3A
Lys
Herrmans H-BLACK MR4 E / Herrmans H-Cargo integrated in MERIDA MIK carrier
Skärmar
Sunnywheel SW-FA311-60E1 (MSB)
Pakethållare
MERIDA MIK Carrier with Spring clip & H-Cargo Light
Växelreglage, bak
Shimano Deore
20mm inner width
material: aluminium
material: aluminium
31.8mm diameter
adjustable
90 mm-XS/S/M, 110 mm-L/XL
100x15mm width front hub
32 spoke holes
Centerlock
Styrlager
MERIDA 2346 Neck
Framlampa
Herrmans H-BLACK MR4 E
Baklampa
Herrmans H-Cargo integrated in MERIDA MIK carrier
Batterihållare
Shimano BM-E8030 on frame
weighed at frame size M without pedals
Däck
Continental Contact Cruiser
Färg
MATT ANTHRACITE/BLACK
142x12mm width rear hub
36 spoke holes
Centerlock
Ramlås
Abus 5650 LH-3 lock
170 mm-XS/S/M 175 mm-L/XL
Coil
63mm suspension travel
622-50
wire
reflecting line
including removeable lever, 6/4mm allen key
Bakväxel
Shimano Deore Shadow+
622-50
wire
reflecting line
eSPRESSO L XS(43L)-S(47L)-M(51L)-L(55L)
| | | | | | |
| --- | --- | --- | --- | --- | --- |
| Ramstorlek | XS | S | M | L | XL |
| Däckstorlekar | 28" | 28" | 28" | 28" | 28" |
| Ramstorlek (cm) | 43 | 47 | 51 | 55 | 59 |
| ST - Seat Tube (mm) | 430 | 470 | 510 | 550 | 590 |
| TT - Top Tube (mm) | 565 | 580 | 590 | 610 | 630 |
| CS - Chain Stays (mm) | 478 | 478 | 478 | 478 | 478 |
| HTA - Head Tube Angle (°) | 70.5 | 71 | 71 | 71.5 | 71.5 |
| STA - Seat Tube Angle (°) | 75 | 74.5 | 74.5 | 74 | 74 |
| BD - Bottom Bracket Drops (mm) | 70 | 70 | 70 | 70 | 70 |
| HT - Head Tube Length (mm) | 130 | 140 | 155 | 175 | 205 |
| FL - Fork Length (mm) | 475 | 475 | 475 | 475 | 475 |
| R - Reach (mm) | 397 | 403 | 409 | 417 | 429 |
| S - Stack (mm) | 626 | 637 | 651.5 | 672.5 | 701 |
| WB - Wheel Base (mm) | 1114 | 1118 | 1129 | 1138 | 1159.5 |
| SH - Stand Over Height (mm) | 724 | 758 | 793 | 828 | 864 |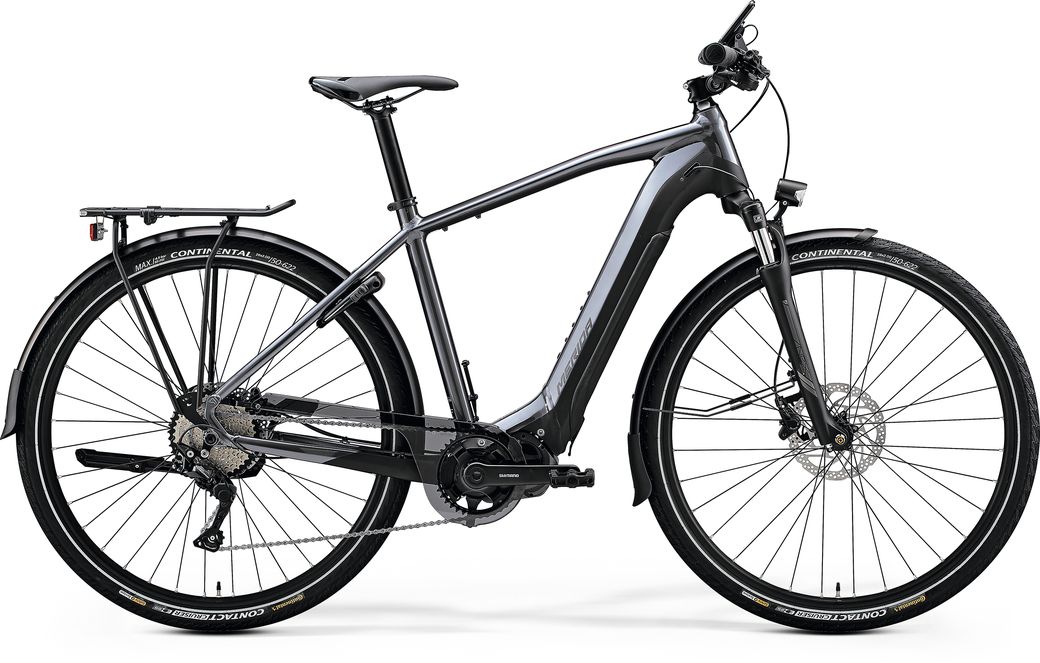 HFS-hydroforming Prolite 66 triple butted aluminium frame with internal battery technology, based around fast rolling 700c wheels and with commuting and leisure riding in mind. A higher front end and a compact geometry make for a more upright and extremely comfortable riding position. Comes equipped (or ready to be equipped) with mudguards, rear rack, side stand, lock and lights.
A two-component battery cover, which offers perfect protection for the internal battery. The softer (outer) layer reduces noises, seals the downtube perfectly and absorbs hits from trail debris easily, while the harder (inner) layer ensures that the battery does not get damaged and gives it the structural shape. All critical parts like the rubber strap and o-rings for perfect fitting can be replaced.
The new Shimano BT-E8035 internal battery has a very compact size design which is optimised for the integrated use in the down tube. The battery is equipped with modern, up-to-date battery cells, which are very durable and long lasting. Even after 1000 charging cycles it still has 60% of the capacity, which is currently the best in its class.
The eSPRESSO range comes either in regular or equipped version, which features mudguards, lights, rear rack and a kickstand. That means you are ready for anything from the moment you leave the store. And if your bike is non-equipped, then you have all fixing points in place, ready for when you want to add fenders and a carrier.
Our 'classic' eSPRESSO range sits on fast rolling 700c wheels, ideal for rides on roads, lanes and smooth tracks. We fit 50 mm wide tyres with reflective side walls and puncture protection that will get you to your destination quickly and safely. On the other hand, at our 650B eSPRESSO TK and CC, big volume 650B tyres are specified, which not only offer better comfort but also guarantee better puncture protection.
The system weight of a bike is the combined weight of bike, rider and additional luggage. The allowed system weight here is 140 kg. As an e-bike is already heavier than a regular bike, and as it also makes it easier to transport larger amounts of luggage, it is imperative to certify a higher overall system weight. All MERIDA e-bikes, as well as all used componentry, go through a rigorous and e-bike specific testing schedule which mimics the higher forces and strains to guarantee the rider the highest level of safety.
Alla eSPRESSO-modeller har integrerad kabel-/vajerdragning. Kablar/vajrar dragna genom ramen med in- och utgång med mjuka muffar. Endast ett smart system för vår integrerade dragning och fastsättning säkerställer tillförlitlig dragning utan missljud samtidigt som det ger cykeln en snyggare look.
I eSPRESSO-sortiment kan du välja mellan klassisk diamantform eller ram med extra låg instegshöjd (ändå mycket vridstyv). Vi har också många olika motor- och batterikombinationer i vår eSPRESSO-sortiment – lättare att hitta din perfekta eSPRESSO.