material: aluminium
29x2.5" max. wheelsize
148x12mm axle standard
BSA bottom bracket standard
material: aluminium
740mm width
10mm rise
material: aluminium
30.9mm diameter
0mm setback
Sadelklämma
MERIDA COMP QR
32 teeth
170 mm-S, 175 mm-M up
Växelreglage
Shimano Deore M4100
100x15mm width front hub
32 spoke holes
Centerlock
148x12mm width rear hub
32 spoke holes
Centerlock
Växelreglage, bak
Shimano Deore M4100
29mm inner width
material: aluminium
Tubeless ready (tubeless tape and valves not included)
material: aluminium
31.8mm diameter
7° stem angle
50 mm all sizes
100x15mm width front hub
32 spoke holes
Centerlock
weighed with 29" wheels and at frame size M, without pedals
29x2.4"
wire
29x2.2"
wire
148x12mm width rear hub
32 spoke holes
Centerlock
Vevarmslängd
170 mm-S, 175 mm-M up
Coil
120mm suspension travel
Lockout
46mm fork offset
29x2.4" max. wheelsize
including removeable lever, 6 allen key
Ramstorlek
S, M, L, XL, XXL
| | | | | | |
| --- | --- | --- | --- | --- | --- |
| Ramstorlek | S | M | L | XL | XXL |
| Däckstorlekar | 29" | 29" | 29" | 29" | 29" |
| ST - Seat Tube (mm) | 380 | 410 | 430 | 450 | 470 |
| TT - Top Tube (mm) | 579 | 600 | 622 | 645 | 670 |
| CS - Chain Stays (mm) | 435 | 435 | 435 | 435 | 435 |
| HTA - Head Tube Angle (°) | 65.5 | 65.5 | 65.5 | 65.5 | 65.5 |
| STA - Seat Tube Angle (°) | 75.5 | 75.5 | 75.5 | 75.5 | 75.5 |
| BD - Bottom Bracket Drops (mm) | 66.5 | 66.5 | 66.5 | 66.5 | 66.5 |
| HT - Head Tube Length (mm) | 95 | 100 | 110 | 120 | 120 |
| FL - Fork Length (mm) | 550 | 550 | 550 | 550 | 550 |
| R - Reach (mm) | 415 | 435 | 455 | 475 | 500 |
| S - Stack (mm) | 636 | 641 | 650 | 659 | 659 |
| WB - Wheel Base (mm) | 1150 | 1172 | 1196 | 1220 | 1245 |
| SH - Stand Over Height (mm) | 716 | 723 | 725 | 728 | 730 |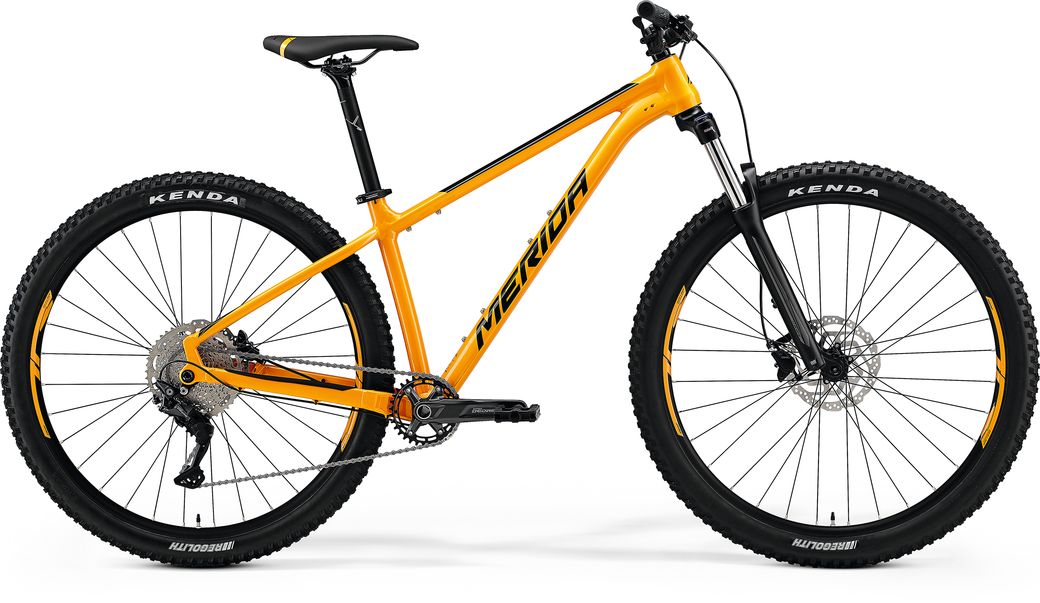 While clearly a trail loving long-travel hardtail, our new BIG.TRAIL also offers built-in versatility through hidden rack, fender and kick stand mounts in case you like to turn the BIG.TRAIL into a 'SUV' commuter.
Ability to fit two water bottles into the frame without making the bottles difficult to reach. Perfect for long marathon races and extended trail sessions.
Our BIG.TRAIL rolls on 29er wheels and has tyre clearance for up go 2.5" trail tyres. The combination of 29er wheels and 2.5" tyres offer plenty or corner and climbing grip, while the big tyre volume and the 29er 'rolling over ability' give our trail hardtail extra comfort and stability.
The new 'Trail Mount' is positioned underneath the top tube/seat tube junction and these ingenious fixing points makes fitting an additional tool or a pump a breeze. The 'Trail Mount' offers a real advantage if you prefer to keep the weight off your back or if you are heading out for an extra-long outing where you might need to carry additional gear.
Vajrar dras genom ramen för att ge snyggare look och för att hålla kablar/vajrar borta från luftflödet och skyddade mot fukt och smuts.
BIG.TRAIL delar egenskaper med vår stigcykel med full dämpning – samma långa och låga geometri. Styrvinkeln på 67,5°, 130 mm gaffel och extra kort kedjestag (427,5 mm) ger en mycket smidig cykel med enduro-look. Alla ramstorlekar har långt överrör och 35 mm styrstam med 760 mm brett styre.
Boost-standard fram och bak. Den extra gaffelbredden för baknavet (6 mm) och framnavet (10 mm) i förhållande till konventionella nav ger bredd upp till 148/110 mm – vilket gör att mindre ekervinkel kan användas, vilket ger ännu styvare och starkare hjul. Dessutom rör sig kedjelinjen utåt, vilket är viktigt för korta kedjestag.