material: aluminium
700x38C / 650Bx45C max.WHS
100x12/142x12mm axle standard
BB86 bottom bracket standard
Bromsreglage
Shimano Sora
material: aluminium
400mm (XS-S), 420mm (M), 440mm (L/XL)
material: aluminium
30.9mm diameter
0mm setback
Sadelklämma
MERIDA EXPERT
48-32 teeth
170 mm-XS/S, 172,5 mm-M, 175 mm-L/XL
Växelreglage
Shimano Sora
100x12mm width front hub
32 spoke holes
6 bolt
142x12mm width rear hub
32 spoke holes
6 bolt
Växelreglage, bak
Shimano Sora
Växelreglage, fram
Shimano Sora
Vevlager
FSA PF86 MegaExo
17mm inner width
22mm height
material: aluminium
material: aluminium
31.8mm diameter
-6° stem angle
80 mm all sizes
100x12mm width front hub
32 spoke holes
6 bolt
weighed with 700C wheels and at frame size M, without pedals
Färg
GLOSSY BLACK (MATT BLACK)
142x12mm width rear hub
32 spoke holes
6 bolt
Vevarmslängd
170 mm-XS/S, 172,5 mm-M, 175 mm-L/XL
Tapered
material: carbon
700x38C / 650Bx45C max. wheelsize
including removeable lever, 6/4mm allen key
Framaxel
MERIDA EXPERT SL
Ramstorlek
XS, S, M, L, XL
| | | | | | |
| --- | --- | --- | --- | --- | --- |
| Ramstorlek | XS | S | M | L | XL |
| Däckstorlekar | 28" | 28" | 28" | 28" | 28" |
| ST - Seat Tube (mm) | 440 | 470 | 500 | 530 | 560 |
| TT - Top Tube (mm) | 548 | 554 | 579 | 600 | 620 |
| CS - Chain Stays (mm) | 430 | 430 | 430 | 430 | 430 |
| HTA - Head Tube Angle (°) | 71 | 71 | 71 | 71 | 71 |
| STA - Seat Tube Angle (°) | 74 | 74 | 74 | 74 | 74 |
| BD - Bottom Bracket Drops (mm) | 75 | 75 | 75 | 75 | 75 |
| HT - Head Tube Length (mm) | 160 | 180 | 200 | 220 | 240 |
| FL - Fork Length (mm) | 397 | 397 | 397 | 397 | 397 |
| R - Reach (mm) | 380 | 380 | 400 | 415 | 430 |
| S - Stack (mm) | 587 | 606 | 625 | 644 | 663 |
| WB - Wheel Base (mm) | 1027 | 1034 | 1060 | 1082 | 1103 |
| SH - Stand Over Height (mm) | 716 | 744 | 772 | 799 | 826 |
| | | | | | |
| --- | --- | --- | --- | --- | --- |
| Siffra | Item Number | Namn | Info | Pieces | Torque NM |
| 1 | A2300000227 | SCREW | M3x0.5 L10mm | 1 | 3~4 |
| 2 | A2300000226 | SCREW | M3x0.5 L16mm | 1 | 3~4 |
| 3 | A2302000018 | NUT | for rear axle M12x1,5 | 1 | |
| 4 | A2311000062 | RD-HANGER | DH - 054 for ROAD-RD | 1 | |
| 5 | A2240000010 | CABLE GUIDE | for FD | 1 | |
| 6 | A2298000093 | SCREW | M4x0.7 L6mm | 1 | 3~4 |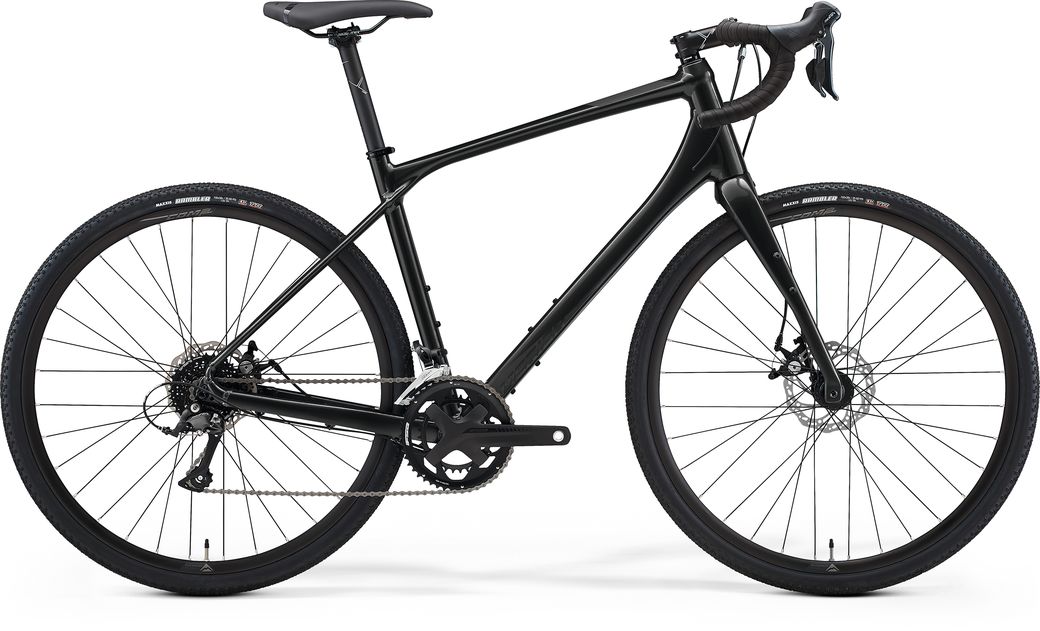 The SILEX is available in two options. The 'classic' SILEX standing on 700c wheels, being the perfect 'all-road' bike which loves lanes, forest tracks and gravel or the new more 'rugged' SILEX+ version, which can easily tackle more demanding terrain due to its more burly 650B wheels and 45 mm tyres. The choice is yours. Both options are based on the same frame, so wheels are exchangeable at a later date.
As standard, the SILEX comes with 700x38c tyres and the SILEX+ with 650Bx45c. The maximum tyre size for 700c wheels is 42 mm (road profile) while with 650B wheels being fitted, tyres up to 50 mm wide road profile tyres on the carbon and up to 42 mm on the aluminium bikes can be run.
SILEX är en mångsidig cykel med ett stort utbud tillval när det gäller packning och tillbehör, inklusive ramväskor och stora sadelväskor.
De flesta SILEX-modellerna har 1x-drivlinor som ger lägre vikt och har färre rörliga delar. 1x har 98 % av växelområdet för ett kompakt vevparti 50-34 med landsvägskassett 11-32.
Finns med lättvikts kolfiberram eller aluminiumram. De största skillnaderna (bortsett materialet) är att kolfiberramen har lägre vikt och att den är utrustad med integrerad klämma för sadelstolpe som minimerar turbulensen vid överröret.