ONE-TWENTY RC 9. XT-EDITION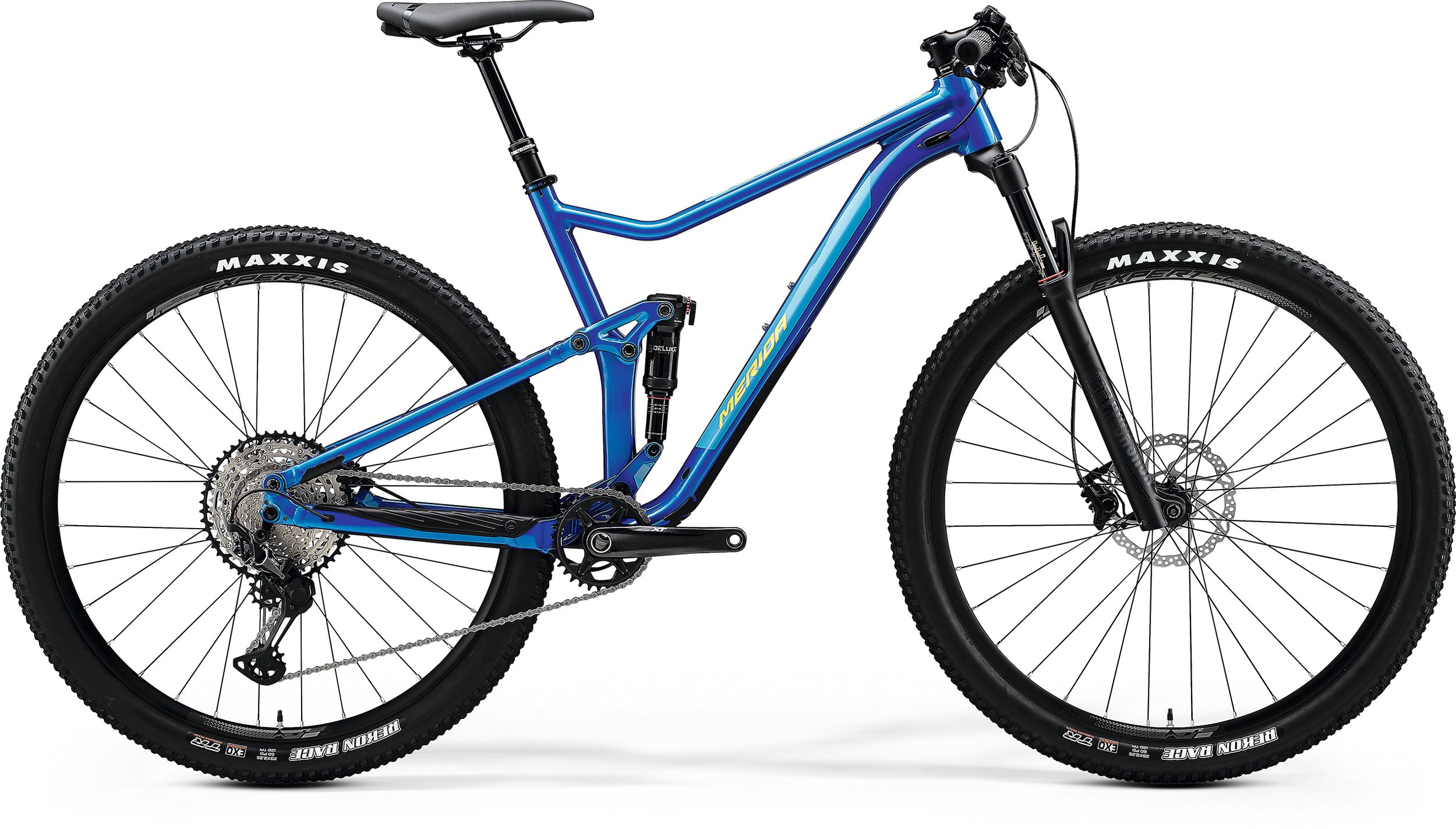 100mm suspension travel
material: aluminium
29 wheelsize
148x12mm axle standard
BB92 bottom bracket standard
Rahmengrössen
S, M, L, XL
Farbe
GLOSSY MEDIUM BLUE (LIME GREEN)
Air
120mm suspension travel
Tapered
remote lockout
51mm fork offset
Kurbel
170 mm-S, 175 mm-M up
material: aluminium
740mm width
flat
material: aluminium
31.8mm diameter
-6° stem angle
70 mm all sizes
Schalthebel Hinten
Shimano XT
32 teeth
170 mm-S, 175 mm-M up
Speichen
Double Butted Black stainless
including removeable lever, 6/4mm allen key
Umwerfer Hinten
Shimano XT M8100 Shadow+
30.9mm diameter
0mm setback
S: 100mm travel seatpost - M/L/XL 125mm travel seatpost
Sattelklemme
MERIDA EXPERT
Schutzblech
MERIDA MTB lite-front
weighed at frame size L and 29" wheels without pedals
| | | | | |
| --- | --- | --- | --- | --- |
| Ramengröße | S | M | L | XL |
| Laufradgrösse | 29" | 29" | 29" | 29" |
| Rahmengröße CM | 40 | 44 | 48 | 52 |
| St Seat Tubes Mm | 400 | 440 | 480 | 520 |
| Tt Top Tubes Mm | 571 | 591 | 613 | 635.5 |
| Cs Chain Stays Mm | 435 | 435 | 435 | 435 |
| Hta Head Tube Angles Deg | 67.8 | 67.8 | 67.8 | 67.8 |
| Sta Seat Tube Angle Deg | 76 | 76 | 76 | 76 |
| Bd Bottom Bracket Drops Mm | 44 | 44 | 44 | 44 |
| Ht Head Tube Lengths Mm | 95 | 95 | 105 | 115 |
| Fl Fork Lengths Mm | 531 | 531 | 531 | 531 |
| R Reachs Mm | 420 | 440 | 460 | 480 |
| S Stacks Mm | 604 | 604 | 613 | 622 |
| Wb Wheel Base Mm | 1137 | 1157 | 1181 | 1205 |
| Sh Stand Over Height Mm | 703 | 725 | 755 | 783 |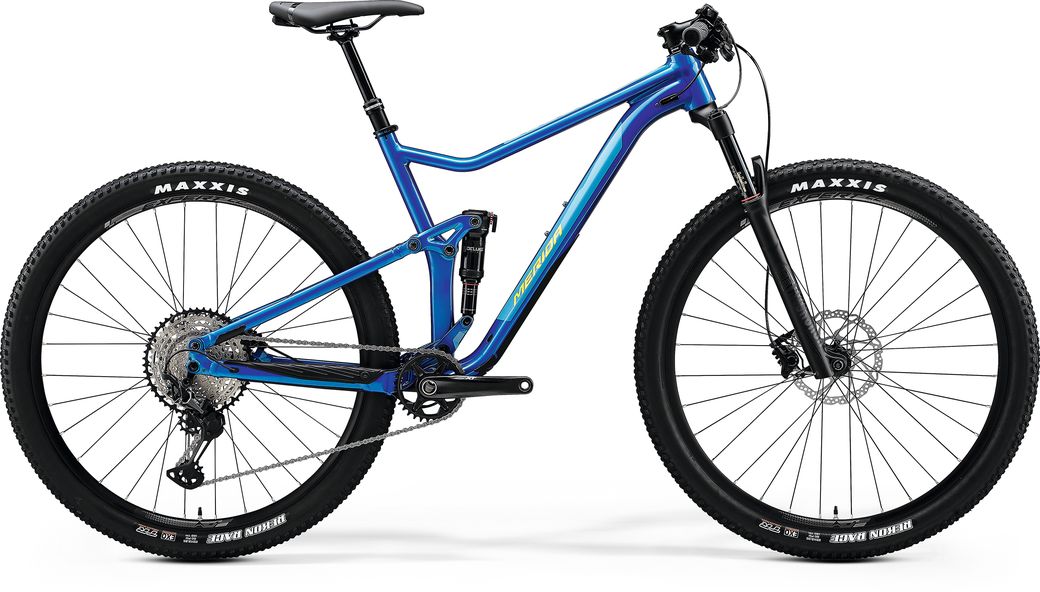 The ONE-TWENTY RC has a very low standover height, giving the rider ample space to manoeuvre when the terrain demands it. It slightly steeper seat and head angle (in comparison to the ONE-TWENTY) provides even more efficiency and a more marathon specific trail behaviour. The short travel rear
end, make the bike an even more uncompromising climber than its bigger brother.
Lightweight 6066 series aluminium triple butted and hydroformed frameset with 'Smooth welding' and internal cable routing. Tapered head tube for precise steering, Boost standard and rear through axle for rear end stiffness. The floating shock provides 100 mm of travel.
When hitting steam climbs in a marathon race, you want to be able to quickly lock out the front fork without taking your hands off the controls. So, all our ONE-TWENTY RC come with remote lockout, allowing you to lock out the fork from a leaver on your handlebars. The rear shock lockout is positioned on the shock to keep the cockpit clean and manageable.
The more marathon focused version offers 100 mm of rear wheel travel combined with a 120 mm suspension fork, resulting in a steeper seat and head angle, making the RC even more pedalling efficient and more agile on twisty courses.
Der untere Befestigungspunkt des Dämpfers bewegt sich mit dem System, was für ein sensibles Ansprechverhalten sorgt. Unsere Ingenieure können das Übersetzungsverhältnis sowie die Progression genau beeinflussen. Dadurch erweckt ein "Float Link"-Federungssystem den Eindruck, über mehr Federweg zu verfügen, als die Modellbezeichnung angibt. Der Hinterbau vermittelt den Eindruck endlosen Federwegs, bleibt im Anstieg jedoch voll kontrollierbar.
Die versenkbare Stütze erlaubt es dem Fahrer, den Sattel an Steilstücken aus dem Weg zu räumen und sorgt somit für bessere Manövrierbarkeit und Kontrolle über das Bike. Alle Variostützen verfügen über innenverlegte Züge und einen Remote-Hebel. Das sorgt für eine saubere Optik und erleichtert es, während der Fahrt die Sattelhöhe zu verändern.
Nicht nur in der letzten MULTIVAN MERIDA BIKING TEAM Saison 2016 hat das NINENTY-SIX nachgewiesen, dass es unglaublich schnell beschleunigt und beste Kletter- und Abfahrtsfähigkeiten in sich vereint. Die Legenden Gunn-Rita Dahle Flesja und José Antonio Hermida fahren mit dem Bike konstant auf höchstem Niveau.