material: aluminium
24" wheelsize
135x9/100x9mm axle standard
BSA bottom bracket standard
Farbe
MATT DARK GREEN (LIGHT GREEN)
Bremse vorne
Tektro HD-M275
Bremse hinten
Tektro HD-M275
material: aluminium
620mm width
20mm rise
material: aluminium
31.8mm diameter
-5 A
60 mm
Spacer
Plastic 10mm*2+5MM*2
Umwerfer Hinten
Shimano RD-M310
material: aluminium
27.2mm diameter
15mm setback
Sattelklemme
MERIDA COMP QR
| | |
| --- | --- |
| Ramengröße | 11.5" |
| Laufradgrösse | 24" |
| St Seat Tubes Mm | 275 |
| Tt Top Tubes Mm | 500 |
| Cs Chain Stays Mm | 410 |
| Hta Head Tube Angles Deg | 68 |
| Sta Seat Tube Angle Deg | 72 |
| Bd Bottom Bracket Drops Mm | 30 |
| Ht Head Tube Lengths Mm | 120 |
| Fl Fork Lengths Mm | 415 |
| R Reachs Mm | 335 |
| S Stacks Mm | 509 |
| Wb Wheel Base Mm | 986 |
| Sh Stand Over Height Mm | 560 |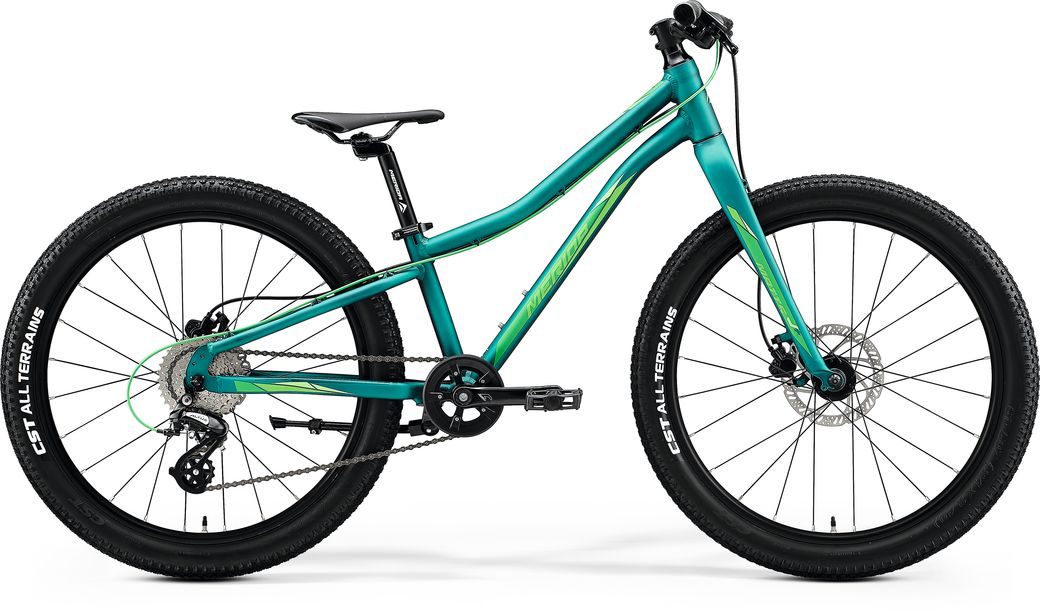 New design, weight optimised aluminium frame with replaceable dropout hanger, designed to take 24"+ or 20"+ tyres. Low stand over height and low bottom bracket for improved handling. Equipped with mounts for bottle cages, rack, mudguards and kickstand.
Für die besonderen Bedürfnisse von Kindern sind auch spezielle Komponenten unabdingbar. Kinder sind nicht nur kleiner, sie besitzen auch weniger Kraft in ihren Händen, z.B. beim Bremsvorgang. Deshalb haben wir uns für spezifische Komponenten entschieden, die es unseren jungen Fahrer ermöglichen ihr Bike in jeder Situation sicher und bequem zu bedienen.
Unsere neuen MATTS J+ Modelle sind nicht nur mit einem neuen, gewichtsoptimierten Rahmen ausgestattet, sondern auch entweder mit einer 20" oder 24" Plus-Bereifung, die, ohne das Bike schwerer zu machen, zusätzlichen Grip und Komfort bietet. Einfach, stylish und sehr effektiv.
Viele unserer Kinderräder sind mit Starrgabeln ausgestattet. Das verringert das Gewicht, was für Kinder ein großer Vorteil ist. Auch die Schaltungen sind reduziert, um jüngere Fahrer nicht zu verwirren, womit gleichzeitig weiter Gewicht gespart wird.
Die Rahmen aller Kinderräder werden aus dem leichten Aluminium 6061 gefertigt, das wir auch bei den Rahmen für Erwachsene verwenden – im Verborgenen wird nicht gespart. Auch bei der Lackierung setzten wir die gleichen Standards; damit sehen unsere Kinderräder auch dann noch gut aus, wenn sie schon einiges wegstecken mussten.