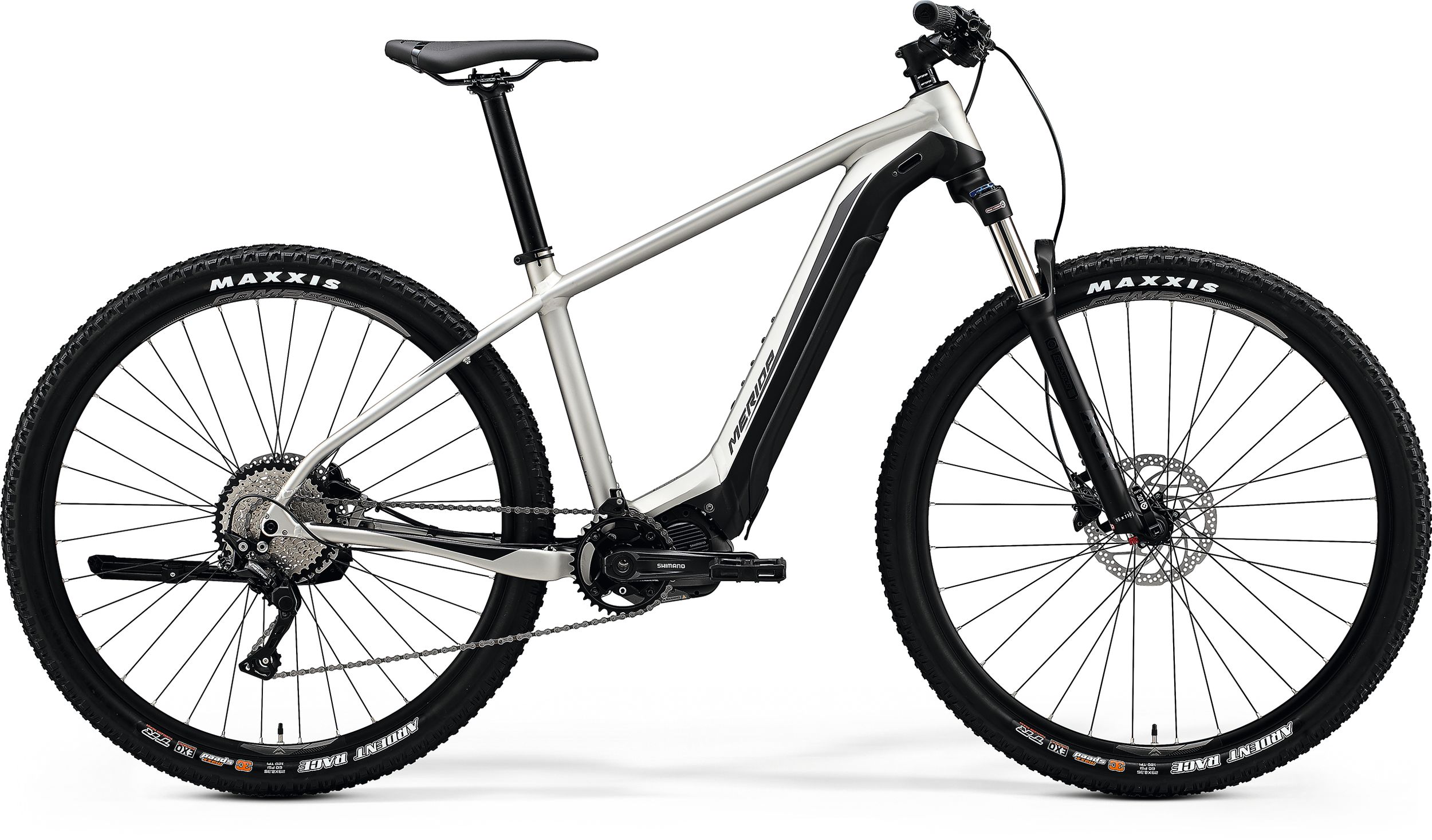 material: aluminium
29" wheelsize
148x12mm axle standard
intube
max. 504 Wh
Rahmengrössen
S, M, L, XL
Air
100mm suspension travel
Tapered
51mm fork offset
material: aluminium
720mm width
10mm rise
material: aluminium
31.8mm diameter
6° stem angle
70 mm-S, 80 mm-M, 90 mm-L, 100 mm-XL
Schalthebel Hinten
Shimano Deore
36 teeth
Shimano FC-E8000
including removeable lever, 6/4mm allen key
Umwerfer Hinten
Shimano Deore Shadow+
material: aluminium
34.9mm diameter
0mm setback
Sattelklemme
MERIDA Expert
Scheinwerfer
CG-119PG-BLACK(1)
weighed at frame size M without pedals
| | | | | |
| --- | --- | --- | --- | --- |
| Ramengröße | S | M | L | XL |
| Rahmengröße CM | 38 | 43 | 48 | 53 |
| St Seat Tubes Mm | 380 | 430 | 480 | 530 |
| Tt Top Tubes Mm | 575 | 590 | 610 | 630 |
| Cs Chain Stays Mm | 465 | 465 | 465 | 465 |
| Hta Head Tube Angles Deg | 68 | 68 | 68 | 68 |
| Sta Seat Tube Angle Deg | 74.5 | 74.5 | 74.5 | 74.5 |
| Bd Bottom Bracket Drops Mm | 62.5 | 62.5 | 62.5 | 62.5 |
| Ht Head Tube Lengths Mm | 110 | 120 | 130 | 140 |
| Fl Fork Lengths Mm | 506 | 506 | 506 | 506 |
| R Reachs Mm | 404.5 | 417 | 434.5 | 452 |
| S Stacks Mm | 614.5 | 624 | 633 | 642.5 |
| Wb Wheel Base Mm | 1143 | 1160 | 1181 | 1202 |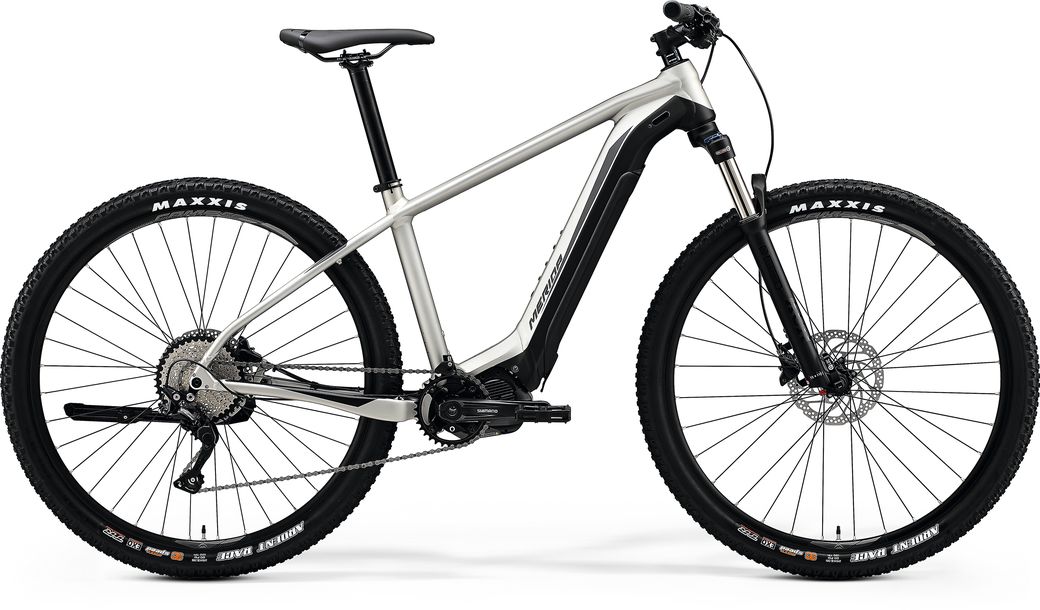 HFS-hydroforming Prolite 66 triple butted aluminium 29er hardtail frame with integrated battery technology and a sporty yet comfortable geometry. 'Smart Entry' cable routing for rattle free running. E8000 and E7000 frame version come with casting motor bracket creating an integrated appearance of the motor into the frame as well as provides an extremely strong connection between frame and motor. Comes with integrated fixings for mudguards and side stand. Multiple fixing positions for water bottles and accessories.
A two-component battery cover, which offers perfect protection for the internal battery. The softer (outer) layer reduces noises, seals the downtube perfectly and absorbs hits from trail debris easily, while the harder (inner) layer ensures that the battery does not get damaged and gives it the structural shape. All critical parts like the rubber strap and o-rings for perfect fitting can be replaced.
The eBIG.NINE and eBIG.NINE EQ are not just 'separated' by the equipped fenders, rear racks and lights, but also by less obvious parts like grips, saddle, stem and tyres, that make the eBIG.NINE EQ more comfort and trekking orientated than the eBOG.NINE.
The eBIG.NINE offers the possibility to fit a water bottle or accessories like a lock or pump to the frame. The frame has (standard) bottle bosses on top of the down tube and at the seat tube, where a special adapter offers a very low mounting position, allowing maximum seat post insertion depth (guaranteed in all frame sizes).
Die Geometrie von eBIG.NINE und eBIG.SEVEN folgt einem einfachen Prinzip: So sportlich wie möglich und so komfortabel wie nötig. Morgens schnell zur Arbeit und auf dem Nachhauseweg noch ein kleiner Schlenker ins Gelände? Kein Problem – dazu sind diese Bikes da!
Mit "K-Mount" ausgestattete Modelle verfügen über eine integrierte Befestigungsbasis an der Kettenstrebe zur Aufnahme eines MERIDA-Seitenständers. Fahrräder mit "C-Mount" sind mit integrierten Gewindeösen für einen Gepäckträger versehen. Mit "F-Mount" gekennzeichnete Fahrräder verfügen über integrierte Befestigungsteile für Schutzbleche.
Der E8000-Akku ist perfekt ins Hydroforming-Unterrohr integriert; mit beachtlichen 500 Wh erlaubt er viele Umwege. Das ideale Aggregat für den neuen E7000 Antrieb, der Pendler und sportliche Fahrer mit seiner perfekt ausbalancierten Kraftübertragung beeindruckt. Allen, die noch mehr Leistung wollen, bieten wir alternativ das komplette E8000-System an.