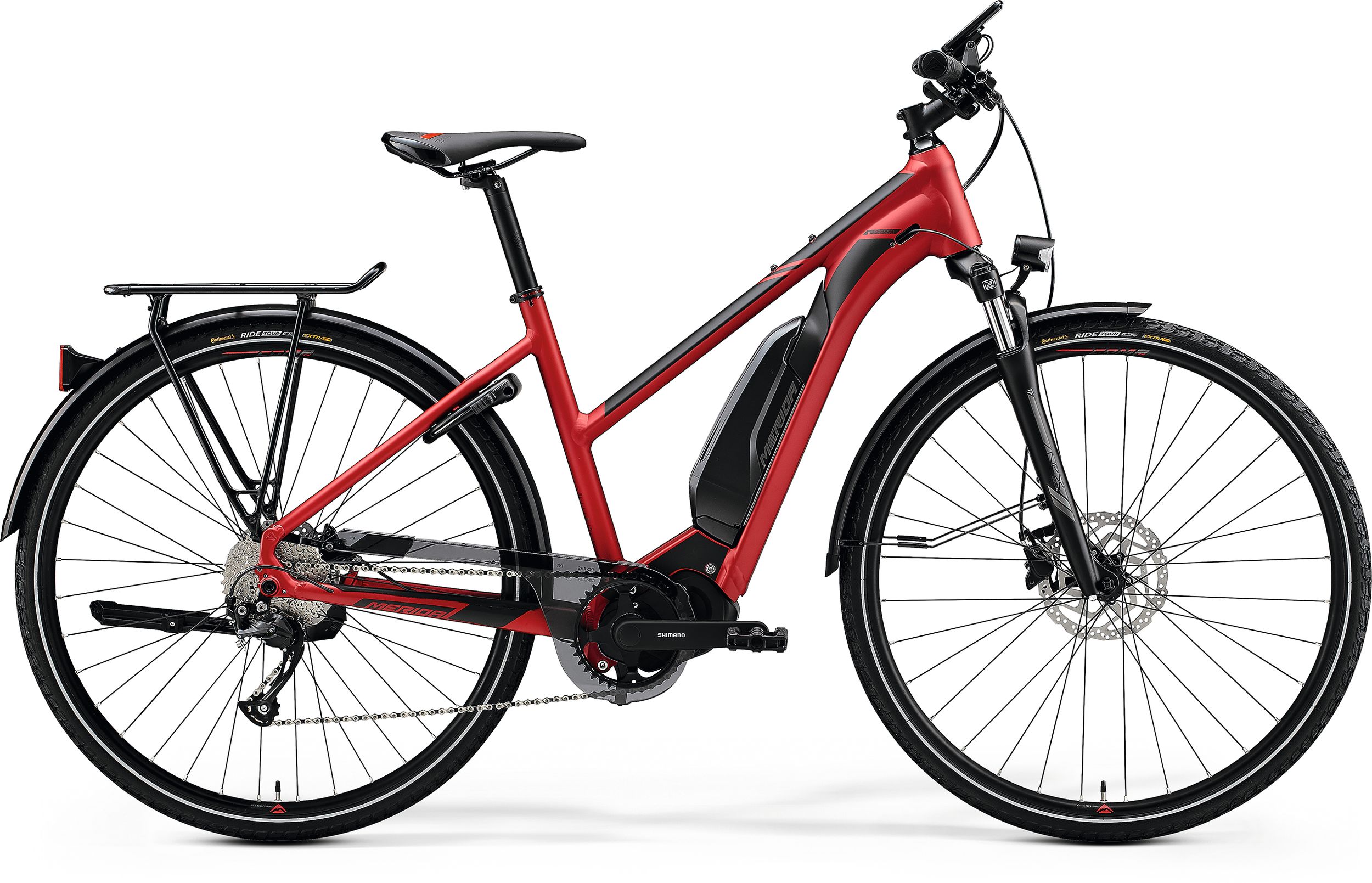 material: aluminium
700C wheelsize
142x12mm axle standard
external
max. 504 Wh
eSPRESSO L XS(43L)-S(47L)-M(51L)-L(55L)
Farbe
MATT BURGUNDY RED (BLACK)
Coil
63mm suspension travel
165 mm-XS, 170 mm-S/M, 175 mm-L/XL
material: aluminium
660mm width
15mm rise
Steuersatz
MERIDA 2346 Neck
material: aluminium
31.8mm diameter
17ø stem angle
80 mm-XS/S, 90 mm-M, 100 mm-L, 110 mm-XL
Schalthebel Hinten
Shimano Altus rapidfire
622x42"
reflective stripe
622x42"
reflective stripe
including removeable lever, 6/4mm allen key
Kettenschutz
Sunnywheel SW-CG-173A
Umwerfer Hinten
Shimano Altus RDM2000
material: aluminium
30.9mm diameter
15mm setback
Sattelklemme
MERIDA EXPERT
Schutzblech
Sunnywheel SW-FA 513
Gepäckträger
Racktime 060889-001-D RT MERIDA Shine evo
Scheinwerfer
Herrmans H-BLACK MR4 E
Rücklicht
Shine evo integrated in Racktime carrier
weighed at frame size S without pedals
| | | | |
| --- | --- | --- | --- |
| Ramengröße | XS | S | M |
| Laufradgrösse | 28" | 28" | 28" |
| Rahmengröße CM | 43 | 47 | 51 |
| St Seat Tubes Mm | 430 | 470 | 510 |
| Tt Top Tubes Mm | 565 | 580 | 590 |
| Cs Chain Stays Mm | 475 | 475 | 475 |
| Hta Head Tube Angles Deg | 70.5 | 71 | 71 |
| Sta Seat Tube Angle Deg | 74 | 73.5 | 73.5 |
| Bd Bottom Bracket Drops Mm | 70 | 70 | 70 |
| Ht Head Tube Lengths Mm | 130 | 140 | 155 |
| Fl Fork Lengths Mm | 477 | 477 | 477 |
| R Reachs Mm | 385 | 391 | 397 |
| S Stacks Mm | 627 | 638 | 653 |
| Wb Wheel Base Mm | 1101 | 1105 | 1116 |
| Sh Stand Over Height Mm | 627 | 627 | 631 |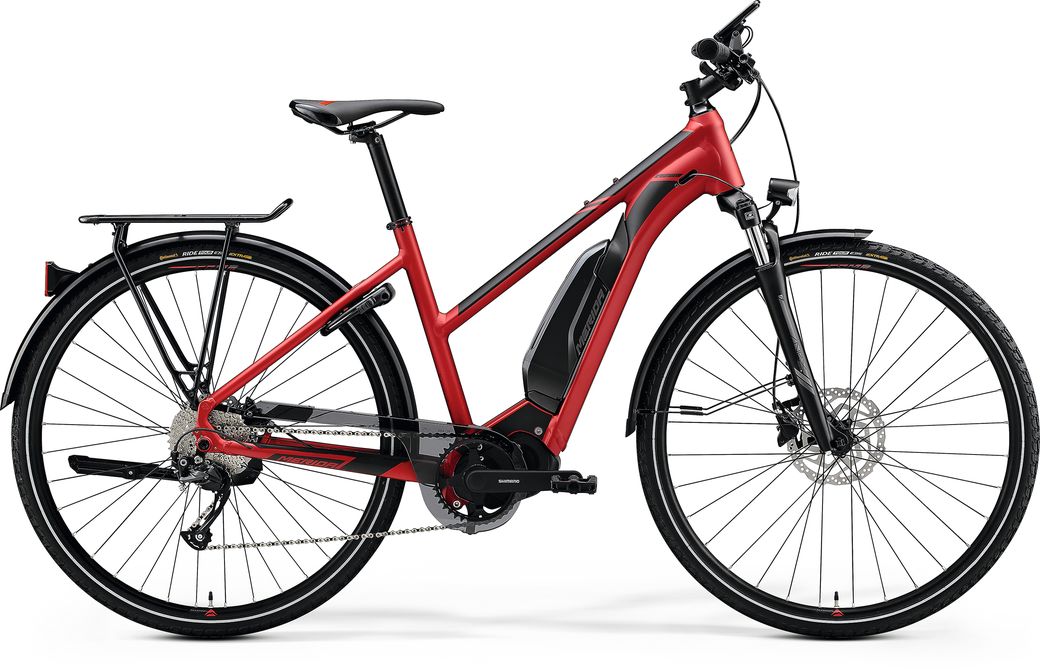 The eSPRESSO range comes either in regular or equipped version, which features mudguards, lights, rear rack and a kickstand. That means you are ready for anything from the moment you leave the store. And if your bike is non-equipped, then you have all fixing points in place, ready for when you want to add fenders and a carrier.
Our 'classic' eSPRESSO range sits on fast rolling 700c wheels, ideal for rides on roads, lanes and smooth tracks. We fit 50 mm wide tyres with reflective side walls and puncture protection that will get you to your destination quickly and safely. On the other hand, at our 650B eSPRESSO TK and CC, big volume 650B tyres are specified, which not only offer better comfort but also guarantee better puncture protection.
Kabel und Züge werden im Rahmen geführt, was für eine saubere Optik sorgt. Außerdem werden sie so vor Schmutz und Wasser geschützt.
Aluminiumrahmen aus HFS-Hydroforming-Rohrsatz Prolite 66 mit leicht rollenden 700c-Laufrädern, optimal für Alltagsfahrten und entspannte Touren. Höheres Steuerrohr und kompakte Geometrie sorgen für eine eher aufrechte, extrem komfortable Sitzhaltung. Alle Modelle sind standardmäßig mit Schutzblechen, Gepäckträger und Seitenständer ausgestattet.
Alle eSPRESSO-Modelle sind mit innenliegenden Zügen und Leitungen ausgestattet, die durch den Rahmen geführt werden und an glattflächigen Anschlägen ein- und austreten. Die intelligente Führung und Fixierung garantiert klapperfreie Verlegung und sorgt für eine schöne Optik.
In unserer eSPRESSO-Baureihe hat man die Wahl zwischen einem Modell mit besonders tiefem Durchstieg, dem klassischen Diamantrahmen oder einem Trapez­rahmen, der leichtes Aufsteigen zulässt. Mit unterschiedlichen Kom­binationen aus Motor und Akku, bietet das eSPRESSO für jeden die ideale Lösung.