Hailing from Bendigo, Victoria Tasman Nankervis has been riding bikes since he was a kid and never stopped. He is the youngest of a big family and got into the sport through his older brothers, always wanting to keep up and never miss out.
Tasman Says:
"I enjoy riding a variety of disciplines, keeping the motivation fresh as I rotate between mountain bike, road and gravel racing. My favourite is no-doubt cross-country MTB as It encompasses components I enjoy most - being fitness, skills, adrenaline, nature and adventure.
I've been fortunate to travel the world racing my bike representing Australia at multiple Cross-Country World Championships and having been a National Champion as a U/23. I currently balance my cycling aspirations whilst working as an Exercise Physiologist, aiding people's health with the prescription of exercise and education.
I've been riding for Merida Bicycles since 2015, a relationship I'm proud of, as I believe we share a similar passion for the sport. Merida creates bikes for the best teams in the world and even more importantly place a huge emphasis on the everyday rider, increasing participation and accessibility in the sport, whilst also promoting physical activity.
I have lofty goals remaining, looking to target racing domestically and selective overseas events. I still have bucket list races to compete in and events to conquer in which I've finished runner up in. There is also the growing gravel scene, which sparks a natural interest for myself. Overall I will race in whatever I'm enjoying at the time and my natural competitiveness will take care of the rest."
What Tasman rides
Fully updated in 2021, the new frame has gone full modern geometry with a steeper seat tube angle and slacken head tube angle. This has made a considerable difference with both descending and climbing particularly when things get steeper and more gnarly. What I like most is the progressive suspension platform which feels bottomless (fun on descents), twin bottle cage mounts (good for long adventures and marathon racing) and the inclusion of a threaded bottom bracket/removal of rear stay pivots, making it easily serviceable for the everyday privateer.
I believe the Ninety-Six speaks for itself and shows its colours, when I look around at the National and State level of racing, it is easily the dominate bike chosen by privateer juniors. This is because its technology is up with the very best and doesn't have a ridiculous marketing price tag like other brands. This accessibly is hugely important in an expensive sport and something I value, as someone who is passionate about junior participation.
As a climber I'd normally stick to the lighter weight Scultura model, however after trying the CF5 model Reacto I've not gone back. The Reacto is competitive on the scales with the best climbing bikes and with the added aerodynamic benefits it's been a no brainer to ride it. Also, being aero it feels soo fast when you're going fast and that makes things even more fun!
My most versatile bike being my work commuter, bike touring specialist and gravel racer. This bike does a lot and I find myself choosing to ride it more and more, especially with my hometown's accessibility to dirt roads. I love going on bike touring trips when I can and with pannier bag mounts, I can carry all my things + my girlfriend's stuff. Gravel racing is continuing to grow domestically, and I will be focussing more on this, particularly with the gravel world series coming to Australia this year. Gravel seems to suit my characteristics well with the cross over between mountain and road bike abilities.
Tasman Nankervis
tasmannankervis.com
Top results
Reef to Reef Overall Winner 2022, 2019
Devil's Cardigan winner, 2022
5 x XC State Champion (VIC)
4 x Top 5 Elite XC National Championship finishes
2 x Top 15 Elite National Road Championships
3 x Top 25 U/23 World Cup results
2 x Top 50 Cross-Country World Championships U/19 + U/23
3 x XC Marathon National Championships Runner Up
Cross-Country U/23 National Champion 2017
Cape to Cape Winner 2017
Otway Odyssey Winner 2017
5 x Great Otway Gravel Grind Winner
2 x Port to Port Runner Up
3 x Hellfire Cup Overall Winner
Cattleman 100 Race Report
Tasman participated in the Cattlemen 100 - a 105 mile mountain bike race in Omeo, Victoria. Here's his race report.
Read on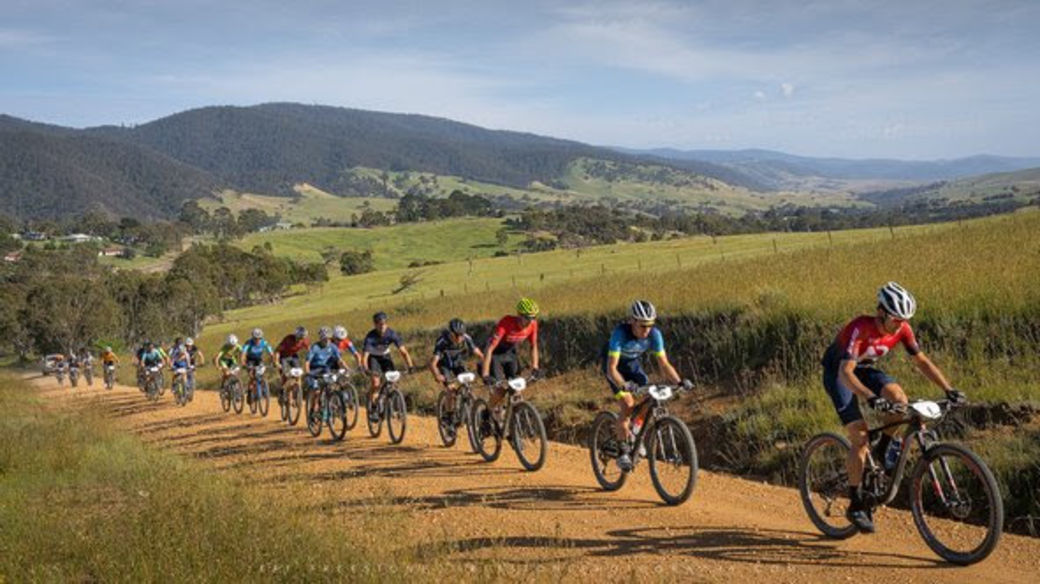 Tasmans Tasmania Tour
Finishing up Uni, I wanted to do something to celebrate and for a long time had been thinking about completing a bike touring adventure. With little persuasion, Brother Russell was in and we roped in Bendigo mate Julian. With a cool-headed crew, we pretty much winged together the idea of riding around Tasmania during our local bunch rides.

For us, the hardest component of planning was determining what gear we needed and more importantly what we could afford not to take. The goals for the trip were to explore Tasmania using as many gravel roads as possible, live the bike packer bum dream of tenting and eating on the go, whilst getting in some sneaky base kilometres for Road National championships mid-January 2020.

I was pretty stoked on my chosen weapon for the trip. Recently building up a MERIDA Mission CX Force with 40mm tyres, set to tear up the Tassie gravel. It was decked out with the new Shimano GRX group set with 1x drive train setup (40t x 11/40). For bags I ran a 10L front loader, 4L mid loader and 10L rear bag, with the biggest challenge being fitting camping gear in amongst as little clothing as possible.
Read on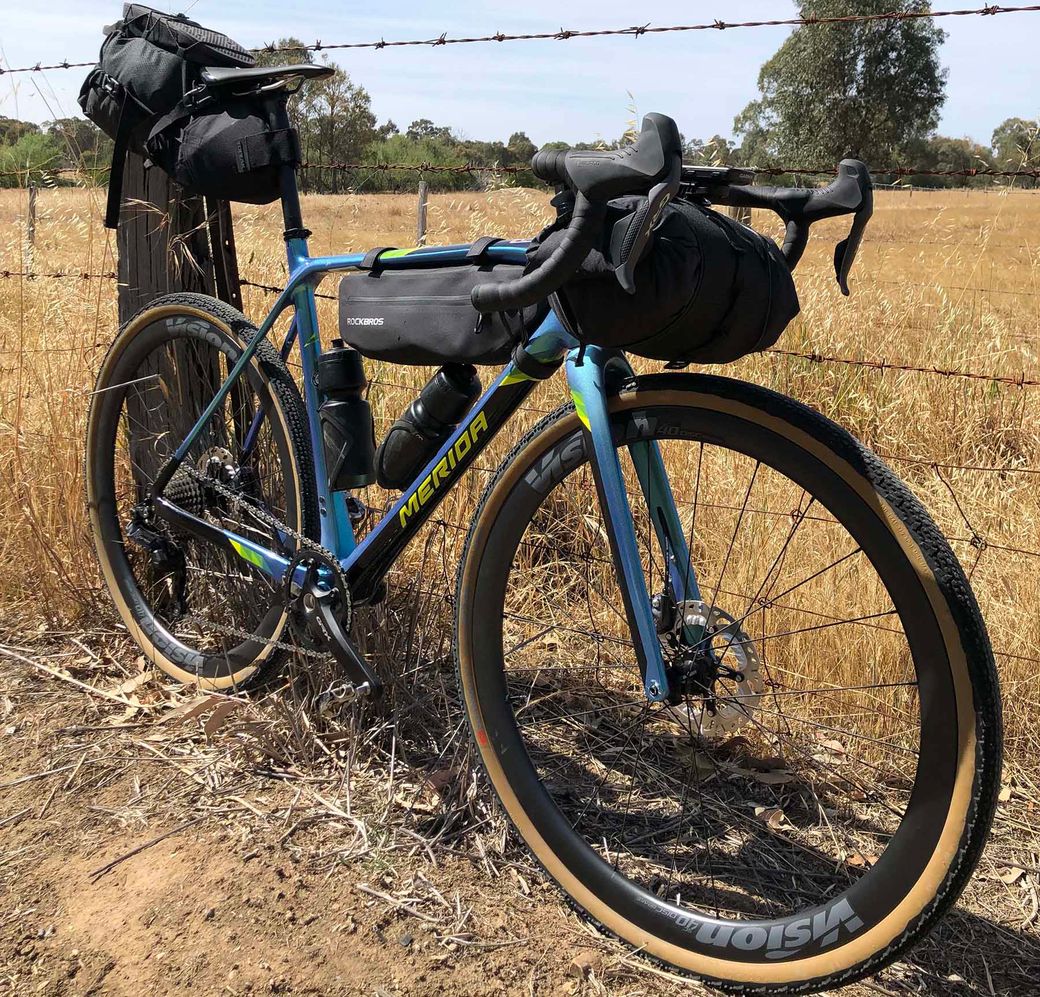 Isolation Update – Tasman Nankervis
This is my first article which is not about racing, which is uncharted territory for me.
With so much information going around about how to 'ISO' correctly, whatever it is that means. I thought I let you know what I've been up to, what's changed for me and take a holistic approach at things, using some of the knowledge learnt as an Exercise Physiologist.
Read on