Воздушна
150 mm од на суспензијата
конусна
се заклучува
51 mm офсет
27.5x2.8" max. големина на гуми
32 запци
170 mm-S, 175 mm-M up
материјал: алуминиум
31.8mm дијаметар
6° агол на стемот
50 mm сите големини
140mm од на суспензијата
материјал: алуминиум
27.5x2.6" max. големина на тркало
148x12mm стандард на осовина
BB92 стандард на средна осовина
30.9mm дијаметар
0mm setback
S: 100mm патничко седлоt - M: 125mm патничко седло - L/XL: 150mm патничко седло
внатрешна гума
Ultralite-27.5
големина на стемот
50 mm сите големини
материјал: алуминиум
740mm ширина
10mm подигнување
измерениот модел е со 27.5" тркала и големина на рамката M, без педали
големина на курбла
170 mm-S, 175 mm-M up
Дозволена максимална тежина
135 kg
including removeable lever, 6 allen key
29mm внатрешна ширина
материјал: алуминиум
Поддржуваат тубелес (тубелес лентата и вентилот не се вклучени)
| | | |
| --- | --- | --- |
| Големина на Рамот | M | L |
| Големина на гумите | 27.5" | 27.5" |
| St Кол за Седло Mm | 435 | 475 |
| TT Горнa Цевки Mm | 596 | 619.7 |
| Cs Носачи на Ланец Mm | 435 | 435 |
| Hta Цевка од Главина Агол во Степени | 66.3 | 66.3 |
| Sta Кол за Седло Степени Агол | 75 | 75 |
| Bd Пад на Средна Осовина Mm | 21 | 21 |
| Ht Должина на Цевка од Главна Осовина Mm | 110 | 125 |
| Fl Должини на Виљушки Mm | 542 | 542 |
| R Дофат Mm | 435 | 455 |
| S stack [mm] | 601.1 | 614.9 |
| WB меѓуосовинско растојание [mm] | 1170 | 1194 |
| SH висина на прекачување [mm] | 723 | 750 |
Основни карактеристики на Категоријата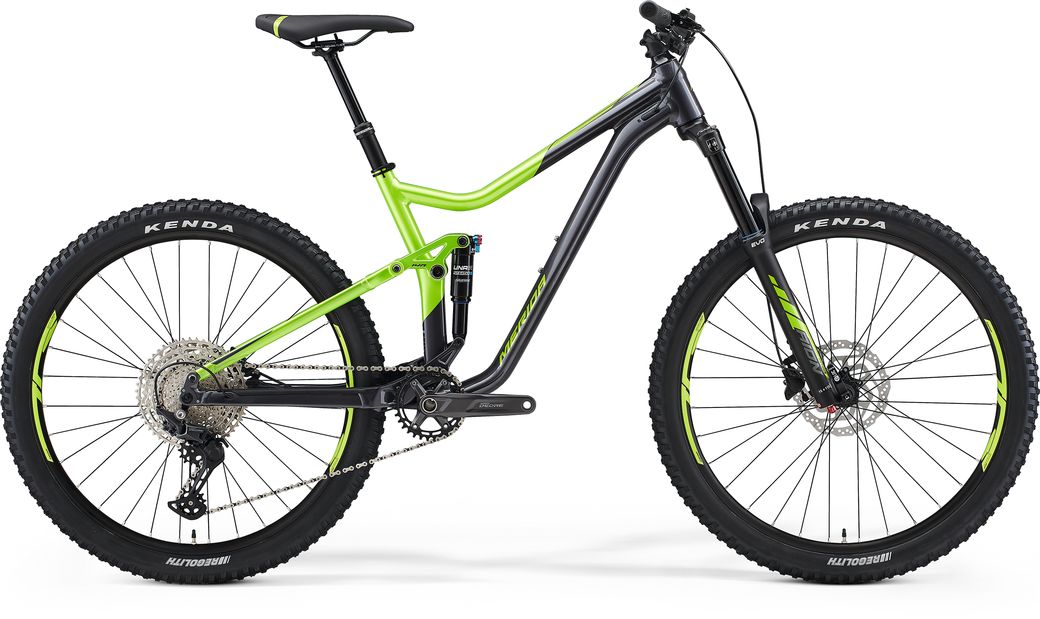 The geometry of the ONE-FORTY is influenced heavily by its bigger brother, the ONE-SIXTY, by mimicking the short chainstays (435 mm) for increased agility and playfulness on the trail. A well-balanced reach and low centre of gravity combined with a short stem and wide handlebar deliver fun-packed yet confidence-inspiring handling.
Долниот носач на амотризерот се движи заедно системот за да овозможи плишаност и ефикасност при педалирање.Нашите инженериможат прецизно да влијаат на односот на трансмисијата и прогресијата, што значи дека системот "Float Link" е многу чувствителен, обезбедувајки голема поддршка при средни патување и овозможува повеќе патувања отколку што сугерира името на моделот. Задниот дел создава чувство на патување "без дно", а притоа останува совршено контролиран при качување.
A trunnion mount shock gives our frame designers more flexibility by using a shorter shock with increased stroke. Combined with the ball bearing bushing of the upper mount, shock sensitivity is increased, and the suspension performance can be perfectly tuned.
Modern trail bikes are all about simplicity, durability and efficiency and modern 1x drivetrains offer a huge gear range whilst remaining lightweight. Building our frame around a 1x specific setup allows us to keep chainstays short, adding to the agility and playfulness of the bike. Perfect for today's demanding trails.
The ONE-FORTY has clearance for up to 2.6" wide 650B tyres, allowing plenty of extra room to fit the right tyre for the track. Extra wide tyres deliver increased levels of grip and comfort when the track gets rougher and more demanding, significantly improving the overall handling and riding experience.
Каблите, куќиштата и хидруличните црева на сопирачките се затегнати под голема напнатост, за да се спречи треперење при груби патеки. Сите влезови се целосно заменливи за да се справат со DI2, хидрауличните црева, каблите за сопирачките, куќиштата за кабелот и ланецот и слично.