големина на рамот
S, M, L, XL, XXL
Air
100mm suspension travel
Tapered
Remote lockout
51mm fork offset
29x2.8" max. wheelsize
32 teeth
170 mm-S, 175 mm-M up
material: aluminium
31.8mm diameter
-6° stem angle
S-70 mm, M-80 mm, L-90 mm, XL-100 mm, XXL-110 mm
material: carbon
29x2.25" max. wheelsize
148x12mm axle standard
BB92 bottom bracket standard
material: carbon
30.9mm diameter
0mm setback
внатрешна гума
Ultralite-29
големина на стемот
S-70 mm, M-80 mm, L-90 mm, XL-100 mm, XXL-110 mm
material: aluminium
720mm width
flat
weighed with 29" wheels and at frame size M, without pedals
големина на курбла
170 mm-S, 175 mm-M up
Дозволена максимална тежина
135 kg
including removeable lever, 6/4mm allen key
22.8mm inner width
material: aluminium
Tubeless ready (tubeless tape and valves not included)
| | | | | | |
| --- | --- | --- | --- | --- | --- |
| Големина на Рамот | S | M | L | XL | XXL |
| Големина на гумите | 29" | 29" | 29" | 29" | 29" |
| St Кол за Седло Mm | 380 | 444 | 483 | 532 | 584 |
| TT Горнa Цевки Mm | 585 | 605 | 625 | 645 | 665 |
| Cs Носачи на Ланец Mm | 433 | 433 | 433 | 433 | 433 |
| Hta Цевка од Главина Агол во Степени | 70 | 70 | 70 | 70 | 70 |
| Sta Кол за Седло Степени Агол | 73.5 | 73.5 | 73.5 | 73.5 | 73.5 |
| Bd Пад на Средна Осовина Mm | 65 | 65 | 65 | 65 | 65 |
| Ht Должина на Цевка од Главна Осовина Mm | 95 | 100 | 110 | 125 | 145 |
| Fl Должини на Виљушки Mm | 506 | 506 | 506 | 506 | 506 |
| R Дофат Mm | 402 | 421 | 438 | 454 | 468 |
| S stack [mm] | 617 | 622 | 631 | 645 | 664 |
| WB меѓуосовинско растојание [mm] | 1080 | 1101 | 1121 | 1142 | 1163 |
| SH висина на прекачување [mm] | 681 | 744 | 778 | 819 | 842 |
Основни карактеристики на Категоријата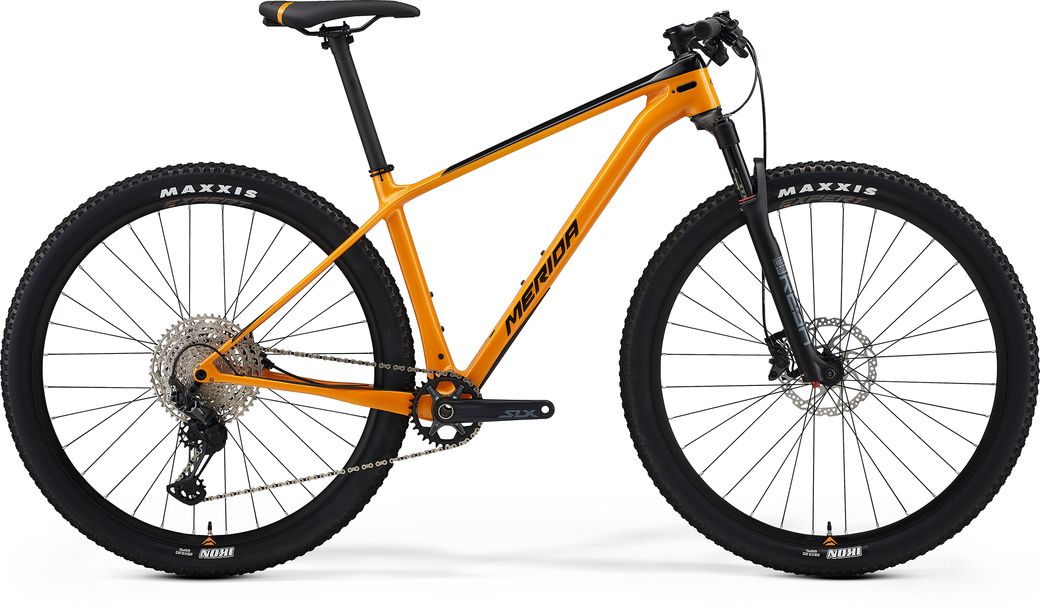 Besides offering the BIG.NINE in a full carbon version, we also have BIG.NINE LITE and BIG.NINE/ SEVEN TFS aluminium frames in our range. While the LITE features the same race-proven geometry as the carbon models, the TFS bikes offer a more relaxed geometry, through a shorter top tube and a higher head tube, resulting in a more upright riding position and enhanced trail visibility. The TFS frames feature internal cable routing (except the BIG.NINE/BIG.SEVEN 15), smooth welding, tapered head tube, inboard disc mounts, and mounts for fenders, rear rack and kickstand.
Нашите класични HARDTAIL (велосипеди со амортизерска виљушка) се 'рбетот на нашиот асортиман и го покажуваат огромното богатство од искуство и знаење акумулирано во период од 48 години развој и производство на велосипеди. Опсегот BIG.NINE и BIG.SEVEN ја симболизира симбиозата помеѓу модерната технологија на рамки, вниманието кон деталите и изработката "Made in Taiwan".
Сите модели се до BIG.NINE LITE нивото на рамка, се одликуваат со столб за седишта од 30,9 милиметри, појачана површина на спојување која ја зголемува силата на спојувањето на горната цевка и колот на седлото, и отвора можност за поставување на dropper кол за седло. Моделите се до BIG.NINE LIMITED нивото дозволуваат внатрешно протегање на кабелот за dropper колот за седло, додека за останатите модели е потребно надворешно протегање.
Каблите, куќиштата и хидруличните црева на сопирачките се затегнати под голема напнатост, за да се спречи треперење при груби патеки. Сите влезови се целосно заменливи за да се справат со DI2, хидрауличните црева, каблите за сопирачките, куќиштата за кабелот и ланецот и слично.
Нашите модели од карбон и лесен алуминиум се одликуваат со долг досег од 422 милиметри, стрмен агол на седиштето 73,5°, благ 70° агол на главата и 80 милиметарски стим (BIG.NINE – M), кои што ја овозможуваат новата генерација на XC геометрија на BIG.NINE. Агресивната агилност овозможува стабилна смиреност, перфектна за денешните побарувања.