боја
СЈАЈНА СВЕТКАВА ЦРВЕНА/ЦРНА МАТ
големина на рамот
S, M, L, XL, XXL
Air
140mm suspension travel
Tapered
51mm fork offset
34 teeth
Shimano FC-E8000
material: aluminium
35mm diameter
0° stem angle
50 mm all sizes
шише
Mr. Control CH-E8 mini
material: carbon
133mm suspension travel
29/27.5" wheelsize
148x12mm axle standard
intube
max. 504 Wh
30.9mm diameter
0mm setback
S 100mm travel seatpost - M/L/XL/XXL 125mm travel seatpost
внатрешна гума
Front Lite-29x2.5-3.0, Rear Lite-27.5x2.5-3.0
големина на стемот
50 mm all sizes
material: aluminium
780mm width
20mm rise
weighed at frame size M without pedals
29x2.5 "
fold
EXO TR Dual compound
27.5x2.6 "
fold
EXO TR Dual compound
29x2.5 "
fold
EXO TR Dual compound
27.5x2.6 "
fold
EXO TR Dual compound
светла
CG-119PG-BLACK(1) / CG-404RG-BLK
заден менувач
Shimano Deore Shadow+
including removeable lever, 6/4mm allen key
прекинувач
Shimano SW-E7000-L
предно светло
CG-119PG-BLACK(1)
задно светло
CG-404RG-BLK
29mm inner width
material: aluminium
| | | | | | |
| --- | --- | --- | --- | --- | --- |
| Големина на Рамот | S | M | L | XL | XXL |
| Големина на гумите | 27.5" | 27.5" | 27.5" | 27.5" | 27.5" |
| St Кол за Седло Mm | 405 | 420 | 440 | 470 | 500 |
| TT Горнa Цевки Mm | 560.5 | 581.5 | 602.5 | 626 | 649.5 |
| Cs Носачи на Ланец Mm | 439.5 | 439.5 | 439.5 | 439.5 | 439.5 |
| Hta Цевка од Главина Агол во Степени | 66.5 | 66.5 | 66.5 | 66.5 | 66.5 |
| Sta Кол за Седло Степени Агол | 76.5 | 76.5 | 76.5 | 76.5 | 76.5 |
| Bd Пад на Средна Осовина Mm | 24 | 24 | 24 | 24 | 24 |
| Ht Должина на Цевка од Главна Осовина Mm | 110 | 115 | 120 | 135 | 150 |
| Fl Должини на Виљушки Mm | 551 | 551 | 551 | 551 | 551 |
| R Дофат Mm | 410 | 429.5 | 449.5 | 469.5 | 489.5 |
| S stack [mm] | 622 | 626.5 | 631 | 644.5 | 658 |
| WB меѓуосовинско растојание [mm] | 1160 | 1182 | 1204 | 1230.5 | 1256.5 |
Основни карактеристики на Категоријата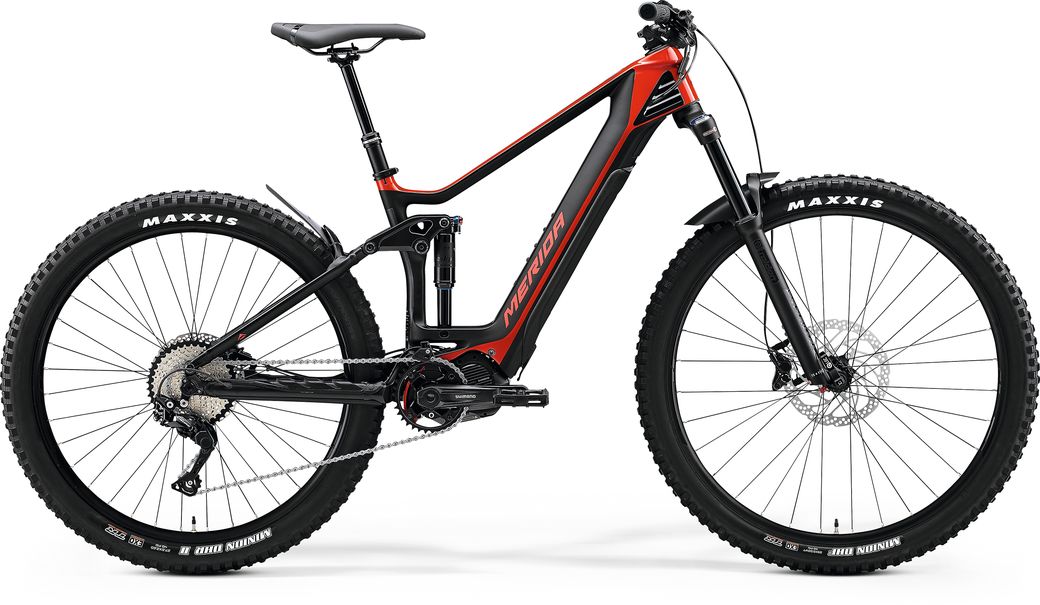 Карбонскиот преден триаголник со технологија на интегрирана батерија, поврзан со 6016 заден крај со агресивна enduro/trial геометрија и задни тркала со 133 милиметарски од. Shimano STEPS E8000 и Е7000 моторите овозможуваат краток ланец испорачувајќи зголемена агилност. Целосно карбонскиот држач за моторот создава интегриран изглед на моторот во рамката, а исто така обезбедува и исклучително силна врска помеѓу рамката и моторот.
Двокомпонентниот капак и нуди на вградената батеријата совршена заштита кај овие модели. Помекиот (надворешен) слој ја намалува бучавата, совршено го заптива во отворот од долната цевка и успешно ги апсорбира ударите од камчиња на патеката, додека пак поцврстиот (внатрешен) слој обезбедува заштита на батеријата од оштетување и и' дава структрурен облик.
За прв пат претставена во 2015 година, "Внатрешен блоктор" верзијата за електричен велосипед е вградена директно во рамката и ја спречува круната на вилушката да ја погоди рамката во случај на удар или екстремен агол на управување. Како дополнителна заштита, има дополнителни гумени браници на рамката за да се избегне било какво оштетување на рамката поради контакт со круната на вилушката.
За да им дадеме на електричните велосипеди со целосна суспензија прецизно управување, фантастично однесување при возењето преку препреки, како и максимален допир со подлогата, комбиниравме предно тркало 29 со гума од 2,5" и задно тркало 650B со малку поширока гума од 2,6". Совршена комбинација за прецизност, разиграност и контакт со подлогата.
Specifically located openings on the carbon models near the head tube which work like a chimney and allow the warm air to dissipate to guarantee the optimum operating temperature of the internal battery. The 'Thermo Gate' enables the battery to perform at its best, in any condition.
Благодарејќи на интегрираната батерија, можевме да понудиме места за монтирање на држачи за шишиња или други додатоци како пумпа или катанец, во рамките на главниот триаголик од рамот. Ова е одлично доколку сакате да избегнете носење на ранци или пакувања за хидратација на Вашиот грб.