100mm suspension travel
material: carbon
29x2.3" max. wheelsize
148x12mm axle standard
BSA bottom bracket standard
29x2.25"
fold
TR EXO 120 TPI* Stainless
29x2.25"
fold
TR EXO 120 TPI
110x15mm width front hub
32 spoke holes
Centerlock
148x12mm width rear hub
32 spoke holes
Centerlock
MANETE DELANTEIRA
Shimano SL -MT500-IL
MANETE TRASEIRA
Shimano Deore M6100
2 piston
2 piston
flat mount
110x15mm width front hub
32 spoke holes
Centerlock
148x12mm width rear hub
32 spoke holes
Centerlock
29x2.25"
fold
TR EXO 120 TPI
29x2.25"
fold
TR EXO 120 TPI* Stainless
Air
100mm suspension travel
Tapered
Remote lockout
51mm fork offset
29x2.8" max. wheelsize
30.9mm diameter
0mm setback
S/M/L/XL: 100mm travel seatpost
22.8mm inner width
material: aluminium
Tubeless ready (tubeless tape and valves not included)
TAMANHO AVANÇO
S-60 mm, M/L/XL-70 mm
material: aluminium
31.8mm diameter
-20° stem angle
material: aluminium
740mm width
flat
PUNHOS
Rock Shox TwistLoc grip
weighed with 29" wheels and at frame size M, without pedals
PEDALEIRO
Shimano SM-BB52
TAMANHO CRANQUES
175mm-M up
MANETES
Shimano SL -MT500-IL / Shimano Deore M6100
| | | | | |
| --- | --- | --- | --- | --- |
| Frame Size | S | M | L | XL |
| Tire Sizes | 29" | 29" | 29" | 29" |
| St Seat Tubes Mm | 400 | 440 | 470 | 500 |
| Tt Top Tubes Mm | 576 | 596 | 619 | 643 |
| Cs Chain Stays Mm | 435 | 435 | 435 | 435 |
| Hta Head Tube Angles Deg | 68.5 | 68.5 | 68.5 | 68.5 |
| Sta Seat Tube Angle Deg | 76.5 | 76.5 | 76 | 76 |
| Bd Bottom Bracket Drops Mm | 45 | 45 | 45 | 45 |
| Ht Head Tube Lengths Mm | 95 | 95 | 105 | 115 |
| Fl Fork Lengths Mm | 503 | 503 | 503 | 503 |
| R Reachs Mm | 433 | 453 | 473 | 493 |
| S Stacks Mm | 585 | 585 | 595 | 604 |
| Wb Wheel Base Mm | 1126 | 1146 | 1169 | 1193 |
| Sh Stand Over Height Mm | 730 | 731 | 736 | 738 |
| | | | | | |
| --- | --- | --- | --- | --- | --- |
| Number | Item Number | Name | Info | Pieces | Torque NM |
| 2 | 2136001371 | BC - MOUNT | | 1 | |
| 3 | 2298012187 | SCREW | | 4 | 5 |
| 4 | 2298011164 | SCREW | | 1 | 5 |
| 5 | 2300015847 | BOLT | | 1 | |
| 6 | 2300015836 | SCREW | | 1 | 16 |
| 7 | 2221002340 | BEARING | 3803V-2RS 26D*17D*7W | 1 | |
| 8 | 2221002395 | BEARING | 3802V-2RS 24D*15D*7W | 1 | |
| 9 | 2294004882 | WASHER | | 1 | |
| 10 | 2294001180 | WASHER | | 1 | |
| 11 | 2300015773 | SCREW | | 3 | 8 |
| 12 | 2300015784 | BOLT | | 1 | |
| 13 | 2300015795 | BOLT | | 1 | |
| 14 | 2300015803 | BOLT | | 1 | |
| 15 | 2181000342 | SPACER | | 1 | |
| 16 | 2221002254 | BEARING | 6800V-2RS 19D*10D*5W | 3 | |
| 17 | 2294004451 | WASHER | | 3 | |
| 18 | 2300015814 | SCREW | | 1 | 8 |
| 19 | 2300015825 | BOLT | | 1 | |
| 20 | 2221002265 | BEARING | 6801V-2RS 21D*12D*5W | 1 | |
| 21 | 2294004956 | WASHER | | 1 | |
| 22 | 2258005740 | CABLE GUIDE | | 1 | |
| 23 | 2300012509 | SCREW | | 1 | 2,5 |
| 24 | 2300015922 | LOCKING SCREW | | 1 | 2,5 |
| 25 | 2298010442 | SCREW | | 1 | 8 |
| 26 | 2300015911 | SCREW | | 1 | 2,5 |
| 27 | 2294005816 | WASHER | | 1 | |
| 28 | 2232002398 | BASE PLATE | | 1 | |
| 29 | 2232002376 | CHAIN GUARD | | 1 | |
| 30 | 2258004471 | CABLE GUIDE | | 1 | |
| 31 | 2311005673 | DROPOUT | SRAM UDH | 1 | |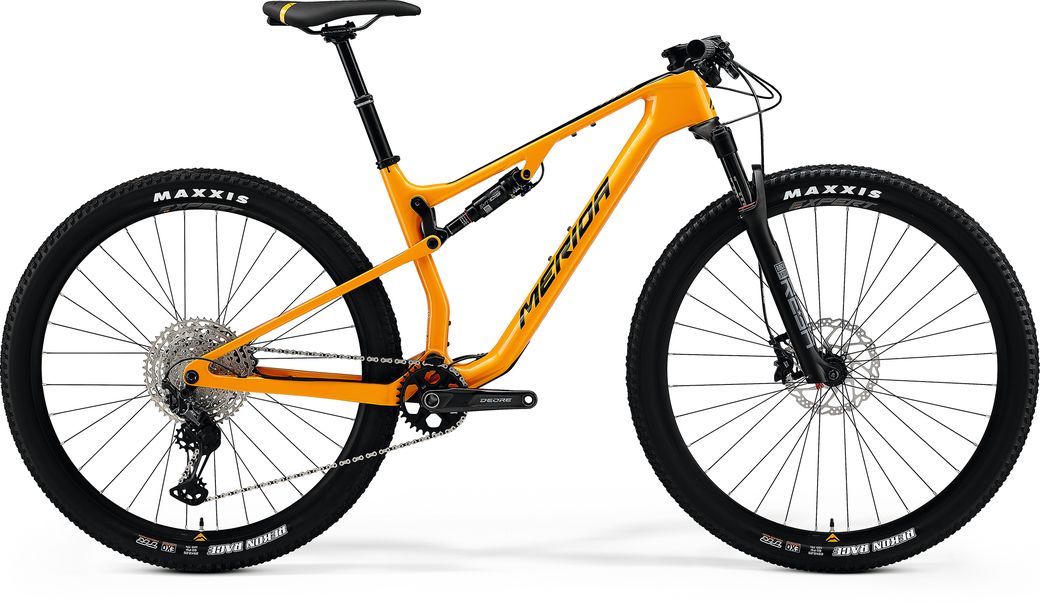 To save weight and further improve the frame stiffness, we have removed the seat-/chainstay pivot point. Instead of a classic bearing, the material properties of the frame allow sufficient flex without having an impact on durability.
Capacidade de encaixar duas garrafas de água na estrutura sem dificultar o alcance das garrafas. Perfeito para corridas de maratona longas e sessões de trilha prolongadas.
All control cables like gear, brake and dropper post cable enter the frame through a specifically shaped headset cap, cleaning up the cockpit area while also keeping them out of harm's way. Only the internally routed cable for the rear shock lockout enters the frame directly into the top tube for extra smooth lockout action.
An additional fixing point behind the head tube offers the option to attach a spare tube, tool or small spare parts safely and securely.
Os parafusos selecionados permitem apertar com uma chave TORX 30 apenas de um lado, sem correr o risco de que o lado oposto escorregue ou vire, o que ajuda a obter um aperto mais rápido e mais direto dos componentes mais importantes.