material: aluminium
24x2.4" max. wheelsize
135x9/100x9mm axle standard
BSA bottom bracket standard
material: aluminium
620mm width
0mm rise
material: aluminium
27.2mm diameter
15mm setback
Sadelklämma
MERIDA COMP QR
100x9mm width front hub
24 spoke holes
135x9mm width rear hub
24 spoke holes
Cykelstöd
center type alloy
Vevlager
Bearing cartridge
material: aluminium
31.8mm diameter
-5° stem angle
60 mm
100x9mm width front hub
24 spoke holes
weighed with 24" wheels and at frame size UNI, without pedals
Färg
DARK PURPLE (PALE PINK/TEAL)
135x9mm width rear hub
24 spoke holes
material: aluminium
24x2.4" max. wheelsize
| | |
| --- | --- |
| Ramstorlek | 11.5" |
| Däckstorlekar | 24" |
| Ramstorlek (cm) | 28 |
| ST - Seat Tube (mm) | 275 |
| TT - Top Tube (mm) | 500 |
| CS - Chain Stays (mm) | 410 |
| HTA - Head Tube Angle (°) | 68 |
| STA - Seat Tube Angle (°) | 72 |
| BD - Bottom Bracket Drops (mm) | 30 |
| HT - Head Tube Length (mm) | 120 |
| FL - Fork Length (mm) | 415 |
| R - Reach (mm) | 335 |
| S - Stack (mm) | 509 |
| WB - Wheel Base (mm) | 986 |
| SH - Stand Over Height (mm) | 560 |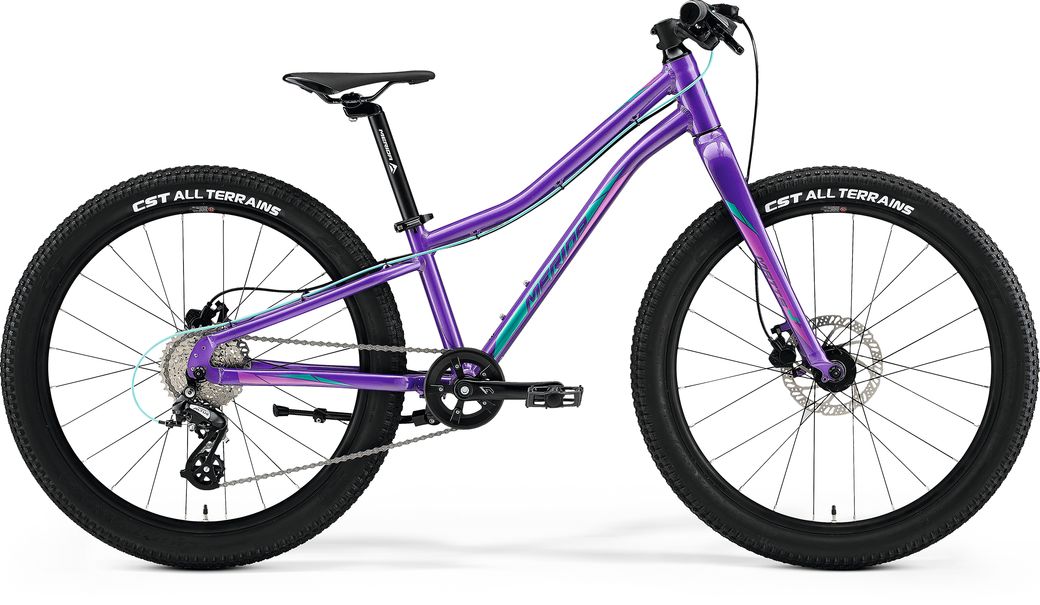 Last year saw the introduction of the new MATTS J.+ frame and concept. While being only used in the rigid MATTS J.+ bikes in 2020, the lightweight, high-quality frame with youth optimised geometry is now available in a variety of rigid and front suspension options, as well as 20" and 24" wheel size. Ideal to find your first MERIDA bike.
The specific demands on childrens' components make them differ a lot from adult components. Not only that kids are smaller, but also do not have the same strength in their hands, for example, when it comes to braking. That's why we have chosen specific components to ensure that our youngest cyclists are able to use their bikes safely and comfortably and make them easy to handle in any situation.
Our MATTS J.+ bikes feature not just the well-proven weight and geometry optimised frame but are also designed around a lightweight, rigid fork combined with 20" or 24" 'plus' tyres for extra grip and comfort. The result, no unnecessary weight, simple, stylish and hugely effective.
Många av våra cyklar har styv gaffel. På så sätt kan vi hålla nere vikten, vilket är en stor fördel för lättare cyklister. De har inte fler växlar än nödvändigt för att underlätta för unga cyklister och för att hålla nere vikten.
Alla barncykelramar är tillverkade av samma lätta aluminium (6061) som vi använder i våra vuxencyklar. De målas och lackeras också på samma sätt, så att cyklarna behåller sin finish även efter lite omild behandling.