material: aluminium
16" wheelsize
112x9/100x9 wheelsize
BMX bottom bracket standard
Bromsreglage
APSE BL-01 alloy
material: aluminium
500mm width
120mm rise
material: steel
22.2mm diameter
0mm setback
Bromsar
Tektro 985A caliper
Nav
KT KT134 / KT KT305R coaster
Cykelstöd
Support side wheel
Vevlager
Black steel, 9pcs
material: aluminium

22.2mm diameter

37 mm
weighed with 16" wheels and at frame size UNI, without pedals
Färg
SILK NAVY BLUE (WARM RED)
Frambroms
Tektro 985A caliper
| | |
| --- | --- |
| Ramstorlek | 9" |
| Däckstorlekar | 16" |
| Ramstorlek (cm) | 24 |
| ST - Seat Tube (mm) | 235 |
| TT - Top Tube (mm) | 400 |
| CS - Chain Stays (mm) | 340 |
| HTA - Head Tube Angle (°) | 70 |
| STA - Seat Tube Angle (°) | 72.5 |
| BD - Bottom Bracket Drops (mm) | 8 |
| HT - Head Tube Length (mm) | 100 |
| FL - Fork Length (mm) | 236 |
| R - Reach (mm) | 298 |
| S - Stack (mm) | 324 |
| WB - Wheel Base (mm) | 790 |
| SH - Stand Over Height (mm) | 409 |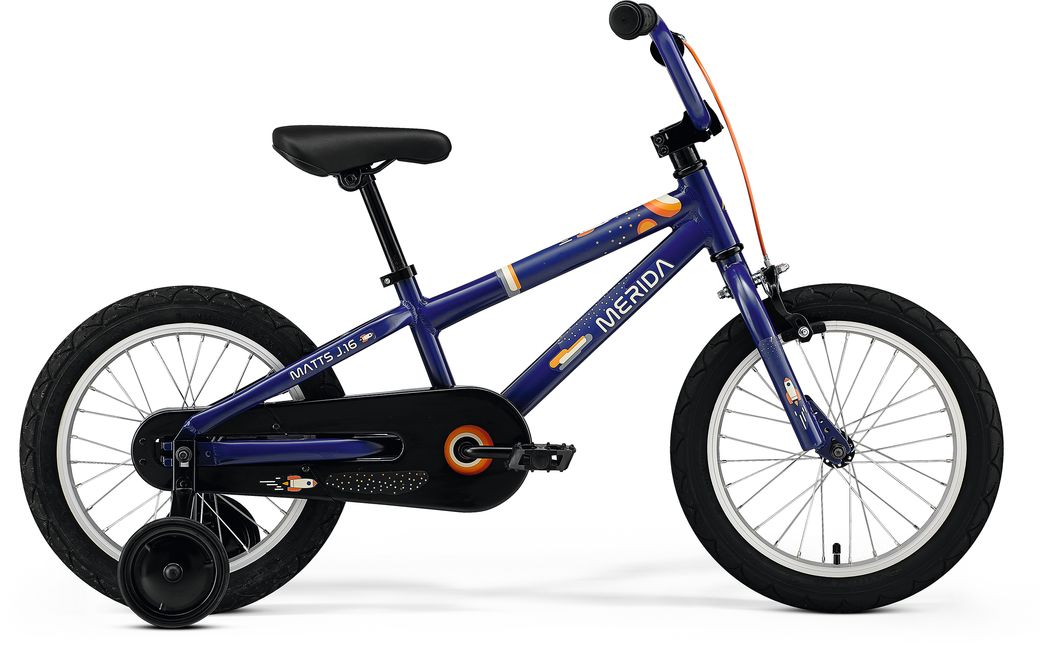 The specific demands on childrens' components make them differ a lot from adult components. Not only that kids are smaller, but also do not have the same strength in their hands, for example, when it comes to braking. That's why we have chosen specific components to ensure that our youngest cyclists are able to use their bikes safely and comfortably and make them easy to handle in any situation.
Många av våra cyklar har styv gaffel. På så sätt kan vi hålla nere vikten, vilket är en stor fördel för lättare cyklister. De har inte fler växlar än nödvändigt för att underlätta för unga cyklister och för att hålla nere vikten.
Alla barncykelramar är tillverkade av samma lätta aluminium (6061) som vi använder i våra vuxencyklar. De målas och lackeras också på samma sätt, så att cyklarna behåller sin finish även efter lite omild behandling.