material: carbon
29x2.25" max. wheelsize
148x12mm axle standard
BB92 bottom bracket standard
material: aluminium
720mm width
flat
material: aluminium
30.9mm diameter
0mm setback
Sadelklämma
MERIDA EXPERT
32 teeth
170 mm-S, 175 mm-M up
Växelreglage
Shimano Deore M6100
110x15mm width front hub
32 spoke holes
Centerlock
148x12mm width rear hub
32 spoke holes
Centerlock
Växelreglage, bak
Shimano Deore M6100
Vevlager
Shimano MT500-PA pressfit
20mm inner width
material: aluminium
material: aluminium
31.8mm diameter
-6° stem angle
S-70 mm, M-80 mm, L-90 mm, XL-100 mm, XXL-110 mm
110x15mm width front hub
32 spoke holes
Centerlock
Batteriladdare
MERIDA Multitool with saddlebox
weighed with 29" wheels and at frame size M, without pedals
Färg
GLOSSY PEARL WHITE/MATT BLACK
148x12mm width rear hub
32 spoke holes
Centerlock
Vevarmslängd
170 mm-S, 175 mm-M up
Air
100mm suspension travel
Tapered
Remote lockout
51mm fork offset
29x3.0" max wheelsize
including removeable lever, 6/4mm allen key
Ramstorlek
S, M, L, XL, XXL
| | | | | | |
| --- | --- | --- | --- | --- | --- |
| Ramstorlek | S | M | L | XL | XXL |
| Däckstorlekar | 29" | 29" | 29" | 29" | 29" |
| ST - Seat Tube (mm) | 380 | 444 | 483 | 532 | 584 |
| TT - Top Tube (mm) | 585 | 605 | 625 | 645 | 665 |
| CS - Chain Stays (mm) | 433 | 433 | 433 | 433 | 433 |
| HTA - Head Tube Angle (°) | 70 | 70 | 70 | 70 | 70 |
| STA - Seat Tube Angle (°) | 73.5 | 73.5 | 73.5 | 73.5 | 73.5 |
| BD - Bottom Bracket Drops (mm) | 65 | 65 | 65 | 65 | 65 |
| HT - Head Tube Length (mm) | 95 | 100 | 110 | 125 | 145 |
| FL - Fork Length (mm) | 506 | 506 | 506 | 506 | 506 |
| R - Reach (mm) | 402 | 421 | 438 | 454 | 468 |
| S - Stack (mm) | 617 | 622 | 631 | 645 | 664 |
| WB - Wheel Base (mm) | 1080 | 1101 | 1121 | 1142 | 1163 |
| SH - Stand Over Height (mm) | 681 | 744 | 778 | 819 | 842 |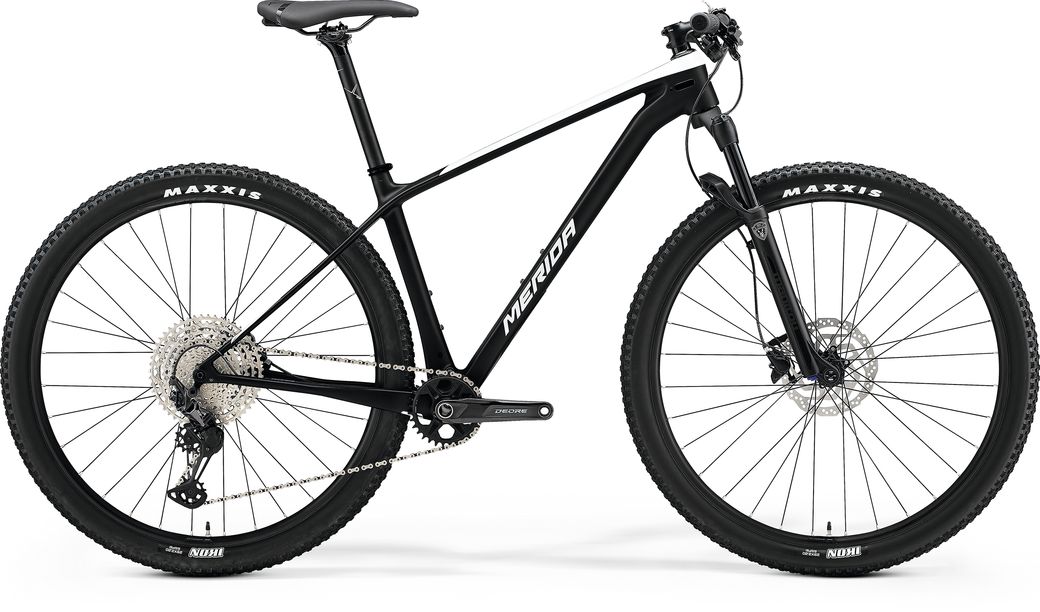 Besides offering the BIG.NINE in a full carbon version, we also have BIG.NINE LITE and BIG.NINE/ SEVEN TFS aluminium frames in our range. While the LITE features the same race-proven geometry as the carbon models, the TFS bikes offer a more relaxed geometry, through a shorter top tube and a higher head tube, resulting in a more upright riding position and enhanced trail visibility. The TFS frames feature internal cable routing (except the BIG.NINE/BIG.SEVEN 15), smooth welding, tapered head tube, inboard disc mounts, and mounts for fenders, rear rack and kickstand.
Our classic hardtails are the backbone of our range and showcase the enormous wealth of experience and knowledge we were able to gain in 48 years of bike production and manufacturing. The BIG.NINE and BIG.SEVEN range symbolises the symbiosis between modern frame technology, attention to detail and craftsmanship 'Made in Taiwan'.
Alla modeller ned till BIG.NINE 40 har 30,9 mm sadelstolpe, och med det förbättrade anslutningsområdet ökar hållfastheten runt skarven mellan överrör/sadelrör vilket gör att Dropper sadelstolpe kan användas. På modeller ned till BIG.NINE LIMITED kan Dropper sadelstolpe förses med integrerad kabel-/vajerdragning (för andra modeller krävs extern dragning).
Kablar/vajrar, höljen och bromsslangar spänns när de kläms fast för att slippa missljud när skogsstigen eller vägen blir riktigt ojämn. Alla genomföringar är helt utbytbara vilket gör dem kompatibla med höljen för Di2, hydraulslangar, bromsvajer och växelvajer.
Våra modeller i kolfiber (CF) och aluminium (LITE) har lång reach (422 mm), brant sadelrörsvinkel (73,5°), bekväm styrvinkel (70°) och 80 mm lång styrstam (ramstorlek M) – nästa generations XC-geometri. Aggressiv, smidig och stabil – perfekt för dagens krävande stigar.