material: aluminium
700x35C max. wheelsize
100x12/ 142x12mm axle standard
BB86 bottom bracket standard
material: aluminium
380mm(XXS) , 400mm (XS-S) , 420mm (M) , 440mm (L-XL)
Handtag
MERIDA ROAD EXPERT
27.2mm diameter
12mm setback
Sadelklämma
MERIDA EXPERT
46-36 teeth
170 mm-XS/S, 172.5 mm-M, 175 mm-L/XL
Växelreglage
Shimano 105 disc
100x12mm width front hub
32 spoke holes, Centerlock
142x12mm width rear hub
32 spoke holes
Centerlock
Växelreglage, bak
Shimano 105 disc
Växelreglage, fram
Shimano 105 disc
Vevlager
SM-BB71-41B, Pressfit 86.5
17mm inner width
22mm height
material: aluminium
Tubeless ready (tubeless tape and valves not included)
31.8mm diameter
material: aluminium
-5° stem angle
80 mm-XS/S, 90 mm-M/L, 100 mm-XL
100x12mm width front hub
32 spoke holes, Centerlock
Styrlager
MERIDA M2331 Neck
weighed with 700C wheels and at frame size M, without pedals
Färg
SILK TITAN (BLACK/SILVER)
142x12mm width rear hub
32 spoke holes
Centerlock
Vevarmslängd
170 mm-XS/S, 172.5 mm-M, 175 mm-L/XL
material: carbon
700x35C max. wheelsize
including removable lever
6/4mm allen key
Framaxel
MERIDA EXPERT SL
Ramstorlek
XS, S, M, L, XL
| | | | | | |
| --- | --- | --- | --- | --- | --- |
| Ramstorlek | XS | S | M | L | XL |
| Däckstorlekar | 28" | 28" | 28" | 28" | 28" |
| ST - Seat Tube (mm) | 470 | 500 | 530 | 560 | 590 |
| TT - Top Tube (mm) | 520 | 535 | 550 | 565 | 580 |
| CS - Chain Stays (mm) | 427 | 427 | 427 | 427 | 427 |
| HTA - Head Tube Angle (°) | 70.8 | 71 | 71.8 | 72 | 72.3 |
| STA - Seat Tube Angle (°) | 74 | 74 | 74 | 74 | 74 |
| BD - Bottom Bracket Drops (mm) | 68 | 68 | 68 | 68 | 68 |
| HT - Head Tube Length (mm) | 90 | 109 | 125 | 144 | 163 |
| FL - Fork Length (mm) | 400 | 400 | 400 | 400 | 400 |
| R - Reach (mm) | 373 | 382 | 392 | 401 | 411 |
| S - Stack (mm) | 514 | 533 | 553 | 572 | 591 |
| WB - Wheel Base (mm) | 1003 | 1017 | 1020 | 1033 | 1046 |
| SH - Stand Over Height (mm) | 724 | 751 | 778 | 804 | 830 |
| | | | | | |
| --- | --- | --- | --- | --- | --- |
| Siffra | Item Number | Namn | Info | Pieces | Torque NM |
| 1 | 2300011412 | SCREW | | 2 | 4 |
| 2 | | SMART ENTRY | | | |
| 3 | | SMART ENTRY | | | |
| 4 | 2300011586 | SCREW | | 1 | 5 |
| 5 | 2300011746 | SCREW | | 1 | 5 |
| 6 | 2302002031 | NUT | | 1 | |
| 7 | 2311004984 | DROPOUT | DH-054 | 1 | |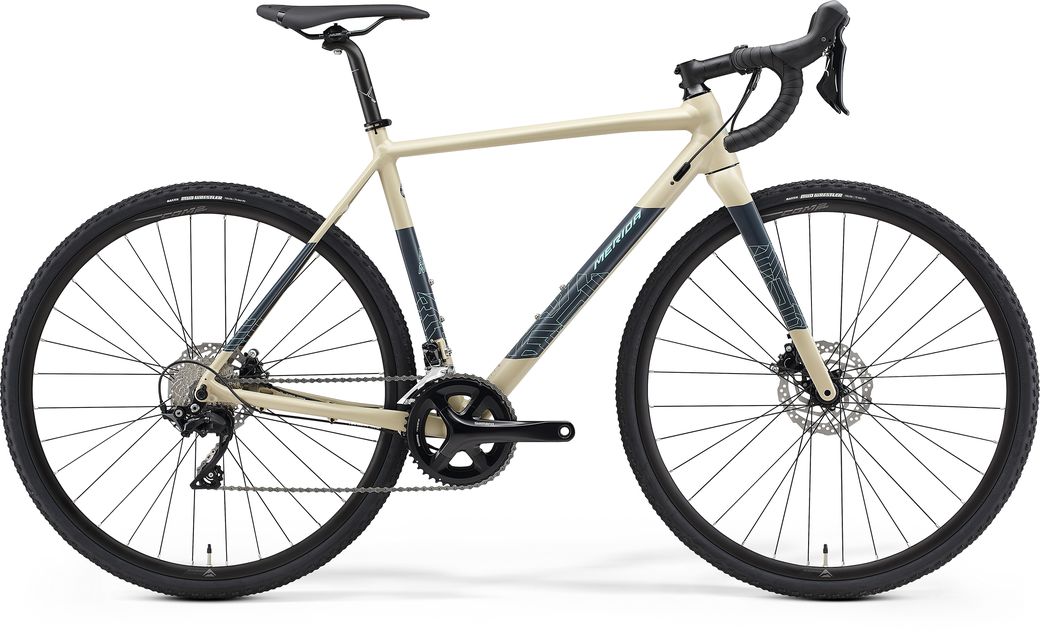 Our new MISSION CX has managed to get an incredible amount of press since its launch date. Besides being awarded the 2019 Design & Innovation Award, it was also rated highly by BIKERUMOR, GRAN FONDO, Road.cc and IMB.
Alla MISSION CX-modeller har konisk gaffel helt i kolfiber med 12 mm genomgående axel. Den genomgående axeln och det koniska gaffelröret av kolfiber ger ökad vertikal styvhet, vilket ger precis styrning och bättre kurvtagning.
Alla MISSION CX- och CYCLO CROSS-modeller har skivbromsar som ger mycket bra bromsverkan oberoende av väderförhållanden och lera tack vare att de är placerade nära hjulets nav. De nya MISSION CX-modellerna har nu bromsar med platt fäste för snygg positionering kant i kant av bromsoket.
Alla landsvägscyklar med skivbroms har 12 mm genomgående axlar som ger ökad styvhet och precis inriktning av skivan vid hjulbyte. CF4-modeller har snabbfäste som är blixtsnabbt att öppna och stänga.
Kablar/vajrar, höljen och bromsslangar spänns när de kläms fast för att slippa missljud när skogsstigen eller vägen blir riktigt ojämn. Alla genomföringar är helt utbytbara vilket gör dem kompatibla med höljen för Di2, hydraulslangar, bromsvajer och växelvajer.