material: aluminium
700x35C max. wheelsize
100x9/135x9mm axle standard
BSA bottom bracket standard
Ramstorlek
XXS, XS, S, S/M, M/L, L, XL
Färg
MATT COOL GREY (BLUE/RED)
Tapered
material: carbon
700x35C max. wheelsize
Bromsreglage
Shimano EF505
Styrlager
MERIDA M2341 Neck
material: aluminium
600mm width
Flat
material: aluminium
31.8mm diameter
6° stem angle
80 mm-XS, 90 mm-S, 100 mm-SM/ML, 110 mm-L/XL
Växelreglage, fram
Shimano ST-EF505
Växelreglage, bak
Shimano ST-EF505
material: aluminium
30.9mm diameter
12mm setback
Sadelklämma
MERIDA EXPERT
48-38-28 teeth
170 mm-all sizes
Vevlager
FSA TH-7420ST Cartridge Bearing
17mm inner width
22mm height
material: aluminium
100x9mm width front hub
28 spoke holes
centerlock
135x9mm width rear hub
28 spoke holes
centerlock
weighed with 700C wheels and at frame size S-M, without pedals
| | | | | | | | |
| --- | --- | --- | --- | --- | --- | --- | --- |
| Ramstorlek | XXS | XS | S | S/M | M/L | L | XL |
| Däckstorlekar | 28" | 28" | 28" | 28" | 28" | 28" | 28" |
| ST - Seat Tube (mm) | 440 | 470 | 500 | 520 | 540 | 560 | 590 |
| TT - Top Tube (mm) | 545 | 555 | 561 | 571 | 583 | 597 | 610 |
| CS - Chain Stays (mm) | 438 | 438 | 438 | 438 | 438 | 438 | 438 |
| HTA - Head Tube Angle (°) | 70 | 70 | 70.5 | 71 | 71.5 | 72 | 72 |
| STA - Seat Tube Angle (°) | 73.5 | 73.5 | 73.5 | 73.5 | 73.5 | 73.5 | 73.5 |
| BD - Bottom Bracket Drops (mm) | 65 | 65 | 65 | 65 | 65 | 65 | 65 |
| HT - Head Tube Length (mm) | 140 | 150 | 160 | 170 | 190 | 215 | 240 |
| FL - Fork Length (mm) | 395 | 395 | 395 | 395 | 395 | 395 | 395 |
| R - Reach (mm) | 381 | 389 | 392 | 398 | 404 | 410 | 416 |
| S - Stack (mm) | 552 | 562 | 573 | 585 | 606 | 631 | 655 |
| WB - Wheel Base (mm) | 1040 | 1051 | 1053 | 1057 | 1065 | 1074 | 1088 |
| SH - Stand Over Height (mm) | 719 | 744 | 769 | 787 | 806 | 828 | 855 |
| | | | | | |
| --- | --- | --- | --- | --- | --- |
| Siffra | Item Number | Namn | Info | Pieces | Torque NM |
| 1 | 2258003812 | CABLE GUIDE | | 1 | |
| 2 | 2298009553 | SCREW | | 1 | 5 |
| 3 | 2240001072 | CABLE GUIDE | | 1 | |
| 4 | 2298009854 | SCREW | | 2 | 4 |
| 5 | 2298005775 | SCREW | | 2 | 5 |
| 6 | 2311002249 | DROPOUT | 8317-0000P | 1 | |
| 7 | 2300007973 | SCREW | | 2 | 4 |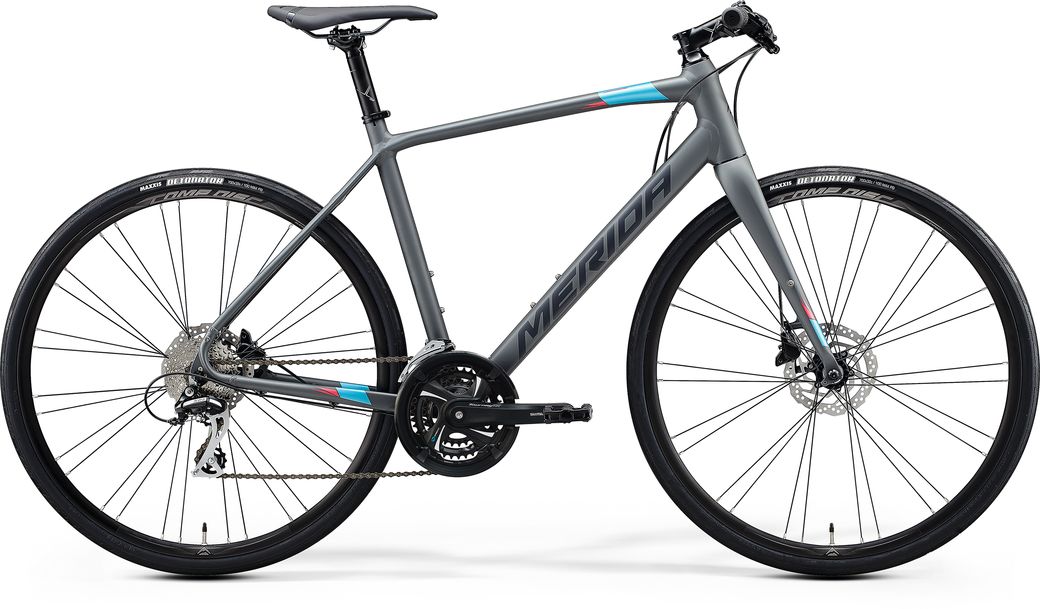 Since its redesign for the 2020 season, the SPEEDER has become more sporty. By increasing the length of the top tube, we have achieved a slightly longer reach, which offers the rider a more sportive riding position while still being on the comfortable side. Furthermore, this geometry change leads to a longer wheelbase, which has a positive effect on directional stability and in combination with the slightly slacker head tube angle, improves the riding stability at speed.
All models feature powerful and easy to modulate hydraulic disc brakes. Hydraulic disc brakes offer great stopping power in any weather, are more or less maintenance-free and are not affected by rough or kinked cables.
The new SPEEDER has the ability to take up to 37 mm wide tyres, increasing the ride comfort as well as the grip (and therefore safety). Wider tyres also offer improved puncture protection. Even with fenders being fitted, the SPEEDER can still take up to 32 mm wide tyres.
Vi använder aluminiumkvalitet 6066 – det är generellt den högsta kvaliteten som används vid cykeltillverkning. Dess metallsammansättning medger att den kan hydroformas (en process där en het vatten-olje-blandning sprutas genom rören i en matris). Med hjälp av denna process kan vi variera väggtjockleken och finjustera ramen så att den blir stark där den måste vara stark och flexibel där den måste vara flexibel.
Vajrar dras genom ramen för att ge snyggare look och för att hålla kablar/vajrar borta från luftflödet och skyddade mot fukt och smuts.
Alla MISSION CX-modeller har konisk gaffel helt i kolfiber med 12 mm genomgående axel. Den genomgående axeln och det koniska gaffelröret av kolfiber ger ökad vertikal styvhet, vilket ger precis styrning och bättre kurvtagning.