material: aluminium
700C wheelsize
142x12mm axle standard
external
max. 504 Wh
eSPRESSO L XS(43L)-S(47L)-M(51L)-L(55L)
Coil
63mm suspension travel
700x48C max wheelsize
Styrlager
MERIDA 2346 Neck
material: aluminium
660mm width
15mm rise
material: aluminium
31.8mm diameter
17° stem angle
80 mm-XS/S, 90 mm-M, 100 mm-L, 110 mm-XL
Växelreglage, bak
Shimano Altus rapidfire
material: aluminium
30.9mm diameter
15mm setback
Sadelklämma
MERIDA EXPERT
38 teeth
Shimano FC-E5010
chainguard
Sunnywheel SW-CG-173A
20mm inner width
material: aluminium
622x42"
reflective stripe
622x42"
reflective stripe
100x9mm width front hub
32 spoke holes
Centerlock
142x12mm width rear hub
36 spoke holes
Centerlock
including removeable lever, 6mm allen key
Skärmar
Sunnywheel SW-FA 513
Lys
Herrmans H-Black MR4 E / Herrmans H-Cargo integrated in MERIDA MIK carrier
Pakethållare
MERIDA MIK Carrier with Spring clip & Herrmans rear light
Cykelstöd
Massload CL-KA98
Ramlås
Abus 5650 LH-3 lock
brake cable
VLD-880 Foam Black
weighed with 700C wheels and at frame size M
| | | | | | |
| --- | --- | --- | --- | --- | --- |
| Ramstorlek | XS | S | M | L | XL |
| Däckstorlekar | 28" | 28" | 28" | 28" | 28" |
| ST - Seat Tube (mm) | 430 | 470 | 510 | 550 | 590 |
| TT - Top Tube (mm) | 565 | 580 | 590 | 610 | 630 |
| CS - Chain Stays (mm) | 475 | 475 | 475 | 475 | 475 |
| HTA - Head Tube Angle (°) | 70.5 | 71 | 71 | 71.5 | 71.5 |
| STA - Seat Tube Angle (°) | 74 | 73.5 | 73.5 | 73 | 73 |
| BD - Bottom Bracket Drops (mm) | 70 | 70 | 70 | 70 | 70 |
| HT - Head Tube Length (mm) | 130 | 140 | 155 | 175 | 205 |
| FL - Fork Length (mm) | 477 | 477 | 477 | 477 | 477 |
| R - Reach (mm) | 385 | 391 | 397 | 404 | 415 |
| S - Stack (mm) | 627 | 638 | 653 | 674 | 702 |
| WB - Wheel Base (mm) | 1101 | 1105 | 1116 | 1124 | 1145 |
| SH - Stand Over Height (mm) | 723 | 757 | 792 | 827 | 864 |
| | | | | | |
| --- | --- | --- | --- | --- | --- |
| Siffra | Item Number | Namn | Info | Pieces | Torque NM |
| 1/2/3/4 | | CABLE GUIDE | SMART ENTRY | | |
| 5 | A2300000213 | SCREW | M3x0.5 L13.5mm | 2 | 2~4 |
| 6 | A2151000025 | COVER | for battery; sizes S / M / L / XL | 1 | |
| 7 | A2151000026 | COVER | for battery; sizes XS | 1 | |
| 8 | A2300000468 | SCREW | M8x1.25 L18.5mm | 3 | 11~12 |
| 9 | A2300000469 | SCREW | M8x1.25 L23mm | 3 | 11~12 |
| 10 | A2258000099 | CABLE PLUG | for rear brake and speed sensor | 1 | |
| 11 | A2258000012 | CABLE GUIDE | for M5 fixation | 1 | |
| 12 | A2298000004 | SCREW | M5x0.8 L15mm with washer | 1 | 3~5 |
| 13 | A2300000129 | SCREW | M3x0.5 L10mm | 2 | 2~4 |
| 14 | A2311000067 | RD-HANGER | DH-057 | 1 | |
| 15 | A2143000076 | COVER | for carrier mount | 2 | |
| 16 | A2298000142 | SCREW | M6x1.0 L12mm | 2 | 6~8 |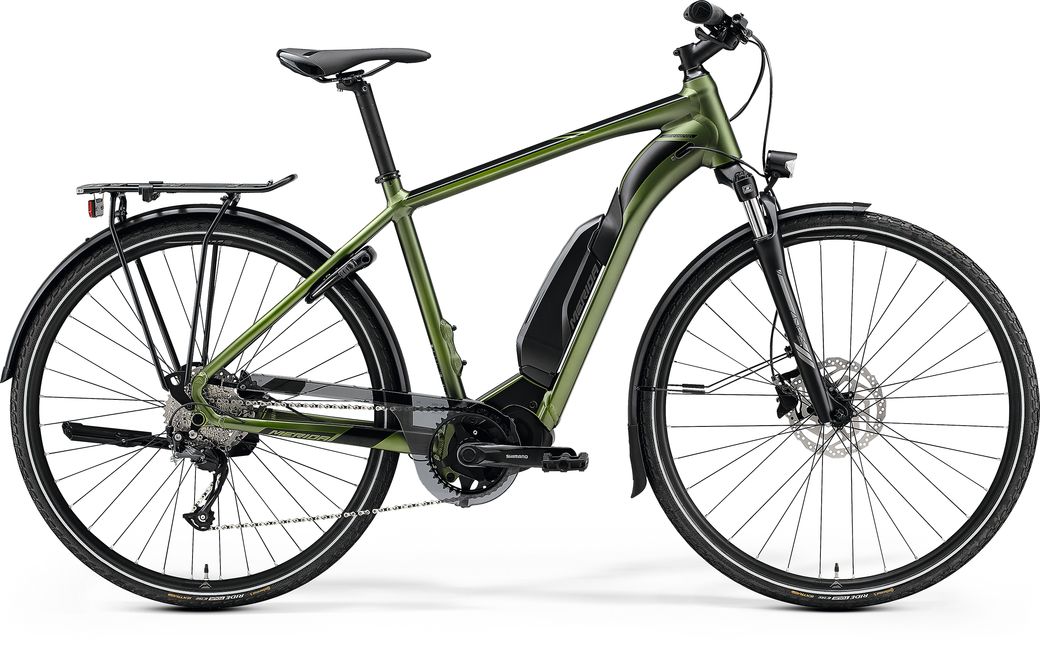 All models ride on fast-rolling 700c wheels, ideal for rides on roads, lanes and smooth tracks. We fit tyres with reflective sidewalls and puncture protection that will get you to your destination quickly and safely. However, our 'classic' eSPRESSO frames can also take 650B wheels if needed.
In our eSPRESSO range, you can choose between two frame options. The frame design with integrated battery technology, or the proven semi-integrated battery frame option, so that you can find the ideal bike for your preferences and your budget. Our integrated battery models come equipped with either the super-powerful EP8 or the more economical E6100 motor, while the semi-integrated battery models feature the entry-level E5000 power unit, giving you even more choice to select the perfect eSPRESSO for your needs.
All our eSPRESSO models come equipped with mudguards, lights, lock, rear rack and a kickstand, making them ready for anything from the moment you leave the store.
The system weight of a bike is the combined weight of bike, rider and additional luggage. The allowed system weight is 140 kg. As an e-bike is already heavier than a regular bike, and as it also makes it easier to transport larger amounts of luggage, it is imperative to certify a higher overall system weight. All MERIDA e-bikes, as well as all used componentry, go through a rigorous and e-bike specific testing schedule which mimics the higher forces and strains to guarantee the rider the highest level of safety.
Vajrar dras genom ramen för att ge snyggare look och för att hålla kablar/vajrar borta från luftflödet och skyddade mot fukt och smuts.
Kablar/vajrar, höljen och bromsslangar spänns när de kläms fast för att slippa missljud när skogsstigen eller vägen blir riktigt ojämn. Alla genomföringar är helt utbytbara vilket gör dem kompatibla med höljen för Di2, hydraulslangar, bromsvajer och växelvajer.