material: aluminium
700x50C (with fender) max. wheelsize
135x9mm axle standard
internal
max. 630 Wh
material: aluminium
640mm width
35mm rise
30.9mm diameter
15mm setback
40mm seatpost suspension travel
Sadelklämma
MERIDA EXPERT
38 teeth
Shimano FC-E6100
Växelreglage
Shimano Alivio M3100
100x9mm width front hub
32 spoke holes
Centerlock
135x9mm width rear hub
36 spoke holes
Centerlock
Lys
Herrmans H-Black MR4 E / Spanninga Commuter Glow XE integrated in MERIDA MIK HD carrier
Cykelstöd
Atranvelo 1219-PC-7
Skärmar
Sunnywheel SW-FA311-60E1 (MSB)
Pakethållare
MERIDA MIK HD Carrier with Spring clip & Spanninga rear light
Växelreglage, bak
Shimano Alivio M3100
20mm inner width
material: aluminium
material: aluminium
31.8mm diameter
adjustable
65 mm-XS/S/M, 90 mm-L/XL
100x9mm width front hub
32 spoke holes
Centerlock
Styrlager
MERIDA CAP w/ wire gateway
Framlampa
Herrmans H-Black MR4 E
Baklampa
Spanninga Commuter Glow XE integrated in MERIDA MIK HD carrier
Batterihållare
Shimano BM-E8030
weighed with 700C wheels and at frame size S, without pedals
622-50
wire
reflecting line
135x9mm width rear hub
36 spoke holes
Centerlock
Coil
63mm suspension travel
700x52C max wheelsize
622-50
wire
reflecting line
622-50
wire
reflecting line
Ramstorlek
XS, S, M, L, XL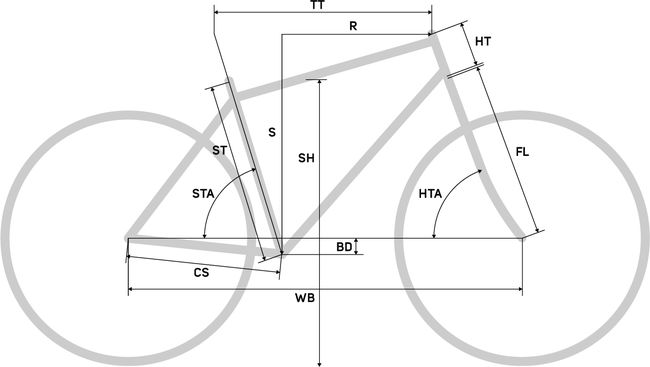 | | | | | | |
| --- | --- | --- | --- | --- | --- |
| Ramstorlek | XS | S | M | L | XL |
| Däckstorlekar | 28" | 28" | 28" | 28" | 28" |
| ST - Seat Tube (mm) | 380 | 430 | 480 | 530 | 580 |
| TT - Top Tube (mm) | 580 | 595 | 615 | 635 | 655 |
| CS - Chain Stays (mm) | 470 | 470 | 470 | 470 | 470 |
| HTA - Head Tube Angle (°) | 70 | 70 | 70 | 70 | 70 |
| STA - Seat Tube Angle (°) | 73.5 | 73.5 | 73.5 | 73.5 | 73.5 |
| BD - Bottom Bracket Drops (mm) | 65 | 65 | 65 | 65 | 65 |
| HT - Head Tube Length (mm) | 170 | 175 | 180 | 190 | 200 |
| FL - Fork Length (mm) | 475 | 475 | 475 | 475 | 475 |
| R - Reach (mm) | 386 | 399 | 418 | 435 | 452 |
| S - Stack (mm) | 656 | 661 | 665 | 675 | 684 |
| WB - Wheel Base (mm) | 1113 | 1128 | 1149 | 1169 | 1190 |
| SH - Stand Over Height (mm) | 413 | 413 | 412 | 412 | 411 |
| | | | | | |
| --- | --- | --- | --- | --- | --- |
| Siffra | Item Number | Namn | Info | Pieces | Torque NM |
| 1 | A2300000004 | SCREW | M3x0.5 L6mm | 2 | 2~4 |
| 2 | A2311000072 | RD-HANGER | DH-013F | 1 | |
| 3 | A2258000079 | CABLE PLUG | for rear brake | 1 | |
| 4 | A2300000468 | SCREW | M8x1.25 L18.5mm | 3 | 11~12 |
| 5 | A2300000469 | SCREW | M8x1.25 L23mm | 3 | 11~12 |
| 6.1 | A2143000126 | BUTTON | ON-OFF; for SHIMANO batteries | 1 | |
| 6.2 | A2143000097 | BLIND PLUG | for SIMPLO batteries | 1 | |
| 7 | A2164000088 | MOUNT | for lower battery mount | 1 | |
| 8 | A2298000143 | SCREW | M6x1.0 L10mm | 4 | 6~8 |
| 9 | A2030000016 | MOUNT | upper; for battery cover | 1 | |
| 10 | A2030000017 | MOUNT | lower; for battery cover | 1 | |
| 11 | A2160000012 | O-RING | OD6mm ID4mm | 2 | |
| 12 | A2221000048 | BUSHING | for battery cover | 2 | |
| 13 | A2300000530 | BOLT | M5x0.8 L39.5mm | 1 | 4~6 |
| 14 | A2300000231 | SCREW | M3x0.5 L8mm | 3 | 2~4 |
| 15 | A2143000153 | BLIND PLUG | for drive unit screw holes | 4 | |
| 16 | A2161000138 | COVER | for battery; frame size XS | 1 | |
| 16 | A2161000139 | COVER | for battery; frame size S | 1 | |
| 16 | A2161000140 | COVER | for battery; frame size M | 1 | |
| 16 | A2161000141 | COVER | for battery; frame size L | 1 | |
| 16 | A2161000142 | COVER | for battery; frame size XL | 1 | |
| 17 | A2136000071 | MOUNT | for battery cover | 1 | |
| 18 | A2029000001 | BUMPER | for battery cover | 2 | |
| 19 | A2134000061 | BUTTON | for cover lock | 1 | 3.75~4.25 |
| 20 | A2136000017 | MOUNT | for bottle cage | 1 | |
| 21 | A2292000028 | WASHER | OD9mm ID5.2mm H3mm | 2 | |
| 22 | A2298000154 | SCREW | M5x0.8 L12mm | 2 | 3~5 |
| 23 | A2298000158 | SCREW | M5x0.8 L25mm | 1 | 3~5 |
| 24 | A2164000065 | MOUNT | for SIMPLO ON-OFF | 1 | |
| 25 | A2300000568 | SCREW | M3x0.5 L6mm | 2 | 2~4 |
| 26 | A2300000204 | NUT | for fender; M6 | 1 | |
| 27 | A2300000288 | SCREW | M6x1.0 L18mm | 1 | 10~12 |
| 28 | A2363000255 | PROTECTOR | for step through area | 1 | |
| 29 | A2191000138 | HEAD SET | MERDIA/ACROS-ICR TREKKING | 1 | |
| 30 | A2161000143 | COVER | for drive unit; left side | 1 | |
| 31 | A2161000144 | COVER | for drive unit; right side | 1 | |
| 32 | A2143000122 | CABLE PLUG | for front light | 1 | |
| | | SMALL PARTS E6100 | see pdf file | | |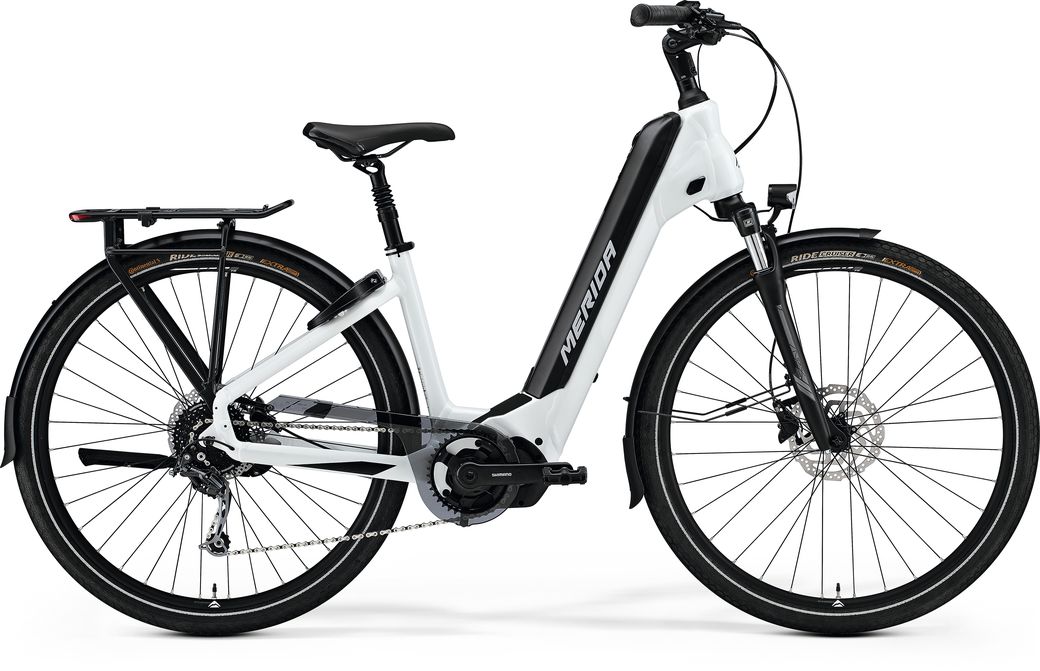 Unique cradle like shaping of the downtube to accommodate the battery, without losing the all important frame stiffness of our low step-through frames. By not adding cutouts to the downtube, we can maintain the outstanding frame stiffness, that prevents our low step-through bikes from wobbling under load. Paired with an aluminium battery cover, the frames give the impression of an integrated battery, without sacrificing stability and battery accessibility. The tapered head tube, the large tube diameters and the forged motor bracket all contribute to achieving a safe and precise riding experience.
In the city/trekking sector, hub gear drivetrains have become more or less the standard. We offer eSPRESSO CITY hub gear frames with slider dropouts for smooth and easy chain tensioning. Furthermore, the dropouts on both frames, hub gear and derailleur drivetrain, have standard carrier mounts.
The eSPRESSO CITY range is equipped with the new stylish Massload rear carrier, that offers a maximum load of 27 kg and features an integrated rear light.
A centrally positioned low centre of gravity, which has been achieved through the positioning of the battery in the lower position of the downtube as well as the location of the Shimano motors, enables to deliver fantastic riding characteristics in any situation which are extremely important in particular in wave low step through frames which have the tendency to chatter and jitter when power is applied.
Vajrar dras genom ramen för att ge snyggare look och för att hålla kablar/vajrar borta från luftflödet och skyddade mot fukt och smuts.
Den enastående ramstyvheten har stor inverkan på köregenskaperna för ramar med mycket lågt insteg. Koniskt styrrör, stor rördiameter, smitt motorfäste och genomgående bakaxel (142 x 12 mm) bidrar till säker och precis körupplevelse.
Kablar/vajrar, höljen och bromsslangar spänns när de kläms fast för att slippa missljud när skogsstigen eller vägen blir riktigt ojämn. Alla genomföringar är helt utbytbara vilket gör dem kompatibla med höljen för Di2, hydraulslangar, bromsvajer och växelvajer.