material: aluminium
700C wheelsize
135x9mm axle standard
BSA bottom bracket standard
Färg
SILK TITAN (BLACK/GREY)
Coil
63mm suspension travel
lockout
Bromsreglage
Shimano ST-EF505
Styrlager
FSA TH888/NO.10
material: aluminium
660mm width
25mm rise
material: aluminium
25.4mm diameter
adjustable
100 mm all sizes
Framväxel
Shimano FD-TY710
Växelreglage, fram
Shimano ST-EF505
Växelreglage, bak
Shimano ST-EF505
27.2mm diameter
13mm setback
40mm seatpost suspension travel
Sadelklämma
MERIDA COMP QR
48-38-28 teeth
170 mm-XXS/SM, 175 mm-ML/XXL
Vevarm
170 mm-XXS/SM, 175 mm-ML/XXL
Vevlager
FSA TH-7420ST-W, Cartridge Bearing
17mm inner width
material: aluminium
100x9mm width front hub
32 spoke holes
Centerlock
135x9mm width rear hub
32 spoke holes
Centerlock
weighed at frame size S without pedals
| | | | | |
| --- | --- | --- | --- | --- |
| Ramstorlek | XS | S | M | L |
| Däckstorlekar | 28" | 28" | 28" | 28" |
| ST - Seat Tube (mm) | 390 | 430 | 470 | 510 |
| TT - Top Tube (mm) | 565 | 575 | 585 | 600 |
| CS - Chain Stays (mm) | 450 | 450 | 450 | 450 |
| HTA - Head Tube Angle (°) | 71 | 71 | 71 | 71.5 |
| STA - Seat Tube Angle (°) | 74 | 73.5 | 73.5 | 73 |
| BD - Bottom Bracket Drops (mm) | 70 | 70 | 70 | 70 |
| HT - Head Tube Length (mm) | 135 | 140 | 140 | 170 |
| FL - Fork Length (mm) | 450 | 450 | 450 | 450 |
| R - Reach (mm) | 377 | 383 | 390 | 400 |
| S - Stack (mm) | 607 | 612 | 612 | 642 |
| WB - Wheel Base (mm) | 1073 | 1078 | 1088 | 1092 |
| SH - Stand Over Height (mm) | 590 | 589 | 590 | 588 |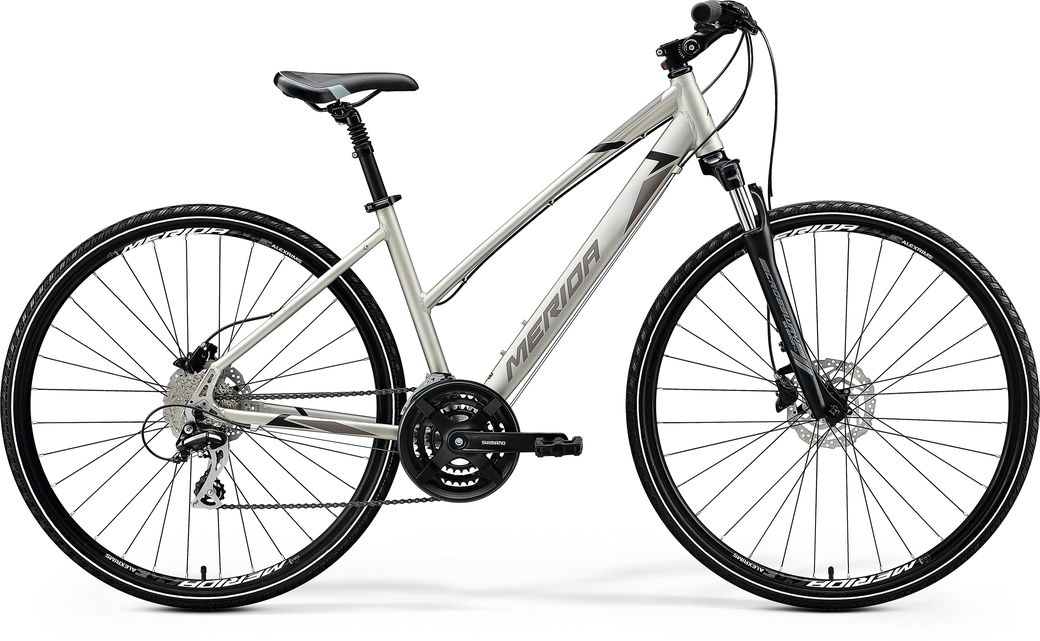 Most CROSSWAY models are also available in a low step through frame, providing an opportunity to find the perfect fit without compromising on equipment and functionality.
Dubbelreducerad, aluminiumram (6061) tillverkad genom technoforming. Utrustad med fästen för pakethållare, stänkskärmar och stöd.
Våra CROSSWAY-modeller är utrustade med dämpade gafflar och dämpade sadelstolpar (på de flesta modellerna) för att kompensera för ojämnheter i underlaget. De förses även med justerbara Ahead styrstammar (nu även våra SPEED-modeller), vilket gör att körställningen kan justeras för att ge maximal komfort på sadeln. Undantaget är de sportigare modellerna som har reguljär sadelstolpe och styrstam.
Alla modeller av CROSSWAY 100 upp till XT-EDITION har däck med reflexremsa på sidoväggarna som ger bättre synlighet ute på vägarna.
Alla CROSSWAY-modeller kan utrustas med stänkskärmar, pakethållare och stöd.