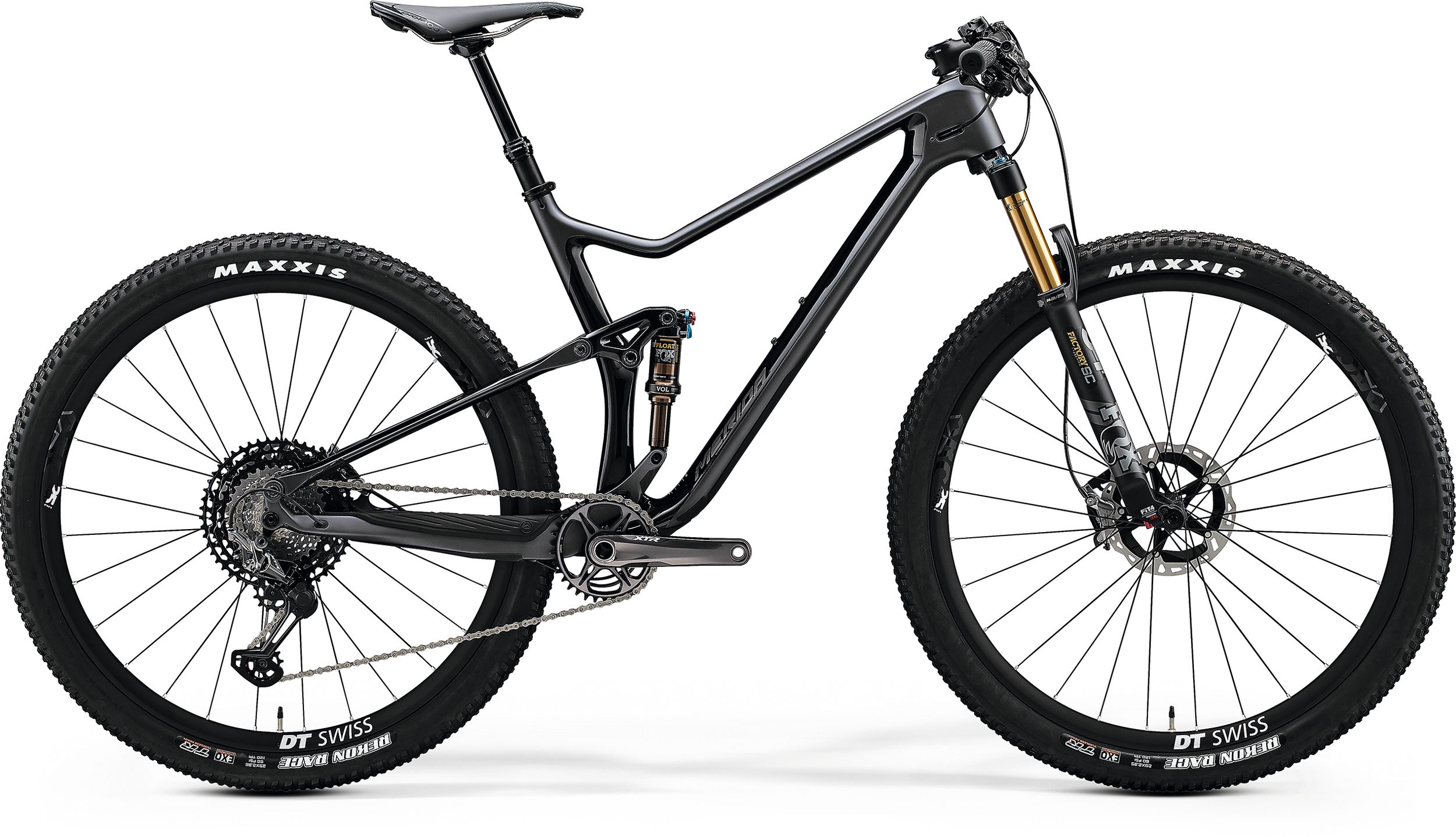 Not sure which size you need? Simply enter your body measurements into the Smartfit bike fitting system to find your ideal size. Find your size
100mm suspension travel
material: carbon
29 wheelsize
148x12mm axle standard
BB92 bottom bracket standard
Rahmengrössen
S, M, L, XL
Farbe
MATT ANTHRACITE/GLOSSY BLACK (GOLD)
Air
120mm suspension travel
Tapered
remote lockout
44mm fork offset
34 teeth
170 mm-S, 175 mm-M up
Schaltwerk
Shimano XTR Shadow+
Scheiben
Shimano RT-MT900
material: carbon
740mm width
flat
Steuersatz
FSA NO.47/50CF
material: aluminium
31.8mm diameter
-6° stem angle
70 mm all sizes
Innenlager
Shimano BB94-41A Pressfit
110x15mm width front hub
148x12mm width rear hub
25mm inner width
6 Centerlock
Shimano 12 Speed
material: aluminium
Tubeless ready (tubeless tape and valves included)
30.9mm diameter
0mm setback
S 125mm travel seatpost - M/L/XL 150mm travel seatpost
Sattelklemme
MERIDA EXPERT
Schutzbleche
MERIDA MTB lite-front
weighed at frame size L and 29" wheels without pedals
| | | | | |
| --- | --- | --- | --- | --- |
| Rahmengröße | S | M | L | XL |
| Rahmengröße (cm) | 40 | 44 | 48 | 52 |
| ST Sitzrohrlänge (mm) | 400 | 440 | 480 | 520 |
| TT Oberrohrlänge (mm) | 571 | 591 | 613 | 635.5 |
| CS Hinterbaulänge (mm) | 435 | 435 | 435 | 435 |
| HTA Steuerrohrwinkel (°) | 67.8 | 67.8 | 67.8 | 67.8 |
| STA Sitzrohrwinkel effektiv (°) | 76 | 76 | 76 | 76 |
| BD Tretlagerabsenkung (mm) | 43.5 | 43.5 | 43.5 | 43.5 |
| HT Steuerrohrlänge (mm) | 95 | 95 | 105 | 115 |
| FL Gabeleinbaulänge (mm) | 531 | 531 | 531 | 531 |
| R Reach (mm) | 420 | 440 | 460 | 480 |
| S Stack (mm) | 603.5 | 603.5 | 612.5 | 622 |
| WB Radstand (mm) | 1137 | 1157 | 1180.5 | 1204.5 |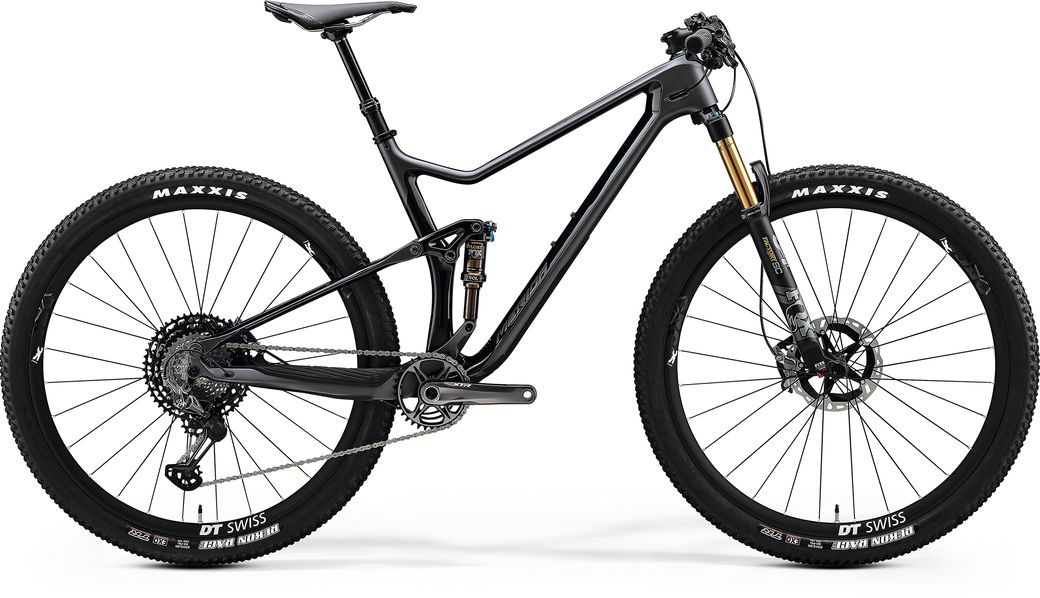 Full carbon frame incorporating 'Nano Matrix' technology for additional impact resistance. 'Smart Entry' cable clamping system for rattle free running. Tapered head tube for precise steering, Boost standard and rear through axle for rear end stiffness. The floating rear shock provides 100 mm of travel.
The ONE-TWENTY RC has a very low standover height, giving the rider ample space to manoeuvre when the terrain demands it. It slightly steeper seat and head angle (in comparison to the ONE-TWENTY) provides even more efficiency and a more marathon specific trail behaviour. The short travel rear
end, make the bike an even more uncompromising climber than its bigger brother.
The more marathon focused version offers 100 mm of rear wheel travel combined with a 120 mm suspension fork, resulting in a steeper seat and head angle, making the RC even more pedalling efficient and more agile on twisty courses.
When hitting steam climbs in a marathon race, you want to be able to quickly lock out the front fork without taking your hands off the controls. So, all our ONE-TWENTY RC come with remote lockout, allowing you to lock out the fork from a leaver on your handlebars. The rear shock lockout is positioned on the shock to keep the cockpit clean and manageable.
Der untere Befestigungspunkt des Dämpfers bewegt sich mit dem System, was für ein sensibles Ansprechverhalten sorgt. Unsere Ingenieure können das Übersetzungsverhältnis sowie die Progression genau beeinflussen. Dadurch erweckt ein "Float Link"-Federungssystem den Eindruck, über mehr Federweg zu verfügen, als die Modellbezeichnung angibt. Der Hinterbau vermittelt den Eindruck endlosen Federwegs, bleibt im Anstieg jedoch voll kontrollierbar.
Die versenkbare Stütze erlaubt es dem Fahrer, den Sattel an Steilstücken aus dem Weg zu räumen und sorgt somit für bessere Manövrierbarkeit und Kontrolle über das Bike. Alle Variostützen verfügen über innenverlegte Züge und einen Remote-Hebel. Das sorgt für eine saubere Optik und erleichtert es, während der Fahrt die Sattelhöhe zu verändern.
Not just race proven by the MULTIVAN MERIDA BIKING TEAM in their final 2016 season but still competed on by living mountain bike legends like Gunn-Rita Dahle Flesjå and José Antonio Hermida who are looking for lightning fast acceleration, great climbing and descending ability as well as super low weight.