ALUMINIUM TECHNOLOGY
ALUMINIUM- RAHMEN AUF HÖCHSTEM NIVEAU
Seit Jahren stellen wir Aluminiumrahmen auf höchstem Niveau her, erweitern dabei ständig unser Wissen und ent­wickeln neue Fertigungstechniken.
Große Sorgfalt verwenden wir auf die Auswahl – oder in manchen Fällen sogar die Entwicklung – von Aluminiumsorten, die den Erfordernissen der von uns hergestellten Bikes gerecht werden. So erlaubt Aluminium 6016 extrem geringe Wandstär­ken bei unglaublicher Festigkeit – optimal für anspruchsvolle Renn- und Trainingseinsätze im Gelände. Aluminium 6066 ist extrem leicht und haltbar; mit der richtigen Behandlung lässt es das beste Steifigkeits-Gewichts-Verhältnis zu. Selbst in den preiswertesten Regionen verwenden wir ein weiteres hochwertiges Aluminium: 6061. Für die Luftfahrtindustrie entwi­ckelt, erlaubt das Material die Fertigung leichter und hochmoder­ner Rahmen.
Wärmebehandlung und Umformung spielen bei Aluminium eine ebenso wichtige Rolle wie die Auswahl der Materialgüte. Dabei sind unterschiedliche Prozesse beteiligt: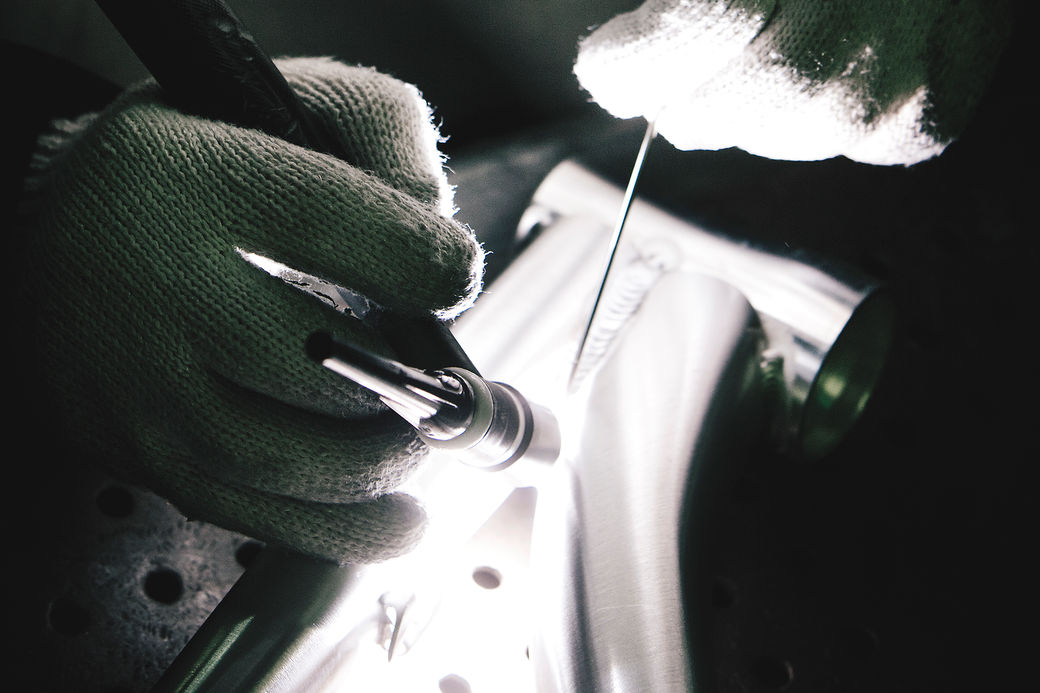 ZWEI- UND DREIFACH ENDVERSTÄRKT
"Double butted" steht für Rohre mit zwei Wandstärken: di­cker an den Enden und dünner in der Mitte. "Triple butted" beschreibt Rohre mit drei unterschiedlichen Wandstärken in ihrem Verlauf. Dort, wo es nötig ist, weisen sie maximale Stabilität auf, in Bereichen geringer Belastung reduzieren sie das Gewicht. Das von uns verwendete Aluminium ist wärmebehandelt. Die Rahmen werden auf sehr hohe Temperaturen erhitzt und dann in Wasser oder Öl rasch abgekühlt, um das Ausfällen der Legie­rungselemente zu verhindern. Danach werden die Rahmen erwärmt, wodurch sie deutlich an Festigkeit gewinnen.

HYDRO- UND TECHNOFORMING
Beim Hydroforming werden die Rohre in Hohlformen gelegt und ein heißes Öl-Wasser-Gemisch mit hohem Druck eingepresst, wodurch die Rohre in komplexe Formen gebracht werden können. Technoforming ist ein mechanischer Umformungsprozess, bei dem Hohlformen und teilweise auch Kerne aus Metall zum Einsatz kommen. Beim "Smooth Welding" wird über die Schweißnaht eine zweite Schicht gelegt, die dem Rahmen eine saubere Optik verleiht – wie aus einem Guss. Auf den ersten Blick sehen die Übergänge denen eines Carbonrahmens zum Verwechseln ähnlich.
Are you in the right place?
You have landed on the MERIDA
German (Germany)
website.
If you are looking for the international or another national website, then please select your region below.
Please note: Not all international models are available in your country. For further information, please contact your
local distributor
.