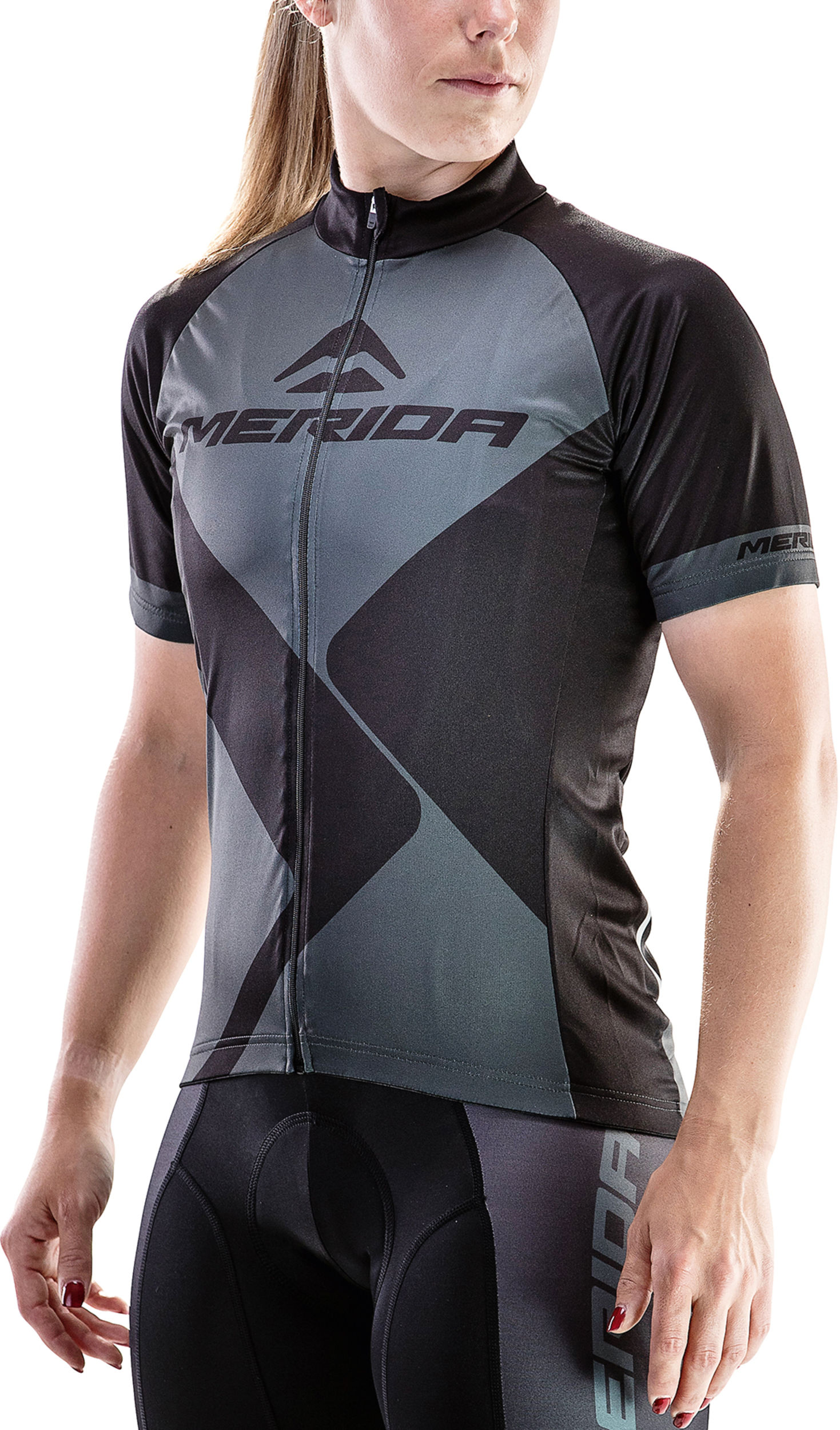 RHOMBE Women
Black
A lightweight, breathable and moisture wicking jersey with a comfortable fit. Designed specifically for female riders.
The MERIDA JERSEY RHOMBE WOMAN is the perfect jersey for riding on and off-road. Constructed from a technical polyester fabric, the RHOMBE is our take on the classic sport cycling jersey. It has 4 pockets on the back (including a zip-up, waterproof pocket) for quick access to tools, snacks and spare layers. Mesh inserts in the underarms and a full length, hidden zip (with zipper garage) help to manage your temperature perfectly.
The RHOMBE SPORT is designed for comfort whilst working hard and is presented in a fitted style that won't hold you back. Reflective details help keep you safe.
Our model is 167 cm tall and 58 kg, wearing a size small.
| | | | | | | |
| --- | --- | --- | --- | --- | --- | --- |
| Größe | XS | S | M | L | XL | XXL |
| Art.Nr. | 740266I0435GYXS | 740266I0435GYS | 740266I0435GYM | 740266I0435GYL | 740266I0435GYXL | 740266I0435GYXXL |
| Material | Front: 100% Polyester, Back: 86%Polyester/14% Elasthan, Arms: 100% Polyester, Mesh: 86%Polyester/14% Elasthan | Front: 100% Polyester, Back: 86%Polyester/14% Elasthan, Arms: 100% Polyester, Mesh: 86%Polyester/14% Elasthan | Front: 100% Polyester, Back: 86%Polyester/14% Elasthan, Arms: 100% Polyester, Mesh: 86%Polyester/14% Elasthan | Front: 100% Polyester, Back: 86%Polyester/14% Elasthan, Arms: 100% Polyester, Mesh: 86%Polyester/14% Elasthan | Front: 100% Polyester, Back: 86%Polyester/14% Elasthan, Arms: 100% Polyester, Mesh: 86%Polyester/14% Elasthan | Front: 100% Polyester, Back: 86%Polyester/14% Elasthan, Arms: 100% Polyester, Mesh: 86%Polyester/14% Elasthan |