*All specifications listed are subject to change without notice. *Recommended Retail Prices are subject to change without notice.
Cheating? Not when you're having this much fun. The eSCULTURA 400 brings all the benefits of a pedal-assist motor to a serious road bike, offering up a way to keep up with the pack on the hills without a heavy, draggy feel when you're pedalling above the assistance limit. A 250 Wh battery sits inside the downtube, while the low-drag hub-drive motor works perfectly with Shimano's benchmark 105 groupset and hydraulic disc brakes to deliver a ride that's as sporty as a regular bike.
As even dedicated road riders realise the advantages a little 'helping hand' can offer, our eRoad range is spearheaded by this assisted version of our 'classic' SCULTURA. The eSCULTURA is for all the road riders out there who like an active riding style, but are looking for the extra boost to catch up with the bunch and to make the climbs that little bit easier. The MAHLE rear hub motor system gives our eSCULTURA an almost 'non-e-bike' silhouette while delivering natural and almost drag-free pedalling support. You can even use an externally mounted 208 Wh MAHLE Range Extender to boost range. While the eSCULTURA is a dedicated road bike, its comfortable yet sporty geometry and its ample tyre clearance give it real versatility and day-to-day usability.
MAHLE ebikemotion X35+ hub motor gives natural feeling assistance
Triple butted aluminium frame with built-in 250 Wh battery
Efficient, low drag pedalling above assistance limit
Sleek 'normal bike' silhouette and low weight
Slick Shimano 105 groupset with double chainset
material: aluminium
700x45C / 700x42C (with fender) / 27,5x47C max. wheelsize
100x9/135x9mm axle standard
BSA bottom bracket standard
frame size
XS, S, M, L, XL
MDF09
material: carbon
700x40C w/ fender max wheelsize
derailleur (f)
Shimano 105
50-34 teeth
170 mm-XS/S/SM/ML, 175 mm-L/XL
100x12mm width front hub
28 spoke holes
Centerlock
17mm inner width
22mm height aluminium
Tubeless ready (tubeless tape and valves not included)
material: aluminium
31.8mm diameter
5° stem angle
80 mm- XXS/XS, 90 mm-S, 100 mm-SM/ML, 110 mm-L/XL
material: aluminium
400mm (XS/S), 420mm (M/L), 440 (XL)
material: carbon
30.9mm diameter
0mm setback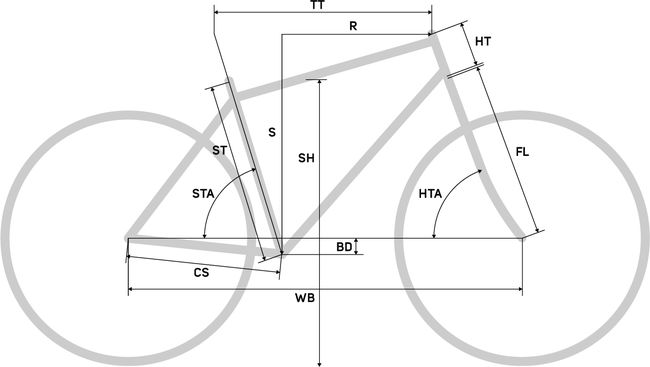 | | | | | | |
| --- | --- | --- | --- | --- | --- |
| Frame Size | XS | S | M | L | XL |
| Tyre Sizes | 28" | 28" | 28" | 28" | 28" |
| ST seat tube [mm] | 470 | 490 | 510 | 530 | 560 |
| TT top tube [mm] | 525 | 540 | 555 | 570 | 585 |
| CS chain stay length [mm] | 431 | 431 | 431 | 431 | 431 |
| HTA head tube angle [°] | 69.5 | 70 | 70.5 | 71 | 71.5 |
| STA seat tube angle [°] | 75 | 75 | 75 | 75 | 75 |
| BD bottom bracked drop [mm] | 70 | 70 | 70 | 70 | 70 |
| HT head tube [mm] | 145 | 160 | 175 | 190 | 205 |
| FL fork length [mm] | 400 | 400 | 400 | 400 | 400 |
| R reach [mm] | 374 | 384 | 395 | 406 | 416 |
| S stack [mm] | 565 | 581 | 597 | 613 | 629 |
| WB wheel base [mm] | 1032 | 1044 | 1055 | 1066 | 1076 |
| SH stand over height [mm] | 748 | 767 | 785 | 804 | 830 |
| | | | | | |
| --- | --- | --- | --- | --- | --- |
| No. | Item-No. | Name | Info | Pieces | Torque NM |
| 1 | A2136000017 | MOUNT | for bottle cage | 1 | |
| 2 | A2298000185 | SCREW | M5x0.8 L10mm | 2 | 3~5 |
| 3 | A2298000145 | SCREW | M5x0.8 L25mm | 1 | 3~5 |
| 4 | A2311000120 | RD-HANGER | DH-074 for MTB-RD | 1 | |
| 4 | A2311000119 | RD-HANGER | DH-072 for ROAD-RD | 1 | |
| 5 | A2300000004 | SCREW | M3x0.5 L6mm | 2 | 2~4 |
| 6 | A2029000079 | TUBE | woven; L620mm for size XL | 2 | |
| 6 | A2029000078 | TUBE | woven; L600mm for size M/L | 2 | |
| 6 | A2029000077 | TUBE | woven; L580mm for size XS/S | 2 | |
| 7 | A2161000122 | COVER | | 1 | |
| 8 | A2298000069 | SCREW | M5x0.8 L12mm with washer | 10 | 3~5 |
| 9 | A2258000162 | CABLE GUIDE | for M5 fixation | 1 | |
| 10 | A2298000119 | SCREW | M5x0.8 L10mm | 6 | 3~5 |
| 11 | A2258000163 | CABLE GUIDE | for M6 fixation | 1 | |
| 12 | A2298000230 | SCREW | M6x1 L14mm with washer | 1 | 3~5 |
| 13 | A21610000211 | CABLE GUIDE | for headtube | 1 | |
| 14 | A2221000047 | BEARING | MH-P16 | 2 | |
| 15 | A2350000962 | FORK | for eSILEX LITE | 1 | |
| 15 | A2350001347 | FORK | for eSPEEDER LITE/eScultura LITE | 1 | |
| 16 | A2002000114 | THRU AXLE |  COMP TR; L=121mm M12x1.5 TL=12mm | 1 | |
| 17 | A2300000362 | SCREW | M4x0.7 L4mm | 3 | 2~4 |
| 18 | A2300000499 | SCREW | M5x0.8 L10mm | 3 | 4~6 |
| 19 | A2054000107 | EXPANDER | for fork steerer ID 23.6mm | 1 | 6~8 |
| 20 | A2029000062 | TUBE | woven; L170mm for size XL | 1 | |
| 20 | A2029000061 | TUBE | woven; L150mm for size L | 1 | |
| 20 | A2029000060 | TUBE | woven; L125mm for size S/M | 1 | |
| 20 | A2029000059 | TUBE | woven; L105mm for size XS | 1 | |
Classification