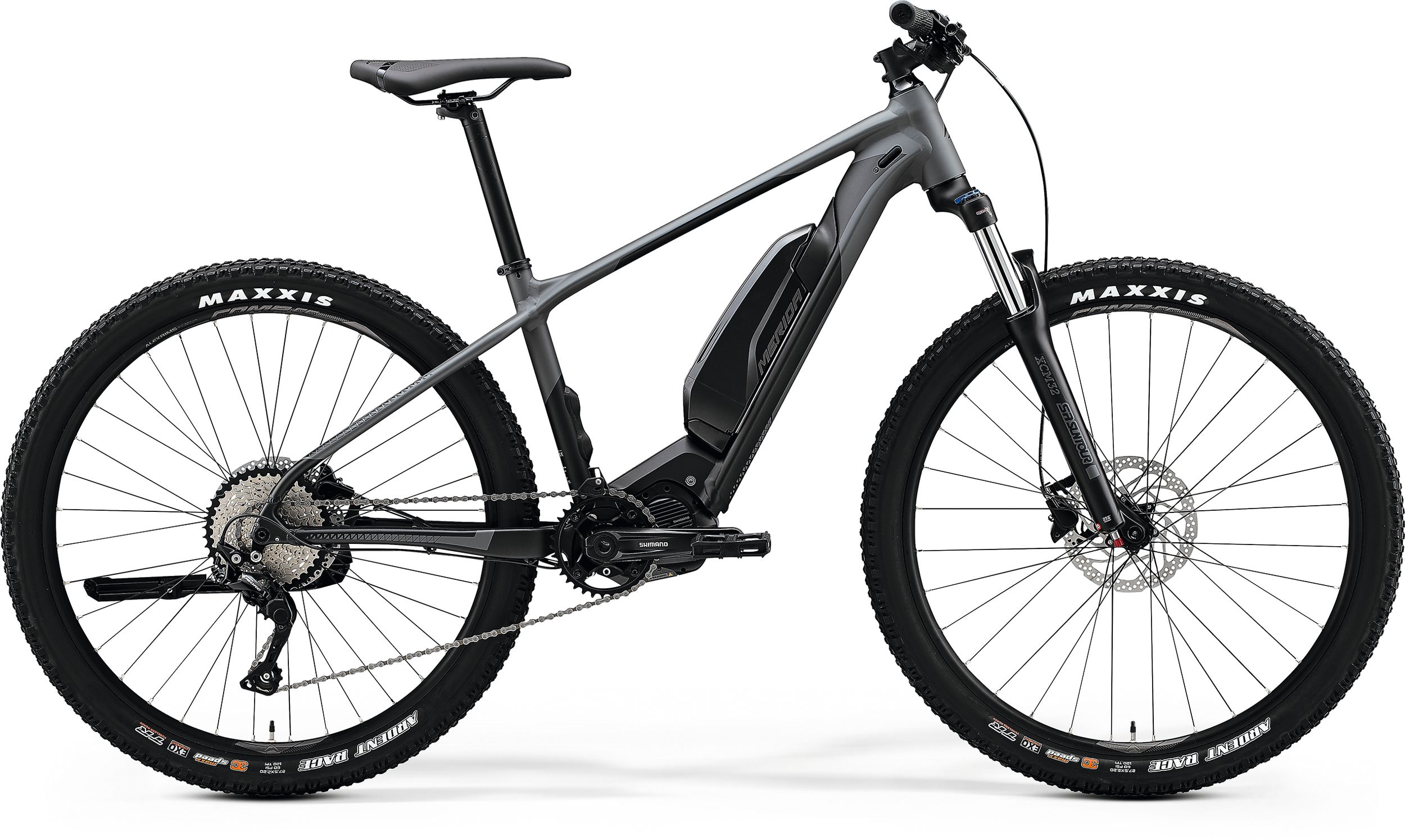 material: aluminium
27.5" wheelsize
148x12mm axle standard
external
max. 504 Wh
Couleur
MATT DARK GREY/BLACK
Coil
100mm suspension travel
Tapered
47mm fork offset
Derailleur arrière
Shimano Deore Shadow+
Commande vitesse arr.
Shimano Deore
36 teeth
Shimano FC-E8000
material: aluminium
720mm width
10mm rise
material: aluminium
31.8mm diameter
6° stem angle
70 mm-XS/S, 80 mm-M
Direction
MERIDA 2341 Neck
material: aluminium
30.9mm diameter
15mm setback
20mm inner width
material: aluminium
110x15mm width front hub
32 spoke holes
Centerlock
148x12mm width rear hub
36 spoke holes
Centerlock
Lumière avant
CG-119PG-BLACK(1)
Lumière arrière
CG-404RG-BLK
Couverture moteur
SM-DUE70-A
weighed at frame size S without pedals
| | | |
| --- | --- | --- |
| Frame Size | S | M |
| Tire Sizes | 27.5" | 27.5" |
| Frame Size CM | 38 | 43 |
| St Seat Tubes Mm | 380 | 430 |
| Tt Top Tubes Mm | 570 | 590 |
| Cs Chain Stays Mm | 438 | 438 |
| Hta Head Tube Angles Deg | 68 | 68 |
| Sta Seat Tube Angle Deg | 73.5 | 73.5 |
| Bd Bottom Bracket Drops Mm | 27 | 27 |
| Ht Head Tube Lengths Mm | 125 | 135 |
| Fl Fork Lengths Mm | 487 | 487 |
| R Reachs Mm | 399 | 416 |
| S Stacks Mm | 579 | 588 |
| Wb Wheel Base Mm | 1104 | 1125 |
| Sh Stand Over Height Mm | 710 | 749 |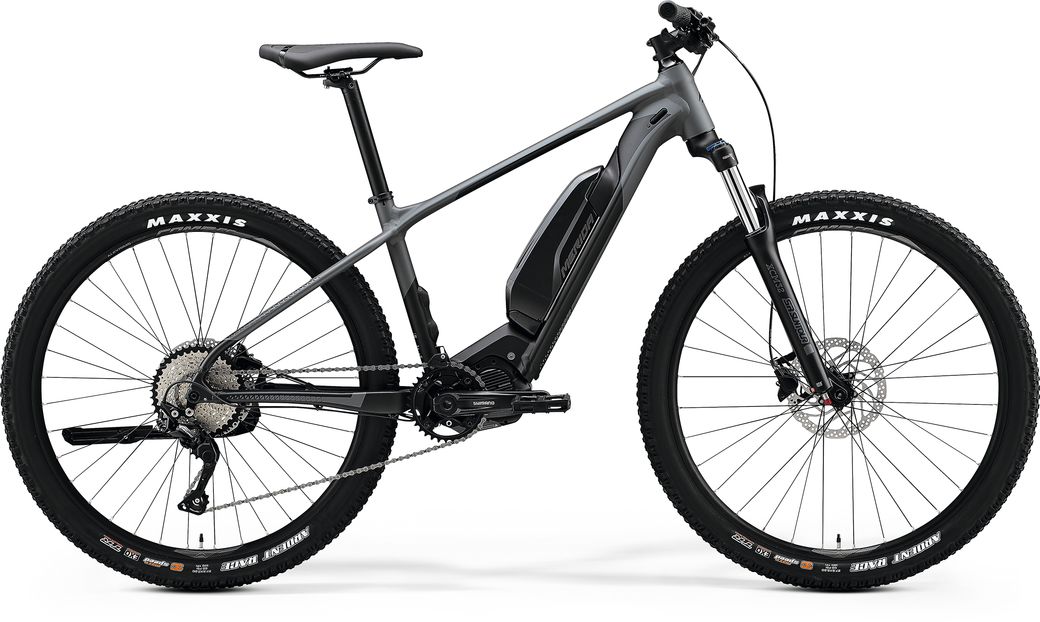 A two-component battery cover, which offers the perfect protection for the internal battery of these models. The softer (outer) layer reduces noises, seals the downtube perfectly and absorbs hits from trail debris easily, while the harder (inner) layer ensures that the battery does not get damaged and gives it the structural shape.
The eBIG.NINE and eBIG.NINE EQ are not just 'separated' by the equipped fenders, rear racks and lights, but also by less obvious parts like grips, saddle, stem and tyres, that make the eBIG.NINE EQ more comfort and trekking orientated than the eBOG.NINE.
The eBIG.NINE offers the possibility to fit a water bottle or accessories like a lock or pump to the frame. The frame has (standard) bottle bosses on top of the down tube and at the seat tube, where a special adapter offers a very low mounting position, allowing maximum seat post insertion depth (guaranteed in all frame sizes).
Cadre HFS en aluminium Prolite 66 traité par hydroforming avec trois tubes ajustés et doté d'une géométrie confortable et sportive. Les cadres de tailles XS, S et M sont disponibles avec des pneus 650B. Les cadres de tailles M, L ou XL sont disponibles avec des roues de 29". Les câbles sont acheminés en interne grâce au "Smart Entry" pour une conduite sans bruit. Les versions E8000 et E7000 sont dotées d'un support du moteur moulé sur le cadre qui donne l'impression que celui-ci est intégré dans le cadre pour une connexion extrêmement solide entre les deux. Le cadre est équipé pour le montage d'un garde-boue et/ou d'une béquille latérale.
La géométrie du eBIG.NINE et du eBIG.SEVEN suit un principe simple : aussi sportive que possible et aussi confortable que nécessaire. Pouvoir se rendre au travail rapidement le matin ou une petite embardée sur le chemin du retour? Pas de problème, ces vélos sont là.
Les modèles équipés de "K-Mount" ont un socle de montage intégré sur les bases arrières pour permettre le montage d'une béquille latérale MERIDA. Les vélos avec "C-Mount" sont équipés d'oeillets et permettent l'ajout d'un porte-bagages. Les vélos marqués "F-Mount" sont préparés pour le montage d'un garde-boue.
La batterie E8000 est parfaitement intégrée dans le tube diagonal traité par hydroforming ; avec 500 Wh remarquable, cette batterie permet de nombreux détours. Le nouveau moteur E7000 impressionne les pendulaires et les cyclistes sportifs grâce à sa transmission de puissance parfaitement équilibrée. Pour ceux qui désirent encore plus de puissance, nous proposons le système complet E8000.