ALUMINIUM TECHNOLOGY
DES CADRES EN ALUMINIUM DE HAUT NIVEAU
Depuis des années, nous produisons des cadres en aluminium de haut niveau, affinant continuellement nos connaissances et développant de nouvelles techniques de fabrication. Nous prenons grand soin du choix – ou dans certains cas du développement – de la sorte d'aluminium afin de répondre aux exigences de nos vélos. Par exemple, l'aluminium 6016 permet une épaisseur de paroi très fine mais étonnamment très forte, idéale pour les exigences du off-road ou pour un entrainement.
L'aluminium 6066 est extrêmement léger et défendable permettant une bonne manipulation pour un rapport rigidité/poids idéal. L'aluminium 6061 est notre exigence minimale. Développé pour l'industrie aérospatiale, il permet la production de cadres légers et très avancés. La façon dont l'aluminium est traité est aussi importante que la sélection de la matière première. Il existe plusieurs processus: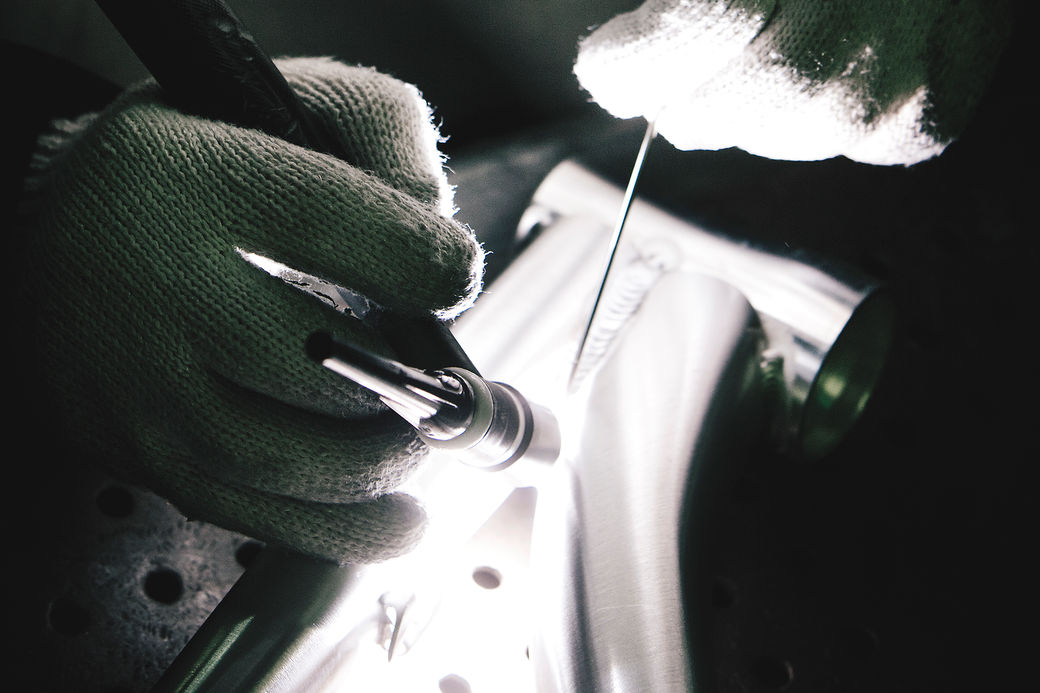 DOUBLE ET TRIPLE BUTTING
Le "double butting" décrit des tubes à deux épaisseurs de paroi: plus épais aux bords et plus fins au milieu. Le "triple butting" correspond à des tubes de trois épaisseurs de paroi différentes sur la longueur, optimisant la stabilité où il est nécessaire et minimisant le poids dans les zones les moins sollicitées. L'ensemble de notre aluminium est traité à chaud. Les cadres sont chauffés à des températures très élevées puis rapidement refroidis dans de l'eau ou de l'huile pour empêcher que les éléments en alliage ne défaillent. Les cadres sont ensuite chauffés à une température plus basse, vieillis artificiellement et renforcés de manière significative.
HYDRO ET TECHNOFORMING
L'hydroforming consiste à insérer des tubes dans des formes creuses et presser ces formes à haute pression avec un mélange d'eau et d'huile chaudes, de sorte que les tuyaux puissent être transformés en formes complexes. Le technoforming est un processus de formage mécanique qui façonne des tubes en utilisant des formes creuses, partiellement combiné avec un noyau en métal. Le "smooth welding", soit le soudage lisse, connu aussi sous le nom de "double pass welding" (soudage à double passage), se réfère à un deuxième passage sur la soudure, fournissant un aspect propre au cadre. A première vue, vous serez convaincu que le cadre est en carbone et non en aluminium.
Are you in the right place?
You have landed on the MERIDA
French (Switzerland)
website.
If you are looking for the international or another national website, then please select your region below.
Please note: Not all international models are available in your country. For further information, please contact your
local distributor
.