material: aluminium
700x42C max. wheelsize
135x9mm axle standard
BSA bottom bracket standard
Rammestørrelse
XS, S, S/M, M/L, L, XL, XXL
Farge
SILK ANTHRACITE (GREY/BLACK)
Coil
63mm suspension travel
lockout
700x50C max. wheelsize
Styrelager
FSA TH888/NO.10
material: aluminium
660mm width
25mm rise
material: aluminium
25.4mm diameter
adjustable
100 mm all sizes
Holker / styretape
MERIDA EC
Krankgir
Shimano FD-TY710
Fremre girhendel
Shimano ST-EF505
Bakre girhendel
Shimano ST-EF505
27.2mm diameter
13mm setback
40mm seatpost suspension travel
Sadelklemme
MERIDA COMP QR
48-38-28 teeth
170 mm-XXS/SM, 175 mm-ML/XXL
Kranklager
FSA TH-7420ST-W, Cartridge Bearing
17mm inner width
material: aluminium
100x9mm width front hub
32 spoke holes
Centerlock
135x9mm width rear hub
32 spoke holes
Centerlock
weighed with 700C wheels and at frame size M-L, without pedals
Krank
170 mm-XXS/SM, 175 mm-ML/XXL
| | | | | | | | |
| --- | --- | --- | --- | --- | --- | --- | --- |
| Rammestørrelse | XS | S | S/M | M/L | L | XL | XXL |
| Dekkstørrelse | 28" | 28" | 28" | 28" | 28" | 28" | 28" |
| Rammestørrelse cm | 44 | 46 | 48 | 52 | 55 | 58 | 61 |
| ST - Seat Tubes (mm) | 440 | 460 | 480 | 520 | 550 | 580 | 610 |
| TT - Top Tube (mm) | 565 | 575 | 585 | 595 | 605 | 620 | 635 |
| CS - Chain Stays (mm) | 450 | 450 | 450 | 450 | 450 | 450 | 450 |
| HTA - Head Tube Angles (°) | 71 | 71.5 | 71.5 | 72 | 72 | 72 | 72.5 |
| STA - Seat Tube Angle (°) | 74 | 73.5 | 73.5 | 73.5 | 73 | 73 | 72.5 |
| BD - Bottom Bracket Drops (mm) | 70 | 70 | 70 | 70 | 70 | 70 | 70 |
| HT - Head Tube Length (mm) | 125 | 125 | 135 | 135 | 145 | 170 | 200 |
| FL - Fork Length (mm) | 450 | 450 | 450 | 450 | 450 | 450 | 450 |
| R - Reach (mm) | 377 | 383 | 390 | 397 | 403 | 413 | 423 |
| S - Stack (mm) | 597 | 599 | 609 | 610 | 620 | 644 | 675 |
| WB - Wheel Base (mm) | 1073 | 1072 | 1082 | 1087 | 1091 | 1107 | 1110 |
| SH - Stand Over Height (mm) | 729 | 744 | 762 | 793 | 816 | 844 | 875 |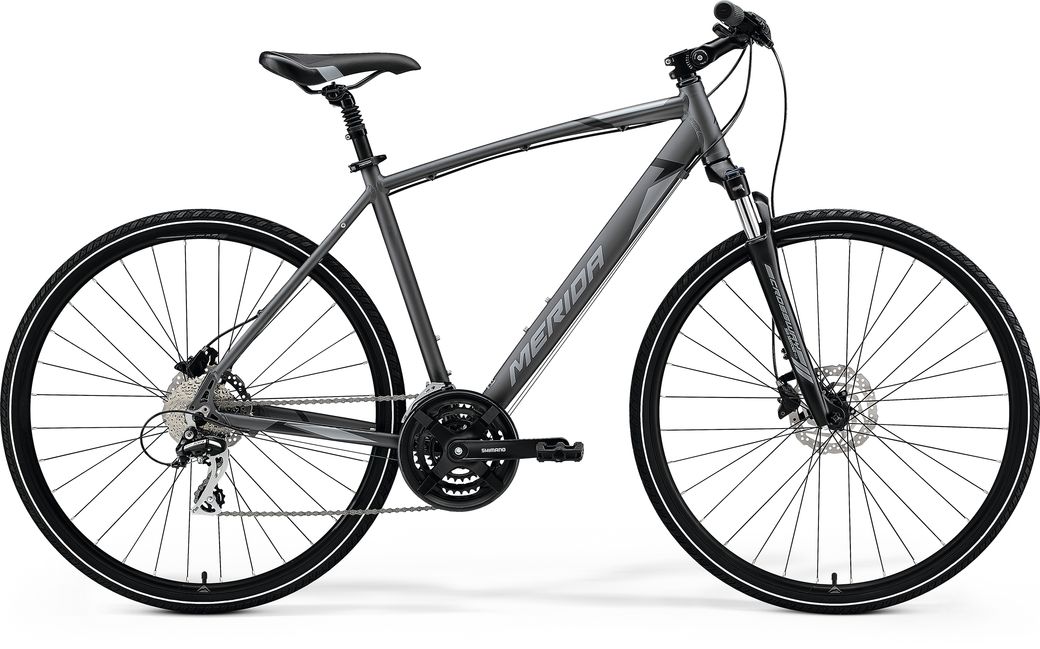 All models feature powerful and easy to modulate hydraulic disc brakes. Hydraulic disc brakes offer great stopping power in any weather, are more or less maintenance-free and are not affected by rough or kinked cables.
Alle våre MISSION CX-modeller har mulighet for montering av skjermer. Det gjør syklene mer allsidige, spesielt ved bruk som trenings- eller pendlersykkel. Avtagbar setestagbro (ikke tilgjengelig på aluminium-modeller) gir godt feste for bakskjerm, men kan fjernes for stilrent utseende og større klaring i søle.
Våre CROSSWAY-modeller er utstyrt med dempegaffel og dempet setepinne, på de fleste modeller, for å jevne ut ujevnt underlag. Justerbar styrestem er også montert (nå også på våre SPEED-modeller), og gir justerbar kjøreposisjon for maksimal sittekomfort på sykkelen. Unntakene er de sportsligere modellene som har vanlig setepinn og styrestem.
Alle CROSSWAY 100 opp til XT-EDITION-modellene har dekk med refleksstriper på sideveggene som gir bedre synlighet på veien.